Rally in Milwaukee calls for an end to violence against Palestinians in Gaza as full-scale war looms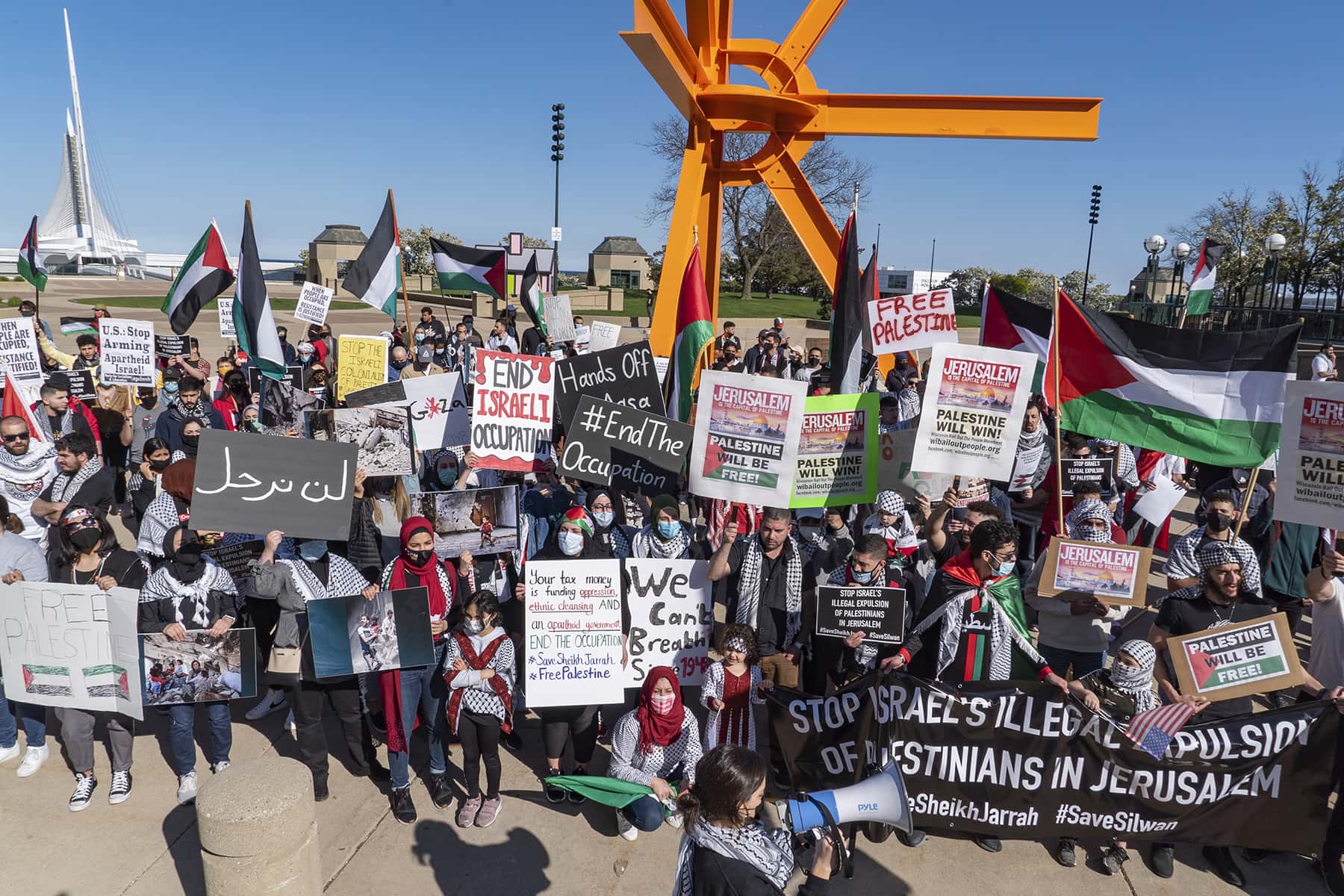 Hundreds of protesters gathered in downtown Milwaukee on May 12 in response to the latest escalation of violence in Gaza and Israel, which has reached its highest point in years with police raids and airstrikes that have killed at least 14 Palestinian children since May 10.
The protest was organized by American Muslims for Palestine to demand an end to indiscriminate Israeli air strikes on the civilian Palestinian population, and the forced relocation of Palestinians.
Israeli airstrikes have leveled multistory buildings across the Gaza Strip, where 2 million Palestinians have lived under a crippling Israeli-Egyptian blockade since Hamas took power in 2007. Warning shots have allowed civilians to evacuate the buildings, but Israel has faced heavy criticism over the tactic during the 2014 war.
"Another 95 children in Gaza and the West Bank — including East Jerusalem, and three children in Israel have reportedly been injured in the past five days," said Henrietta Fore, executive director of UNICEF, in a statement. "The situation is at a dangerous tipping point. The level of violence and its impact on children is devastating. We are on the brink of a full-scale war. In any war, children — all children — suffer first and suffer most," said Fore.
Fore urged all sides to protect all civilians – especially children – to spare essential civilian infrastructure from attacks, and to end violations against children. She remind all sides of their obligations under international humanitarian law and human rights law.
Gaza's health ministry said that the death toll in Gaza is at least 53, with over 330 other people wounded. The latest escalation of violence follows weeks of repression by Israeli state forces of Palestinians protesting the forced removal of families in the Sheikh Jarrah neighborhood of illegally occupied East Jerusalem. The forced removals done on behalf of Israeli settlers — which human rights experts say violates international humanitarian law — also coincided with attacks on worshipers and protesters at the the holy site of the Al Aqsa Mosque during Ramadan by Israeli forces.
After Hamas retaliated to the recent Israeli violence by firing hundreds of rockets from Gaza towards Jerusalem and Tel Aviv, killing a reported six people as of May 12, the Israeli military responded with a massive use of force, including the targeting of civilian infrastructure which critics have categorized as war crimes.
"Israeli forces must not carry out indiscriminate airstrikes in densely populated areas that fail to distinguish between military targets, civilians, and civilian objects," said Ayed Abu Eqtaish, accountability program director at Defense for Children International – Palestine, in a statement. "Israeli forces and Palestinian armed groups must take all steps necessary to conduct any hostilities in accordance with international law and protect civilians, especially children."