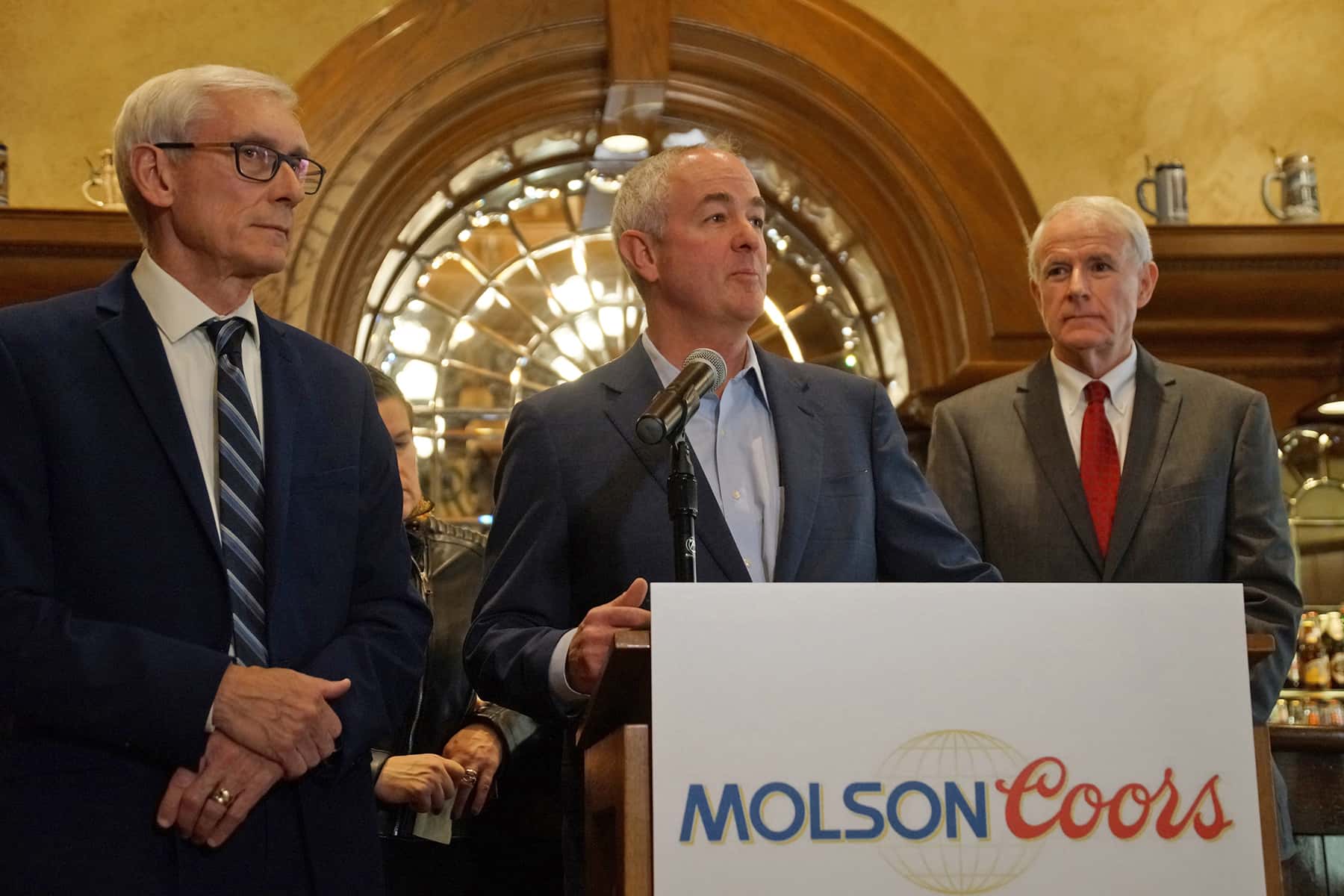 Molson Coors held a press conference at the Miller Inn with city and state leaders on November 25 to share plans for the brewing company to move jobs from Denver to Milwaukee, as part of an incentive package.
The news comes as Miller Brewery seeks to revitalize the Milwaukee Campus. Governor Tony Evers and Mayor Tom Barrett were joined by Gavin Hattersley, CEO of Molson Coors, and Missy Hughes, CEO of the Wisconsin Economic Development Corporation (WEDC) for the announcement.
"There are a lot of high-paying jobs coming to Milwaukee. We haven't finalized that and we're stilling working through it with our employees," said Hattersley. "I'm pleased to say Milwaukee will play a large part in our future, a future where we are innovating and leading our industry forward."
Last month Molson Coors Brewing Company, the parent company of MillerCoors, said it would be restructuring and downsizing as a result of declining beer sales. But the situation would provide a benefit to the City of Milwaukee, by bringing in hundreds of jobs.
"We are in this iconic valley where, for over 100 years, beer has been dominate. Molson Coors beer is going to be the future of this valley, and an integral part of this city. We love that because Milwaukee loves being a beer city," said Mayor Barrett. "We want to ensure that the people who live in this community, and sometimes the people who literally in this neighborhood, are helping to build the future of this city."
The changes would involve laying off 500 workers worldwide. Molson Coors expects to save $150 million by closing offices in Denver and elsewhere and simplifying its structure. Support functions would also be consolidated from around the country and relocated to Milwaukee. Employees will begin arriving in early summer of 2020, so families can relocate and be settled in time for the news school year. The positions will be located at two underutilized corporate buildings on the city's west side.
"We're really happy that Molson Coors is adding hundreds of jobs. This decision was done in real time. They chose Milwaukee. I'm optimistic that as the plan works its way out, this is going to be a big win for our city and our state," added Mayor Barrett.
Mayor Barrett said that he is proposing a tax incentive of up to $2 million, contingent on Molson Coors adding new jobs and keeping existing workers in the city. In addition to local tax incentives, the state's WEDC is in the process of creating an enterprise zone and offering tax credits.
"There's a whole process now of making sure the tax credits match with the jobs. As Molson Coors solidify their plans, we can then formulate the tax credits and the enterprise zone," said Hughes. "It is a competitive process, but the specifics remain confidential for now. That information will later be made public, for transparency with Wisconsin taxpayers."