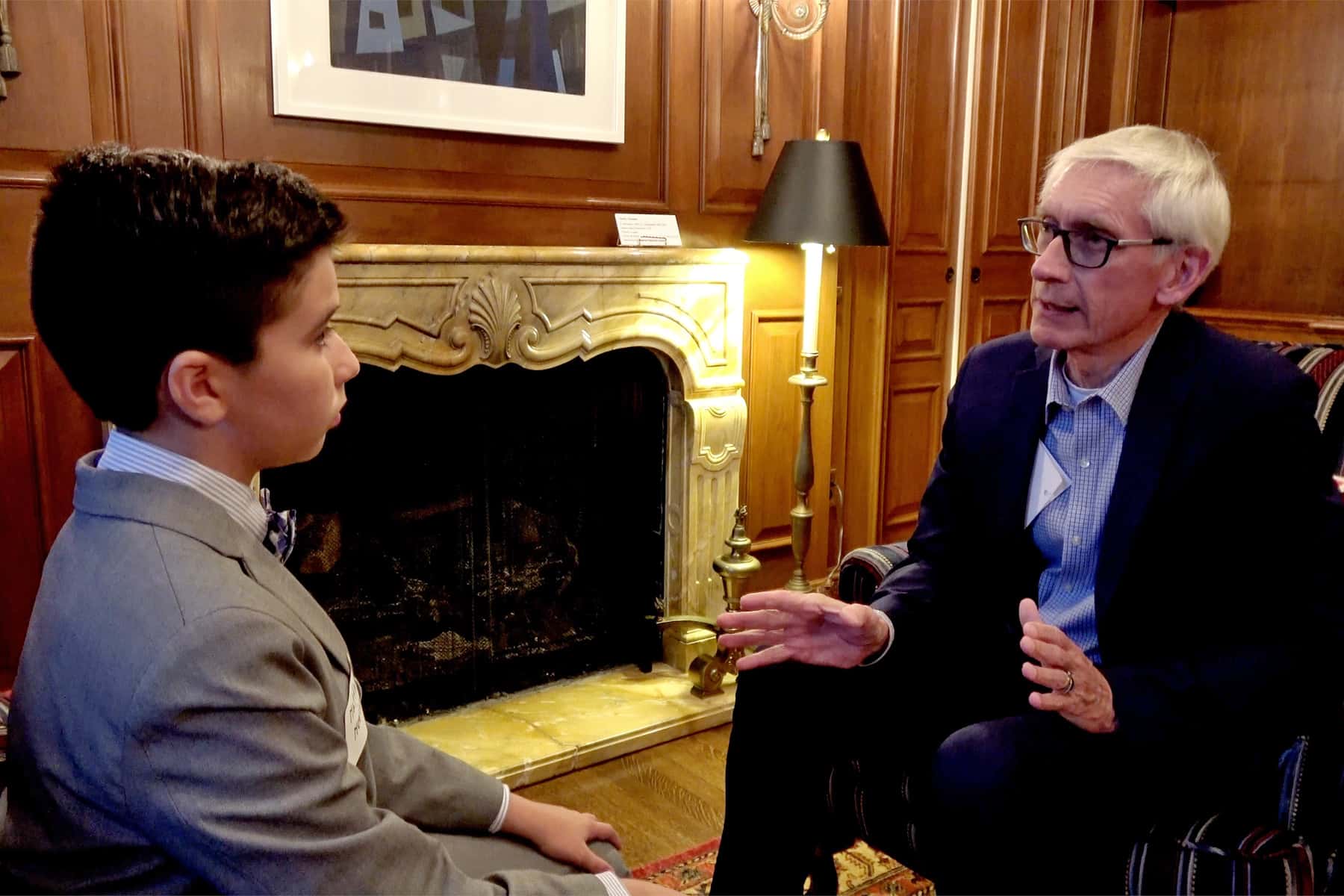 I had the opportunity to interview Wisconsin Governor Tony Evers at the Governor's Mansion in Madison on October 12. I think it is important for government officials to listen to kids. We are the future. That is why it was an absolute privilege to meet my governor and ask him some questions.
There was a Hispanic Heritage Day Celebration on the day of my visit. I could hear the mariachi band playing in the background as I walked through the front door. The band was very entertaining. I was so surprised that I was the only kid there, but everyone was friendly and respectful.
One of my favorite parts of the night was meeting many new people that I didn't know, including Lieutenant Governor Mandela Barnes. The second thing I liked best was the food. I might have had seven of the chocolate brownies.
The best moment of the night was when I was introduced to Governor Tony Evers, and we shook hands. I was so nervous. The Governor and I talked for a little bit, and then I noticed I did not feel nervous anymore. So I took a chance and asked him a question, "Can we take a selfie?"
He quickly kneeled by my side, and the selfie I have is one of my all-time favorites. After the Governor met some other people at the event, he walked over to me and asked me if I was ready to chat. My big interview was about to begin. He led me to the library, and I tried my best to be professional as I asked him questions that I thought other youth would want to know.
The first question I asked him was what he did before he was elected as Governor. He explained that he began his career as a science teacher, and then became a principal. From that point, he went on to become a superintendent at some school districts, a deputy state superintendent for Wisconsin, and then he was elected to be State Superintendent for all of Wisconsin.
I asked the Governor how he handled stressful situations. He said the most important thing was not to overreact. He explained that when people overreact, it makes the situation tough to solve problems. I then asked him about his responsibilities. He told me he wanted to improve healthcare, improve education for people, create jobs, and make sure all people are treated fairly.
When I was done asking questions, I thanked Governor Evers for the interview. At first, I was excited about the idea of getting a lot of views on YouTube for this interview. But then I realized it was so much more important to have the personal discussion and learn more about my governor.
I'm currently reading a novel for my sixth grade at school, and one of the themes is that "some people think they know you, but they don't." I think that is why it is important to meet people face-to-face. I also believe younger people should be able to meet their elected officials.
I have shared what I learned during that visit with my classmates at school, including other youth and people of all ages who watched my video interview online. And I remain thankful for the opportunity and hope it helps inspire my peers to explore how our government works. As the future generation, it is never too early for us to take an interest and start building what that future will look like.