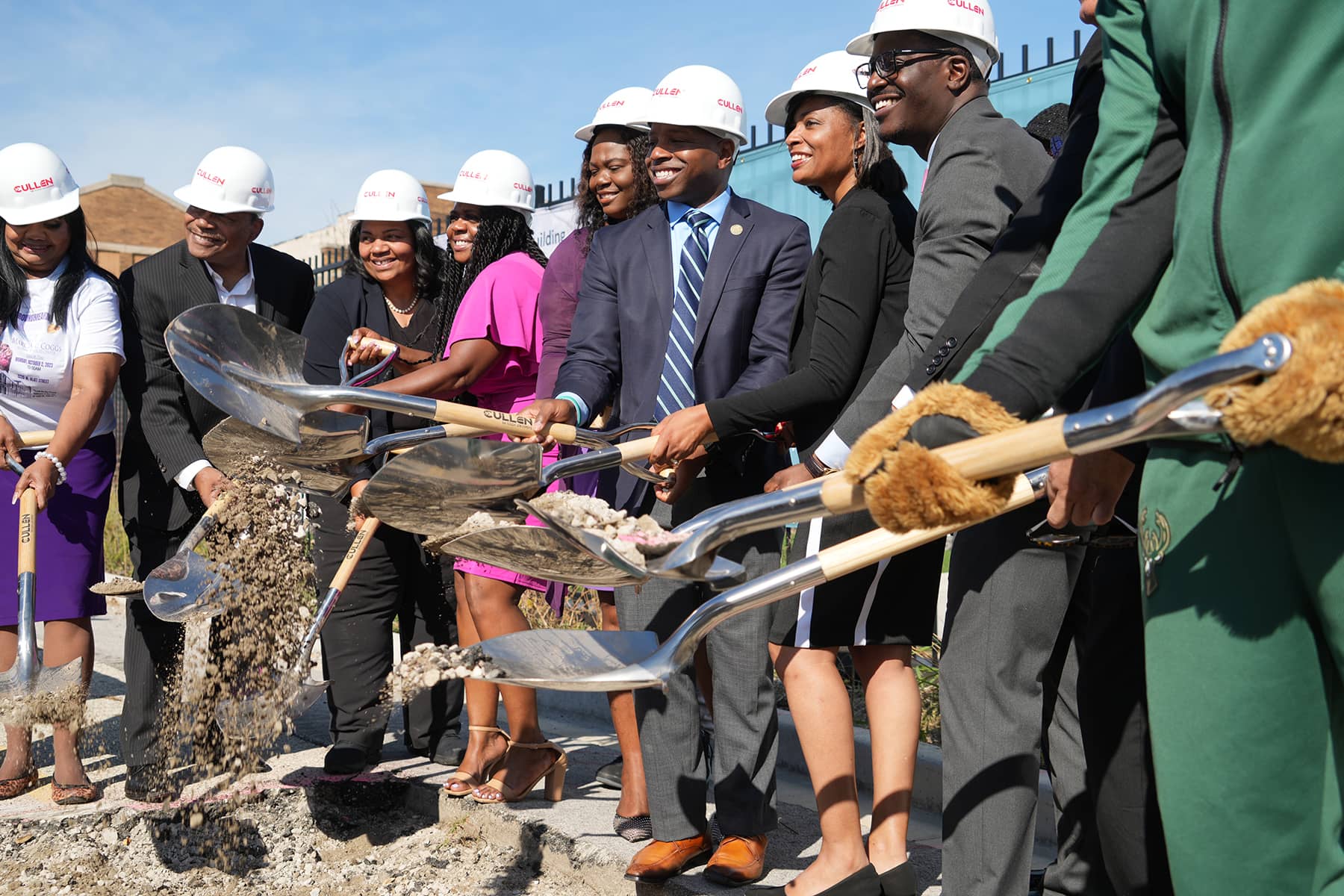 County Executive David Crowley, local and state leaders, the Coggs family, and members of the public gathered on October 2 at a construction site in the King Park neighborhood to help Milwaukee County break ground on the new Marcia P. Coggs Health and Human Services Center.
The facility will be home to the Department of Health & Human Services (DHHS), allowing it to continue a 50-year tradition as a trusted location to access health services in the area.
"When I think of Marcia P. Coggs, I think of a trailblazer and a strong advocate for healthier families and for healthier children. She was a woman of many firsts, not just here in Milwaukee County, but throughout the state of Wisconsin. The impact and the legacy of Marcia P. Coggs is still felt throughout our entire community," said County Executive Crowley. "I am thrilled to be celebrating the groundbreaking of the new Marcia P. Coggs Health and Human Services Center, which represents an upstream investment in health equity for our entire community."
For the first time since 1992, Milwaukee County will construct a building close to downtown. Located at 1230 W. Cherry Street, the facility will be designed specifically to deliver services to local residents, eliminating physical barriers and improving access to resources that address social determinants of health.
County Executive Crowley said that the services the new center will provide aligned with Milwaukee County's vision for achieving racial equity. Milwaukee County is the healthiest county in the state of Wisconsin, and the effort also represents an unprecedented economic development opportunity in the King Park neighborhood.
"I would like to sincerely thank everyone whose strong commitment to human services made this a reality, first and foremost Marcia P. Coggs, our staff, the County Board, and our federal leaders who supported the American Rescue Plan Act (ARPA) legislation that made this possible," added County Executive Crowley.
The Marcia P. Coggs Health and Human Services Center will be a four-story, 60,000 square foot building with the first floor intended to be a warm, welcoming, and accessible entry point for information, access to services, and community space. Anticipated completion is early 2025.
"The new Marcia P. Coggs building is a step forward in our journey to close the gap in racial health disparities and better meet the needs of the community, ensuring our most vulnerable residents can come to an accessible and welcoming environment," said Milwaukee County Board Chairwoman Marcelia Nicholson in a statement. "This is a significant part of the legacy of this Milwaukee County Board."
In 2022, County Board members of the Committee on Finance voted unanimously to approve $32 million in American Rescue Plan Act (ARPA) funds to develop a health and human services building in the King Park neighborhood and keep key services in the heart of the community.
"During her time in public office, Marcia P. Coggs was focused on addressing the systematic problems that staff and leaders in this very building will continue to work on solving. Those are things like eliminating poverty, improving health outcomes, and increasing access to family-supporting jobs for people right here in our community," said Mayor Cavalier Johnson. "This new and improved human services center will help community members live healthy, as well as independent lives. It is so important that this location is in the King Park neighborhood, as opposed to a downtown office building. It ensures that these critical services are closer to the Milwaukee residents who will benefit the most from the services rendered and provided at this facility."
The building's namesake Marcia P. Coggs was a political trailblazer and strong advocate for human needs. She was the first African American woman elected to the Wisconsin State Assembly, and the first Black person to sit on the state's Legislature's Joint Finance committee. She served on the Health and Human Services Committee the entire time she was in office, and many of the committees she served on were focused on children, families, and employment.
"Over the past three years, the department has undergone a critical transformation integrating service areas to break down silos and has adapted a 'No Wrong Door' person-centered model of customer service," said Shakita LaGrant-McClain, DHHS Executive Director. "The new building allows us to greatly advance our strategic vision of improved individual and community health and creates a welcoming and accessible space for our employees and participants where they feel valued and respected. Together, we are creating healthy communities."
The Marcia P. Coggs Center's location will be adjacent to the Mental Health Emergency Center, and an additional investment in the building of 120 single-family homes will improve BIPOC homeownership in the King Park Neighborhood. Along with upgrades to the Martin Luther King Jr. Community Center, it is an unprecedented economic development and a catalyst for change in the neighborhood just blocks from the Fiserv Forum.
"Early in her legislative career, my grandmother eloquently stated, 'You cannot legislate the heart, but you can legislate laws. My mission is to work for social change. Period. When I say social change, that is self-explanatory human needs.' She championed causes such as equal housing, education, school desegregation, health, and equity. Before her passing, my grandmother shared invaluable wisdom," said Milwaukee County Supervisor Priscilla Coggs-Jones. "Over time, her insights reshaped my perspective, guiding me on a path that upholds the principles and values my family cherishes."
In commemoration of the groundbreaking, County Supervisor Coggs-Jones wrote an open letter to her beloved grandmother, which she titled "Love, Unity & Peace."
"Today, Grandma, we honor the 20th anniversary of your unwavering commitment and impeccable integrity. Despite the numerous challenges you faced, you never wavered. The path you carved required steadfast courage. The saying 'small in stature but a GIANT in politics' holds a truly special meaning when it comes to you, considering your name now graces one of the largest and most significant developments in Milwaukee County's history. This edifice stands as a testament to your mission — advocating for human needs and championing justice for underserved communities. We Coggs women are here, still making a difference, still moving mountains. Grandma, I am profoundly humbled and honored to witness, two decades later, history being made in your name. Mrs. 'Civil Rights' and 'Conscience of the State of Wisconsin,' Marcia Priscilla Coggs. Love you, Grandma." – Priscilla Coggs-Jones
DHHS has been committed to a 'No Wrong Door' model of customer service, providing person-centered, holistic care to adults, children, and families through the health and human services continuum of care. That means however people connect with DHHS, they have access to comprehensive services as well as resources offered by community partners.
"I also have the privilege and honor of being a member of the Coggs family, and a great-niece to Marcia P. Coggs," said Alderwoman Milele A. Coggs, "Within our family, we know we stand on the shoulders of giants, and in our family there is no bigger giant than the legacy and history of Marcia P. Coggs. Throughout my own political career, there was advice, support, and things that she did for me that helped to shape and mold the work that I do every single day.
Alderwoman Coggs spoke about the inspirational person her great-aunt was, and the hope that her energy would be embodied in the building – passing on to all those who work there and were provided services there.
"We drive down streets and walk into buildings and even have our children educated at places named after people that we know so little about. What I love about what's happening here is that so many of us knew and loved Marcia P. Coggs," added Alderwoman Coggs. "And this is such a great way to keep her legacy alive. Because one thing about her privately, personally, and professionally is she was of service. Anything that she could do to help improve your quality of life, she would do."