For the Love of Milwaukee: Bradley Tech students build romantic centerpiece for Bastille Days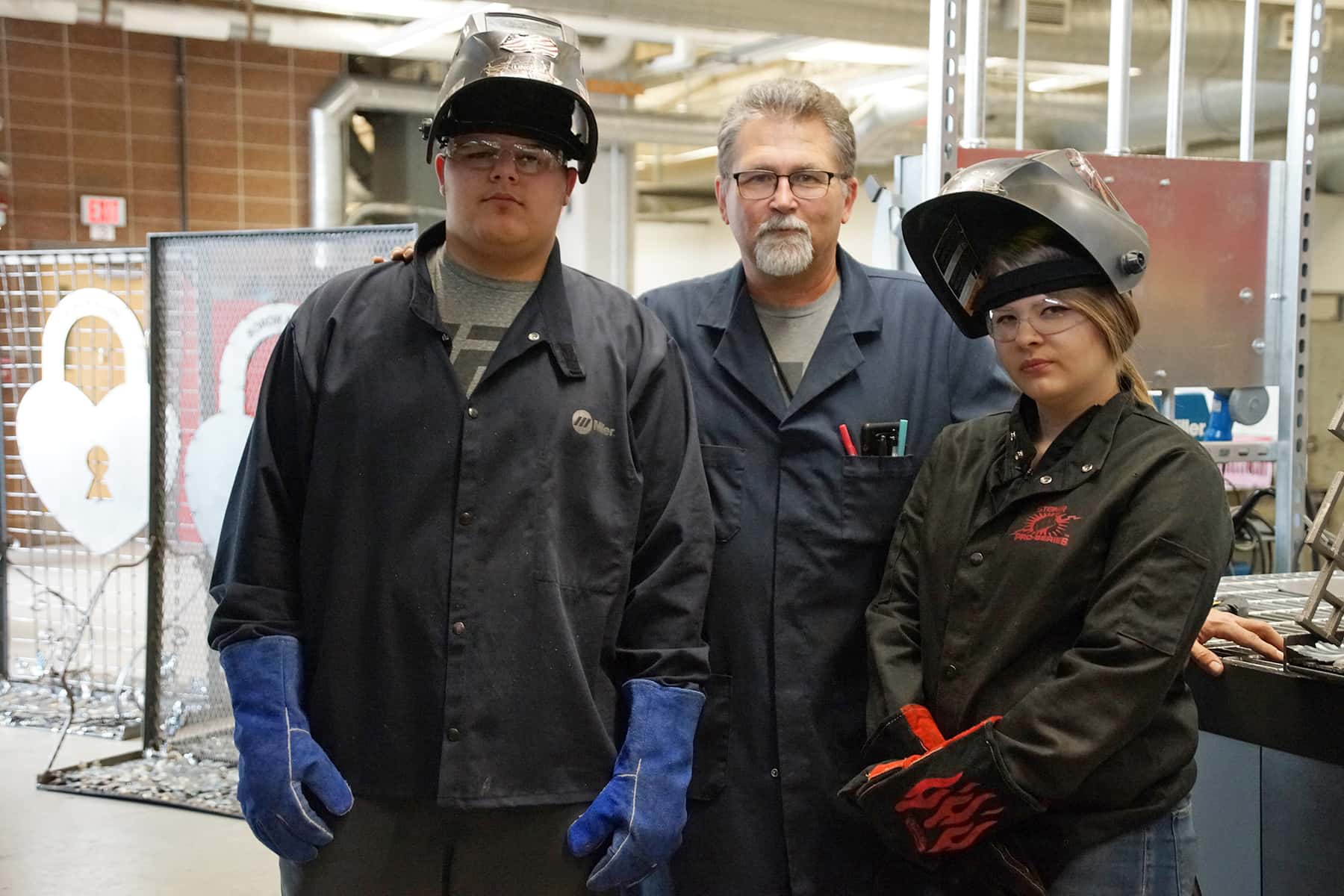 The theme of this year's Bastille Days is "MKE, Mon Amour" or "Milwaukee, my love," and in that spirit the four day french-themed celebration partnered with local artists and metalworkers to create an interactive Love Locks sculpture.
A group of 10 students from Bradley Tech High School built the unique Love Locks sculptures, an ambitious art project in collaborated with the Reginald Baylor Studio and sponsored by the Milwaukee-based company Master Lock.
"The project is inspired by the Pont des Arts bridge over the Seine in Paris," said Emily McElwee, executive director of East Town Association. "Visitors there, and at many other landmarks around the globe, 'lock their love.' Our festival theme for 2019 made this the perfect year to partner with Master Lock, to give our guests an opportunity to partake in this romantic Parisian tradition."
Mark Hoedel is the Welding Instructor at Lynde and Harry Bradley Technology and Trade High School, formerly known as the Boys Technology and Trade School. Bradley Tech is the premier technology and trade school of Milwaukee, positioned with a rich history and exciting future. Located in the heart of the Walker's Point neighborhood, the Milwaukee Public School (MPS) educates a thousand students annually from across the city.
"This is another wonderful project that came to us through the Reginald Baylor Studio. We have worked with them on some other projects in the past, so it's great that they always keep Bradley Tech in their minds," said Hoedel. "It's great for the kids, because they get this real world hands-on experience to build something. And the Love Locks project is a huge deal. We all know what Bastille Days means to Milwaukee, and for the students to be involved in constructing these beautiful pieces, it is really awesome and also helps create more of an interest in the trade skills."
Freshman at Bradley Tech rotate through all the tech and trade courses. By the end of the year, they have a good idea of which path they want to take. If they select welding as a sophomore, Hoedel starts to identify the students that are really excelling. They will then fill out a youth apprenticeship form. MPS created the process because educators recognized the need to reach kids at a early age.
A youth apprenticeship starts in the junior year, and they are paid. Students work part time after being picked up by a company, during the summer between junior and senior years. They then work full-time over the senior year, going half days. When students finish the year, they will either go straight on to be hired for employment or go into an adult apprenticeship.
"We have a business liaison who goes out to visit companies and promote the school's programs," said Hoedel. "There is a huge demand, and we have companies coming here eager to bring these kids onboard. The need is growing, and I think this year alone we had 25 students go into apprenticeships, with another 30 to 40 students in internships."
Hoedel has been the Welding Instructor at Bradley Tech for seven years, and was a program mentor for three years prior to that. Interestingly, his life came full circle as he was a Boys Tech graduate, and ended up teaching there after being in the industry for many years.
As a nonprofit downtown business organization, the East Town Association was built on community partnerships. McElwee was excited about the chance to bring Master Lock, Bradley Tech, and Reginald Baylor Studio together in this special relationship. She said that the city of Milwaukee has so many amazing groups and individuals, that the project was a good example of the local energy for collaboration.
"Our team had the unique opportunity to learn to weld under the supervision of MPS instructor Mark Hoedel. Unsurprisingly, welding is no easy task. The hard skills being taught with care at this great MPS school, along with the school's incredible apprenticeship and career readiness programs, are things all Milwaukeeans should be aware of, proud of, and supportive of," added McElwee. "The students who worked on this project are engaging, eager, and incredibly talented. We hope this exposure inspires our community to learn more about the work Bradley Tech is doing."
Each of the project's participants hope that the sculptures will provide an opportunity for fun at Bastille Days, and that it will expose visitors to the amazing work being done through community projects. Even though the festival takes place in the Cathedral Square area of downtown, it depends on talent from all over the city to support what has become a national-level attraction.
"The Love Locks Sculptures are a great example of Milwaukee's diverse equity coming together in age, race and gender to participate in an exhibition that honors our neighborhood festivals and love." – Reginald Baylor Studio
Founded in 1921 by Harry Soref, the Master Lock plant once covered six acres, employed 600 workers, and produced as many as 80,000 padlocks a day. Before Soref died in 1957, he had earned 80 patents for locks and lock-making machinery, and was awarded a gold medal by The American Association of Master Locksmiths, the only one the association ever bestowed. With its headquarters still located in Oak Creek, the company was part of the manufacturing group that earned Milwaukee its reputation as an industrial center.
Since the 2000s, love locks have become a symbolic romantic expression worldwide. Sweethearts place a padlock on a bridge, fence, gate, monument, or similar public fixture to symbolize their love. Typically, their names are inscribed on the padlock, and its key is thrown away to symbolize unbreakable love.
The 38th annual Bastille Days storms into Milwaukee's Cathedral Square Park from July 11 to 14. Locks will be available for purchase for $5 at the Bastille Days merchandise booth.