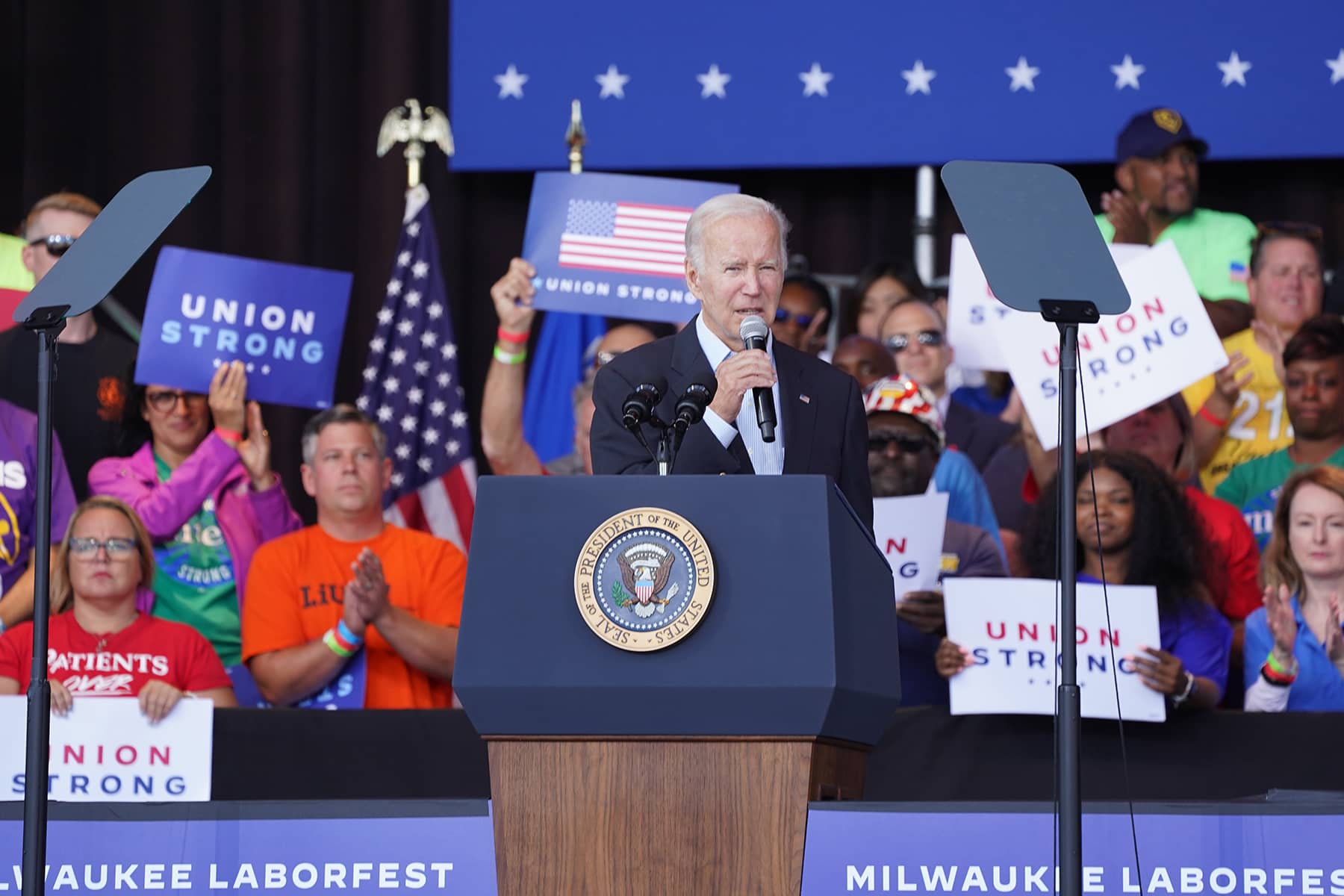 In a visit to Milwaukee on September 5, President Joe Biden spoke about the importance of labor unions and called out "extreme MAGA Republicans."
Biden was the first president to visit Milwaukee's Laborfest since former President Barack Obama spoke at the parade and rally in 2014. It was also President Biden's first visit to Wisconsin since he visited Superior in March to tout infrastructure legislation.
As the unofficial start of fall, Labor Day traditionally starts a political busy season where campaigns scramble to excite voters for Election Day on November 8. That is when control of the House and Senate, as well some of the country's top governorships, will be decided.
For the majority of his remarks at the Labor Day event, President Biden discussed labor unions. He pointed to labor union endorsements as a key part of helping him get elected to the United States Senate at the age of 29.
"Look the middle class, the middle class built America. Everyone knows that," President Biden said. "But unions built the middle class."
President Biden spoke about the Inflation Reduction Act, which he signed on August 19. The White House says the roughly $700 billion package will address inflation by lowering prescription drug costs, health care costs and energy costs.
"It wasn't easy to take on big drug companies, but we did," President Biden said about the bill on September 5.
The Democratic president's visit came two months before the closely contested midterm elections, with Wisconsin's U.S. Senate race critical to Democrats' chances of holding a Senate majority. It also comes as an August Marquette University Law School Poll found President Biden had a 40 percent job approval rating in Wisconsin.
Democratic Governor Tony Evers, who is running against Republican construction executive Tim Michels in the gubernatorial race, also made an appearance at the event.
"I am the only candidate for governor who has actually bargained for a public sector union," Governor Evers said. "The only one."
Governor Evers also praised President Biden during his remarks.
"We have a president who understands the challenges facing families and is willing to work with us to find common-sense solutions," Governor Evers said.
Absent from the visit was Lt. Governor Mandela Barnes, who is running against Republican U.S. Senator Ron Johnson. A spokesperson for Barnes said he was attending Laborfest events throughout Milwaukee, Madison and Racine. Barnes is also set to host an event with members of the UAW Local 578 in Green Bay on September 6.
Even so, President Biden told the crowd Barnes was going to "be your next United States Senator."
The Marquette Law School Poll and other recent polls have found Barnes leading Johnson among likely voters in the November election. In the race for governor, Governor Evers and his challenger Michels are essentially tied.
President Biden also called out what he called "extreme MAGA Republicans" as well, following his primetime speech last week when he spoke about the extremism of Trump supporters.
"The definition of democracy is you accept the will of the people when the votes are honestly counted," President Biden said. "These guys don't do it. Name me a democracy in the world where a leader argues to engage in violence."
On September 1, President Biden went to Independence Hall in Philadelphia for a prime-time address denouncing the "extremism" of Trump's fiercest supporters.
Trump has endorsed candidates in key races around the country and President Biden is warning that some Republicans now believe so strongly in Trumpism that they are willing to undermine core American values to promote it. The president said Thursday that "blind loyalty to a single leader, and a willingness to engage in political violence, is fatal to democracy."
Trump responded during his September 3 rally, threatening President Biden by calling him "an enemy of the state."
On September 5, President Biden said "I'm not talking about all Republicans" but singled out those who have taken Trump's "Make America Great Again" campaign cry to dangerous or hateful lengths. He highlighted episodes like the January 6, 2021 mob attack on the U.S. Capitol.
President Biden told the Milwaukee rally that many in the GOP have "chosen to go backwards, full of anger, violence, hate, division."
"But together we can, and we must, choose a different path forward," President Biden said. "A future of unity and hope. we're going to choose to build a better America."
The crowd jeered as President Biden chided Republican Sen. Ron Johnson of Wisconsin for voting against a Democratic-backed measure meant to lower prescription drug prices.
The Wisconsin race could decide which party controls the Senate, while the winner of its governorship may influence results in 2024's presidential election. The stakes are particularly high given that some Trump-aligned candidates have spread lies about widespread fraud that did not occur during the 2020 election. It raises questions about what might happen if a candidate they do not support wins the next presidential contest.
Elizabeth Shuler, president of the AFL-CIO, spoke at the Milwaukee event. The first woman to lead the organization, she represents the 57 unions and 12.5 million members of the AFL-CIO.
"We deliver results," Shuler said. "That's why unions are more popular than ever. This president is not afraid to say the word 'union.'"
A Gallup poll found that 71 percent of Americans now approve of labor unions. President Biden was credited as part of the reason for that figure.
"We have a president who understands the challenges facing working families," Governor Evers told the crowd. He said that President Biden "hasn't forgotten that working families matter, not just on Labor Day, but every single day of the year."
Еvаn Cаsеy, with Wіll Wеіssеrt