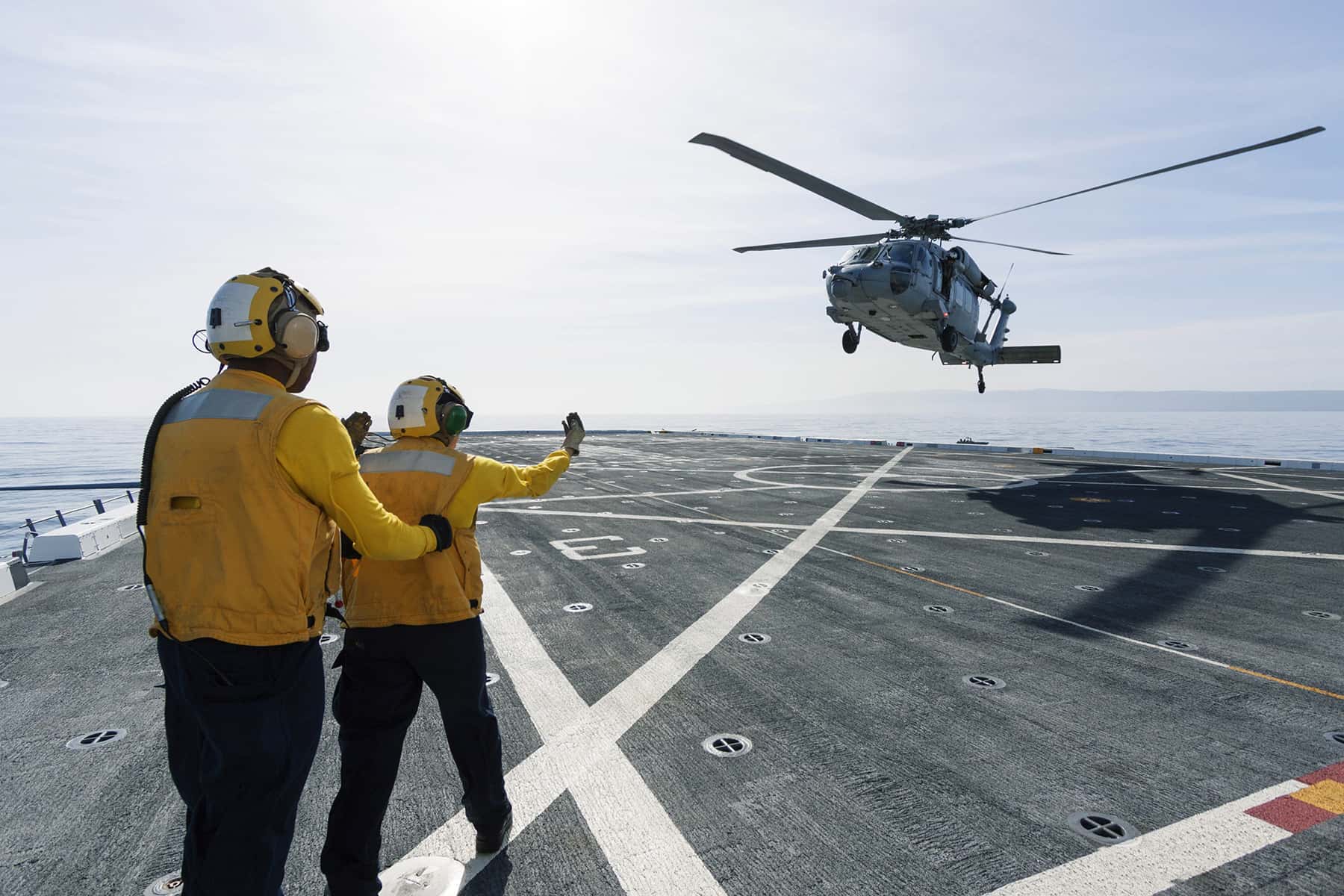 Graduates from Marquette High School and Ronald Reagan College Prep have been serving in the United States Navy, and credit their hometown and education as factors for their current success.
Lieutenant commander Adam Wagler is serving with the U.S. Navy with Helicopter Sea Combat Squadron (HSC) 25 on the island of Guam. Petty Officer 2nd Class Davante Carter is an air traffic controller serving aboard the aircraft carrier USS John C. Stennis, a floating airport at sea.
Wagler is a MH60 pilot serving with HSC 25, known as the "Island Knights," a versatile squadron that's capable of completing a number of important missions for the Navy with the MH-60S "Seahawk" helicopter.
"I am the administrative department head for a squadron of 336 sailors and two detachments at sea, consisting of about 30-40 personnel each at any given time," Wagler said.
Wagler is responsible for their pay, travel, lodging, awards, and evaluations. He attributes success in the Navy to many of the lessons learned in Milwaukee.
"My biology teacher, Mrs. Parrot, always taught us to ask how someone is doing before starting a conversation," Wagler said. "I never forgot that, it helps break the ice and it acts as a catalyst for a genuine conversation. It shows I care about my sailors."
HSC-25 is the first and only forward-deployed vertical replenishment (VERTREP) squadron in the Navy and is tasked with supporting Seventh Fleet units in the Western Pacific, Indian Ocean, North Arabian Sea, and Persian Gulf. To provide this support, HSC-25 embarks two-aircraft detachments aboard Military Sealift Command vessels which provide transportation of equipment, fuel, supplies and ammunition to sustain U.S. forces worldwide. hey are the only Navy squadron based at Andersen Air Force Base, Guam.
"I love the flying, we are the helicopter search and rescue compliment to the U.S. Coast Guard for the island," Wagler said. "We use our air assets to train with the Marine Corps, Air Force and Army. The best thing about being forward deployed is that the tempo is high, and it makes it easier to be focused on the mission at all times."
For Carter lessons learned from both the Navy and Milwaukee gave him the drive to take personal responsibility in performing assigned tasks and leading others. As a Navy air traffic controller, he is responsible for handling the safe and expeditious flow of air traffic, through radar control on the ship.
"We help our aviators navigate to and from the ship, especially during bad weather or night time, when they can't see," said Carter.
Approximately 3,200 men and women make up the crew of John C. Stennis, with an additional 2,000 sailors assigned to the ship's embarked air wing, Carrier Air Wing 9. Named in honor of former Senator John C. Stennis from Mississippi, the carrier is longer than three football fields, measuring nearly 1,100 feet. The ship, a true floating city, weighs more than 100,000 tons and has a flight deck that is 252 feet wide. When the air wing is embarked, the ship carries more than 70 attack jets, helicopters and other aircraft, all of which take off from and land aboard the carrier at sea.
"Serving is a great honor," added Carter. "All of my uncles have served in various branches and I'm the first one to serve in the Navy. I'm proud to carry on my family's tradition of military service."
Marie Tillery and Jackson Brown
Jackson Brown, David Wyscaver, and Ignacio D. Perez