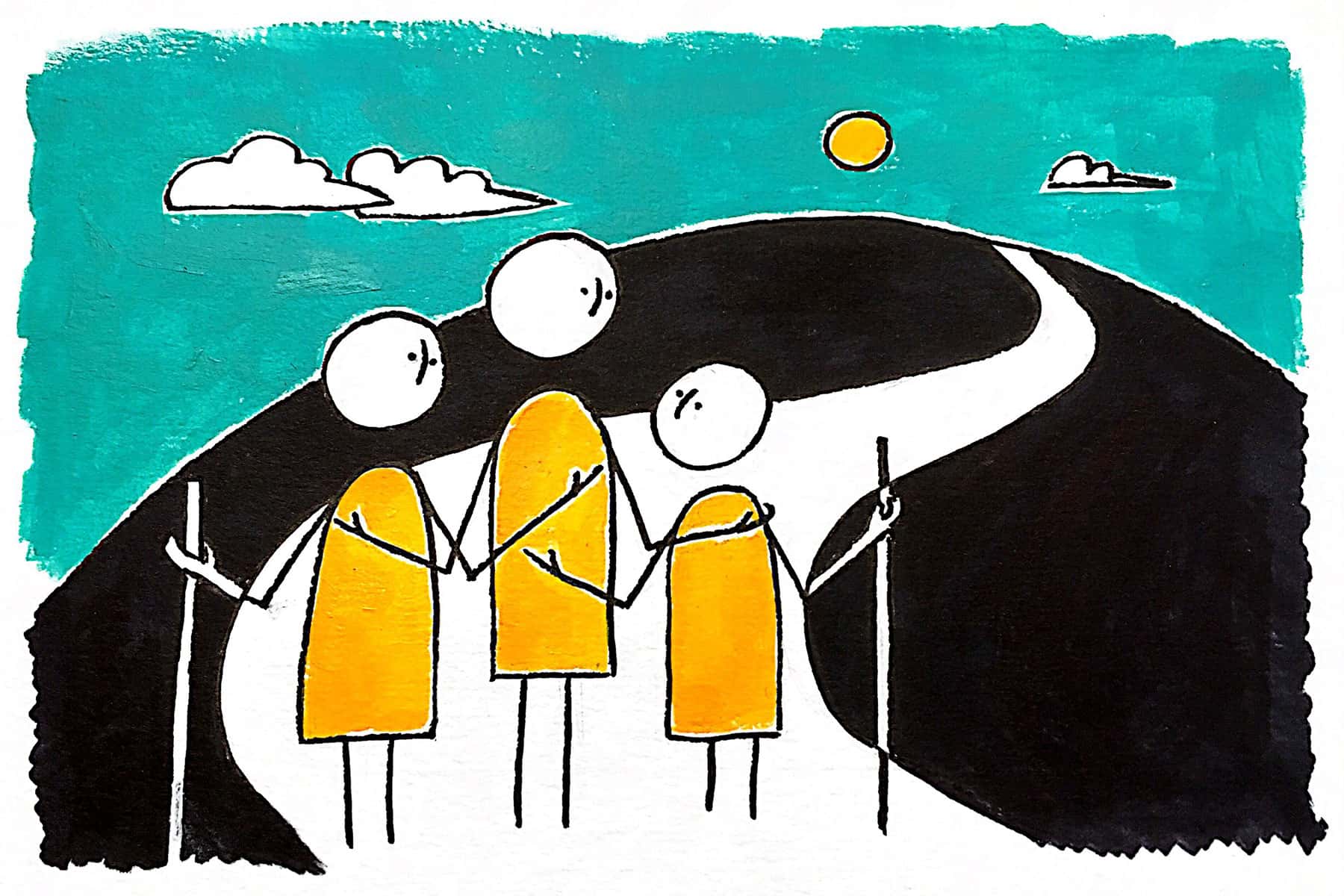 Knezelism: an inspirational illustration by artist Sherrill Knezel that explores different aspects of self-identity and community building in Milwaukee.
As a K-12 Art Educator working in the Wauwatosa School District since 1992, Sherrill Knezel felt influenced by the illustrated communications style of Mike Rohde's The Sketchnote Handbook. It tells the story of sketchnotes, why and how we can use them to capture our thinking visually, remember key information more clearly, and share what we have captured with others.
Using her self-taught Graphic Recorder skills, Knezel has led professional development for educators with Visual Literacy for her school district, and facilitated workshops for community organizations on applying Visual Notes for writing and conferences. She currently teaches at the elementary level and serves as the District Elementary Art Content Team Leader.
Q:
What does artistic expression mean to you?
A:
My definition of artistic expression is creating art that is personally relevant and meaningful to me, as well as uplifting to others. I think it is about speaking your truth as an artist in whatever medium moves you. My work has always centered around human emotion and connection, whether it be between family, friends, or strangers.
Q:
What message do you hope to present with your illustrations?
A:
I believe we are here to be in connection with one another and that is what truly matters, so I hope to foster that through my work. During chaotic times, we need to reconnect with each other, have real conversations, and rediscover what we have in common. I find myself drawn to the task of conveying messages of love, hope, connection, and growth. Almost every one of my illustrations can fit in these categories.
Q:
Where do you find inspiration to produce your artwork?
A:
I have always been a quote junkie. I used to tear them out of magazines and newspapers, write them on scraps of paper, and buy tons of cards with quotes that resonated with me. I never read a book without a pencil to underline and draw in the margins. I collect quotes from anywhere and everywhere. In December 2015, I participated in a daily drawing challenge and had been practicing graphic recording at the time as well. I decided to try to illustrate a quote a day for a whole year. The challenge of distilling a quote down to its most basic meaning and then illustrate it in my graphic recording style was fascinating to me. The process has helped me develop a stronger visual vocabulary, and also build a body of work that I have loved sharing with others.
Q:
What has been the public reaction to your work?
A:
At first, the drawings were just for me. But during the daily drawing challenge, the other participants all agreed to post them online so we could support one another. I posted mine on Facebook originally and then eventually on Twitter and Instagram as well. The response was positive and surprising. Most of the time I choose the quotes because they speak to me or are about something I am experiencing, but I have had people say things like, 'it was just what I needed to hear today' or 'it's like you were reading my mind this morning.' It is humbling to know that the drawings are resonating with others in a positive way. It inspires me and confirms that, in the words of Ram Dass, 'We are all just walking each other home.'
Part of the mission of the Milwaukee Independent is to make the news a source of inspiration, particularly with a focus on story driven photojournalism. We have partnered with educator and artist Sherrill Knezel to publish a weekly cartoon series that accomplishes the same goal, by using her unique illustration style to offer uplifting and thoughtful messages.
A Knezelism of the Week will publish each Monday.