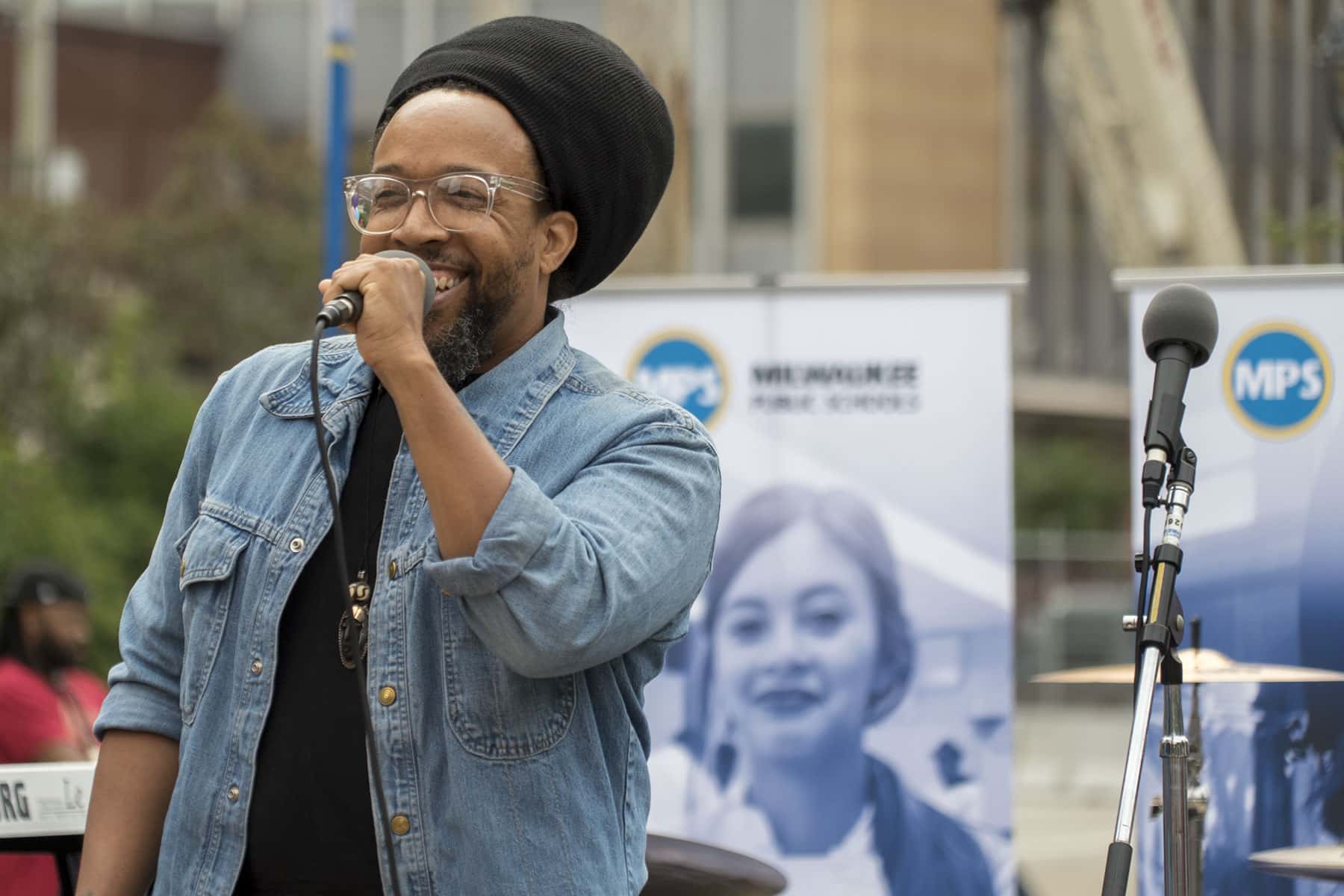 Superintendent Darienne Driver, Summerfest CEO Don Smiley, and Milwaukee Alderman and Chair of the Milwaukee Arts Board Michael Murphy spoke at the Milwaukee Public Schools (MPS) kickoff event at Red Arrow Park on September 21.
Superintendent Driver acknowledged the painful past of Red Arrow Park, inviting and recognizing Dontre Hamilton's brothers Nate Hamilton and Dameion Perkins, before she presented her vision for the MPS Year of the Arts.
"We have big plans for this year, plans to bring our students to arts and arts to our students," said Superintendent Driver. "In coming together to support and celebrate the Year of the Arts, we will connect our students to meaningful, engaging arts experiences in their classrooms, schools, and in communities across the cities. We are looking to our schools and school leaders to embrace this opportunity."
The arts are powerful and transformative components of every student's learning. The 2017-18 school year will focus on that curriculum, and MPS partnered with Cre8MKE to expand arts offerings to nearly 80,000 students across the district.
During the event presentation, the public was given examples of how MPS plans to redefine the experience for students, staff, and the Milwaukee community through Year of the Arts, and offered projections for the impact of the initiative.
Student performances included dance, jazz, spoken word, and drumlines, with an outdoor art gallery, showcasing the creativity of local youth, along with complimentary refreshments provided by MPS culinary arts students.
Nationally known poet and Turnaround Artist, Jacqueline Suskin, shared two poems she wrote on the spot. Both were inspired by the school community's vision. The Kevin Hayden Trio provided the live music, and Milwaukee artist Speech of the group Arrested Development performed at the Kickoff. Speech will also be a guest artist working with students this year at Lancaster Elementary.
"The arts are about more than drawing, painting and singing in the classroom," added Superintendent Driver. "The arts teach problem solving, persistence and discipline while allowing self-expression. When students have the arts in their lives, the journey of growing up is enhanced by the opportunity for students to discover who they are and what their dreams look like."
The collaborative campaign aims to raise awareness of, reflect upon, draw connections to, and build support for arts education assets and resources in MPS. Year of the Arts activities include a student logo design competition, launch celebrations, release of a local study on arts education, the creation of a Year of the Arts plan at every school, a city-wide student and family passport to the arts, increased arts integration and creative strategy professional development for MPS teachers, increased community arts partnerships across the district, a continued spotlight on our Turnaround Arts schools, and a culminating arts festival.
As an example of art in action, images from the the dedication of Ammar Nsoroma's latest mural entitled "Sankofa-Sebai" at Dr. Martin Luther King Jr. African-American Immersion Elementary School.