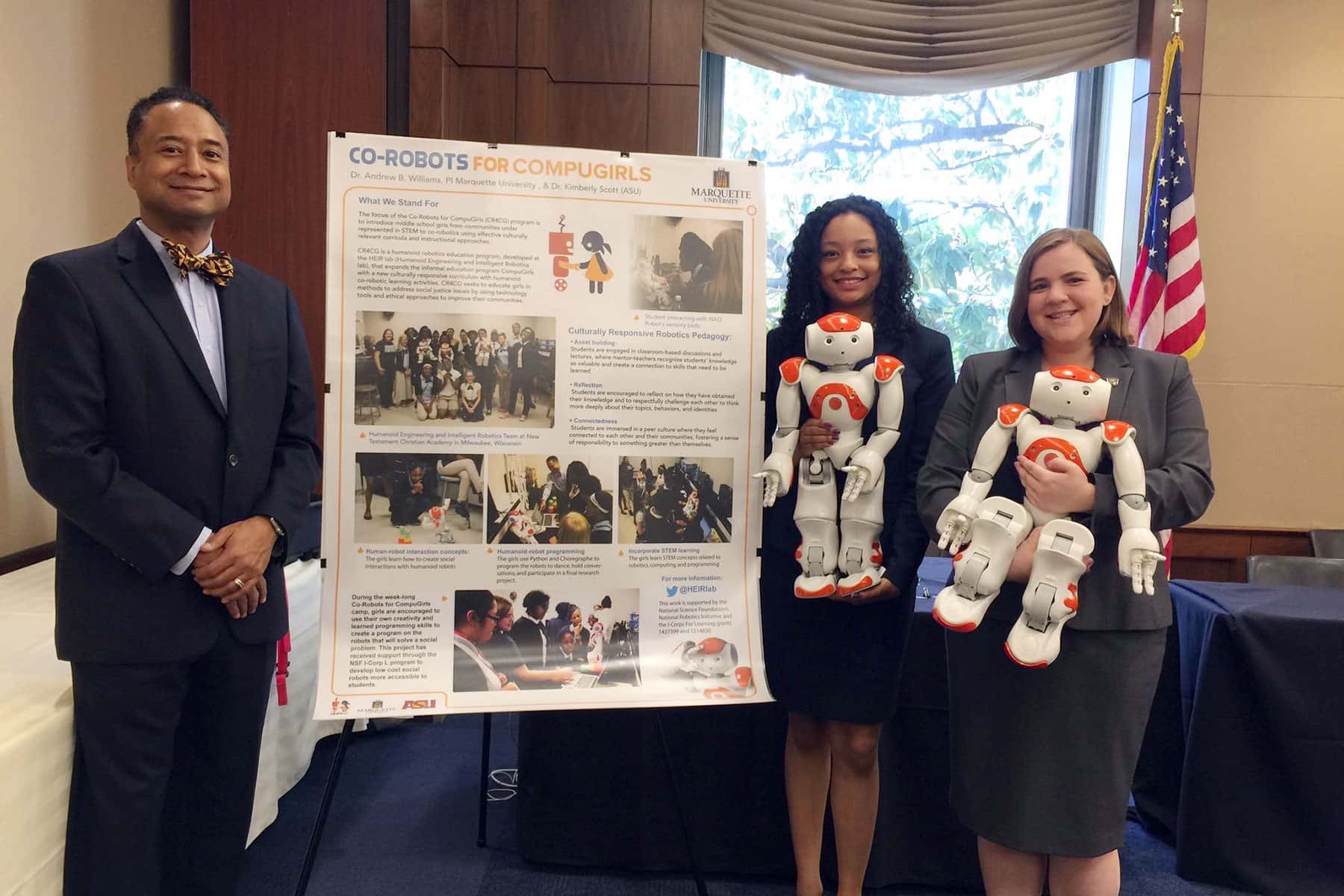 Editor's Note: A team from Marquette University traveled to Washington DC as part of an expo hosted by the Congressional Robotics Caucus. The event marked the five-year anniversary of the National Robotics Initiative, a multi-agency effort among the National Science Foundation (NSF), NASA, the National Institutes for Health (NIH), the U.S. Department of Agriculture (USDA), the Department of Defense (DOD), and the Department of Energy (DOE) to accelerate the development and use of robots that work beside or cooperatively with people and solve problems in areas of national priority. This essay describes that journey of technology and possibilities.
I am a junior at Marquette University studying computer science. When classes start again in August, professors will ask us what we did over the summer. Presenting our robots in Washington D.C. be my response.
For the past semester and now summer, I have been working as a Research Assistant in the Humanoid Engineering & Intelligent Robotics (HEIR) Lab. Specifically, I work on the Co-Robots for CompuGirls project, a culturally responsive week-long program that introduces middle school girls from underrepresented communities to various STEM (Science, Technology, Engineering and Math) educational concepts using robotics programming.
As a RA working on this project, I get to have fun programming robots and teaching tweens to do the same.
Prep before the event
The first step of preparing for a trip to the nation's capital, with expensive equipment that is nerve-wracking to protect, is making a meticulous list which had to be sent to the Capitol Police. The list went through multiple revisions, until the finalized one was emailed out with the names assigning who was carrying what.
In my mind, absolutely no items could be forgotten, no matter how small or inexpensive. Masking tape was one add-in that proved especially valuable. After rolling cords tightly and sliding screw drivers and adapters under our robot's limbs, we squished protective foam in the remaining gaps in the case.
Our first flight left from Milwaukee to Chicago at 5:15 a.m., meaning arriving at the airport right after 3 a.m. The night before, I could not sleep, both from excitement and nerves. I ran the robotics packing list over and over again in my head. I finally gave up trying to sleep around midnight, and instead unpacked and repacked my robotics case, thinking that effort could give me the peace of mind needed to sleep. It did not work and I gave up again around 2 a.m.
The event in DC
Anyway you spin it, the title of the event was quite a mouthful. The most concise name was "The Congressional Robotics Caucus event marking the 5th anniversary of the National Robotics Initiative." The goal of the National Robotics Initiative is to support the next generation of collaborative robots, commonly called co-robots. The Marquette HEIR Lab's project "Co-Robots for CompuGirls" is funded by the National Science Foundation and, as its name suggests, involves exposing girls to the field of co-robotics.
A total of 12 groups presented in Washington DC on June 9. It was to not feel intimidated when the other schools in attendance included MIT, Cornell, Johns Hopkins, and Carnegie Mellon. But I proudly wore a Marquette University pin on my lapel. After the second awkward question, "Wait, what state is Marquette in?" I made sure I included Milwaukee, Wisconsin, in my introduction.
An expert panel lasted about an hour and a half. The rest of the day was spent shaking hands with a host of people, answering questions, demonstrating our robots, and answering even more questions.
I must have easily said "Hello, my name is Kathleen, and I'm from the Humanoid Robotics Lab at Marquette University in Milwaukee, Wisconsin. Can I tell you about our NSF-funded project?" over 100 times. After the elevator pitch, we took questions from staffers, other collegiate RAs, professors, and members of Congress. Those questions ranged from the specifics of our research methods, to general inquiries about the robot's abilities.
While explaining the program, many interns, mostly college students as well, diligently took notes and asked intelligent questions, clearly trying to look like true professionals. However, when we started demonstrating the robots, they immediately smiled and asked more relaxed questions. At one point, young staffers got on the floor and did pushups with the exercising robot, and everyone had a good laugh when the 22 inch robot looked up and remarked "You must be taller than the Washington Monument!"
The most common question was "what can this robot do?" As cool as our robots are, I would try to direct the focus back to our summer programs, and explain that robots can do whatever they are programmed to do. "By the end of our week-long camp," I would explain, "middle school girls with no prior experience have the ability and confidence to make the robots dance and act in skits."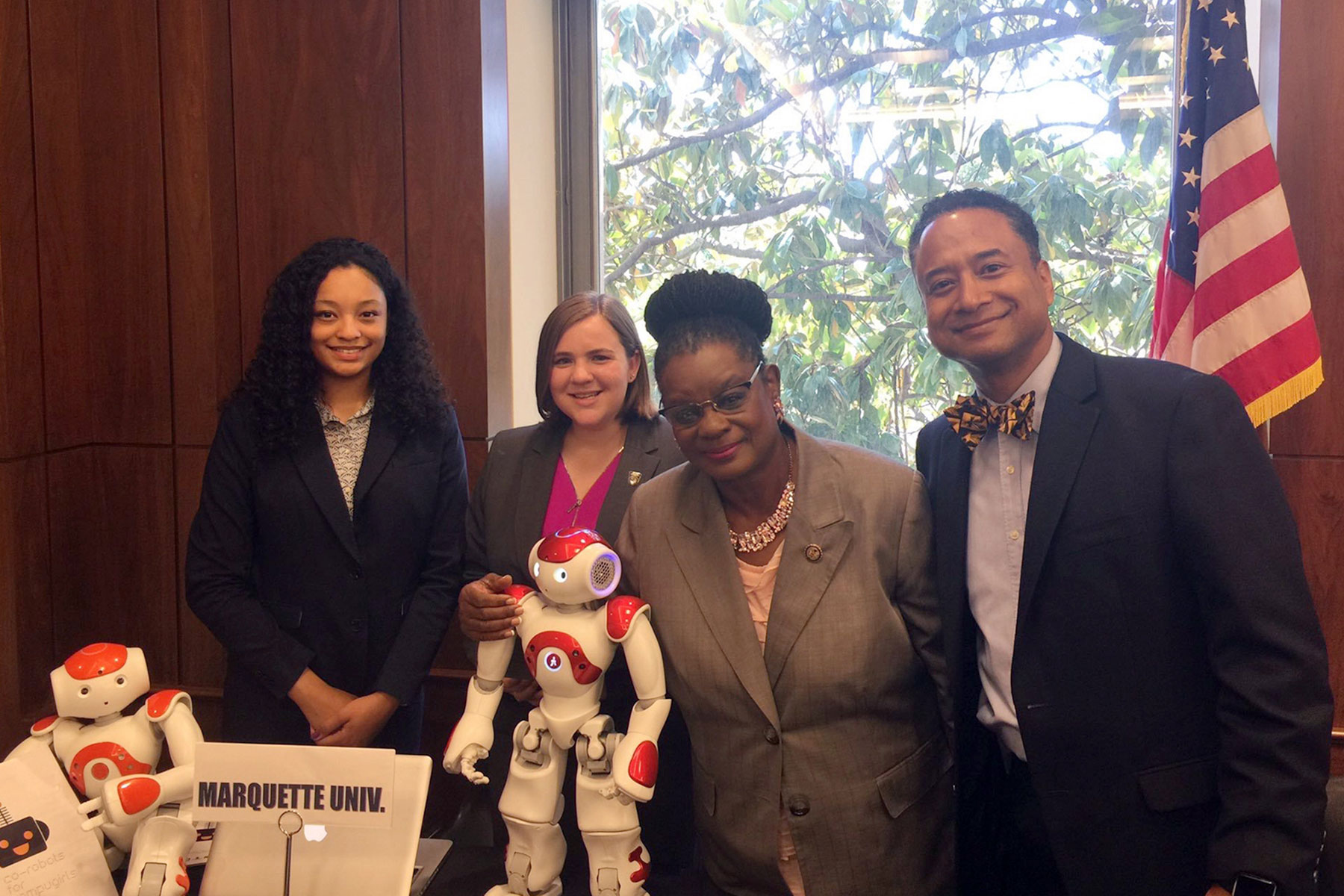 About the National Robotics Initiative
The goal of the National Robotics Initiative is to accelerate development and use of robots in the United States that work beside or cooperatively with people. Innovative robotics research and applications emphasizing the realization of such co-robots working in symbiotic relationships with human partners is supported by multiple agencies of the federal government including NSF, NASA, NIH, USDA, DOE, and DOD.
About the Congressional Robotics Caucus
The Congressional Robotics Caucus was formed in 2007 to focus on key issues facing the nation's robotics industry and related emerging technology. Members of Congress will learn firsthand about the use of robotics in agriculture, mining, logistics, defense, education, manufacturing and healthcare.
Kathleen Baert is a junior at Marquette University, majoring in Computer Science, with a minor in Mathematics. After college, she would like to start a career in the technology field that would allow her to develop educational materials and take an active role in children's STEM education.