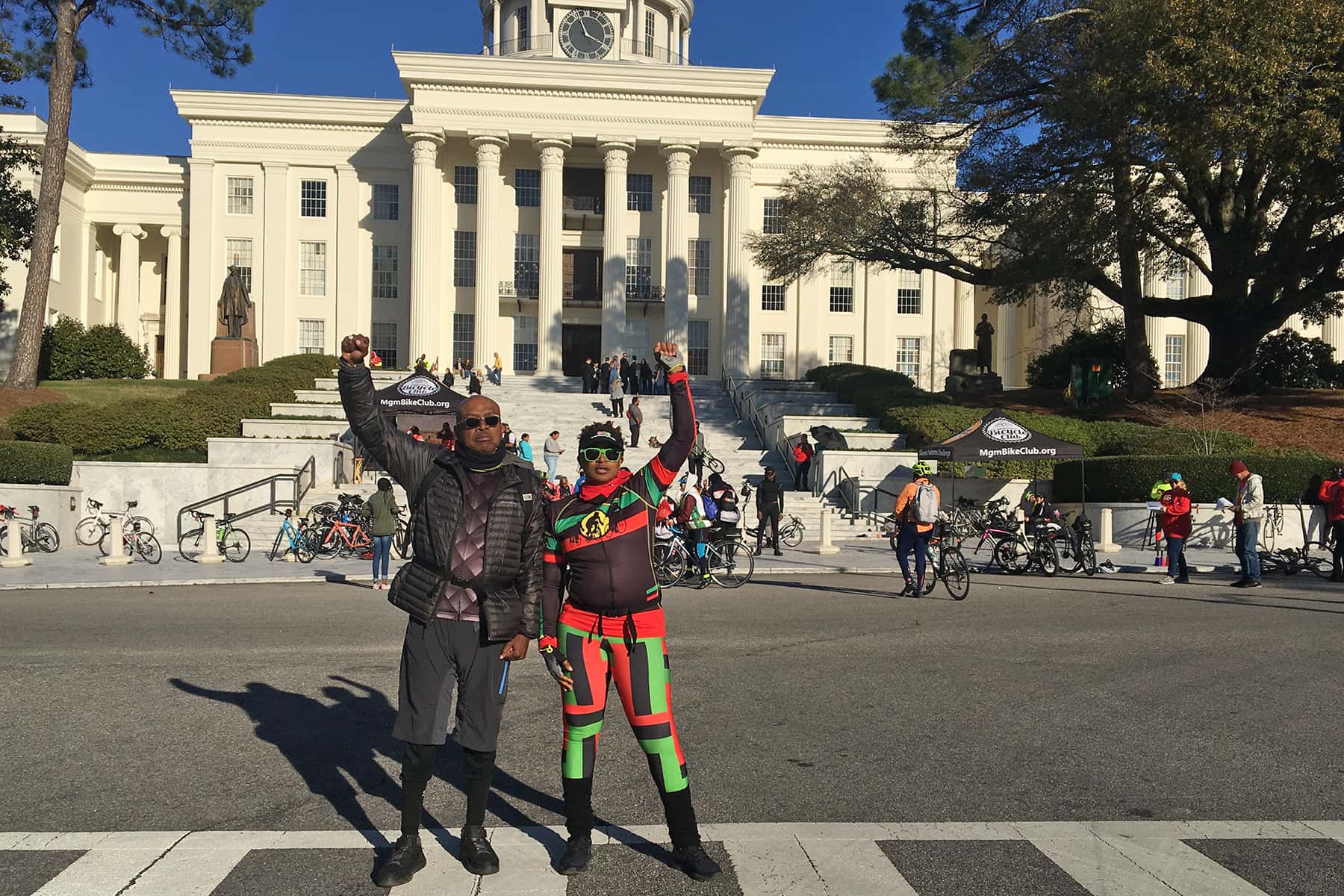 In the fading days of normality before the coronavirus permeated every aspect of modern life and when people could still gather, the Montgomery Bicycle Club commemorated the 55th Anniversary of the Selma to Montgomery Voters Rights March.
For the February 22 event, Cyclists followed the same 54-mile route that the foot soldiers took during their tension-packed march across the Pettus Bridge to the steps of the Alabama State Capitol, where Dr. Martin Luther King, Jr., and a host of others, addressed a crowd of 25,000 people in support of voting rights. In 1965, the Voting Right marchers walked an average of 12 miles per day and slept overnight in nearby farmer's fields. The weather at the time was unusually cold with rain and temperatures near freezing. A family bike duo from Milwaukee participated in the 2020 anniversary event, and rode the entire 51 miles in a single day. Wyman B. Winston, former Executive Director of the Wisconsin Housing and Economic Development Authority (WHEDA) and his daughter Nia Obotette made the physical and emotional journey together. This is the personal story of their experience as documented by Obotette.
Since my dad retired, he and I have traveled hundreds of miles together on our bicycles. Our recent cycling adventure began the weekend of February 22, 2020. A group of us traveled to the state capital of Alabama to ride 51 miles on our bikes. Following the same route that Civil Rights marchers took from Selma to Montgomery in 1965. The same route traveled by Dr. Martin Luther King. The same route that earned the infamous name Bloody Sunday. Dad and I rode the route together.
Two generations enjoying our time with each other – cycling just because we can. In a previous era, a father and child of our color cycling the highways of Alabama would not have been possible.
Each of us was born in a different time, him in the 1950s and me in the 1970s. I cannot imagine my dad and his father cycling together, traveling to the Deep South and riding over Alabama highways on a bicycle. The thought of how impossible it would have been does not escape me.
How could my overworked and underpaid grandpa have cycled across US Route 80 in his day? He would not have even conceived of such a thing. To begin with, my grandpa and dad would not have the time for a leisure activity. The possibility of them being able to slip away for a few days from work is hard to imagine. There was also the demands of family, since my grandpa had a wife and eight kids. Even if he was able to take my dad, two black men cycling on Route 80 for 51 miles across Alabama in 1965 could have seen them included in the graves and memorials that line the sacred route today.
It is indeed almost impossible to conceive. The combination of health, wealth, and the social environment were all factors that would have prevented my grandpa and father to make such a journey, but a half century later allowed my father to do so with me.
In 1965, marchers woke the consciousness of our nation and the world to the struggle of African Americans. Their courage resulted in the passage of the Voting Rights Act. The voting act granted the legal right to vote for all, regardless of color.
This victory did not come easily. The first of three marches happened on March 7, 1965. The day is now known as "Bloody Sunday." It is the day that non-violent marchers, over 600 American citizens, were prevented by law enforcement officers from crossing the Edmund Pettus Bridge. At the bridge, state and local lawmen attacked the marchers. The fact that the bridge itself was named after a confederate soldier who later becomes a grand dragon in the KKK was not lost on that moment in history either.
American Citizens who marched in 1965 were beaten with clubs, trampled by horses, and tear-gassed. The confrontation left many of them bloodied and severely injured. When the images of peaceful Americans being attacked by the Alabama State troopers was broadcast live on television, it shocked the world.
It was 1965 and I was not yet born. Dad would have been a teenager and grandpa in his forties. Dad and grandpa would have been the same ages as those who marched. The brutal images shocked the nation. It resulted in thousands of marchers of all races arriving in Selma to join with activists and civil rights leaders. The goal was to have another march, which would include Dr. King. They would attempt to march from Selma to Montgomery.
Two weeks after Bloody Sunday, a third march took place. The participants walked from Selma to Montgomery. It took them five days along US Route 80 east to Montgomery and concluded near the Alabama State Capitol building on March 25. A judge granted the marchers the protection of state and federal law enforcement. I cannot imagine the outcome had they not been given that protection.
The marchers traveled in the cold and rain. They camped alongside the highway in muddy and wet conditions. When the marchers reached the state capitol building in Montgomery, the crowd was in the thousands. It was on those steps that Dr. King delivered his famous "How Long, Not Long" speech.
Dr. King spoke to our shared frustration with America's treatment of African Americans as second class citizens. My grandpa's generation was running short of patience for things to change. Dr. King told us "Not Long, because the arc of the moral universe is long, but it bends towards justice."
Dad is now in his sixties and he is also a grandpa. His father passed away in the late 1980s from heart disease. So here was my dad in February 2020, nearly the same age as his own father when he died, standing at the steps of the state capitol building in Montgomery, with me. It was a bit emotional.
Dad had made the choice to eat better, exercise more, and monitor his weight as important steps to live longer. I was super proud of him. The route of our ride was hilly, and being an active highway there was some danger from the trucks and speeding cars. Dad's determination to finish was inspiring.
In the years leading up to his retirement, dad had saved enough to live comfortably. But he was doing the work that he loved, so retirement had been put on hold. Now that he has retired, he can choose how he spends his time. I never considered that cycling for 51 miles on the Alabama highway would be one of them, but he was both eager and excited.
I had seen the event circulating on Facebook. A Montgomery Bicycle club was planning a bicycle ride from Selma to Montgomery on February 22 to commemorate the journey. I thought the concept was great. So when I signed up to participate, I shared it with my dad. He was all in.
I then posted about the event on the local Black Girls Do Bike – Milwaukee Facebook page. My thought was that dad and I would get a minivan and just drive down. However, once I posted on the cycling page the interest and the response was overwhelming. At one time there was the discussion of renting a coach bus in Milwaukee to accommodate a larger group.
Black Girls Do Bike (BGDB) is a community of women cyclists – of all races. The social media page helps to bring together women of color who are passionate about cycling. BGDB is a safe place to organize events and educate riders. I thought I was going to pick up an extra driver or fellow cyclist that would want to carpool. It turned out to be more than that.
In the end it was nine of us including my dad who signed up, with ages of the ladies ranging from 27 to 67. I created a chat room for those that had registered, so we were able to share information. I reserved hotels and vehicles, and set about making sure dad and the group had enough information to be prepared. It was bad enough that, because of Wisconsin winter, it would be hard for us to train for those 51 hilly miles. A couple of us were able to get out for a few training miles, even while snow was on the ground.
The Alabama hills really added some valid concerns. We were reminded of the rich history surrounding the event, that in 1965 the Civil Right marchers walked 12 miles per day, slept in farmers fields and sometimes in the mud. The weather was unusually raining and cold, with temperatures dipping to below freezing. In contrast, our group would be cycling the 51 miles in one day. The Montgomery Bicycle club had organized roadside assistance, rest stops for bathroom breaks, and snacks. We would have warm hotel rooms and massages planned for after our ride was over. In 1965, the marchers had no such comforts. It inspired each of us just knowing what the they would have had to endure.
Days before we were to leave for Alabama, dad's bike went into the shop. Emerys Cycling Triathlon & Fitness on Lisbon Street in Milwaukee took care of him. Then while on the ride in Alabama his bike started to make a noise. A quick long distance call to Emerys bike shop and they gave dad some helpful advice. By the second rest stop dad was all fixed and ready to push ahead. We were both appreciative for the long distance assistance from our Milwaukee bike shop.
On our last rest stop before Montgomery's Capitol, I remember trying to rush the group along. Truth was, I never got to train for the full 51 miles and I was concerned that long stops would drain me and make it harder to keep moving. So at the rest stops I wanted to get in and get out. I remember asking everyone "ready?" Dad said, "No, not yet." He had just been talking with a cyclist from California around his age with a similar educational background. There he was, networking with this West Coast architect, a potential riding buddy for dad when he is in California. It is not easy at his age to find others who are interested in cycling. So our quick roll out would have to wait.
Just having a healthy dad is a blessing. The fact that he is an active cyclist is a plus. For an African American child, it was seen as some kind of miracle to have both parents together through adolescence, not to mention growing up with your "real" dad. It was that pride, which was not the result of anything special, that I enjoyed nonetheless.
Those kind of stereotypes have always followed me. I grew up with college educated and hard working parents. We took road trips to California in the summer, and those experiences were so formative for my life. My America was a working middle class family, and so very different from my dad's or grandparent's America.
There was a time not too long ago, when such a moment would not have been possible. It was an honor to be a part of my own family's history, and to share that time with some amazing and inspirational ladies.
So standing there at the Alabama State Capitol steps in the shadow of history with my dad and a group of BGDB Wisconsin Cyclists was memorable. I stood with my fist in the air. I could not have been more proud of the ladies or my dad. We each finished. We each challenged ourselves and overcame the obstacles that stood in our way.
The experience made me wonder what kind of America we would have today if those marchers had not sacrificed so much to cross over that bridge.
Nia Obotette and Black Girls Do Bike
The
Milwaukee Independent
began reporting on what was then referred to as the mysterious "Wuhan Virus" in January 2020. Other local media did not picked-up on the story until many weeks later. Our early features focused on the economic impact, social issues, and health concerns long before other Milwaukee news organizations even mentioned the coronavirus. Over the following year, we have published hundreds of articles about the pandemic and how it has affected the lives of Milwaukee residents. This extensive body of work can be found on our
COVID-19 Special Report
page, a chronological index of links by month. Our editorial voice remains dedicated to informing the public about this health crisis for as long as it persists.
For medical resources, please visit the
CDC's COVID-19 page
or the
Wisconsin Department of Health Services
. All editorial content published by
Milwaukee Independent
can be found at
mkeind.com/COVID19
. With a mission of transformative journalism, our staff is free from commercial bias and are not influenced by corporate interests, political affiliations, or a public preferences that rewards clicks with revenue. As an influential publication that provides Milwaukee with quality journalism, our award-winning photojournalism and features have helped to achieve a range of positive social impact that enriches our community. Please join our effort by entrusting us with your contribution. Your Support Matters -
Donate Now