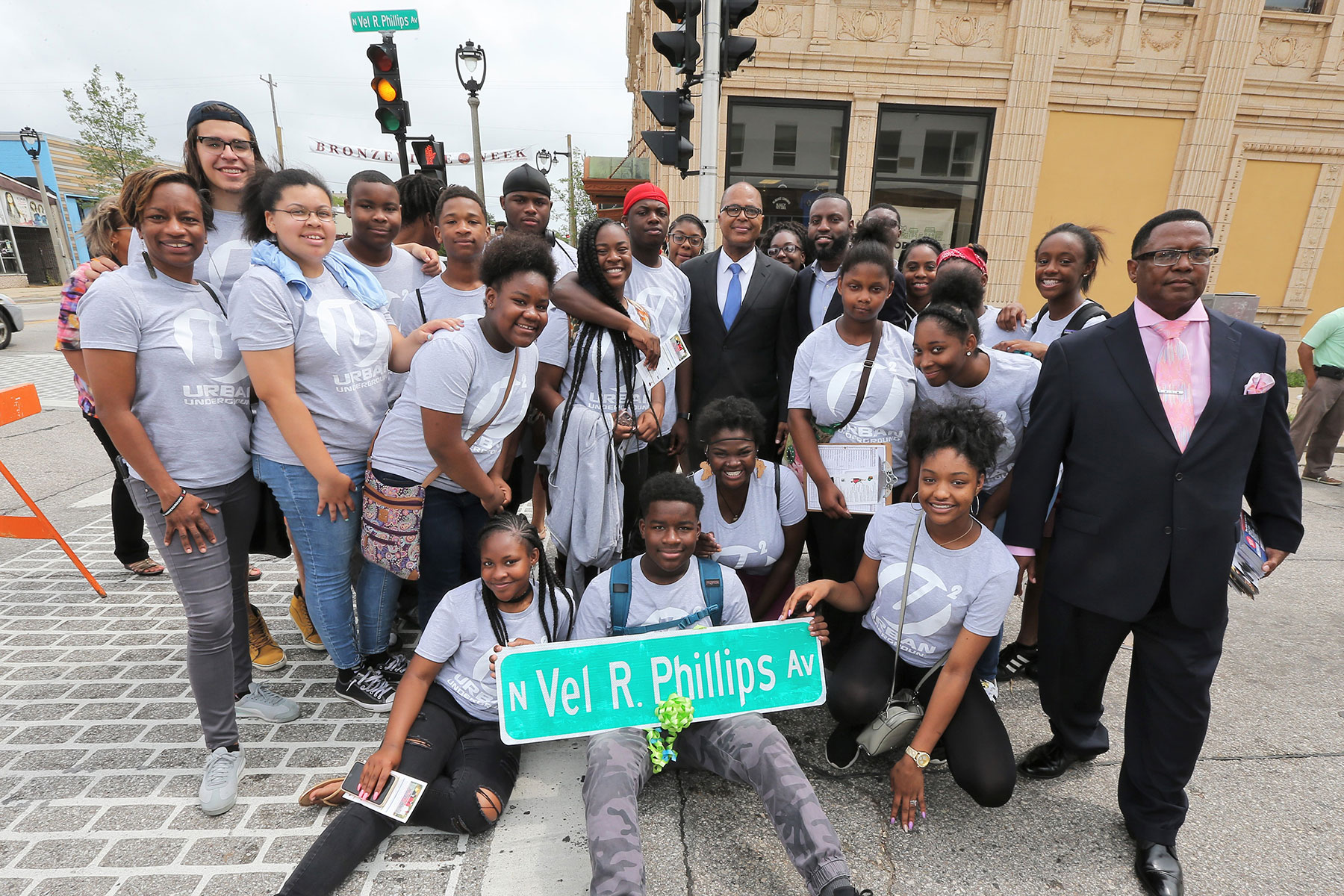 History was made on August 7 as Vel R. Phillips, Milwaukee's first African-American and first female Alderperson, had a public street officially named to memorialize her life and work.
Signs for North 4th Street, from West Saint Paul Avenue to West Capitol Drive, were replace with the new designation of North Vel R. Phillips Avenue. The street's renaming serves as a memorial to her advocacy for social justice, fair housing and civil rights, and the groundbreaking career of Vel R. Phillips and her lasting legacy in the Milwaukee community.
"It is interesting that we are naming a street after my mother, because she was not the best driver," said her son, Michael Phillips. "She is with my father right now, and they are probably wondering if I am going to get in my car and drive up and down her street and obey the traffic laws."
North 4th Street had a special place in her life, because Phillips attended Garfield Elementary School and St. Marks Church on that street, and went on to represent the area of Bronzeville as the 6th District Alderwoman.
Dr. Martin Luther King Jr. Drive also runs parallel to North Fourth Street, reflecting the collaboration and friendship between the two civil rights leaders of their time. Alderwoman Milele A. Coggs introduced the legislation, which was unanimously recommended for passage by the Public Works Committee on April 25.
"The legacy of Vel Phillips, her incredible courage and commitment, has shaped our community's history, and it is past due time to make this small tribute to such a large figure in Wisconsin and this nation's history," said Alderwoman Coggs. "Running parallel to MLK Drive, North Vel R. Phillips Avenue will serve as a reminder of her contributions to the betterment of the community and the voice she used to advocate for others."
The Griot Apartments and America's Black Holocaust Museum (ABHM), 2233 and 2234 N. Vel R. Phillips Avenue, were recently constructed on the street. Bronzeville encompasses the area between Garfield Avenue and Center Street, and between Dr. Martin Luther King Drive and Seventh Street in Sixth Aldermanic District. It was inspired by Milwaukee's original Bronzeville, which was located on Walnut Street and was an economic center for black business owners.
Phillips was instrumental in the 1967-68 Milwaukee fair housing marches, introducing four open housing bills as an alderwoman and marching alongside NAACP Youth Council members, who demonstrated for 200 days.
This audio was recorded live during the street dedication ceremony, with comments from Alderwoman Coggs and other speakers including Mayor Tom Barrett, Michael Phillips, and Jasmine Johnson.
© Photo
Joe Brusky, Pat A. Robinson, and City of Milwaukee's Department of City Development (DCD)