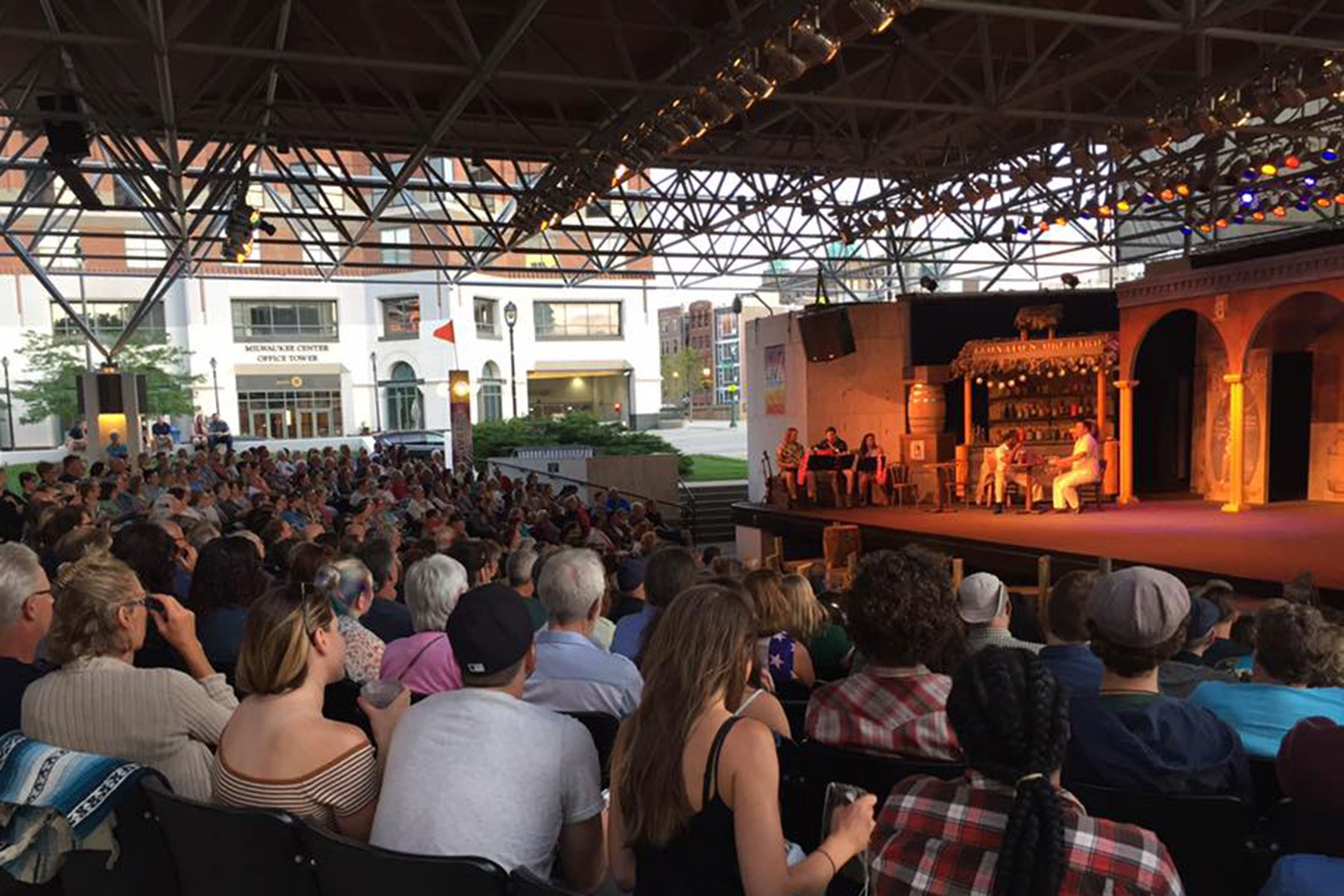 Marcus Center's Peck Pavilion will once again host the free public Shakespearian performances, by the Optimist Theatre, for a second season as part of the LIVE @ Peck Pavilion performance calendar.
James Pickering, a legend of the Milwaukee stage, will appear in the title role and in her return to Milwaukee, Lisa Gaye Dixon will direct. One of William Shakespeare's most famous works, the tragedy will play on three weekends: July 5 to 8, 12 to 15 and 19 to 21, with a weekday matinee on July 17.
"The script may be 400 years old, but the tale is timeless," said Dixon. "The story illustrates the human condition. My motivation is to tell a ripping good yarn about love, tenderness, arrogance, foolhardiness, stubbornness and finally, redemption. 'Lear's' themes make us think about the loyalty of the few we sometimes overlook, friends and family, while seeking something else that's ever out of reach."
An aging king, facing his mortality, divides his kingdom among his children. Anguish, bloodshed, and a world turned upside down are the fruits of his faulty and spiteful decisions. King Lear reflects modern day upheavals on scales both large and small, from nationalistic struggles and civil wars to dysfunctional family relationships, and the loss of the self that an aging person experiences.
"The storm that lies at the heart of King Lear is a perfect maelstrom of passion and experience, resources and drive. Shakespeare in the Park has eight seasons under our belt, under all sorts of weather," said Ron Scot Fry, Optimist Theatre's Artistic Director. "Lear himself calls for the storm, 'Blow, winds, and crack your cheeks! Rage! Blow!' His wise fool knows, 'This cold night will turn us all to fools and madmen.'"
Pickering was one of the founding company members of Milwaukee's Shakespeare in the Park in 2010 when he portrayed Prospero in "The Tempest." His brilliant comedic turn as Dogberry in 2017's "Much Ado About Nothing" marked his return to SITP. Pickering has performed on many of the region's stages, including as Scrooge at the Milwaukee Repertory Theatre's "A Christmas Carol" for nearly 20 years. He is a former Milwaukee Arts Board Outstanding Artist of the Year and the narrative voice of the Emmy Award-winning Making of Milwaukee on PBS.
"I always look for the relate-able moments of lightness, from wry irony to downright slapstick. Ultimately, I enjoy working with the actors to incorporate their thoughts and ideas to create something that is truly greater than the sum of its parts," added Dixon. "I am exceedingly excited to get to bring this great work to life!"
The Peck Pavilion, located downtown on the corner of Kilbourn Avenue and North Water Street on the Downtown Riverwalk, is the only outdoor performance space in Milwaukee that was designed specifically for spoken word theater.
2018 marks the ninth season of Shakespeare in the Park performances and is the creation of the Optimist Theatre, a 501(c)3 non-profit theater company. While their shows are free to attend, they are far from free to produce. A substantial portion of their funding comes from donations of individuals who believe that Shakespeare in the Park is important to the Milwaukee community.
© Photo
Peck Pavilion at the Marcus Center