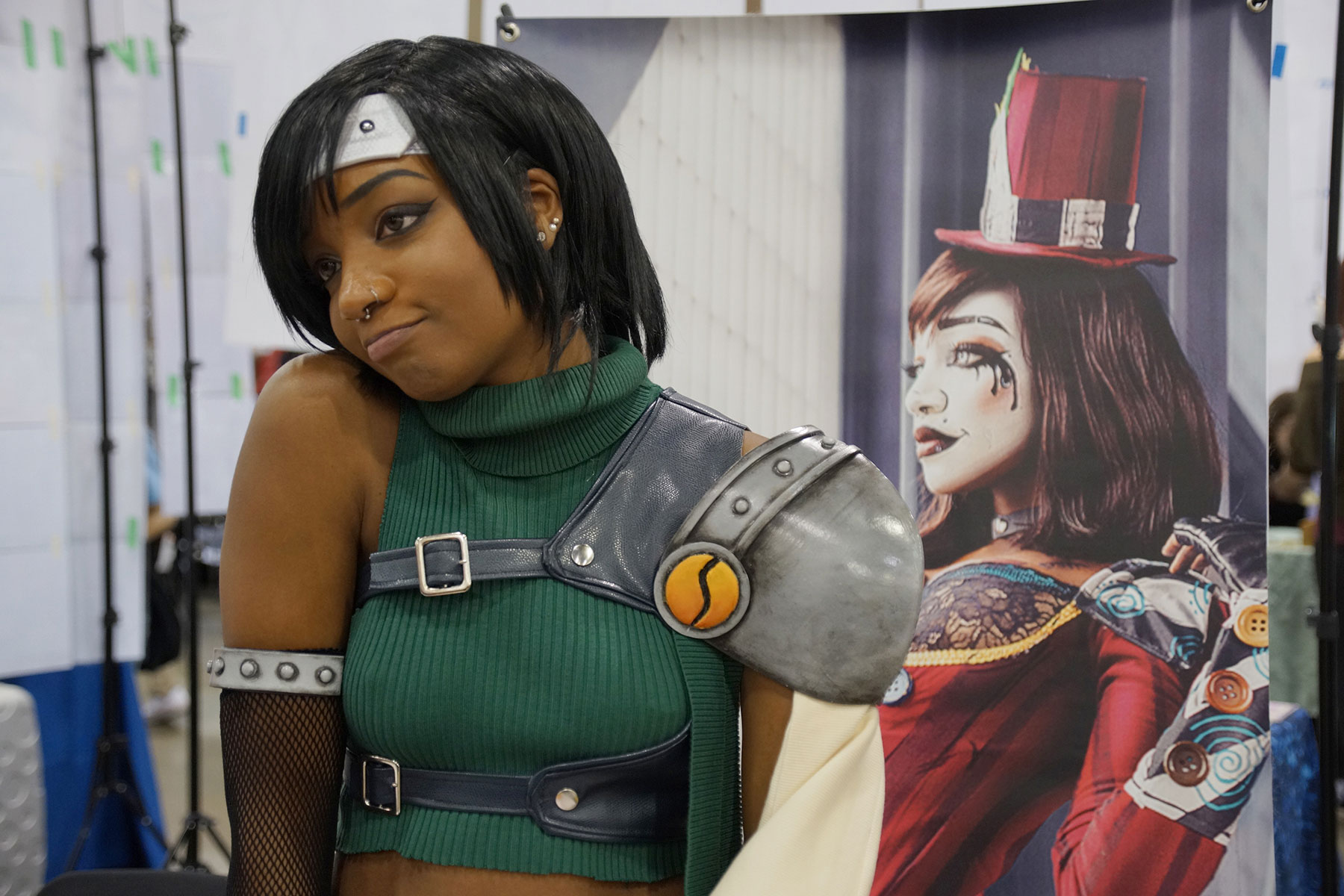 "I like being here, and the fact that manga books express my lifestyle as normal. If you see something in books all the time, it has to be normal. That's how it is in Japan, but America doesn't understand this reality. And most people here are scared of it. So we come to this anime convention as a refuge from how society views us. There should be events like this in the city all the time." – Christina Sierra
Two years ago at Anime Milwaukee 2016, the Milwaukee Independent explored an observation that had avoided public attention, "How anime silently desegregates Milwaukee." The article remains a must read on the subject, and is the basis for this follow-up.
The 2018 AMKE convention began on the day that the movie Black Panther premiered across the country, Marvel Comic's original Black Superhero that has set box office records. Of the more than 10,00 participants this year from February 16 to 18, someone Costume Player – or Cosplayer – could have worn a Black Panther outfit, but none were spotted.
Even so, there was no doubt about the popularity of anime within the African American community who attended AMKE in significant numbers as a form of expression, self-identity, and a platform to connect with others. In its 11th year, the convention has been Wisconsin's largest Anime and Japanese cultural event.
"I can look at people and have nothing in common with them, and then they seem me wearing something anime related and then all of a sudden we have a huge context for dialogue. I got into a Lyft this morning and told the driver I'm going to an Anime convention. The entire drive all the way past Silver Spring to here was about anime," said Jalen Flore from Milwaukee. "Just look around, this is the most segregated city in the country. But I see a pretty good mix of people here. So I'd say that hobby interests in general are good at uniting people. I especially think that because a lot of people were shunned for liking anime when they were younger, they will take any chance they get to share their interest in public with likeminded people."
The Japanese anime industry pulled in a record $17.7 billion in 2016, with growing exports and revenue from mobile game licensing. For many African Americans, anime offers a much needed role model in the absence of such family or community figures.
Starting in the late 1980s, animation became a popular form of weekly entertainment that spread from Saturdays to the whole week. Cartoons offered kids a new world to escape to and learn from, with many of those lessons still remembered today.
Aside from being entertaining, those cartoons were created to keep messages light for consumption by the younger generation. They carried a moral value through their characters, besides having a story to tell. Morals were woven into them, so that children could apply the valuable lessons.
"I think anime really brings people together, because you wouldn't normally see these type of people in this type of setting, feeling comfortable, and being able to dress how they want to without judgement. Even when I was in school and we didn't have anything in common with other classmates, we could always connect by talking about anime. It helped break down the barriers between us," said Tiki Drake, who attended the event. "It feels like the older generation who wants to help just tries to push people into a space that's comfortable for them, not us. Lots of people just don't understand anime, and what it means to women of color. They judge us on the outside, without taking the time to understand us on the inside. Anime makes us feel good on and allows us to express ourselves."
Cartoons and animated movies often act as a value addition to teaching a lesson. Music, graphics and visual aids are better sources as teaching aids for kids because an image can become fixated in a child's memory to convey a message and be more effective.
"You can learn valuable life lessons from anime. That is why so many people ask what was the gateway to anime for them, like Naruto, Dragonball Z, or One Piece, because of the values they taught, training you to be someone better, and never giving up on your goals," said Nyes Shorter. "The majority of people outside the community don't really understand anime, so it is easy to be shunned for liking it. But if you look at the economy, eSports is getting really big now. It is getting all these endorsements and it has actual big companies like the Cavaliers and Golden State that is taking it seriously now because since it is a multi-billion dollar industry."
As noted in the 2016 report, Community leaders should consider how anime speaks to Milwaukee's youth and influences their lives in such places as 60th Street and Silver Spring Road. Perhaps more venues and programs that embrace anime would that help incubate a positive trend. Anime clubs would foster community and relationship building, far more impactful and lasting than many recent high profile foundation promoted events. Anime already gives strangers a point of connection and chance to help understand each other, without reinventing the wheel using talk club events.
"With anime, there is guaranteed to be something for everyone. If people do the research, they will be able to find good representation somewhere. I would say that there are some characters that are still are a little racist – Mr Popo," added Jalen Flore. "But overall if people like TV they can find some anime to connect. There is "Shokugeki no Soma" which is about cooking. If people like food they will like that show. Also, the techniques are real, I know because my friend does a lot of cooking."