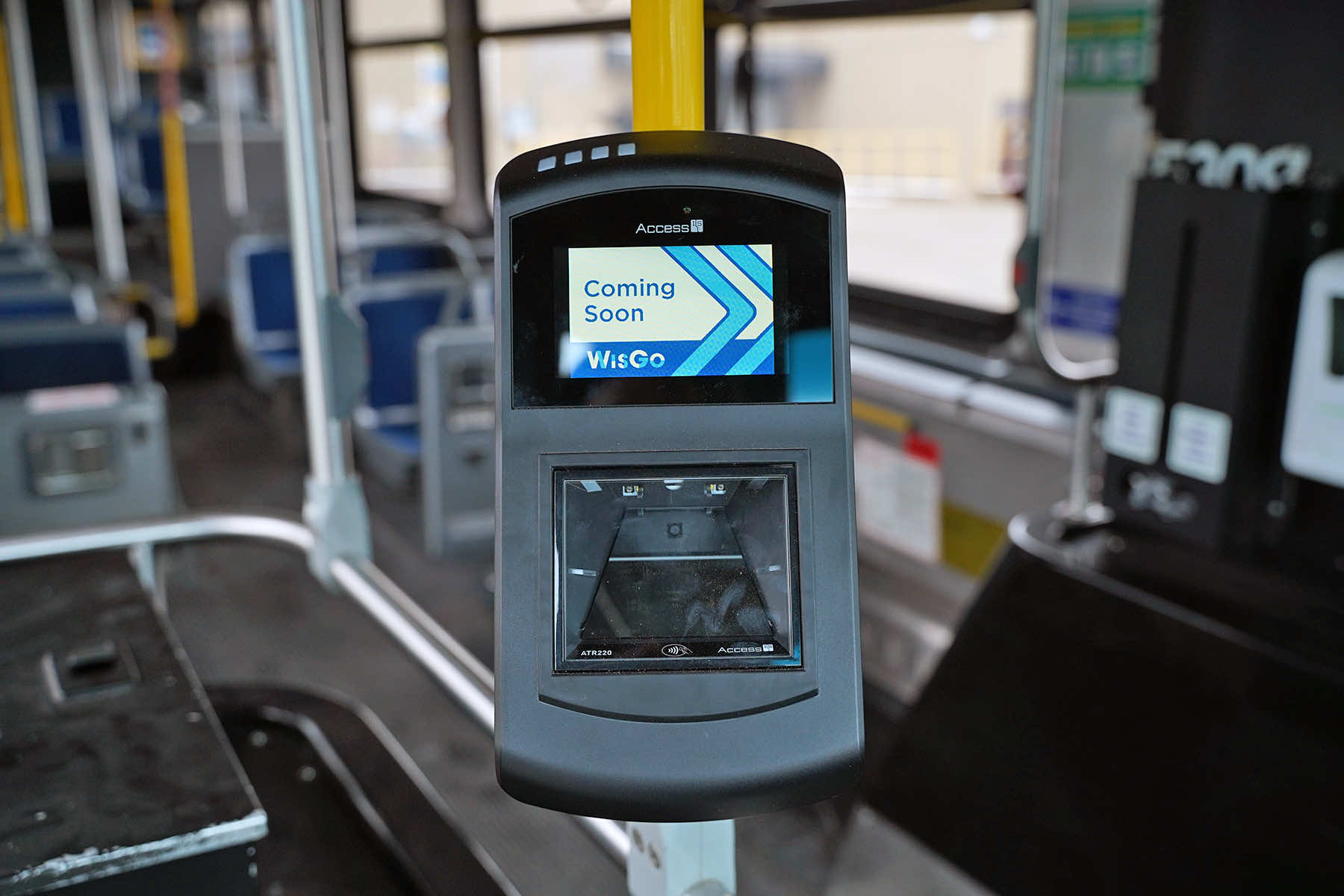 Milwaukee County is about to join a list of major metros around the world, such as London, Sydney, Portland, and New York City among others, when it introduces riders to fare capping this spring.
Milwaukee County Transit System's new fare collection system, called WisGo, caps bus fares. Riders pay as they go, saving money the more they ride, without the need to purchase a daily, weekly, or monthly pass. The rollout happens in two phases: full Umo mobile app features start in March. Then, the WisGo system goes live in April. Riders will have through September to make the switch from the current M-Card system to WisGo.
"Milwaukee County deserves what transit-savvy cities around the globe offer: a flexible, easy-to-use fare collection system. With WisGo's account-based system, riders get access to the best price through fare capping, a simpler fare structure, and the convenience of multiple ways to pay," said Interim Managing Director Denise Wandke. "We are always looking at ways to enhance the rider experience and introducing Milwaukee to a more regional and national travel planning system is not only going to do that but make it easier for new riders to try public transit."
"I'm glad to see MCTS removing cost barriers and improving the transit experience for riders. This is a key piece of transportation equity, and a way to grow loyalty among riders at time when residents are looking for alternative transportation options," said Milwaukee County Executive David Crowley.
MCTS's new automated fare payment system is operated through Cubic, and includes the Umo mobile app. Bonnie Crawford, Vice President and General Manager of Umo, says, "Our partnership with MCTS gives riders a more equitable travel experience and we are proud to be part of the evolution of mobility in Milwaukee."
A Simpler Way to Ride the Bus
The new fare structure is simple: $2 per ride for regular fare riders that caps at $4 per day; and $1 per ride for reduced fare riders (seniors, kids ages 6-11, and those with a qualifying disability) with a cap of $2 per day. Visit RideMCTS.com/WisGo for the weekly and monthly caps.
How Fare Capping Works
Fare capping does the math for riders because each validator on the BRT route or on buses reads the card or app and knows immediately how many times each person has paid a fare to ride the bus. WisGo will automatically deduct the lowest amount the rider owes. Gone are the daily, weekly or monthly passes previously required to earn that discount. Riders get all the MCTS routes they love plus the more they ride, the more they save.
A New Way to Pay
Riders will have multiple ways to pay including the Umo mobile app which takes credit cards and debit cards along with Apple Pay and Google Pay and WisGo cards. Riders simply scan their mobile phone screen or WisGo card and the validator will automatically deduct the correct fare amount for each rider. If a rider reaches a fare cap, the validator will not deduct a fare. It will also tell riders if their fund balance is low.
Riders can still pay with cash across all routes, but they will not be able to have fares capped. Riders with Commuter Value Passes and U-Passes will automatically be enrolled in WisGo. The transition happens behind the scenes.
WisGo 2023 Timeline:
MARCH: Validators are available on buses for Umo mobile app users starting in early March. The Umo app's full functionality means that the temporary 105-minute and all-day fare options will be removed as riders can now store value on the app. All users will be able to enjoy fare capping through the app.
APRIL: The new fare structure fully launches in April. Validators will take WisGo cards, in addition to the Umo app. Riders can purchase WisGo cards in April at nearly 100 locations including Community Financial, or reload existing WisGo cards at over 100 local retailers—including supermarkets, pharmacies and convenience stores such as Walgreens, Speedway & Dollar General. Some retail locations do both, such as El Rey. M-Card users can turn in their cards for a free WisGo card April through June. WisGo Bus Ambassadors will help riders download the app or get a WisGo card at key locales around the county. Reduced fare riders will receive their new WisGo cards via mail.
MAY: Riders have another month before the BRT launches, to switch to the new WisGo system. New cards are free until June 30. Afterwards, regular fare WisGo cards cost $2.
JUNE: MCTS CONNECT BRT service starts on June 4. Riders pay their fare before boarding and then enter through either the front or back doors of the bus. MCTS will educate the community on how to use and what to expect with WisGo in several virtual sessions.
Throughout the transition period, riders can still use their M-Cards on existing fare boxes but are strongly encouraged to use up their M-Card balances as soon as possible because the new BRT line, MCTS CONNECT, will not accept M-Cards.
© Photo
Milwaukee County Transit System