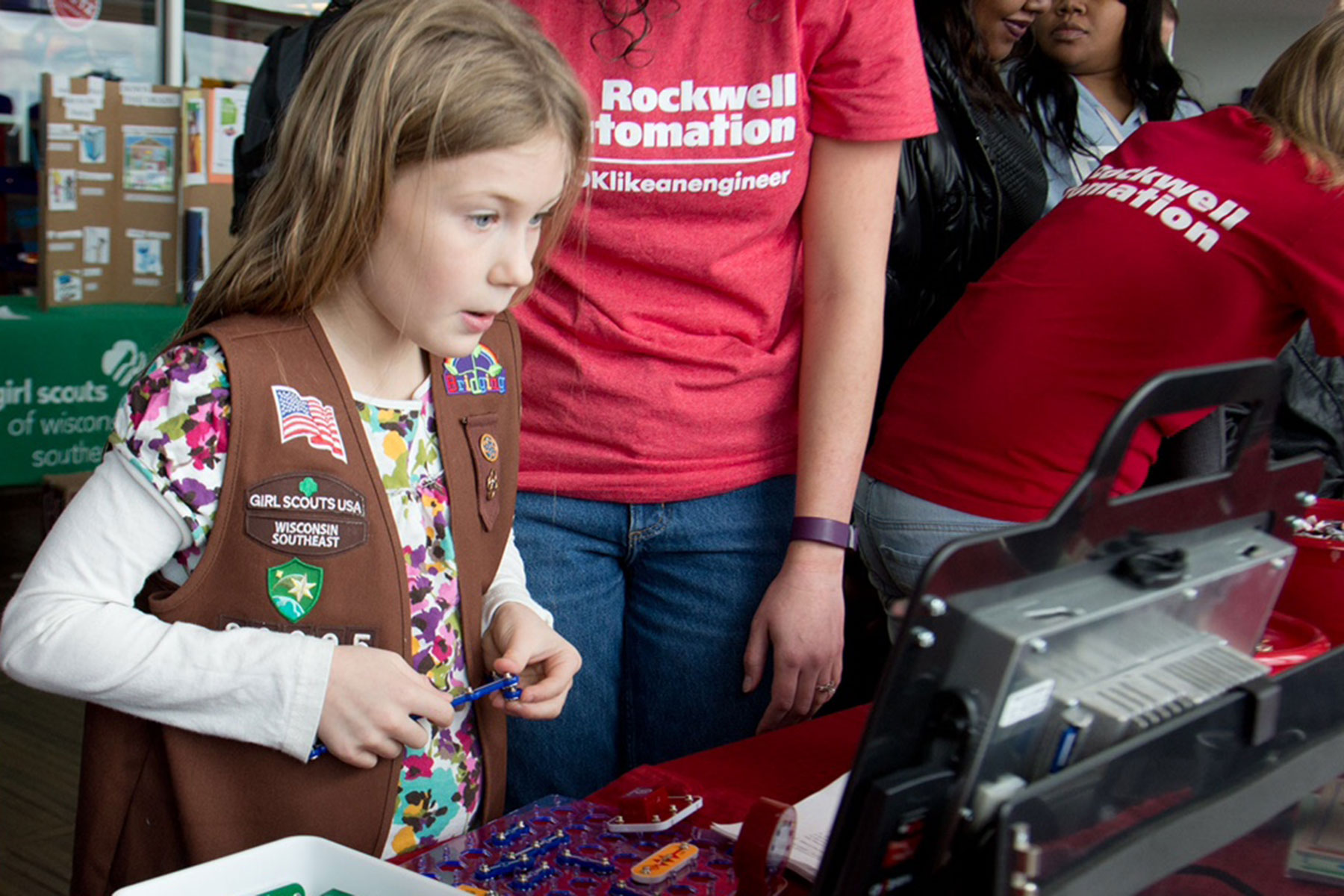 Exposure to science and technology was the purpose behind Discovery World's first annual Girls and STEM event, featuring women in prominent industry-related careers and engaging activities.
Discovery World launched their first annual Girls and STEM event on November 19, to overwhelmingly positive response. More than 1,600 visitors came to the museum to witness the numerous careers and opportunities available for women in science, technology, engineering and math (STEM).
Along the Discovery World promenade, and filling their upstairs exhibit and labs spaces, were booths and experiences provided by long-time partners, like Rockwell Automation and Northwestern Mutual. Other organization in Milwaukee that support girls in STEM, such as Marquette University's College of Engineering and St. Joan Antida high school also joined the event.
Because women are extraordinarily underrepresented in STEM fields, an event promoting Girls and STEM, especially for girls of younger ages, was desperately needed.
"Research shows that segments of the population (especially young women and young people of color) who are underrepresented in STEM fields lose interest in STEM as early as 4th or 5th grade without exposure to fun and engaging STEM experiences and activities," said Joel Brennan, president and CEO of Discovery World. "We, as a museum, can be the introduction to cool and fun experiences that get and keep young women interested in STEM, and we can be the spark that allows them to explore their own creativity, imagination and innovation."
Due to its success and necessity, the Girls and STEM event will be Discovery World's annual November event for years to come. The project also allows the museum to bring in girls from all backgrounds, as they were able to give away hundreds of free tickets to organizations like the Girl Scouts, St. Joan Antida High School, the Boys and Girls Club, Big Brothers Big Sisters.
In previous years, Discovery World had a STEM festival. This year it was decided to focus specifically on young girls. Special events coordinator Ana Minter organized the program and was inspired by her own experiences with STEM as a young girl.
"Growing up I was always scared of STEM and intimated by science, technology, and math," said Minter. "I thought it was only for the really smart people and for men and boys. So in planning this event, I was thinking, what would I have wanted to do as a kid? Maybe an event like this would have changed my path and exposed me to elements of STEM that aren't scary, but fun, like playing with Legos, playing with robots, and doing science experiments."
During the Girls and STEM event, many appealing aspects of STEM were highlighted, such as the Boys and Girls club's lego robotics team, and Marquette University's Humanoid Engineering and and Intelligent Robotics (HEIR) lab's exercise robot named Rosie. Marquette's Society for Women Engineers demonstrated chemistry experiments, Brady Corporation taught attendees about circuits and the robotics team from the all-girls high school St. Joan Antida showed off their robots.
Discovery World also teamed up for the first time with Betty Brinn's Children Museum for a mars rover activity. Families constructed miniature mars rovers with Discovery World's Kohls Design It! Lab and then made stop-motion videos with Betty Brinn's filming equipment.
A major goal of the Girls and STEM event was to bring young girls in contact with women working in STEM professions. Milwaukee Materials, for example, featured their female engineers and designers, as did Brady Corporation and Northwestern Mutual.
"The event exposes the kids to young women who are in STEM careers and companies who want and need more young women to consider future careers in STEM," said Brennan. "We can make sure these young women know that classes and programs exist at Discovery World and elsewhere in the community that can help them explore and consider these future careers."
One such STEM career is aviation, which was well-represented at the Girls and STEM event by pilot Shaesta Waiz and her non-profit Dream Soar. Dream Soar raises awareness of opportunities for girls in STEM through Waiz's solo-flight around the world.
"What we're doing is talking about the global flight that will kick off next year in May, and we're inspiring young girls that they can do whatever they want in STEM and aviation," said Waiz. "The world is their blank canvas. They can paint their future for themselves."
Waiz will be among the first women to complete a solo-flight around the world. Born in an Afghani refugee camp, she is also the first certified civilian pilot from Afghanistan. While in flight school, she started an organization promoting girls in STEM that eventually became Dream Soar.
Also working to inspire girls in STEM was Northwestern Mutual, who at the event featured telepresence robots, taught people how to program video games and displayed their financial planning apps. Though Northwestern Mutual is a life insurance and financial advising company, technology is an essential component of what they do, as most financial planning is online. Getting young girls involved in STEM is a central mission of the company.
"We want to get young girls involved in STEM at the right age," said Karl Gouverneur, Northwestern Mutual's Chief Technology Officer. "I have a 20-year-old daughter and I could see her lose interest as she was 9, 10, 11, 12, so that's the time to influence them to do science and technology. I've seen what these kids can do and the potential is there. We need more women in technology and it starts right here."
Discovery World plans on extending their mission to promote interest for girls in STEM beyond the November event. They plan on adding at least three STEM summer camps just for girls next year.
"We will continue work with gender specific schools like St. Joan Antida, and partners like Rockwell Automation, to connect talented young women to educational programs and young female engineers who can act as mentors and supporters for girls," said Brennan. "And we will continue to host 'Girls and STEM' themed days until we don't have to any longer."