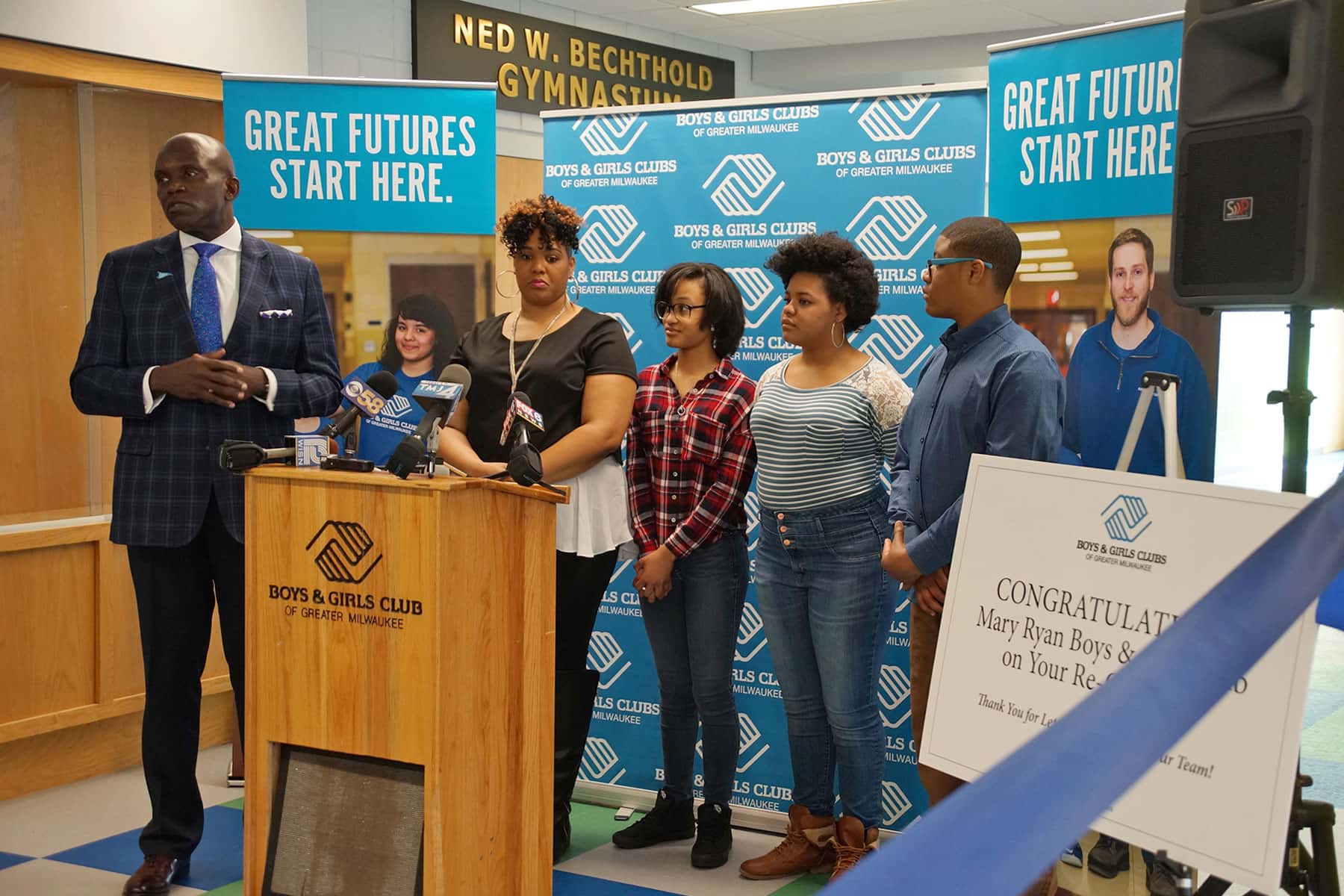 Community leaders hosted a reopening ceremony at the Mary Ryan Boys & Girls Club in Sherman Park on March 8.
The facility had been closed to the public for renovations since the end of August 2016. The 25-year-old building was due for major updates even before unrest from the Sylville Smith incident overtook the area last year.
"All of us were aware of what happened last summer. Some teens in our community were frustrated, so Boys & Girls Club asked 'what we can do about that?' What you see is this beautiful space," said Vincent Lyles, president and CEO of Boys & Girls Clubs of Greater Milwaukee (BGCGM). "Our teens are certainly welcome to come in and utilize the space today. But we're going to do something even more special for them a little later on this year. We have a teen center planned and are really excited about getting it started. So before the end of this year, we will have a brand-new teen center downstairs."
Major renovations were applied to every room in the 57,000 square-foot building, which required 418 gallons of paint, 3,590 square-feet of carpet, and 13,460 square feet of rubber flooring. More than 200 pieces of furniture were replaced, and more than 1,200 new light bulbs were installed.
"I represent the 7th Aldermanic District, which happens to be this neighborhood right here," said Alderman Khalif J. Rainey. "But before I represented the City of Milwaukee, or was ever elected to any government office, I was just a kid here in Sherman Park. I played pool at one of these tables. So I can personally attest to the value of the Sherman Park Boys & Girls Club, and what it means to the surrounding area and neighborhood. I'm excited to hear about the resources that have been provided, with the computer lab and opportunities for kids. It is something Sherman Park desperately needs."
The Club contains several spaces designed specifically for the different age groups it serves, with programming tailored to their development. These include "mini-pals" for 5 to 6 year olds, "pals" for 7 to 8 year olds, "cadets" for 9 to 12 year olds, and "teens" for 13 to 18 year olds. The building renovations were made possible through the generous financial and in-kind contributions of Milwaukee County, Lowe's Companies, Boys & Girls Clubs of America, Northwestern Mutual, The Greater Milwaukee Foundation, Grainger, and VJS Construction.
"As we talk about businesses returning to Sherman Park, let's not forget that the absence of the Boys & Girls Club was definitely felt throughout the Sherman Park neighborhood," added Alderman Rainey.
HGA Architects will be designing the new teen center within the Club, focused to better serve the neighborhood's teen population. When completed, the new space will include a music studio, computers, a quiet study spot, and areas for socializing and collaboration.
"We could not have done any of this without the help and support of many people in this community. They know this club has been in this neighborhood since 1988. I'm really excited about getting started, and reopening, and being available to our kids," said Lyles. "A lot of people played a role here. This isn't just about the Boys & Girls Club, so we're really excited about doing more in the space."
Boys & Girls Clubs of Greater Milwaukee is one of the largest and longest youth serving agencies in Milwaukee. More than 43,000 children and teens are enrolled in its structured after-school and summer programming each year. Within the safety of 44 locations, youth have access to free meals, academic support, role models, and opportunities to explore new interests.
Building Upgrades at a glance
Colorful new paint on nearly every inch of the 57,000 square-foot building
All new floors and carpeting
More natural lighting and new ceiling tiles
New computer lab including more space, furniture, and computers
New pool tables, fuse ball tables, air hockey tables, pop-a-shot games, and ping pong tables in a newly renovated games room
More than 200 pieces of new furniture throughout the entire club
New career development space, including a teen job center that will serve 16 to 24 year-olds
New mural provided by Lowe's Companies
New HVAC system from Butters Fetting Company, providing better air conditioning in the summer and heat in the winter