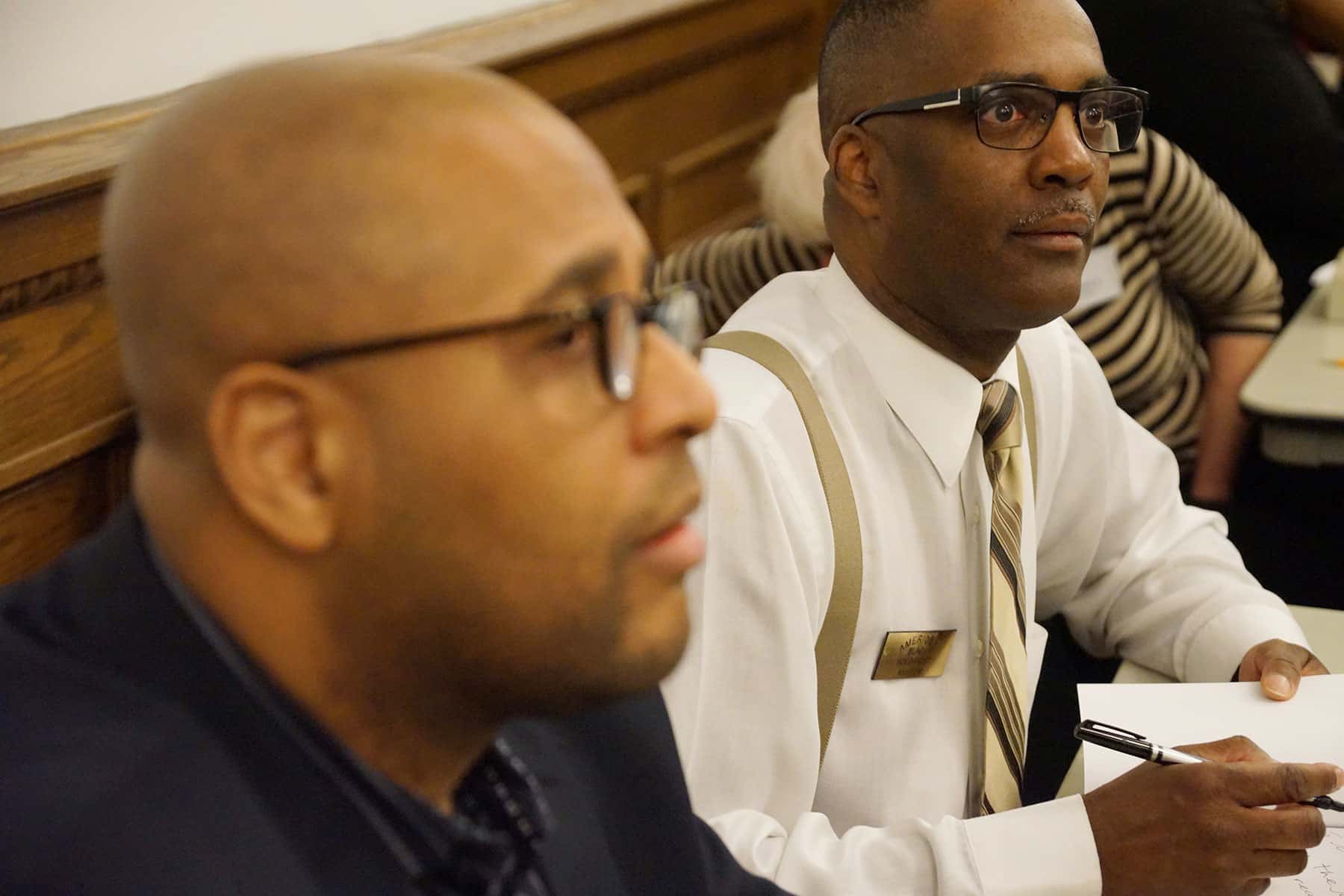 Centennial Hall at the Milwaukee Public Library hosted an evening to honor American civil rights activist, Dr. James Cameron, on February 27. The event was produced by America's Black Holocaust Museum (ABHM) as part of their annual Founder's Day Gathering. Black Voices Matter! An Evening of Arts and Culture was the theme for the 2016 program. It dramatized the historic and enduring struggle against violence and oppression presented by black artists and writers.
Established in 1988, ABHM was the only memorial dedicated specifically to the African victims of enslavement in the United States. The physical museum closed in 2008 due to financial problems, but re-opened online as a virtual museum in 2012 with the ability to reach a broader international audience.
The community was invited to the unveiling of a new exhibit about Dr. Cameron's life and writings, created by the Milwaukee Public Library. The annual Founder's Day Gathering helps raise funds for ABHM to operate its public programs and support its mission, to build public awareness about the harmful legacies of slavery in America and promote racial repair, reconciliation, and healing.
Programing for the event provided an opportunity to remind the public about the role the arts and drama have played in preserving these painful histories for future generations to learn from.
In the 1940s, Dr. Cameron founded three chapters of the National Association for the Advancement of Colored People (NAACP). In 1952, he moved with his family to Milwaukee, where he worked in well-paying factory jobs that allowed all five of his children to attend college. His research trips to the Library of Congress and National Archives, and collection of artifacts would inspire his creation of ABHM.
Dr. Cameron's memoir is the only account ever written by a lynching survivor. During the Jim Crow Era, a period from the end of Reconstruction in the 1870s to the Civil Rights Movement of the 1960s, an estimated five thousand men, women, and children of color were lynched.
The third edition of his inspiring book, A Time of Terror: A Survivor's Story, was expanded with previously unpublished chapters, additional vintage photographs, and a background of historical events that shaped the era. Dr. Cameron's son Virgil, and co-authors Reggie Jackson and Dr. Robert Smith held a book signing before the evenings stage performance.
"It's nothing short of amazing what Dr. Cameron was able to accomplish in his seventy-one years as a civil rights pioneer, working man, self-taught historian, writer, father of five, and founder of America's Black Holocaust Museum," said Jackson in the book's Afterword.
Jackson is President of the Dr. James Cameron Legacy Foundation and Head Griot of ABHM. Griot is a widely used French term for a traditional West African oral historian. He presents little-known stories about African-American history at schools, libraries, churches, and businesses. He also conducts diversity and race relations training. Jackson led hundreds of tours in the Museum's original building and was instrumental in developing ABHM's virtual platform, where he continues as a scholar. He also serves on the boards of Rid Racism Milwaukee, the Zeidler Center for Public Discussion, and the Wisconsin Humanities Council.
Local artists were featured during the program, who presented a three act stage play.
Act 1, produced by the Hansberry-Sands Theater Company
During the 1920s and 1930s, the Washington D.C. home of Georgia Douglas Johnson was a gathering place for writers, artist, and directors of the Harlem Renaissance. The works of these pioneers promoted pride in Black identity and culture. Their new Negro theater movement produced plays that could be performed inexpensively by community groups in churches and homes. Safe is one such play. Safe portrayed the unique horrors faced by black women coping with the lynching of family and community members. Johnson refused to give these dramas Hollywood endings, as we would call it today. Instead, she believed it more realistic to show the reality of a social problem still unresolved.
Stage Director of Safe, AbNey, is the Artistic Director of the Hansberry-Sands Theater Company and has been an active contributor to Milwaukee's performing arts community for more than 40 years.
Act 2, produced by Reggie Jackson and America's Black Holocaust Museum
A Time of Terror: A Survivor's Story was based on Dr. Cameron's best known memoir. As a 16-year old in 1930, Dr. Cameron was lynched with two others in Marion, Indiana. An estimated fifteen thousand men, women, and children gathered to witness the spectacle. Also on hand was a professional photographer who snapped a picture to sell as a souvenir of the event. It became the world's most famous lynching photographic record. Dr. Cameron, though badly beaten, survived. He was imprisoned for the next five years, during which he began writing his memior.
Of the lifetime of recognitions he had received, the most meaningful was his official pardon from Indiana Governor Evan Bayh and the Indiana Parole Board. Dr. Cameron was reported to say, "When (the Parole Board Chairman) told me that, I broke down and cried over the telephone. I'd been carrying that load all these years and didn't know it was on me until it was lifted."
Act 3, produced by Marti Gobel
Born into slavery, Ida B. Wells became an investigative journalist, newspaper editor, and international speaker. In the 1890s, she published two works documenting the horrors of lynching. Wells used these to illustrate how violence was developed to control Blacks who competed with Whites economically and socially. Wells also helped found the NAACP, and was active in the Women's Suffrage Movement. The play, A Walk with Ida B. Wells, reflects on her writings and amazing life.