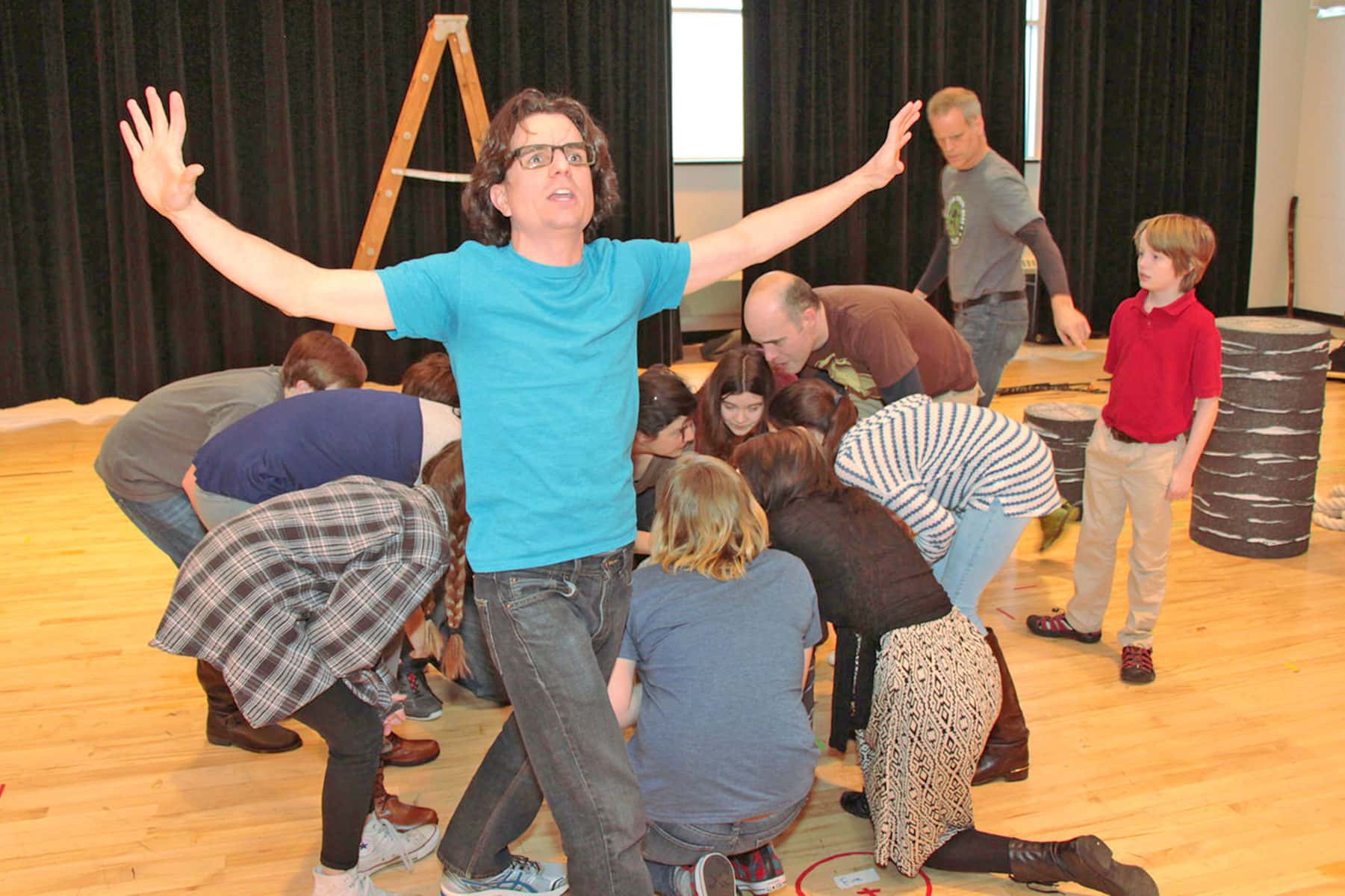 Bree Kazinski, a 16-year-old actress, had a very personal connection to her role in First Stage's production of "Luchadora." The play tells the story of a young Latina girl who discovers that her grandmother was once a masked wrestler in Texas before she moved to Milwaukee. Kazinski felt the connection because her own grandmother migrated from Texas to Wisconsin at a young age.
"My grandma felt like she was watching her own story," said Kazinski. "And that helped me understand not only what my family went through, but what so many Latino families had to go through to come to Milwaukee."
Fostering that type of connection is one of the goals of The Wisconsin Cycle, a series of six plays produced by First Stage, a children's theater company in Milwaukee. The Wisconsin Cycle tells stories about people and events important to state and local history. With one exception, the productions were written by Milwaukee playwrights and cover topics including the Underground Railroad and mental health. "Luchadora!" was the fourth of the series.
Betsy Corry, managing director of First Stage, said the organization's mission is to transform lives through theater. Challenging productions, a theater academy and a unique theater education program all contribute to that mission.
Corry said that First Stage is one of only a few theater companies in the country that uses age-appropriate casting in all its productions, meaning if a character is a young girl, a young actor will be cast. This type of casting makes it much easier for young audiences to connect with the stories, according to Corry. "They can see themselves on the stage telling the story and they can relate much better."
Corry said that the audience's ability to relate to the productions has been especially important for The Wisconsin Cycle because the series aims to start conversations about culture and diversity with the young audiences.
Alvaro Saar Rios, writer of "Luchadora!" said that he was happy to be part of a project that is being used as a conversation-starter about culture. "The Wisconsin Cycle allowed me to tell a personal story about Latino migration," said Rios. "It's important for us as Latinos to see ourselves represented in the arts."
Kazinski said that "Luchadora!" helped her to understand her mother's family history, and "The Snow," this season's Wisconsin Cycle production, is helping her to understand her father's history.
Lucia Lozano, First Stage's community engagement manager, said the goal of The Wisconsin Cycle is to get the community engaged in important conversations. "What we want to do with The Wisconsin Cycle is talk about racial disparity [and] economic disparity," Lozano noted. "We want to engage these children early."
Lozano said theater has the ability to teach understanding and compassion, which is why the Wisconsin Cycle is so important. She added that these productions illustrate Milwaukee's diversity while also bringing the community closer together.
"At the end, we leave the theater understanding that we are all the same, that we all share a common humanity, so that is pretty powerful," said Lozano.
Corry added that the productions themselves are powerful tools, but First Stage doesn't stop with the curtain call. Through "talk-backs" after the shows, actors and writers join the audience to discuss the themes and topics raised by the script.
"If First Stage doesn't make sure those conversations are happening, we're losing an opportunity," said Corry. "It's not just the plays, but how we engage the community around those plays and around the issues and relevant conversations that need to happen in Milwaukee."
"The Snow," which is inspired by German folklore, premiered on Feb. 26. The play follows Theodore Sutton, a young resident of a fictional village, through the frozen tundra.
Work already has begun on next season's show, "Welcome to Bronzeville," The Wisconsin Cycle's final installment. While the series may be nearing completion, First Stage will still put on productions that address issues of race and culture, according to Lozano.
"It upsets me that it's 2016 and we still have such dramatic racial, economic and social disparity," she said. "We are committed to being part of the conversation and being part of the solution."