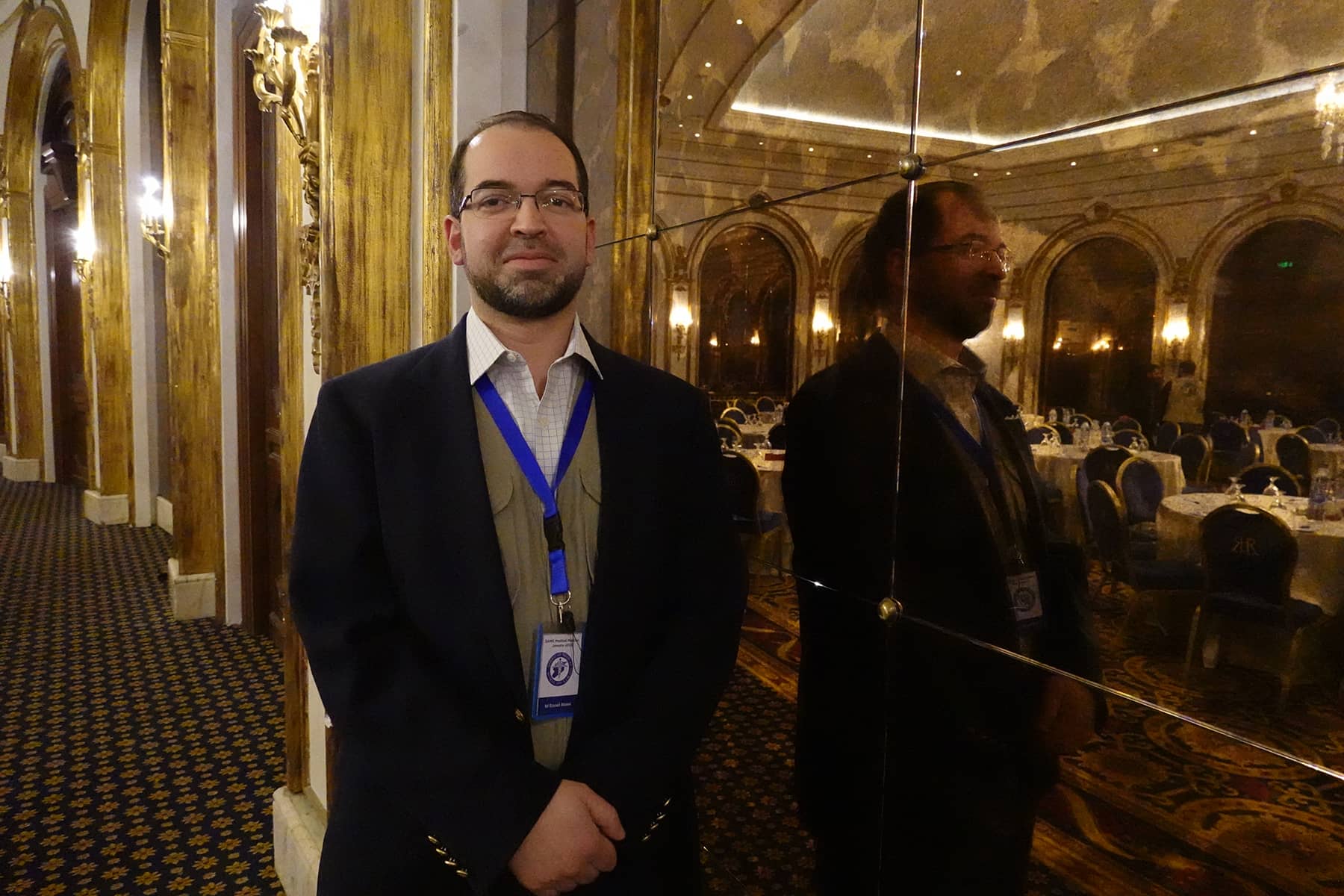 Medical Mission to Jordan: After more than a decade of Civil War in Syria, and continuing conflicts like the unprovoked Russian invasion of Ukraine that further displaced millions of civilians, understanding the longterm conditions that war refugees face remains relevant. But as public attention fades, such topics do not capture headlines today, even as the impact continues to be felt here in Milwaukee. mkeind.com/jordanmedicalmission
Medical professionals spend many years learning, growing, and accomplishing work in their field. For those who were not born in the United States, or are from immigrant families, the path to medical school is often an adventure story in itself. In preparing introductions of the Syrian American Medical Society (SAMS) volunteers who were interviewed for the "Medical Mission to Jordan" series, the depth of what each individual has achieved in their career literally requires a separate article to detail. Being chief of a department, or professor, or research leader, or board chair, are all in addition to the root vocation of their dedicated medical care of adults and pediatric patients. In this context, regardless of position or occupation, all the volunteers of the SAMS Medical Mission arrived in Amman with one purpose, to offer crisis relief to refugees affected by the Syrian Civil War. Exploration of medical backgrounds was explained within each interview to the extent necessary by the participant. While each layer of their medical career and position of responsibility were essential to their mission work in Jordan, those detailed descriptions were actually a distraction in being able to share their story. Who they were "in person" was why they were interviewed. Not who they were "on paper," which was still immensely impressive but simply too much to unpack in this context.
Q&A with Dr. M. Bassel Atassi, MD
Milwaukee Independent: How were you inspired to follow a career in the medical field?
Bassel Atassi: I get that question all the time. Since I was a young kid, I grew up in a family of doctors. My uncle is a famous ophthalmologist in Aleppo, Syria. My grandfather and my great, great uncle were the initial doctors who introduced eye surgeries to North Syria, and Lebanon in the 1930s and 1940s. So I followed in my family's tradition, but it was still my own choice. Because I scored really high on my entrance exams, I was able to go to medical school. And I studied hard, so I became one of the top students in my class. My family support made a big difference, but I still had to earn everything myself. In some ways, it felt like I had no other choice. But not just because of my family. I really liked medicine, even before college. In high school I would volunteer with some doctors or at my uncle's clinics.
Milwaukee Independent: What do you enjoy most about being a medical doctor?
Bassel Atassi: I am the kind of doctor who does a lot of talking. I specialize in oncology, cancer, and hematology. I am not the one who does procedures, I do not enjoy procedures. Many doctors love medicine, because they can do big surgeries. Cardiologists, for example, they enjoy doing procedures. As for me, I like the humanitarian part of being a doctor. We can spend time with patients, and I enjoy that face-to-face communication a lot. This is one of the parts of my work I like to do. And it is really important to have a personal touch, especially with me being a cancer specialist.
Milwaukee Independent: How did you become involved with the Syrian American Medical Society (SAMS)?
Bassel Atassi: I started in medicine in Syria, and then I moved to the United States. So that transition was similar for a lot of people. They became part of the organization because they were from Syria, living and working in America in the medical field, but they wanted to stay connected to stuff back home. SAMS has always been a medical, humanitarian, non-religious, non-political organization. It means a lot to its members. I got involved around 2005, and was active with the educational part of SAMS. There were many activities that I was able to learn from. Eventually, SAMS elected me to the board of the Midwest Chapter, while I was still in residency. So I was the youngest ever member of the board. Then in 2011, when the Civil War in Syria happened, SAMS elected me to the national board of directors. I was chairing multiple committees and then I went to Syria on the first ever medical mission after the conflict started. I also went to the refugee camps in Türkiye. After that, I started to put together medical missions.
Milwaukee Independent: What personal impact did the Syrian Civil War have on you and your family?
Bassel Atassi: It was a big impact personally, and not just because of SAMS. My family home in Syria is gone. My father and mother, who worked in Syria and made their entire life there, they had to leave the country. My aunts, my uncles, my cousins, they all left home and ended up in other countries all over the world. Syria is like a ghost country to us now. I have almost no one left there. My father's health was not great in Syria, and he passed away recently. My mother is living with us now, and she is unable to go back to our homeland, to take my father to rest with our ancestors. So it hits me on a very personal level. I cannot go back. I cannot take my kids to Syria and show them their family heritage. So many of those cultural connections are lost for them. On top of that, there is the constant emotional drain. When you see all these people dying, from the shelling, the senseless killing, the targeted bombing of hospitals. I am a physician, but I am helpless to do anything. I have trained to give people medical care, but my hands are tied. All I could do for years was watch the TV with tears in my eyes. That was my experience from 2011 until 2019. For the last couple of years the conflict has slowed down, but it is still happening even at a low level. For many years, I would wake up every day to read the major news sources. I wanted to know what had happened in Syria while I slept, but also I did not want to know because the news was always so terrible. It was the same story day after day, more people dying. According to UNHRC, more than a half million Syrians were killed in the past 10 years. Since 2011, more than 6.8 million have fled with another 6.9 million internally displaced.
Milwaukee Independent: What are the challenges you experience being a SAMS mission leader?
Bassel Atassi: This is actually my fifth time leading a medical mission. It is a lot of responsibility, a lot of frustrations. There is plenty of stress, but at the same time it is all extremely rewarding. I have gained a lot of respect from our volunteers and medical organizations. That helps me be more impactful with what I can accomplish on a mission. And it is not easy to get leadership experience, so managing a medical mission provides a great many opportunities.
Milwaukee Independent: What were you surprised to learn about yourself after your first SAMS mission?
Bassel Atassi: I never thought about this before, but I am able to do a lot of public speaking. And it turned out, I was good at it. Back in Syria, we are not trained or learned how to do any public speaking.  We are actually known to be very weak at it. As a medical resident or student, when we were called to give a lecture or a talk, we were unable do it. So, I did not know it was something that I could do. But being an advocate for Syrian refugees and talking about the vital work that SAMS does, I slowly trained myself. Then suddenly I am doing live TV interviews. And because I can do it, I end up doing more. SAMS depends on donations, so I do a lot of public speaking to help fund our medical missions.
Milwaukee Independent: Looking back at your early medical missions to help Syrian refugees, how do you compare that time to now?
Bassel Atassi: The situation has become more chronic. A lot of time passes and the public interest fades. People are drained of emotions and just move on. There is always shock at first, and it is easier to pay attention. But the situation is not temporary anymore. The race is no longer a sprint, it is a marathon. We have a whole generation that was either born in refugee camps or in displaced communities.
Milwaukee Independent: Where do you still find hope?
Bassel Atassi: These medical missions actually provide what I think of as an unlimited hope. Because we get to see these people, and we listen to them, and we see the smile on their face. With all the trauma and suffering the refugees endure, we can see how much they remain optimistic about things. I have a lot of personal stories from people who talk to me when I go to Za'atari Camp. I see some patients every year. The amount of love they have, and share with me, and I with them, it is unbelievable. And every time I think, I will see them next year, then I will see them the next year, and year after year, and that gives me hope. Seeing those people, it fills my heart with such emotion. I have to come back.
Milwaukee Independent: What would you like the public to know about SAMS and how they can help?
Bassel Atassi: I would like the public to know that there are a lot of organizations that help the needy around the world, and they do a lot of good work. But if they can only support a couple, SAMS should be one of them. I would like the public to know that SAMS is one of the organizations that they can trust. They can put their support, put their donations, and put their prayers behind us. And if anyone wants to volunteer, they can also invest their time with us. SAMS has been fortunate to have good leadership, and that has earned us a lot of trust. Our volunteers have big hearts, and humanitarian beliefs. So with all the conflicts and struggles going on, in America and other countries, I would like the public to remember Syria. The conflict is not over, and the need for help grows every day. So, I hope the public does not forget about us.
This editorial feature is one of a multi-part explanatory series about the "Dr. Majdi Omar" SAMS Jordan January 2023 Medical Mission. The journalism project embedded a Milwaukee Independent photojournalist, from January 21 to 26, 2023, with a group of Syrian American doctors from Milwaukee and Chicago. It documented their trip to Jordan and the medical work done at clinic locations like Za'atari Camp, Salt, Jerash, En Albasha and Marej in Amman, and Basma in Ma'adab. Medical Mission to Jordan: A journey from Milwaukee to help Syrian Refugees, shares the personal voices, stories, images, and conditions around those involved in the Syrian American Medical Society (SAMS) mission to Jordan. It also explores the refugee experience, and the intimate connections of local medical professionals, who put their work on hold and left their families behind for a couple weeks to provide healing to others who have endured a generation of trauma.
The 7.8 magnitude earthquake struck parts of Syria and Türkiye on February 7. It came a week after the SAMS Medical Mission ended, and while Milwaukee Independent finished the final production of this editorial series. The public is encouraged to make donations to the Syrian American Medical Society in support of their vital crisis relief work.