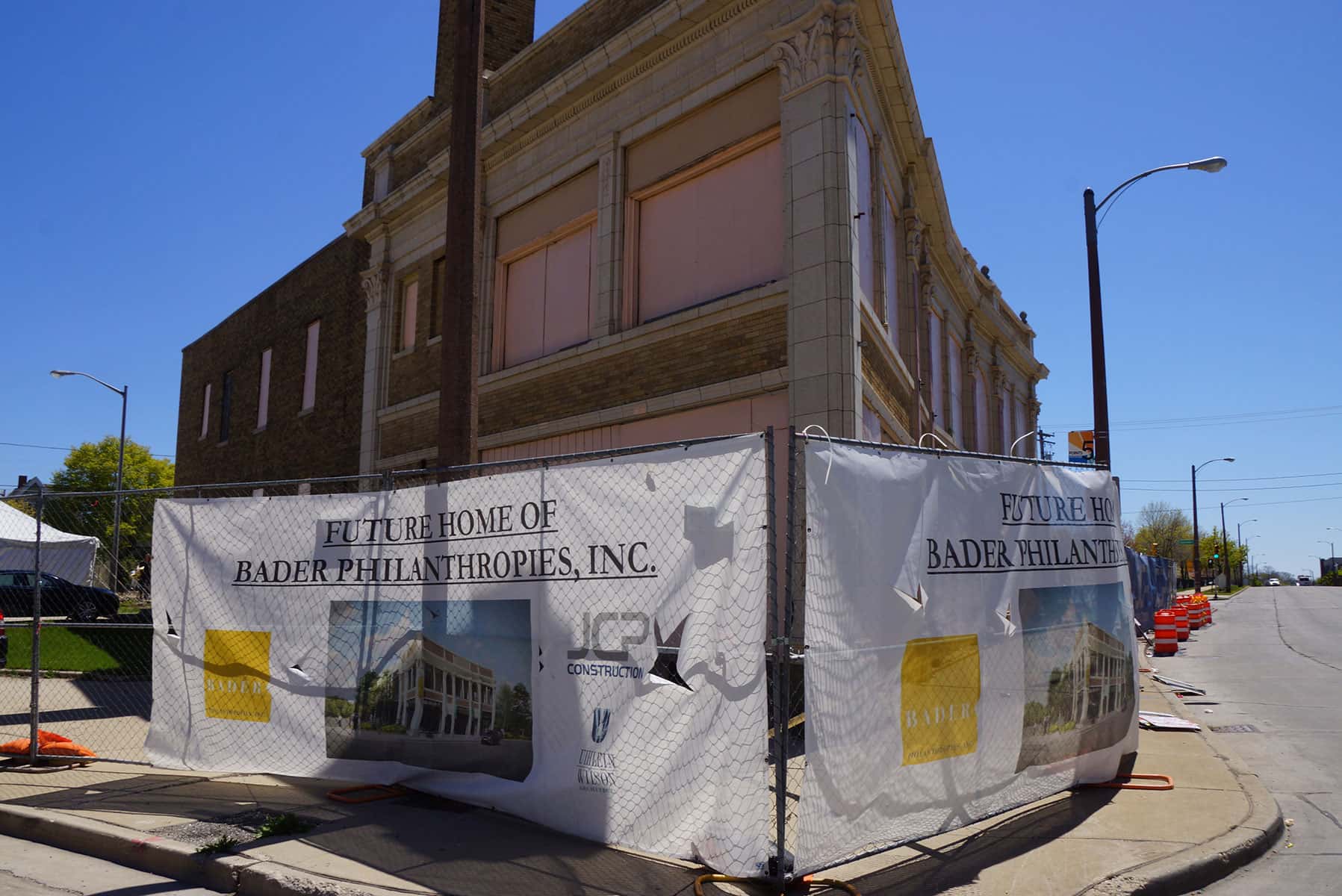 Bader Philanthropies hosted a groundbreaking event, with a ceremonial shoveling, at the site of its new global headquarters along North Dr. Martin Luther King, Jr. Drive on May 8.
The Foundation announced plans in August 2016 to relocate from its space in the Third Ward to Milwaukee's Harambee neighborhood. The move would build on its existing commitment in the area, and as a response to the its overall strategic growth plan.
"This really is a big moment for my family, our Board of Directors, and our staff. But it is a really big moment for me personally," said Dan Bader, President and Chief Executive Officer. "This has been something that I have dreamed of for a long time, figuring out how we as a foundation can better engage and commit ourselves to the community. So this is very exciting moment."
Surrounded by a crowd of several hundred, Bader talked about his family's business. Founded by his father Alfred Bader in the 1950s, Sigma-Aldrich was originally known as the Aldrich Chemical Company. He used the example to draw a personal connection, of how there is a category of chemicals called 'catalyst' that are designed to make other things work better.
"We at Bader Philanthropies have always wanted to be a catalyst. Over the years we've tried to put ourselves in the position of being a catalyst for change," added Bader. "One thing we've always known is that money by itself really doesn't do much. It just sits in the bank and earns interest. People are needed to take that money and do something with it. People use that money and create change. So the dream for our new headquarters was to increase our ability, as a foundation, to be a catalyst for change in all of our communities."
The relocation will also provide an expansion to 22,000 square feet of office space for the organization. The new meeting facility will accommodate up to 120 people, which doubles the Foundation's current capacity. A new state-of-the-art conference room will also be designed, with a unique location in the heart of the inner-city. That addition will create a place for people to bring their best and brightest ideas to engage more deeply with the local community.
"I believe Bader Philanthropies embodies a core belief, that you can make a difference and you have a duty to try to make a difference. I look at what's going on here and I do believe it's going to be a catalyst. I think this is going to be immensely helpful for this neighborhood. I think it speaks volumes for the commitment that is being made," said Milwaukee Mayor Tom Barrett. "For contractors and subcontractors, and people getting a chance to work on this project, it is going to be a badge of honor. They can put on their work history, 'I helped create the site.'"
As Alderwoman of Milwaukee's 6th District, Milele A. Coggs grew up within a couple blocks of the headquarter's location and went to school across the street, at what had been Victor Berger Elementary School.
She talked about the redevelopment efforts at the southern end of MLK Drive, anchored by the new Bucks Arena. But she said that developers and property owners had not made investments north of North Avenue, because they were more focused on wanting to be next to the next greatest thing.
"Now that I have had the honor of representing this area for nine years, it has been – quite honestly until recent times – a bit of a struggle to attempt to envision and redevelop an area that some didn't see the value in," said Alderwoman Coggs. "So when I sat down with Bader Philanthropies, and they said that they wanted to move into an area that they were serving, it really demonstrated to me what people say 'put your money where your mouth is.' They were willing to put their building and their facility where the work is. I truly appreciate that. It's easy to sit in glass towers and serve the peasants, but another thing to put your headquarters right in the middle of the community that needs you so much."
Its address at 3318 N. Dr. Martin Luther King, Jr. Drive puts the Foundation in the heart of the neighborhood it serves. The estimated $9.5 million project will be funded privately from the Bader family, covering construction and renovation, and not impact the Foundation's grant budget. Since 1992, Bader Philanthropies has granted more than $265 million, and has given more than 6,000 grants to nonprofits in the greater Milwaukee area, Wisconsin, and 10 different countries.
"Bader Philanthropies has been open and clear about it unwavering commitment to working with the minority business community, especially the African-American community. And it is with overwhelming pride that I can report that our general contractor, JCP, is an African-American business," said Frank Cumberbatch, project manager.
Cumberbatch noted that the other project contractors and workers were either African American owned or women owned companies. He detailed how the building was more than a headquarters, and how its footprint was bringing much needed attention to the neighborhood.
"Just yesterday a young man said to me 'you're a man of your word.' He said 'there are black people working on this site, and you told me that was going to happen. And that is what's happening.' So I hope this building and our headquarters will inspire young African-American people to join the construction trades, or start a business, and maybe a whole bunch of them will be inspired to one day become entrepreneurs and serve this entire community," said Cumberbatch.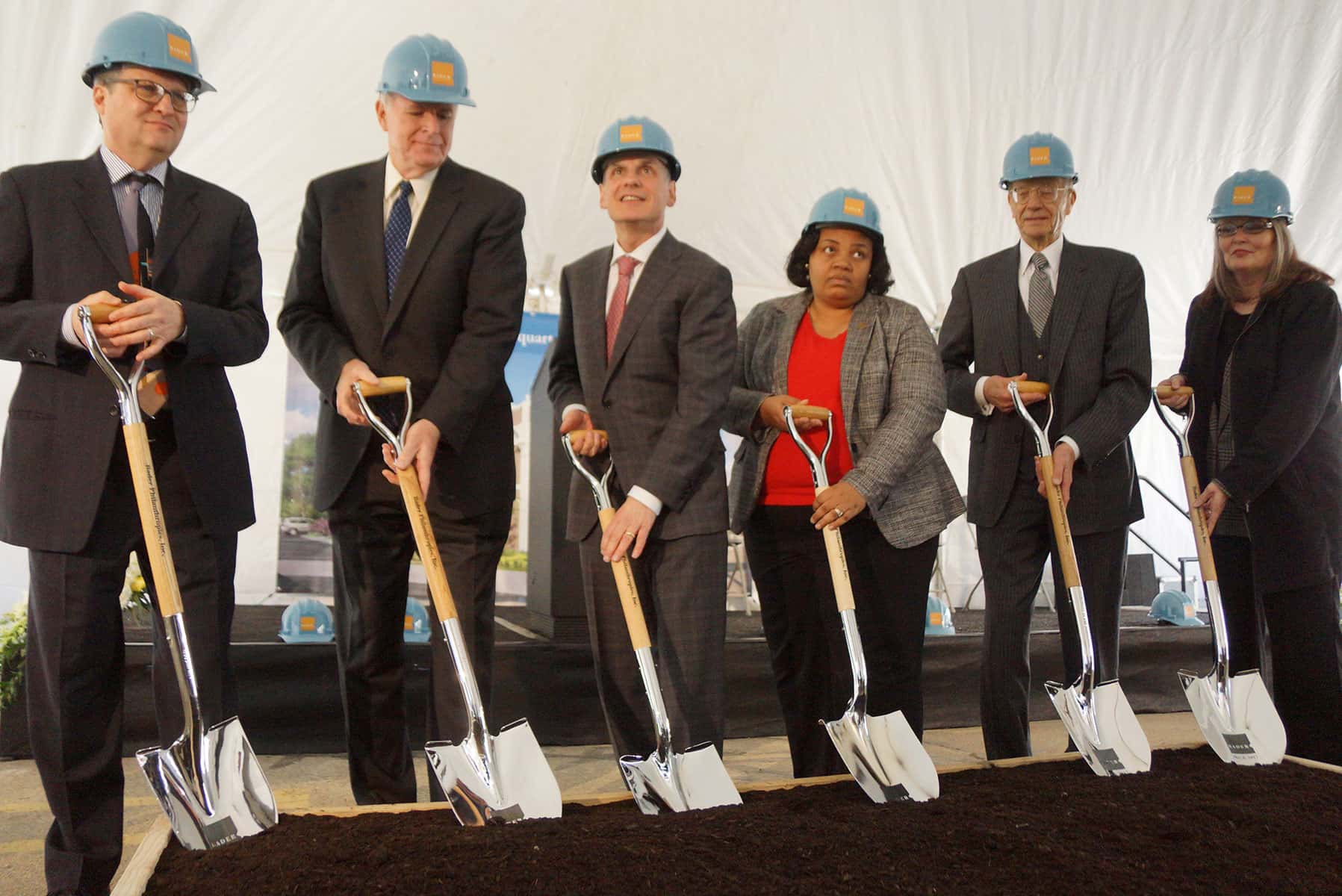 Read the article and view the photo essay that were produced as companion features for this news report.