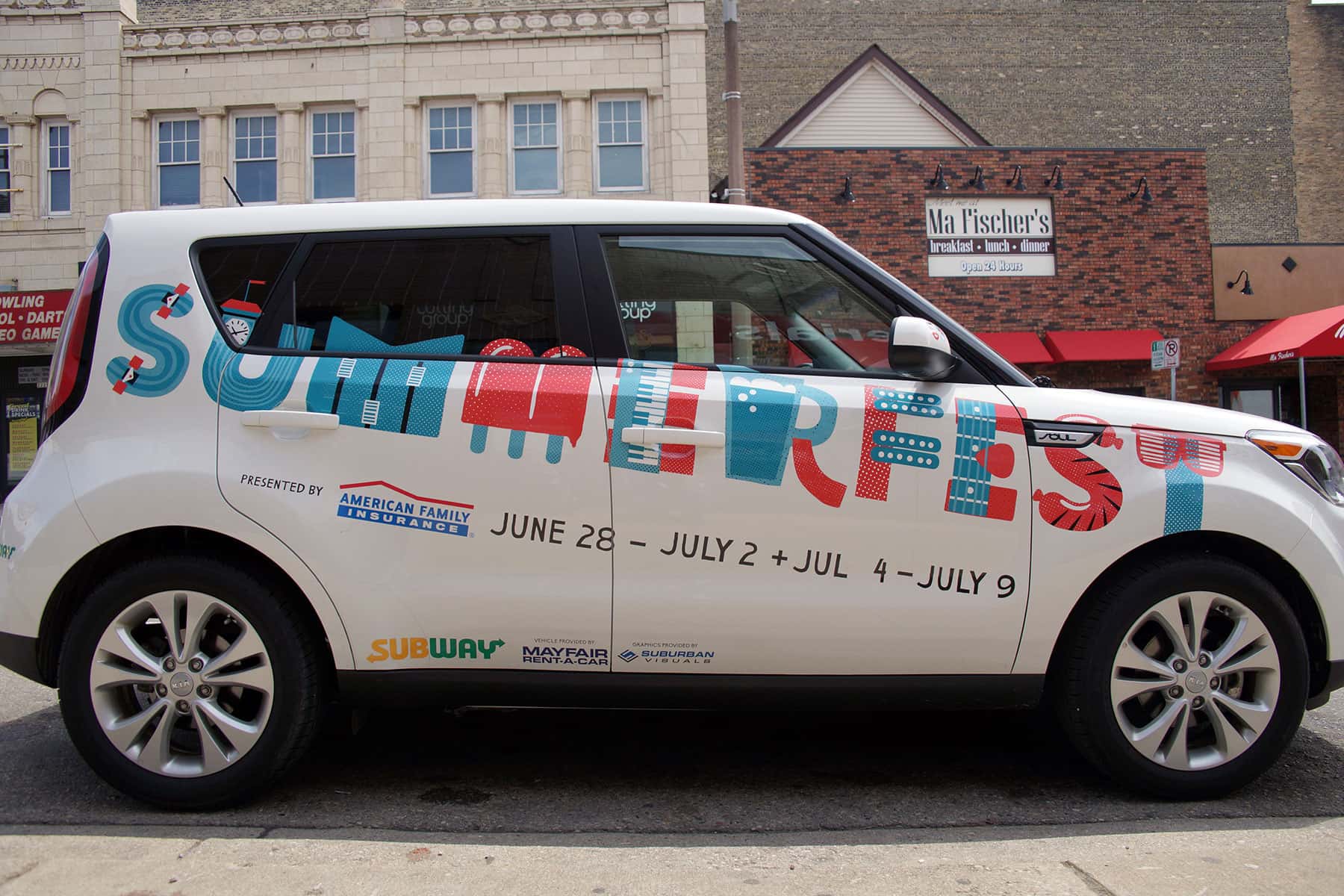 From an open house at the Milwaukee County Historical Society, themed activities with the Milwaukee Art Museum and NEWaukee's Night Market, Summerfest will be visible in the local community during the 50 Days of leading up to the landmark celebration.
In honor of Summerfest's 50th edition, Milwaukee World Festival, Inc. announced various activities and promotions to celebrate the festival's iconic milestone. Summerfest presented by American Family Insurance originally was created in 1968 as a way to bring the community together and showcase Milwaukee. 50 years later, the festival is still holding true to its mission. These special activities are designed to celebrate with the greater Milwaukee area.
50 Days of Summerfest
Fans are encouraged to visit Summerfest.com, Facebook, Twitter, Instagram or Snapchat for the chance to win exclusive prizes and learn about special events happening throughout the Milwaukee community in honor of the 50th, May 9 through June 27, 2017.
Celebrating 50 Years with Penfield Children's Center
In honor of shared 50th celebrations, Summerfest will bring a morning of music to the children of Penfield Children's Center on May 12, 2017, during a private event.
Picnics in the Park hosted by American Family Insurance
Summerfest will bring the spirit of the festival to the community with Picnics in the Park hosted by American Family Insurance. The family friendly picnics are free and feature live local music and activities.
MAM After Dark
Summerfest, in partnership with the Milwaukee Art Museum, will take part in a Summerfest themed Milwaukee Art Musuem After Dark on Friday, May 19, 2017 from 7:00 pm to 11:00 pm. Activities will take visitors on a journey through Summerfest's past 50 years. Featured entertainment will include Ian & The Dream, DJ Shawna and Those Hip-Hop Guys from 91.7 WMSE.
Bublr Bikes on Us
Compliments of Summerfest, Bublr Bikes will offer a free ride day on Friday, June 2, 2017. Details available at Summerfest.com.
NEWaukee Night Market
Summerfest will take part in NEWaukee's Night Market on Wednesday, June 14, 2017. The event will feature a unique projection of the 50th Summerfest Poster on the side of a building, 40 feet wide by 55 feet tall. In addition, one of the limited edition Summerfest 50th posters created by BlackPaint Studios, a local branding, art and design studio, will be available for purchase. The artists will be on site to sign and number the posters.
Summerfest 50 Commemorative Book "50 Years of Smiles"
Follow the history of rock 'n roll through the evolution of Summerfest presented by American Family Insurance. Featuring photos of renowned artists that have appeared over the past 50 years, this 124-page book, "50 Years of Smiles," includes decade-by-decade details on how a collection of local events with modest beginnings became the World's Largest Music Festival! This piece of Summerfest history will cost $15 and will be available for order at Summerfest.com starting May 9, 2017 or at the Summerfest store throughout the festival. Shipping and handling fees for books purchased online will apply.
HomeGrown Collection
Summerfest's HomeGrown Merchandise Collection features locally sourced and designed apparel and gifts and is a further attempt to incorporate the greater community into Milwaukee's cornerstone festival. Reaching out to many local artists and businesses, this collaboration provides the festival an opportunity to feature an eclectic variety of merchandise, as well as two limited edition commemorative posters, available for purchase. These businesses include: Orchard Street Apparel, Too Much Metal, Milwaukee Home, Words & Images, Wiskullskin, James Steeno Gallery, Orange Pops, Drawstring Studio, Fiore Boutique, Local Change, BlackPaint Studios and Whaleskin Illustration. Select Homegrown Merchandise will be available in advance of the festival at Milwaukee Boston Store locations in their local "Close to Home" shops or Summerfest.com. A majority of the HomeGrown Collection will be available at the Mid-Gate Summerfest Store during the festival.
Special Admission Promotions and Giveaways
In keeping with Mayor Henry Maier's original vision of a festival that would bring the entire Milwaukee community together, admission promotions are designed to keep Summerfest accessible and affordable to everyone. In addition to daily admissions promotions, which will be released at a later date, there are special promotions to help celebrate the 50th:
Throwback Thursday presented by Pick 'n Save
Enjoy a collection of music through the decades from artists like Foghat, Berlin featuring Terri Nunn, Tommy Tutone Band, Fishbone, Slaughter, The Suburbs, The Church, and Soul Asylum. From noon to 6:00 pm all beverages will be 50% off (excluding ice cream drinks and smoothies). As a special admission offer, Pick 'n Save customers can receive four (4) FREE Summerfest tickets, valid for Throwback Thursday presented by Pick 'n Save, June 29, 2017 (noon to 6:00 pm) for every $50 they spend at Pick 'n Save locations, from May 10 through June 13, 2017. The offer is printed at the bottom of the receipt and must be redeemed in person at the Summerfest ticket windows at the entry gates on June 29th, 2017. Limit three (3) offers/12 tickets per transaction.
Turning 50 on the 50th
All patrons celebrating their 50th birthday in 2017 will be admitted FREE from noon to 8:00 pm on Sunday, July 2, 2017 during their 50th Summerfest. Patrons must present a valid ID showing that they were born in 1967 at the designated turnstile at any gate.
Summerfest 50th Classic Free Ride Giveaway
Summerfest and WTMJ Radio are partnering to give away a restored 1968 Oldsmobile Cutlass 442 Convertible, representing the same year as the first Summerfest. Fans can register to win at the festival and online at WTMJ.com. The finale and car giveaway will take place at the Briggs & Stratton Big Backyard on Sunday, July 9 at 6:00 pm. Sponsors include Valenti Classics, NuMale Medical Center, Manyo Motors and Outdoor Living Unlimited.
Summerfest 50 Historical Exhibit presented by Pick 'n Save
In honor of the 50th festival, Summerfest has produced a series of historical exhibits in partnership with the Milwaukee County Historical Society. The Summerfest 50 exhibit is presented by Pick 'n Save, with support from American Family Insurance, Aurora Health Care, Johnson Controls, Inc. and Derse. Media sponsors include Milwaukee's Hometown Rock 96-5 WKLH, OnMilwaukee.com and WISN 12.
At Milwaukee County Historical Society
A comprehensive exhibit that will be housed at the Milwaukee County Historical Society, open to the public May 19 to September 29, 2017, complemented by the current exhibit Melodies and Melodies: 200 Years of Milwaukee Music. A special open house happy hour event will be hosted on June 14 at the Milwaukee County Historical Society from 4:30 pm to 7:00 pm as part of the kick-off to River Rhythms Summer Concert Series in Pere Marquette Park.
At Summerfest
An installation of the exhibit on the Summerfest grounds will be open daily at Summerfest from Noon to 8:00 pm during the festival. Patrons are invited to become part of the photo mosaic by submitting a photo to summerfest.com by May 21, 2017. A digital tapestry of fan photos will be featured at the exhibit and will offer fans a unique photo opportunity during this special year.