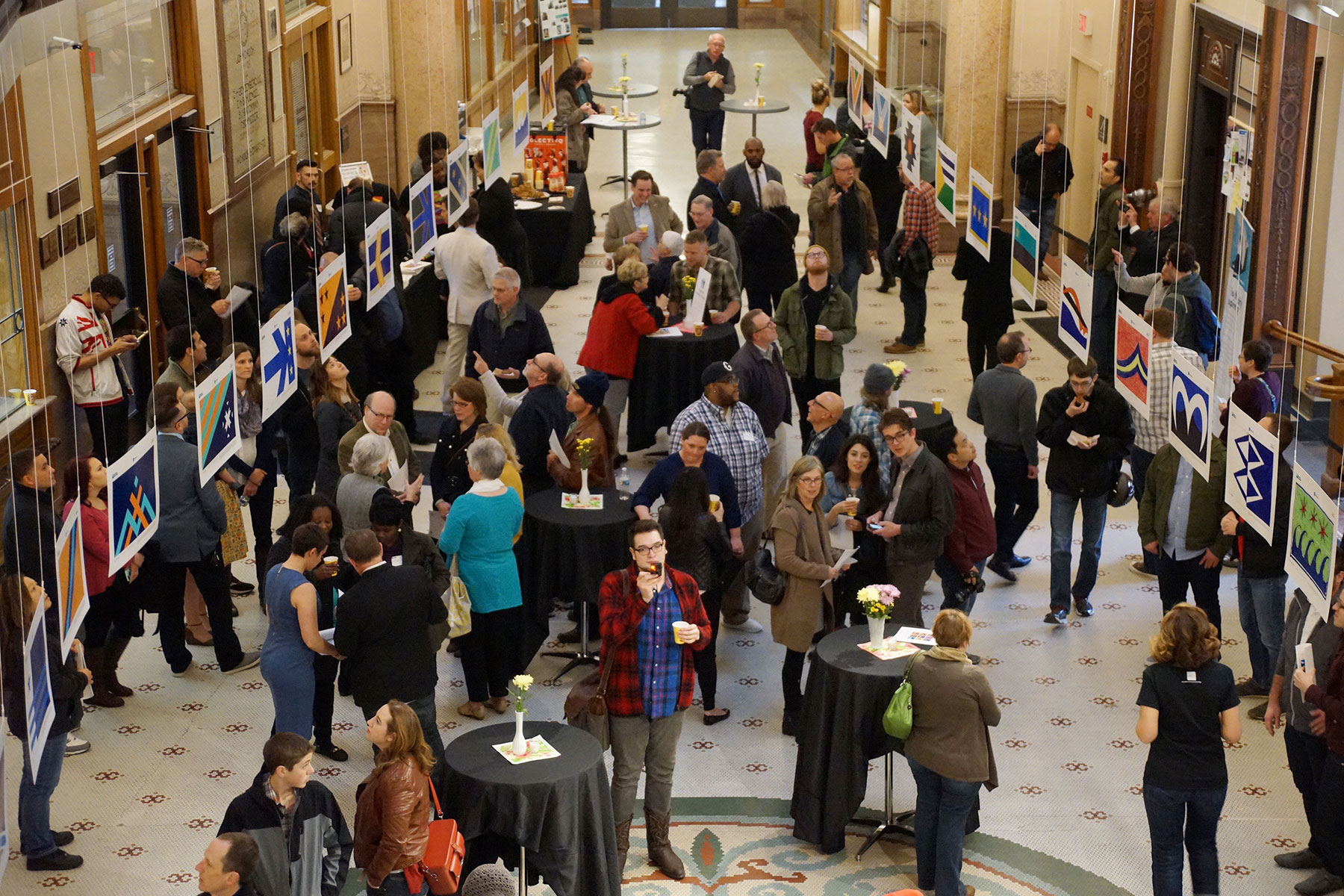 Five finalists for the People's Flag of Milwaukee Design Initiative were unveiled by Mayor Tom Barrett and Common Council President Ashanti Hamilton at Milwaukee's City Hall on May 14. Four hundred visitor attended the single-day exhibition, which began a public voting processes to ultimately determine the winning flag design.
"Greater Together launched right here. It is an effort to try and overcome a lot of the challenges this community has faced in our past, to make sure those issues remain a part of the past," said Mayor Tom Barrett in the City Hall rotunda. "And so we are looking forward, to how we can move forward as a community together. We have to work together, be respective of each other, and understand that this city is stronger when everyone succeeds."
More than one thousand flag design submissions were received from the public, consisting of students and professionals from the Greater Milwaukee area and beyond. The design initiative was organized by a partnership between Greater Together, AIGA, and Milwaukee Flag.
"What Greater Together stands for is to try and create a new discussion about unity. And how can we find, identify, and celebrate our diversity as a collective," said Xavier Ruffin, who was part of the flag judging panel. "That's what this flag initiative is about for us. To reach out into the community and ask the people to create something that they feel represents them."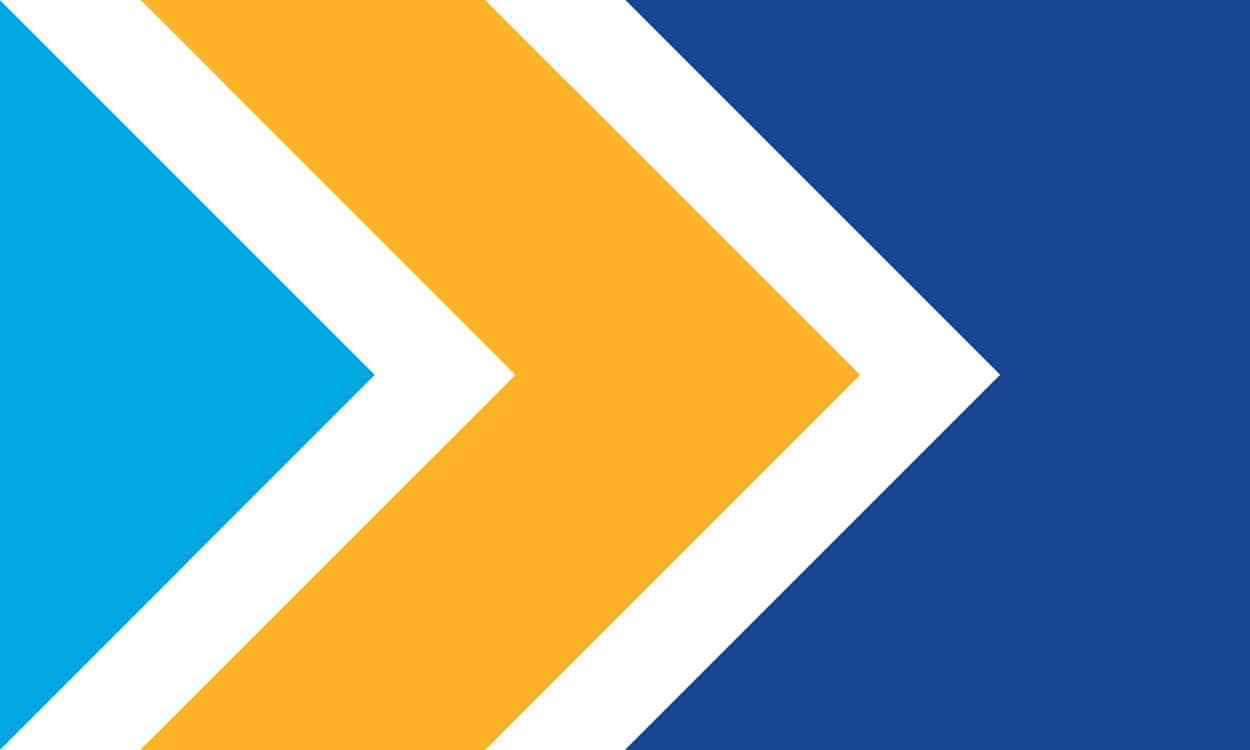 Golden Arrow
by Chanya Hughes
Milwaukee's past, present, and future, moving in a positive direction, symbolized through its rivers, brewing history, and the lake, with white echoing the art museum.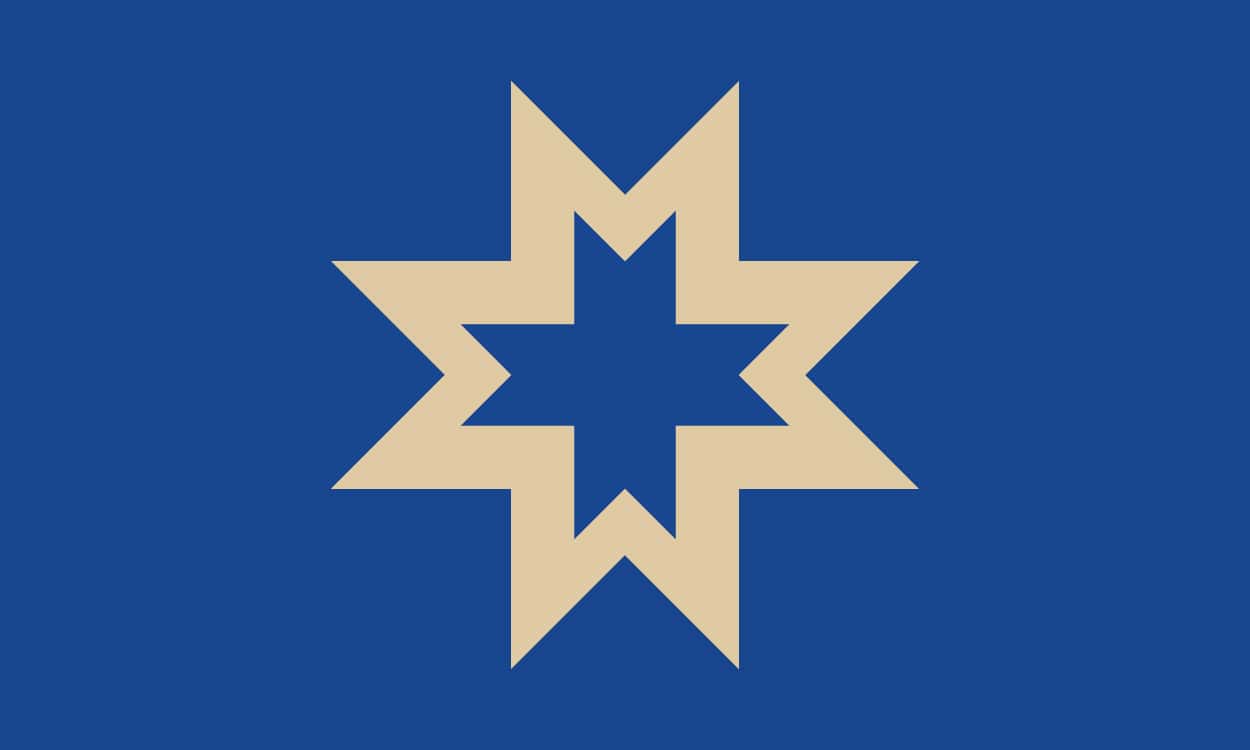 The 'M' Star
by DeChazier Stokes-Johnson
Four "M"s connect to form a cream-colored star representing Milwaukee on the blue lake, its Native American roots, unity, and signifying the city's bright future.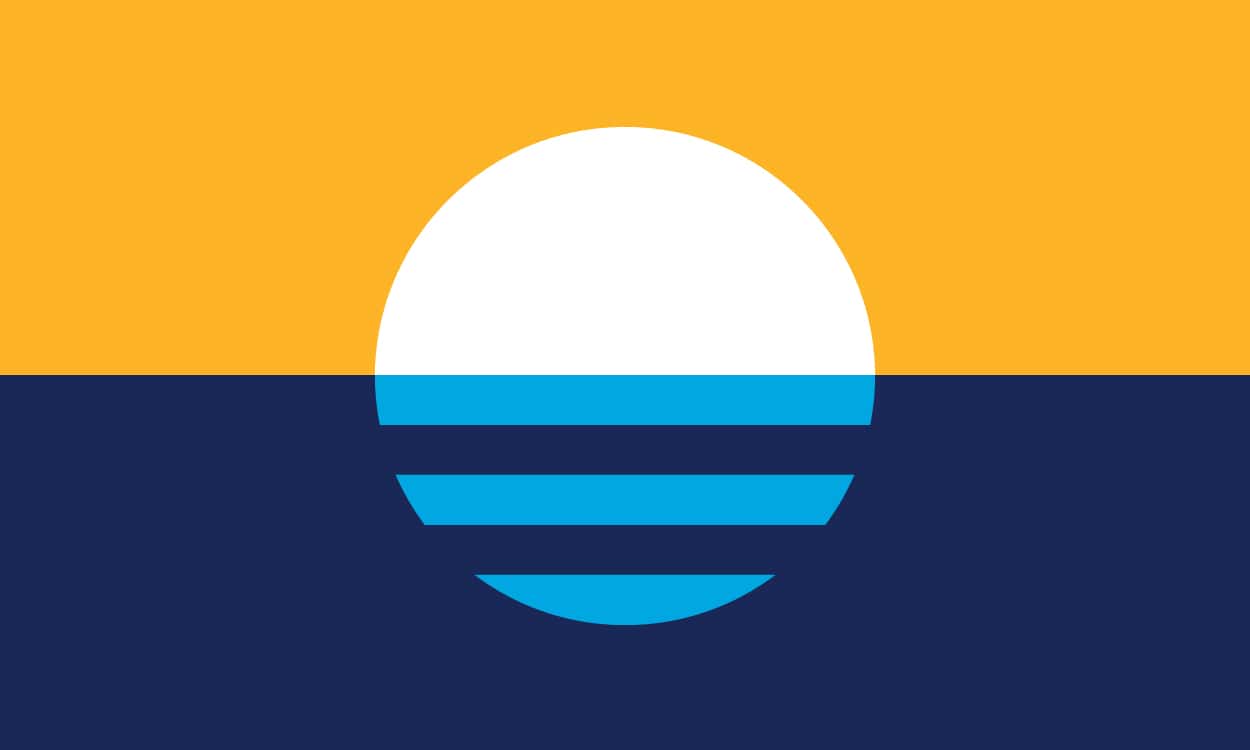 Sunrise Over the Lake
by Robert Lenz
The sun rising over Lake Michigan symbolizes a new day. The blue bars in its reflections represent the city's three rivers and founders.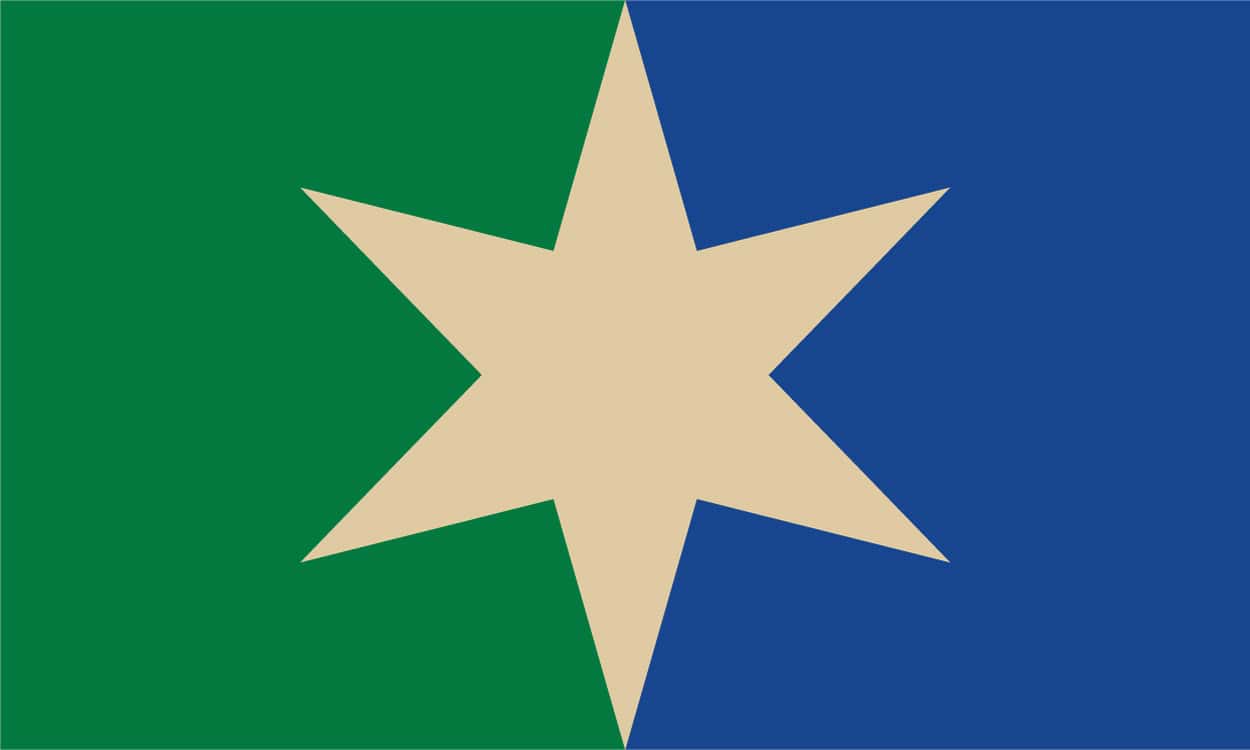 Cream City Star
by Jon Grider
The six points of the star symbolize the three original sections of the city and its three rivers and representing Milwaukee as the "Cream City" and the largest in Wisconsin.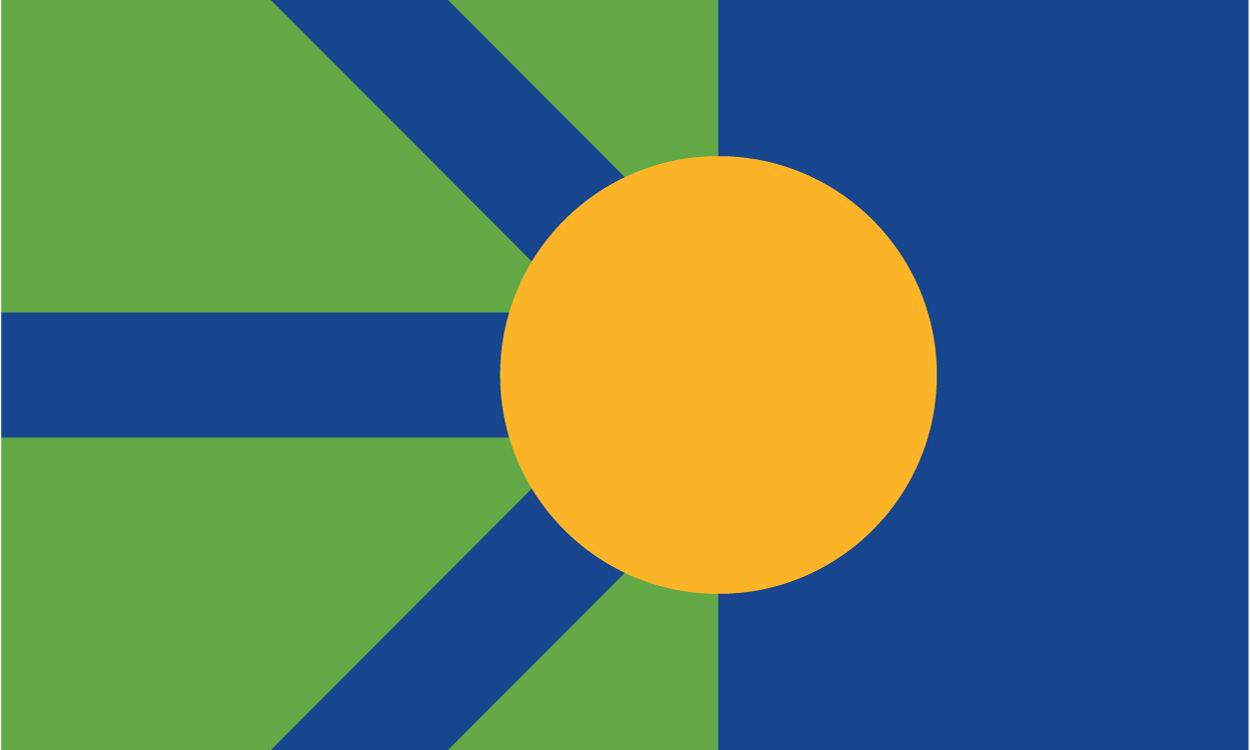 Three Rivers
by Cameron Pothier
Milwaukee's three rivers flow from the land into the lake, with a large disc representing the city at the confluence and our brewing history.
With a focus on promoting racial and economic equality in Milwaukee, Greater Together teamed with AIGA, an organization of professional creatives, to host flag design workshops with young people throughout the city. The project started with discussions of where Milwaukee is today, and what does the city aspire to.
"We as a city have gotten a bad reputation in a lot of ways, and much of it has been deserved. Milwaukee has had a history of racial segregation and racial inequity for a very long time. And these are things we are aware of," said Reggie Jackson, who is Head Griot at America's Black Holocaust Museum. "What we want to do is look forward with a new narrative for this city that dismisses the old history. Moving forward to creating opportunities for people all across the city regardless of their backgrounds."
Milwaukee was founded by immigrants who came from all over the world to build a new home, enduring clashes of language and culture. And like the city's ancestors, Jackson has seen his share of transitions since he moved here from Mississippi at the age of 7 in 1973.
"We know that symbols are very important. Every movement that has ever been important in our country has had some type of symbol related to that," said Jackson. "We want this flag to represent the push for Milwaukee to become a new place that is racially inclusive and diverse. A unified city that is not broken and separate. We want everyone in the city to come together."
Speaking at the side of Mayor Barrett, Common Council President Ashanti Hamilton emphasized the importance of setting an example for young people to see actions match spoken words. In something as simple as when city representatives talk about standing together, they needed to physically be doing it.
"We talk about diversity as a strength, how diversity enriches our community, but don't always do the things to make sure that diversity happens," said President Hamilton, "So we must help young people understand that design and creativity can empower us, our lives, our careers, and our communities."
There is something for everyone to dislike and complain about in this flag design process. And as unpleasant as it may be, that is part of the necessary dialogue that needs to take place to bring down the barriers of separation.
President Hamilton encouraged creative professionals to open their industry and share their passion with young people. People of color and under-represented communities often do not participate in these creative careers because they are unaware such jobs and opportunities exist.
Because diversity does not naturally develop, President Hamilton felt the flag initiative would help "inspire all of us to be more responsible for designing the future we would like to see for the city."
A panel of five judges, Steve Kodis, John Gurda, Ted Kaye, Jena Sher, and Xavier Ruffin, came together on April 23 to evaluate the 1006 design submissions. The selection was narrowed down to a short list of 45 semi-finalists and 15 honorable mentions, and 5 finalists.
Ted Kaye, who is noted for his guidebook "Good Flag, Bad Flag," was quoted repeatedly during the judging process for how impressed he was over the high quality of design submissions. This praise spoke volumes for the creative talent of the Milwaukee public. Kaye was the expert cited during a Roman Mars TED Talk in 2015, that identified Milwaukee has having one of the worst flags.
"Our current flag deserves our respect, because it did a great job representing our flag in the 20th Century. It will always be a part of our history, and exist as our legacy. But the People's Flag of Milwaukee needs to do more," said Steve Kodis, who has been a driving force behind changing the current City of Milwaukee flag. "The deeper narrative is all about having a symbol that unites us as people, and what we believe about this great city of ours. What makes us unique and distinct and different than other cities."
What started as a simple idea, that proposed a great city like Milwaukee deserved a great flag for its future, became a larger discussion about what did the city aspire to be in the 21st Century.
"Greater Together is interested in creating a new narrative for the city. A narrative that is authentic. A narrative that acknowledges our challenges while presenting a commitment to a future with greater equity and opportunity," said Ken Hanson, founding director of Greater Together and CEO of Hanson Dodge Creative,
It should be noted that the Milwaukee Common Council must approve any change to the official flag for the City of Milwaukee. So the winning People's Flag of Milwaukee Design is not guaranteed to be adopted and immediately be flown at city buildings. A new flag has support from city officials, but this step in the process has yet to be detailed by the Initiative partners.
The proceeds from the sale of the winning design entry will go to the Greater Together core program, which is dedicated to supporting students of color find career opportunities in the creative industry of Milwaukee.
The five finalists were unanimously chosen from more than one thousand entries, based on their simplicity, symbolism, visibility at a distance, and overall uniqueness.
Milwaukee residents have until May 31 to voice their opinion about each flag. An aggregated total will determine a winner, based on a rating system from 1 – 10.
The winning design will be unveiled on Flag Day, which is June 14, at 88.9 RadioMilwaukee.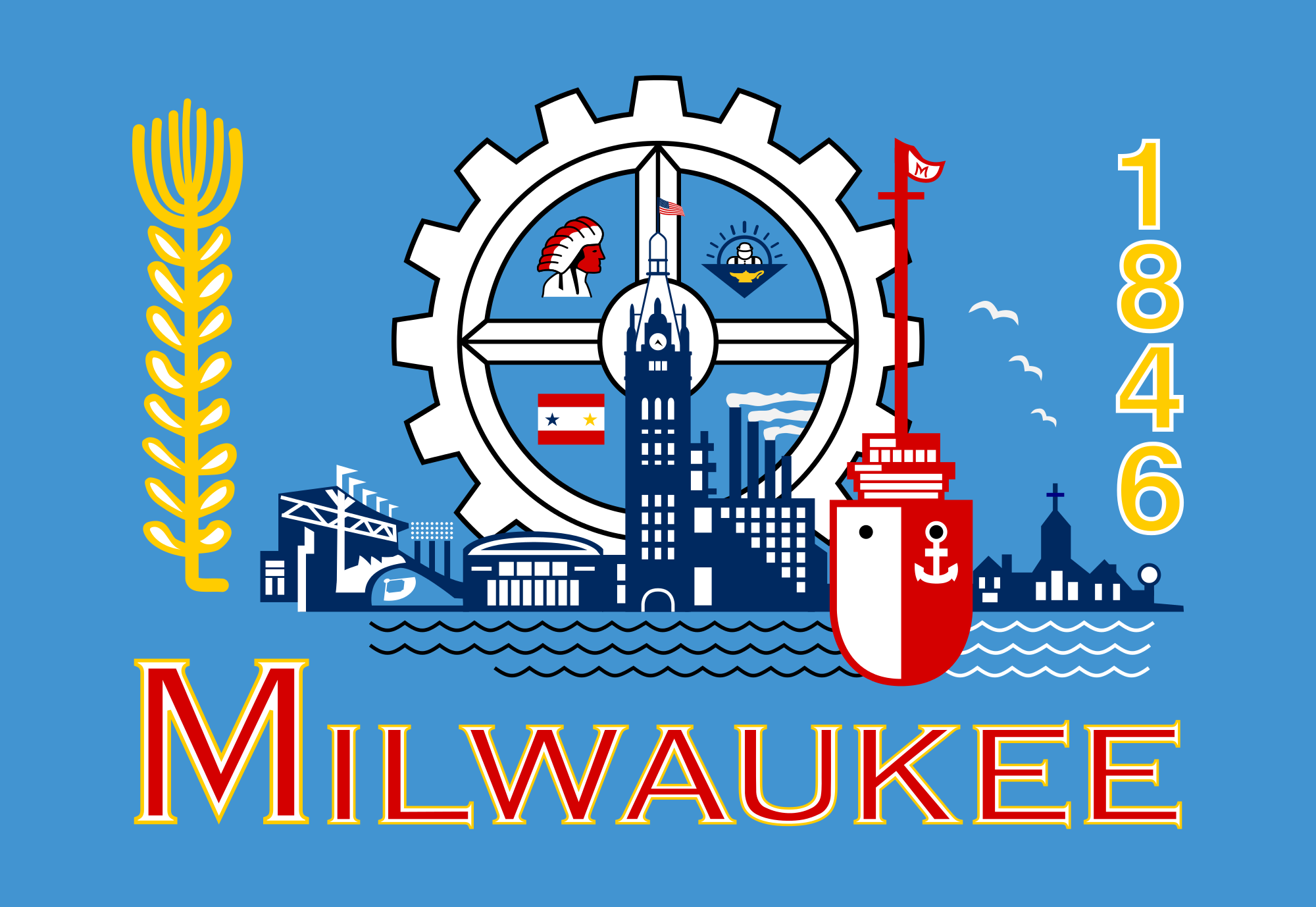 Background on the City of Milwaukee flag

The first attempt to introduce a civil flag came in 1897 and failed. It was not until 1954 that an official flag was adopted, when it was discovered that almost every other major city had one except Milwaukee. The flag has remained unchanged, even though four major efforts have tried to redesign it since. Some of the symbolic elements include:
Gear = industry
Indian head = Native American origins
Lamp = old symbol of Milwaukee City Library
Milwaukee City Hall = representing government
Barley stalk – brewing history
Ship = status as a port city
The current flag represents things that were prominent at one time in Milwaukee. But it is seen now as an old flag that represent the old values and out-dated thinking of Milwaukee.
Criticism comes easy in retrospect, especially since it was not well designed by the graphic standards of today. The city flag is a visual mess that came before the era of Civil Rights, when the Milwaukee community was confronted with McCarthyism in the wake of World War II.
At the very least, the winning flag design will represent the new hope for what Milwaukee will accept for its identity, as it lets go of the past.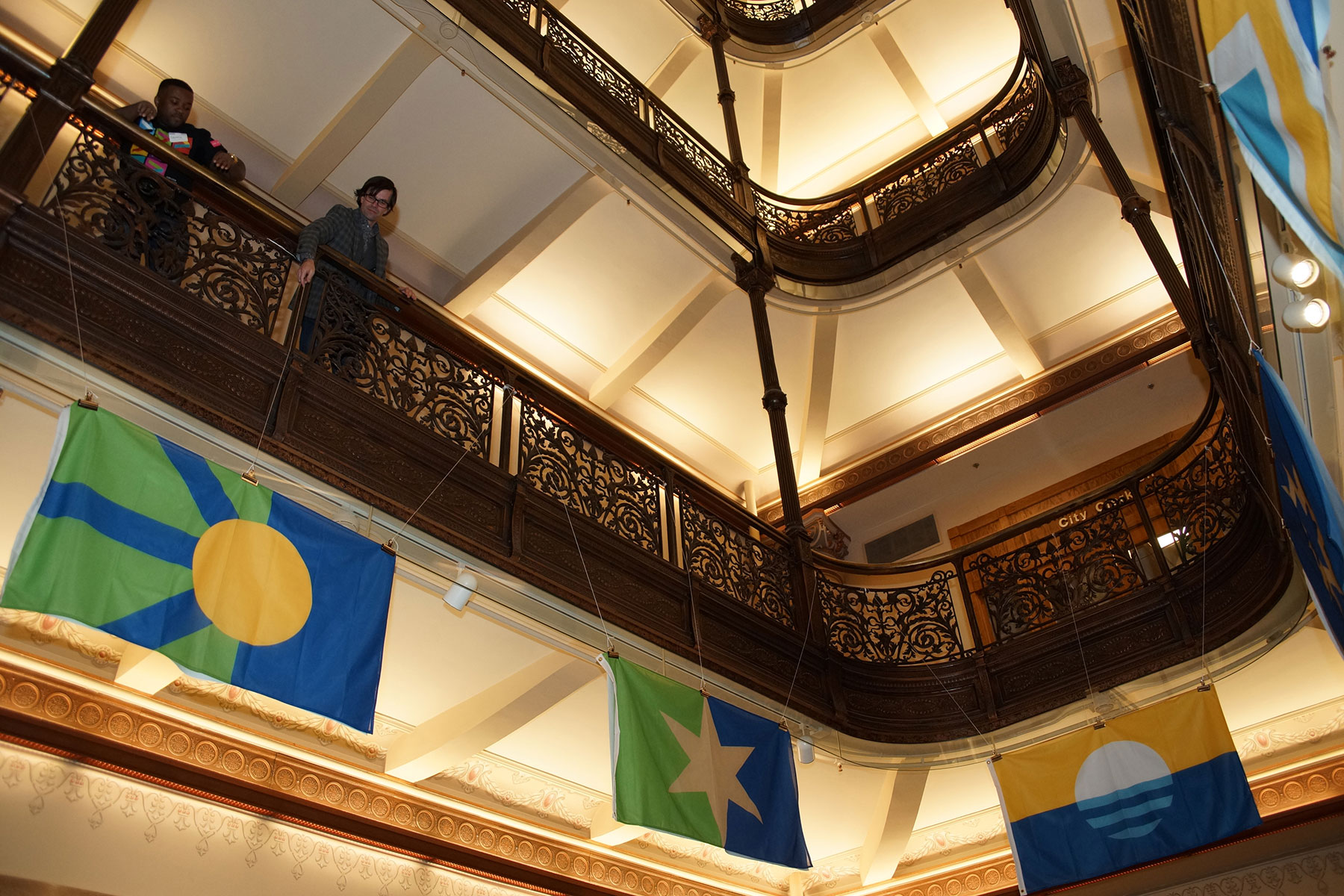 Read the article view the photo essay that was produced as companion features for this news report.