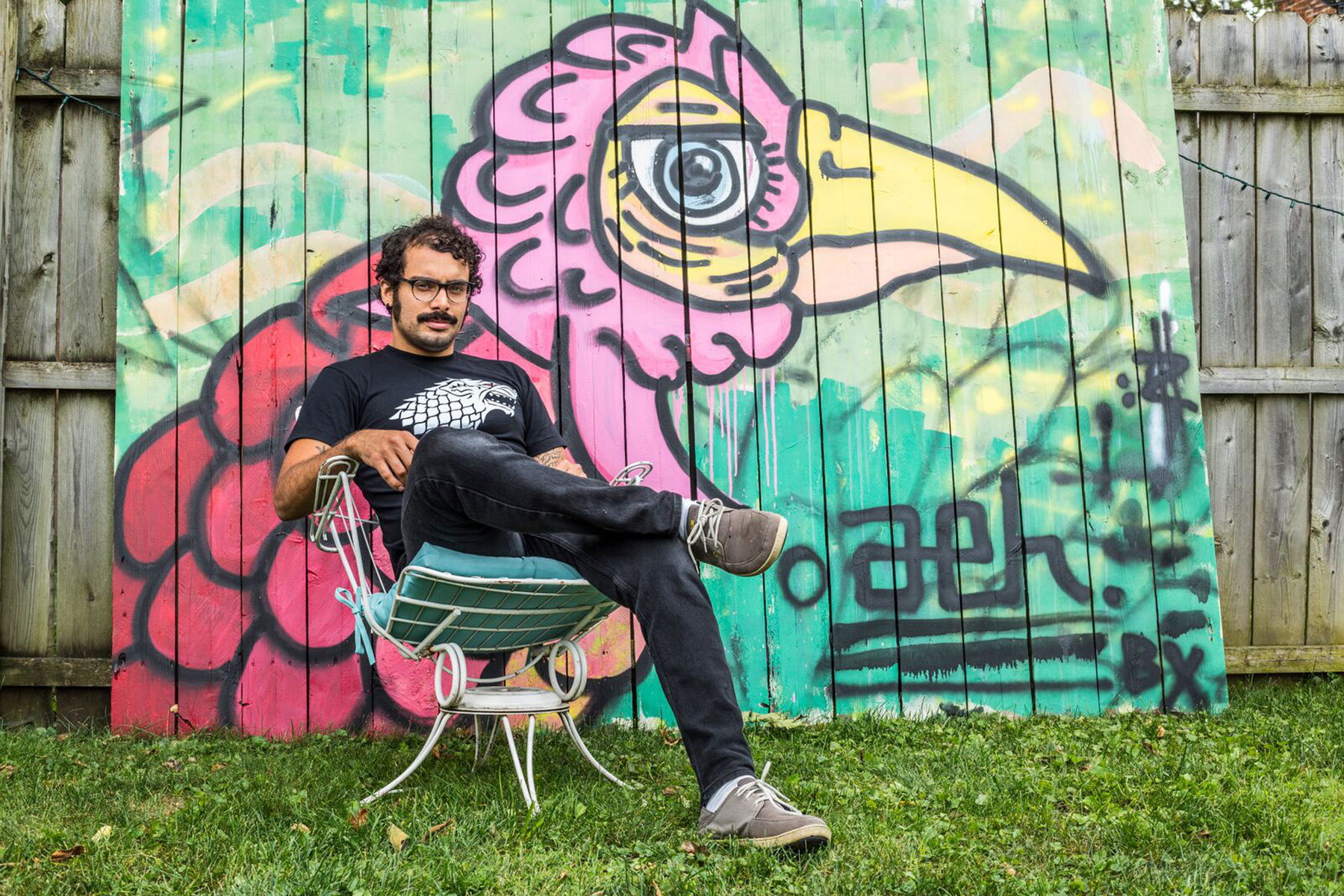 The East Side's Black Cat Alley will kick off the installment of two new murals.
Beginning on Friday April 20, visiting artist Adam Hernandez of Columbus, Ohio will begin work on a ten-foot piece titled "Godmask" from a series he has been pursuing in recent years. He will be at work on this piece for April Gallery Night and Day, April 20 to 21, and the public is welcome to visit and observe the work in progress.
In May, work will begin on a larger mural in the alley. The new mural will be installed on a north-facing segment of the back wall of the Oriental Theater, near the intersection of Kenilworth and Prospect Avenues. It will appear in the place of a previous mural by Adam Stoner entitled "Devontay," which was defaced in 2017. The artist chosen for the new mural is Emma Daisy Gertel, a maker, illustrator, and designer based in Milwaukee.
The Call for Artists released in February by the East Side BID (Business Improvement District) restricted entries for the large mural to local, Milwaukee-area artists only. The committee of jurors based their selection on artistic merit, message, and originality of voice.
The invited jury included John Kowalczyk of Artists Working in Education (AWE), Flow Johnson of After Gallery, Timothy Decker of UW-Milwaukee and MATC, Antoine Carter of the Harambee Art Alley, Caitlin Sprague of the Milwaukee Mural Map, and local artist and activist Allison Westbrook.
"The jury received twenty entries for the north-facing mural from local artists," said Stacey Williams-Ng, Program Director. "Jurors were very impressed with Gertel's proposal, because of its exuberance and power." She added, "We are also very excited to support Daisy in her very first mural. That's one of the best parts of this job: introducing new artists to a monumental format."
The artist submitted a design that features a central female character who seems to be dancing. She exudes power through gesture, and direct eye contact with the viewer. According to Gertel's artist statement, she "uses art to explore her Korean roots and narrate her experience growing up in a culturally homogenized white community. Identity exploration and the celebration of feminine strength are characteristic of her work, rendered with playful charm to bring joy and connection to others."
"This is the start to an exciting new season of happenings in the Alley. The more programming we can bring to Black Cat Alley, the better. It is a place that stimulates conversations and benefits the whole community," added Kristin Godfrey, Executive Director of the East Side BID.
Black Cat Alley is a project sponsored by the East Side BID in Milwaukee, Wisconsin. The brainchild of local citizens and volunteers, Black Cat Alley is now a major arts destination for our city and the model for other public mural projects. The space includes 18 murals by 20 artists in a one-block alleyway.
Adam Hernandez is a self taught artist from the Bronx, New York. He currently lives in Columbus, Ohio where he likes to paint characters that exist in the Land of Thunderbirds, a mythical world he created to tell the stories of heroes and gods. Emma Daisy Gertel is a maker, illustrator, and designer based in Milwaukee.
© Photo
Chris Casella and Emma Daisy