Wisconsin rejects deployment of Homeland Security troops in Kenosha fearing a repeat of Portland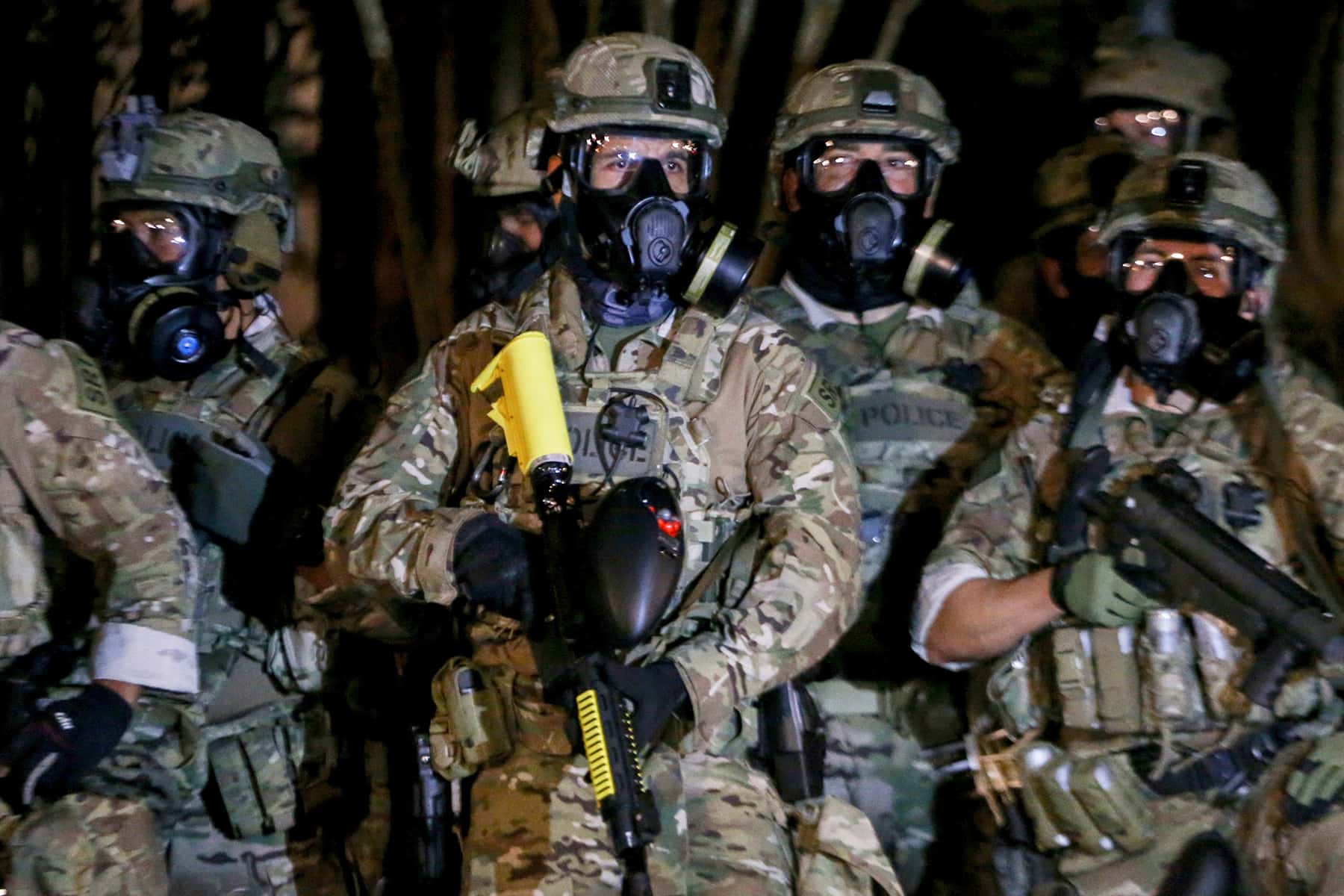 Kenosha will have agents from the Federal Bureau of Investigation (FBI) and the Wisconsin National Guard presence will be doubled Wednesday night, August 26, after conversations between Governor Tony Evers and White House Chief of Staff Mark Meadows regarding federal involvement in the city of 100,000.
But Governor Evers remains steadfast in his objection to the presence of the Department of Homeland Security, which he declined during a conversation with Meadows on Tuesday, August 25. Contrary to a tweet from President Donald Trump, the Governor had already mobilized the Wisconsin National Guard on Monday, August 24, and declared a state of emergency. He upped the Guard presence on Tuesday, August 25, to 250 which will double to 500 members for Wednesday night, August 26.
Conversations are continuing with other states regarding assistance. The federal government is authorizing up to 2,000 National Guard members including those from outside Wisconsin. It remains unclear if that is the extent of "federal agents" Trump and Governor Evers compromised on having in Kenosha on August 26, Wisconsin officials only identified the FBI and the National Guard. The federal Department of Justice cites "federal assets," including the FBI and U.S. Marshals, local officials added that Bureau of Alcohol, Tobacco, Firearms and Explosives have been helping out as well.
Senior Homeland Security officials are "closely monitoring the situation in Kenosha" according to two sources who spoke with Politico, adding that "DHS personnel are on standby to deploy to Kenosha if leadership decides to send them."
Tensions in Kenosha have been high as protesters have marched through the city of 100,000, with some lighting fires and damaging businesses, while police response has escalated with pepper spray, tear gas and rubber bullets. Jacob Blake, who was shot in the back seven times by Kenosha police, remains in critical condition and is paralyzed according to his family. A teenager who describes himself as a militia member has been arrested in connection with the shooting of two protesters who died and another who was taken to the hospital with injuries on Tuesday night.
DHS enforcement officials in Portland and Washington DC, drew criticism for igniting rather than quelling protests and violence. Local reports cited agents in military gear without any visible identification utilizing unmarked vans and hauling away protesters.
In a July 22 letter to Trump, Governor Evers called the federal Homeland Security presence in Portland "excessive and unwelcome" and stated it "only makes these situations more volatile and dangerous." He sent the letter expressing his strong opposition to a DHS role in Wisconsin after Meadows said on a television show that Milwaukee was a potential target after Portland.
"This type of unilateral intervention has not been requested by either the City of Milwaukee or the State and is not welcome in Wisconsin," he wrote, adding that Wisconsin law enforcement and the Wisconsin National Guard would "respect the right of Wisconsinites to peacefully protest while maintaining public safety.
"Governor Evers has been working with several state partners to get additional National Guard and state patrol support," said the Governor's spokeswoman Britt Cudaback. "The federal government is planning to assist in facilitating conversations with other state partners and provide FBI support to our state response."
Meadows confirmed the administration was offering to bring in additional Guard members and the Department of Homeland Security to "contain property destruction and violence in the city."
Republicans at all levels of government — from President Donald Trump to state and local officials — were piling pressure on Governor Evers Wednesday morning to accept augmented federal law enforcement in Kenosha.
"We will NOT stand for looting, arson, violence, and lawlessness on American streets. My team just got off the phone with Governor Evers who agreed to accept federal assistance (Portland should do the same!) TODAY, I will be sending federal law enforcement and the National Guard to Kenosha, WI to restore LAW and ORDER!" – Donald Trump, August 26 Tweet
The most controversial part of Trump's declaration was not the National Guard, which Governor Evers activated and has given an increased role each day so far this week, but his reference to "federal law enforcement" and whether that would include a Department of Homeland Security presence which was the subject of controversy last month in Portland.
"The governor is continuing to work with other states in facilitating additional National Guard and state patrol support," Governor Evers' office stated in a press release. It also noted that "at the request of local officials" he had already authorized the Guard on Monday "to help protect critical infrastructure and assist in maintaining public safety and the ability of individuals to peacefully protest in Kenosha County."
On Tuesday the Governor declared a state of emergency and authorized 250 Guard members, a number he plans to double for Wednesday night. Wisconsin Attorney General Josh Kaul spoke out strongly against establishing a Department of Homeland Security presence similar to the one in Portland in Milwaukee after Meadows raised the possibility in July.
"During this administration … we have witnessed the President employing fascist tactics, including his demonization of immigrants, his attacks on communities with large minority populations and the elected representatives of those communities, the blatantly illegal use of force against protesters near the White House, and the deployment of secret federal police to Portland over the objections of state and local officials," said Attorney Genera Kaul, "I don't use the phrase "fascist tactics" lightly. But there is no more accurate way to describe this administration's repeated resort to and incitement of racism, xenophobia, and violence."
Attorney Genera Kaul's statement Wednesday did not make mention of Homeland Security, instead he focused on calling out the violence and promoting leadership.
"The violence and destruction that took place in Kenosha last night was despicable," added Attorney Genera Kaul. "Kenosha residents deserve the opportunity to grieve, come together, peacefully protest, call for change, and heal. The heavily armed vigilantes, arsonists, and other opportunists who have come to Kenosha to attempt to spur chaos have interfered with that and caused drastic harm to people. If those engaging in violence and destruction of property believe they are furthering some broader goal, they are wrong. They should leave Kenosha. Times like this call for our leaders to unify people. We must come together, in good faith, to work toward positive change. Sowing division can be deadly, and we must condemn those—especially those at the highest level of government — who seek to do so."
Donate: Wisconsin Examiner
Help spread Wisconsin news, relentless reporting, unheard voices, and untold stories. Make a difference with a tax-deductible contribution to the Wisconsin Examiner
These headline links feature the daily news reports published by Milwaukee Independent about the George Floyd protests, the revival of the Black Lives Matter movement that followed, and their impact on the local community in for 8 months from May to December of 2020.