Waukesha students say school district's ban on LGBTQ and BLM signs perpetuates bullying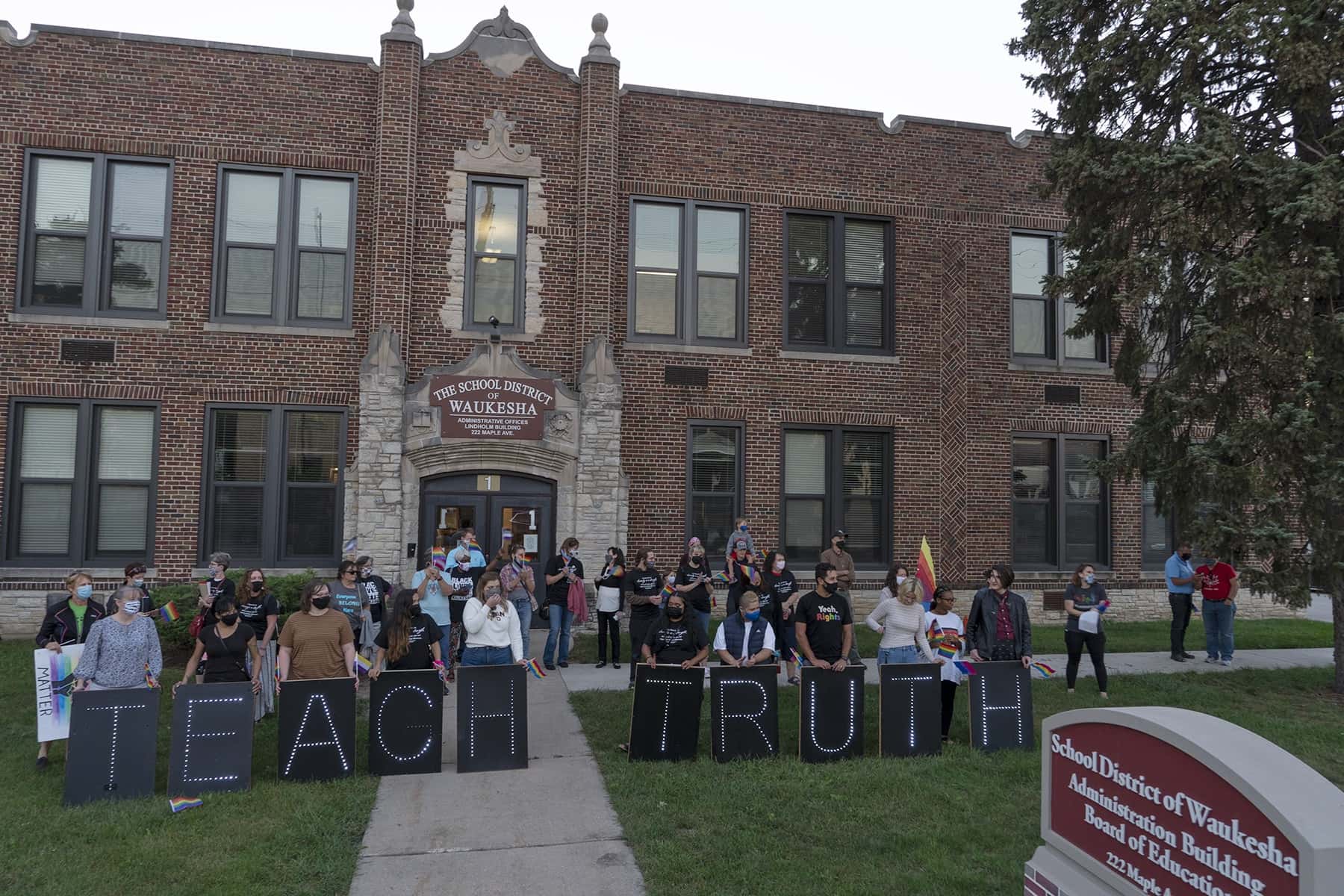 About 30 parents, students, teachers, and community members gathered outside the Waukesha school administration building on October 27 to announce that they were delivering a letter to the superintendent objecting to his policy of removing pro-LGBTQ signs from schools.
One student stated, "We have suffered in more ways than I can count." She outlined how bullying and belittling of students like herself has increased, and she is enduring slurs and gay jokes from fellow students. "With the rise in bullying, many of us don't feel safe." While the administration has stated that the schools need to get back to educating students, she said the abuse is getting in the way of her education.
Episcopal priest David Simmons, a prominent speaker at school meetings, first acknowledged his fellow religious leaders who had come together to support students and stand up to bullying. Simmons did not mince words: "Jesus said if anyone puts a stumbling block in front of the little one, it would be better if a huge weight were hung around that person's neck and thrown into the sea… This district has put a stumbling block in front of our LGBTQIA children and other minority groups in our school system." Others can speak to the legal issue, he said, "but I am here to speak to the moral issues."
Still, the press conference ended on a litigious note. "We are going to continue with our community activism," said Laura Pinsoneault, a parent of a student at North High School and a member of the Alliance for Education in Waukesha. She said she hoped that the administration and the board would rescind previous actions. But if that doesn't work, because of "the constitutional First Amendment violations, we are considering litigation options."
Waukesha School Superintendent James Sebert lit a match in September when he banned Black Lives Matter as well as pro-police signs from the Waukesha school buildings. He added more fuel to the fire by demanding that signs supporting the LGBTQ community come down, suspending diversity training for staff members and the work of the District Equity Leadership Team (DELT).
At both the September and October school board meetings, community members, teachers, parents and students demanded that the superintendent and the board reverse those actions. Speakers stated that, since the superintendent's actions, bullying and name calling have increased directed at all minority communities in the Waukesha schools.
Waukesha district's own 2018-2019 Youth Risk Behavior Survey showed that a high percentage of students who are members of racial minorities did not feel they belonged in school. That number jumped to 59% for LGBTQ students and 41% of LGBTQ students stated that they have been bullied at school or online.
But the superintendent and the board members sat silent until the very end of the board meeting on October 14 when school board member Greg Deets requested that the superintendent give a full report to the board at the Nov. 10 meeting.
A group of Waukesha citizens sent a letter on October 27 to the superintendent entitled, "Unified Statement of Position and Petition for Immediate Remedial Action: School District of Waukesha on Equity, Inclusions, & Fairness."
But the letter was not a demand for immediate action, as the title suggested; instead it set a date of December 1 for the board to take up the issues, giving it time to take action at its November meeting.
The letter outlines the actions taken by the superintendent, that he is violating existing Waukesha school board policies, and that those actions are negatively affecting students and the whole Waukesha school community. It made three demand and was signed by over 200 individuals:
Rescind and reverse all decisions and directives that prohibit the signs and displays that have been historically allowed under existing school board policies.
Reestablish the work of the District Equity Leadership Team, post on the official district website the adopted social justice statement and the "Belief & Embrace Statement," and reestablish diversity training for staff members.
Adopt policies and implementation statements to ensure the district will support those goals.
Educators are targets
Of particular note is that some 35 Waukesha school employees signed the letter. Organizers state that school staff members are being targeted for disciplinary actions if they do not comply with the superintendent's directives. Once a handful of school employees were willing to put pen to paper, more employees have been reported to sign the letter as well. Still the number of educators signing the letter represents a small percentage of the Waukesha staff.
One person who signed is teacher Carrie Kummrow, president of the Waukesha Education Association (WEA), the union that represents the district's teachers. At this point, Kummrow reports that no disciplinary action has been taken against any teachers that requires union representation. However, WEA issued a statement that the district must rescind the superintendent's recent actions.
"The response to teachers depends on the building and who the administration is," said Kummrow. "There is no consistency throughout the district, which creates resentment among the staff because certain buildings are 'suffering' more than others. Lindholm [district office] administration says they want to 'hear' from teachers, but that is only on the surface level. Nothing changes regardless of the feedback they get from teachers/staff."
Kummrow wears her lanyard with a "safe space" button and rainbow pin. "Teachers have free speech rights," she said. But teachers are afraid, and just how much they will be confronted by administration varies from school to school. Kummrow points out that enforcement is somewhat inconsistent, more lax at South High School where there is a higher minority population than at West or North.
Classrooms are a minefield. "If you teach anything about racial issues, the principal gets calls, and you have to produce your lesson plans, curriculum, any videos. Parents want total control over what is taught," said Kummrow.
Initially, conservative parents stated they wanted both sides of controversial issues to be taught. The superintendent thought he could avoid conflicts simply by banning displays or classroom discussions. Instead, his actions only created greater conflicts and emboldened the more conservative parents.
"Our librarians are getting raked over the coals. They've pulled books from the shelves," said Kummrow. "You should see the emails that the librarians get, accused of being child pornographers."
She believes it's unlikely that parents will pull their children from the Waukesha school system in the middle of the school year. She is not sure about next year. As far as teachers are concerned, this union president has no doubts. "We have already met where we were with teacher resignations compared to last year… The resignations are going to go through the roof… dozens of teachers have already contacted me about it." Given the statewide teacher shortage, teachers leaving Waukesha schools should have little trouble finding teaching positions in other school districts situated in calmer waters.
Community organizing
Spearheading the protest is the Alliance for Education in Waukesha. No officers or individuals are listed on the group's website. The main contact is Laura Pinsoneault, the parent of a student at North High School. While this is a grassroots organization, it is not without expertise or sophistication. Its letter to the superintendent was professionally developed; it issues press releases, and is even putting together media packets.
The Alliance outlines some of its priorities on its website. In addition to its current involvement in protecting diversity, it helped to reestablish the free meals program that the district previously cut.
It has advocated for more mitigation efforts against COVID-19. The district is now involved in a lawsuit which states that two children contracted COVID-19 because the district took insufficient safety measures. No evidence has been shown that the Alliance is directly involved in that lawsuit. Its major plaintiff, parent Shannon Jensen, is did not sign the letter to the superintendent protesting the anti-diversity actions.
Nevertheless, the school district could ultimately face legal action on two fronts.
Donate: Wisconsin Examiner
Help spread Wisconsin news, relentless reporting, unheard voices, and untold stories. Make a difference with a tax-deductible contribution to the Wisconsin Examiner