Dual Pandemics: Milwaukee schools continue to fight the coronavirus and inequality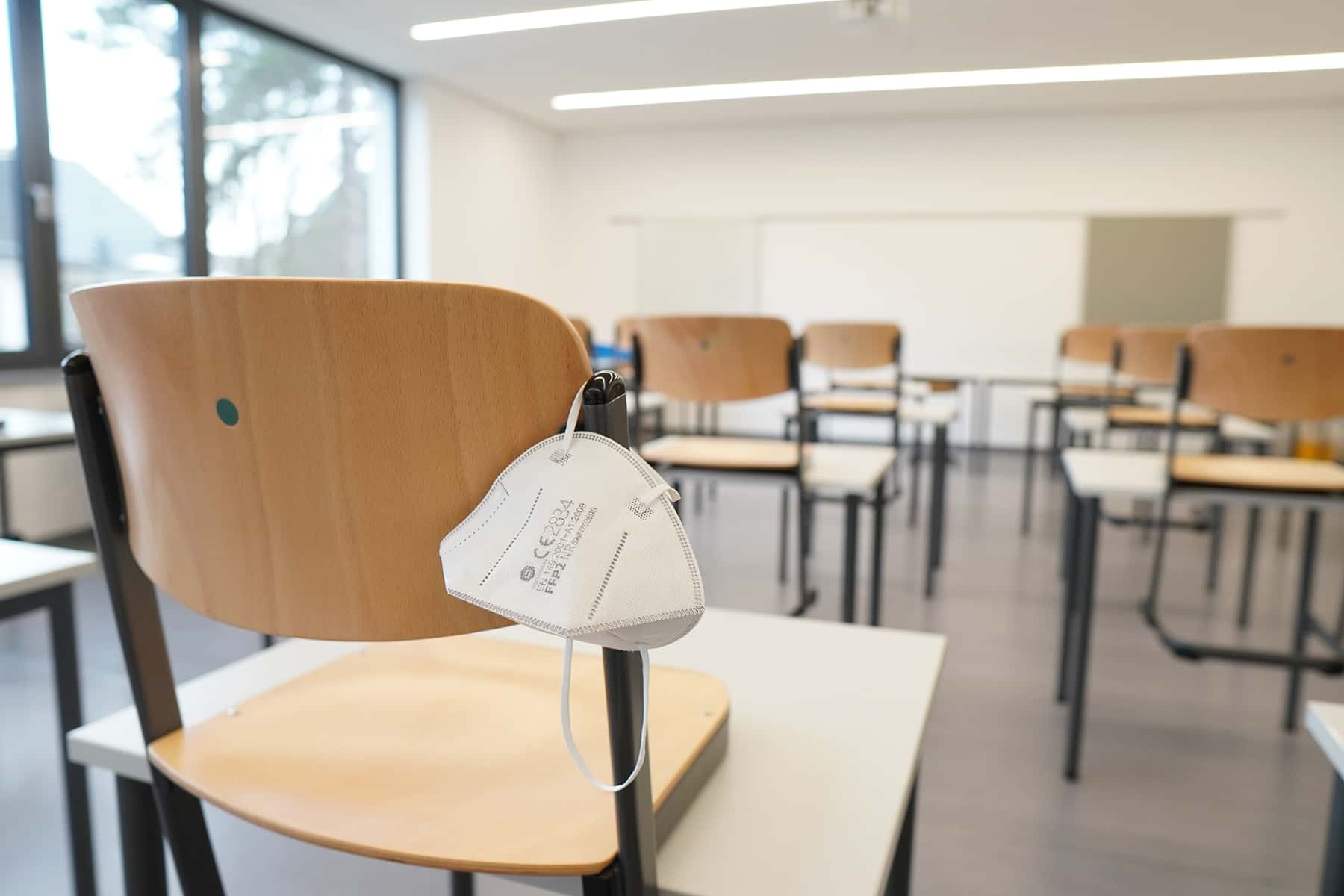 June 1 was the day the city of Milwaukee lifted its mask mandates, but you would not know it watching the Milwaukee school board meeting that same night. On camera, all board members were in different rooms with masks. Superintendent Keith Posley and his staff sat in the administration conference room, masks on, socially distancing.
Meanwhile, across Wisconsin school boards have mostly begun meeting in-person, often to affirm that masks can come off in the classroom both for staff and students. In Milwaukee's "Roadmap to Readiness" presentation, the administration made it very clear that staff and students would continue to wear masks during summer sessions and into the fall.
That is one reason why school board members, who had been vaccinated, wore masks at the June 1 special board meeting. "We are trying to make the point that mask-wearing is going to be the rule in MPS schools," said board president Bob Peterson in a separate interview. The rationale for continuing the mask requirement is not simply a case of liberal political correctness or unnecessary COVID fear. The need to keep masks directly relates to vaccination rates in the city.
Milwaukee's neighboring suburb of Whitefish Bay has now reached vaccination rates for those aged 16 and older near 100%. Meanwhile, just a few miles away in the Milwaukee neighborhood of Washington Park, the vaccination rate in April was under 12%. The number of vaccinated residents has risen somewhat since then, but the area's mobile population makes exact numbers difficult to pin down.
The reasons for not getting the vaccine in Black neighborhoods like Washington Park are markedly different from reasons given by residents of small towns and rural parts of the state where vaccination, like mask-wearing, has become a partisan issue, with Republicans seeing these public health measures as government overreach and asserting their individual right not to participate. "Hispanic and Black people in many states are getting vaccinated at disproportionately lower rates than white or Asian people – despite having a higher burden of COVID-related death and disease," noted a recent Scientific American article.
Reasons for not getting a vaccine can include lack of transportation to vaccine sites, historical fears of medical procedures, and the daily grind of everyday life.
"The pandemic exposed the continual uses of institutional white supremacy in our health system generally," said Peterson. "And that has a huge impact on our children and schools."
The fear of getting the virus has also kept many Black Milwaukee parents from sending their children to in-person schooling even when the schools began to open in April. In the Roadmap to Readiness, Posley is trying to cut back virtual education for next school year in hopes of encouraging students to come to school in person. Not only does the superintendent feel that in-person learning is a better option for many families, especially when internet connections have been spotty, but students who do not attend school have a huge impact on state educational funding.
Many Milwaukee parents did not send their kindergarteners to school this year. Some high school students stopped learning virtually out of frustration or they simply got jobs. Some low-income parents lost their jobs during the pandemic or had to stay home with children because schools were closed until April. Families counted on those teens' income.Even in high school, most students remained virtual for the entire school year. Some students tried to juggle virtual and work; many could not.
For some low-income families, worrying about where to get next month's rent, how to put food on the table this week, even tonight, means forgoing long-term planning, including keeping kids in school..COVID had made all of those challenges even more difficult.
The Roadmap to Readiness PowerPoint first highlighted the monumental efforts the Milwaukee Public School District had made over the last 14 months calling those efforts "Points of Pride": 14,000 Google classrooms, 13,000 WIFI hotspots, 119 community learning centers, 1,772,964 Grab and Go meals. The presentation outlined "lessons learned," including the need to continually test for COVID, phase out concurrent or hybrid teaching, provide guidance and build a positive school community.
The plan lists other actions the district will take. In the coming year, the district will build a K-12 virtual school for the future to bring back students who attended a virtual school out of the district. Health and safety will be a priority: plexiglass barriers, HEPA filters, continual cleaning. More training for staff will be developed. A program called Ambitious Instruction and a summer academy will help students catch up and move forward.
But the presentation did not dwell on the failures of the district this year: buses not picking up students when schools reopened, the spotty internet connections, and the inconsistent virtual instruction. Something else was missing from the presentation, several speakers noted.
Raeven Chappelle, a white elementary teacher at Allen-Field Elementary took issue with the plan. She spoke against taking any action on the superintendent's plan until some critical areas were addressed. Greater outreach to the community and parents were needed.
"Inequities existed prior to the pandemic," she said, zeroing in on the lack of mental health support for students. "More mental health professionals are needed now more than ever while our students continue to live through both the pandemic of COVID-19 and the pandemic of white supremacy. Where is our district commitment to ongoing anti-racist training for all staff in this plan? … Please keep anti-racism in the center of your decisions tonight. If we fail to address the issues that existed before the pandemic, we cannot claim we are on our way to anywhere but backwards. And we certainly cannot claim we are on our way to success."
Angela Harris, chairperson of the Black Teachers Caucus echoed the same points made by Chappelle. "I'm speaking against taking any action to the Roadmap to Readiness," she said, at least, until four areas are addressed: communication with family and students, a mental health survey, training of staff on cultural relevance and a focus on acceleration in learning.
Gretchen Kapperman, a teacher of visually impaired students at Lincoln Center for the Arts, said, "We need racial equity at the center of this work… Traditional schooling has failed our Black students, pre-pandemic. We must not return to normal. This is our opportunity to reflect, reset, and truly take our Black students' needs into consideration as we plan."
"The equity plan is a work in progress. I hope it is signed off soon," Peterson said of the district's effort to address racial inequities a couple of days after the meeting. "Bottom line, I'm more interested in specific things that will fight white racism than debating an equity plan that I think is important, but I am not going to stop our plans to get our kids back to school."
He pointed out that the district is under a federal Office of Civil Rights agreement to improve racial equity. Those efforts will continue at the same time the schools reopen. Although none of the speakers cited any contemporary research in this area, a wealth of studies are coming online that support their statements. A December 2020 study by McKinsey & Company states, "Students of color were about three to five months behind in learning, white students were about one to three months behind" just in the half year of the pandemic.
"The results are startling. Students on average could lose five to nine months of learning by the end of June 2021. Students of color could be six to 12 months behind, compared with four to eight months for white students."
Several of the recommendations the McKinsey report makes can be found in the school administration's Roadmap to Readiness and in the comments of the board members and speakers such as pushing accelerated learning and expanded learning time. But board members and speakers also noted the details were missing on how that enhanced education would work.
At that special June meeting, the MPS school board passed a resolution sponsored by Peterson. The resolution supported the superintendent's Roadmap to Readiness plan with students returning to in-person instruction five days a week. In addition, the resolution banned concurrent teaching where teachers instruct classroom and virtual students simultaneously. The district also agreed to expand community partnerships and improve communication with parents.
Even before the meeting took place, and before speakers called for a broader effort to combat racism and a lack of equity, Peterson had already included in his resolution draft "professional development for staff in culturally relevant, anti-racist, social-emotional teaching strategies and school-based sharing and planning on social-emotional lessons and practices."
In the background, Peterson notes that the Wisconsin Legislature is not willing to put more money into K-12 education and resents that much of the federal COVID relief money coming into the state is slated to go to the Milwaukee Public Schools. Federal money cannot legally supplant state school funding, but rather must augment existing funding. Not fully funding schools to current levels puts $1.5 billion of federal funds to Wisconsin at risk.
"I don't doubt they [Republican legislators] would mind losing $1 billion. It's mainly going to Milwaukee Public Schools and large school districts based on poverty. It's going to poor kids. It's not going to rich kids," concludes Peterson. For the MPS school board, the lack of equity is clearly a pandemic of its own.
Donate: Wisconsin Examiner
Help spread Wisconsin news, relentless reporting, unheard voices, and untold stories. Make a difference with a tax-deductible contribution to the Wisconsin Examiner