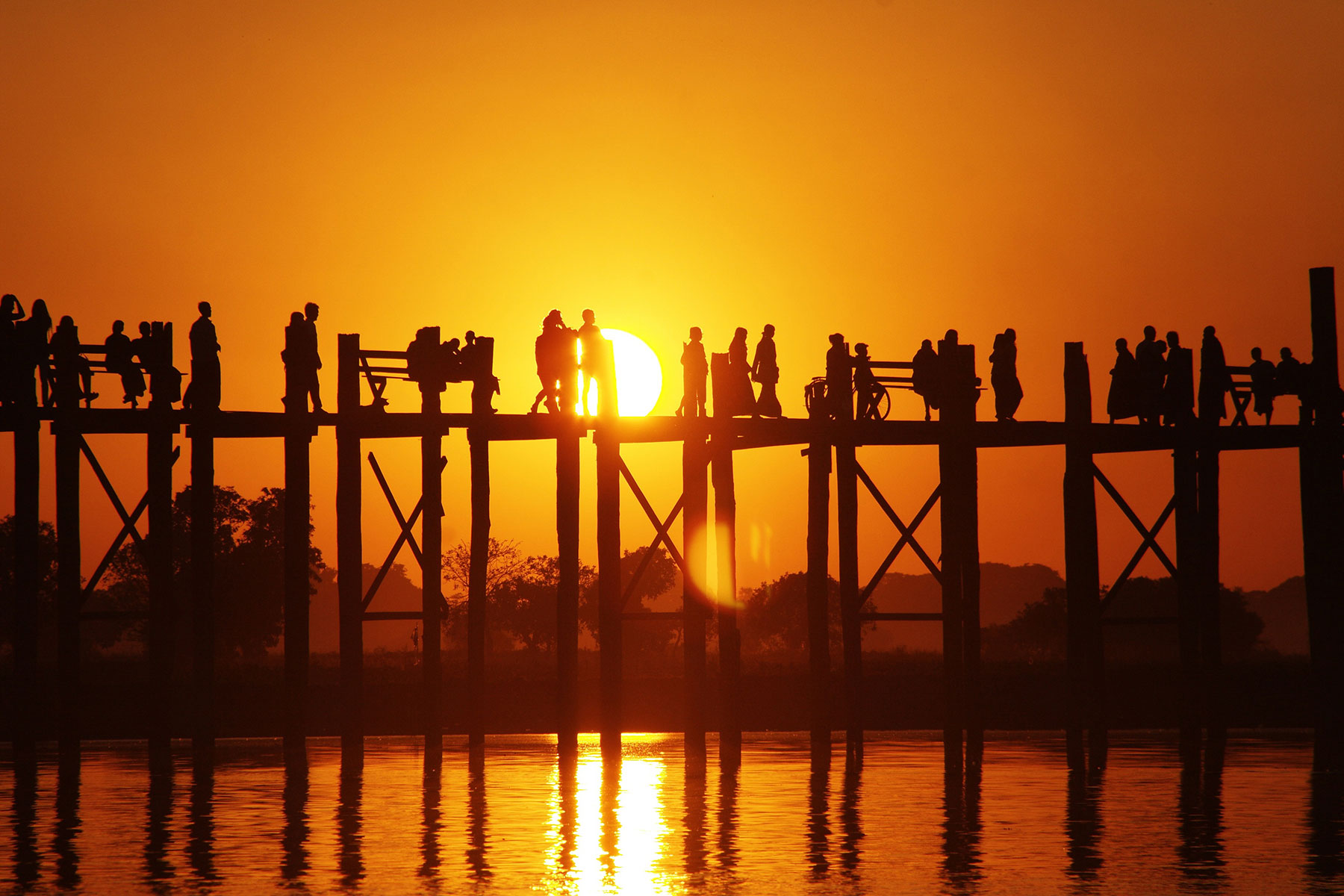 Discussions about international refugees in Milwaukee have focused largely on three groups: The long-established Hmong community, the newer Somali community and a small number of Syrian refugees who have resettled in the state over the past few years. But in the last decade-and-a-half, these three communities combined account for fewer refugees resettling in Wisconsin than those coming from the southeast Asian nation of Burma.
Between 2002 and 2016, more than 5,000 refugees from Burma were resettled in Wisconsin, data from the U.S. Department of State shows. Over the same time period, more than 3,300 refugees from Laos arrived in Wisconsin, adding to the state's Hmong community. This population is still by far the largest refugee group in Wisconsin overall, but has ceased to be the fastest-growing. Meanwhile, over 1,300 refugees from Somalia have settled in the state, an outgrowth of the much larger community in Minnesota. As for refugees from Syria, the federal government under the Obama administration worked to resettle thousands across the United States over the past few years, but only about 100 made their homes in Wisconsin.
All refugees resettling in the U.S. go through an extensive vetting process that involves the United Nations, multiple federal agencies and NGOs, with additional layers of scrutiny for those coming from Syria.
But Syrian refugees might stop being resettled in the U.S. altogether. A draft executive order leaked from President Donald Trump's administration indicated its plans to ban resettling refugees in the U.S. for several months. An exception would be made for refugees fleeing persecution from a nation in which they are a religious minority. As noted in the order, a lift on the ban would contingent on changes to the federal government's vetting process, with an open-ended limit on accepting refugees from Syria. This policy would also cut the total number of potential refugees admitted in fiscal year 2017 from a ceiling of 100,000 to 50,000 people. During his campaign for president, Trump repeatedly called for registering and/or banning Muslim refugees and immigrants.
Syrian refugees have also been the focus of Governor Scott Walker's calls for a greater role for state governments in refugee resettlement. However, despite his statements about information available to states about refugees, details on where refugees come from and where they settle are readily available through a State Department database called WRAPSnet. This data goes back to 2002, and includes information about refugees entering the U.S. by country of origin, year of entry, and the states and cities where they are settled.
Countries of Origin for top refugee groups in Wisconsin 2002 – 2016
Myanmar (Burma) 5,265

Laos 3,340

Somalia 1352

Iraq 1,219

Bhutan 384

Serbia 167

Sudan 146

Afghanistan 121

Syria 119

Russia 93

Vietnam 78

Palestine 71
Despite the focus on Syria, few people outside the world of government agencies and refugee-resettlement non-profits have publicly pointed out that Burma accounts for Wisconsin's largest incoming refugee group. This community rarely takes the spotlight in political discussions or media coverage of refugees in the state, even though they're fleeing crises that have gone on for far longer than Syria's.
A crisis with multiple fronts
Burma has a centuries-long history of conflict among various ethnic and religious groups. Since the nation gained independence from the British Empire in 1948, these divisions have exploded into multiple civil wars and genocidal campaigns under a military junta controlled by the majority ethnic group, known simply as Burmans. Beginning in 2011, the country began making some strides toward democracy and civilian government, but many international observers conclude that the junta has not truly been reined in, and regard signs of progress as largely perfunctory.
The shift from imperial rule to military junta to a slightly democratized military junta has also made the nation's name a politically fraught issue. The British called it Burma, and initially treated the country as part of India. It was still called Burma after independence, until the military government changed the country's name to Myanmar in 1989. This regime has argued that the name "Myanmar" is more inclusive of ethnic minorities, an argument The Economist dismissed. It's also an ironic position given the government's many atrocities against ethnic minorities.
Dissidents, rebels, human-rights activists and various members of the international community use the name Burma as a rebuke to the military regime's behavior and indeed its legitimacy. Still, many publications and national governments, as well as the United Nations, call the country Myanmar, reasoning that it's proper to use the government's official name. The U.S. government officially refers to the nation as Burma, but former President Barack Obama turned heads in 2012 when he called it Myanmar on an official visit.
Part of what makes Burma difficult to talk about is that the violence is taking place on multiple fronts, against several groups, in differing forms.
In Rakhine State, along the Bay of Bengal, the nation's Buddhist majority is waging a campaign of persecution against a largely Muslim group known as the Rohingya people. Despite the Rohingya's long history in the country, the government treats these people as illegal immigrants and does not include them among the country's recognized ethnic groups. Like the Hmong, they're essentially a stateless people.
The Karen people, from an eastern part of the country bordering Thailand, have engaged in armed resistance against the government, which regularly sends military patrols to destroy villages, rape women, kill civilians and conscript people into forced labor. Thousands of Karen live in refugee camps just over the Thai border, and still more are internally displaced within Burma — perpetually on the run from the military and barely surviving in the jungle.
The majority of Burmese refugees in Wisconsin are Karen, but some are Rohingya and others belong to another persecuted minority, the Chin people, said Chia Youyee Vang, a history professor at the University of Wisconsin-Milwaukee and co-author of the 2014 report "Invisible Newcomers: Refugees from Burma/Myanmar and Bhutan in the United States."
The report found Burmese refugees are struggling in the United States and suffering "alarming" rates of poverty. Vang does see progress. For example, she noted more students from Burma are attending classes at UW-Milwaukee.
"At the same time, they're not immune to the economic challenges that other Americans confront," Vang said. "They start at such a critical, difficult position when [they arrive] here."
Vang thinks the Trump administration's antipathy toward refugees could make the situation tougher on people seeking to flee Burma. She also noted that conflicts in Syria and elsewhere tend to overshadow Burma.
"I think different circles talk about it, but it's not common knowledge," Vang said about the multi-faceted crisis in Burma. "Most people are actually not even aware that they're here."
Obscured by illusory progress
Observers fear that the reforms Burma has undertaken might change the country enough to attract more foreign investment and tourism — and enrich the powers that be — but not enough to stop the government's ethnically and religiously targeted killing and persecution.
Myra Dahgaypaw, executive director of the DC-based U.S. Campaign for Burma and a Karen refugee herself, fears that the international community is letting the Burmese government off easy. The United States has eased sanctions on Burma, as has the European Union, and NGOs have been losing funding for refugee camps inside the Thai border.
Events like the 2010 release of opposition party leader Aung San Suu Kyi — who served 15 years under house arrest for her political activities and eventually became the first democratically elected State Counsellor of Myanmar (a position roughly equivalent to a prime minister) — bear a powerful symbolism but don't tell the whole story.
"People look at things on the surface level," Dahgaypaw said. "As soon as Aung San Suu Kyi was out of house arrest, everyone thought Burma was free."
When she visited her home country again last fall, Dahgaypaw talked with members of its parliament who felt powerless to enact real change. Under Burma's new constitution, published in 2008, the military still controls 25 percent of parliament, and it takes more than 75 percent of parliament to change the constitution. This structure essentially gives the military a permanent veto.
And contrary to what the government allows tourists and other visitors to see, human rights abuses continue on a daily basis in Burma.
Dahgaypaw said the government continues to use a variety of tactics to attack its own people: Blocking humanitarian aid, confiscating land, bombing with warplanes and mortars — not to mention the government's extraordinary use of landmines.
"Rape is still used as a weapon of war in order to demoralize and dehumanize ethnic minorities," she added.
A Muslim minority in a Buddhist country
And as more Americans and Europeans become openly hostile to Muslims, Burma's government is escalating its campaign against the Rohingya people. The State Crime Initiative at Queen Mary University of London, an initiative that researches human rights violations, warned in a 2015 report that the conflict shows every sign of turning into full-on genocide.
"For the first time, we have the army getting directly involved in the persecution of the Rohingya," said, Thomas MacManus, one of the report's authors. The pretext, he explained, was an October 2016 incident in Rakine State in which a group of police officers and border guards were killed.
MacManus said the Rohingya are unique among Burma's persecuted minorities in that they've taken a pacifist approach and haven't launched an armed resistance against the government. However, there have been previous Rohingya insurgency movements since Burma gained its independence, and a new group called Harakah al-Yaqin started launching attacks in Rakhine State in late 2016. An international NGO called International Crisis Group that researches violent conflict summarizes this emerging insurgency. It notes the Rohingya "has never been a radicalised population, and the majority of the community, its elders and religious leaders have previously eschewed violence as counterproductive. The fact that more people are now embracing violence reflects deep policy failures over many years rather than any sort of inevitability."
The Burmese government doesn't recognize the Rohingya as a legitimate group that belongs in the country — a symbolic erasure that typically accompanies genocide. MacManus doesn't know of any mass killings happening yet, but the army is starting to destroy villages, which he said "is just straight out of the genocidaire playbook."
Another alarming sign is that the Rohingya are running out of places to escape — thousands have fled to Bangladesh or Malaysia, both of which have Muslim majorities, but these nations don't want any more refugees. MacManus drew a parallel to Nazi Germany, which first tried to expel its Jewish population elsewhere.
Long before this escalation, Burma's government and Buddhist majority have treated Rohingya people with a drumbeat of Islamophobia. Burma has laws against expression that mocks religion, but MacManus said the government only enforces them when Buddhism is the target — meaning a person can get arrested for making fun of Buddha, but hate speech against Muslims is condoned.
"We have monks traveling around the country and going to schools teaching people about the dangers of Islam, and having essay competitions about how best to protect against the dangers of Islam and how to protect Buddhism," MacManus said.
Since beginning its reforms in 2008, Burma has attracted more investment from Western countries, MacManus said. Historically, most of the outside investment in Burma has come from India and China, with each of whom the Burmese government's relations are shaky.
"The opening up was a way of allowing Western investment, but without the trappings that usually come with that — freedom of association human rights, freedom of education and not attacking civilians," MacManus said. Meanwhile, tourism is growing, and foreign countries are offering other forms of assistance — like sending their police to help train Burmese police.
MacManus holds out hope that investors and governments outside Burma are starting to realize that the reforms are not what they claim to be.
"At the same time, there must be at least four civil wars, definitely crimes against humanity going on, war crimes probably on both sides of all those civil wars, and it's just continuing unabated," he said. "The more investors get involved and the more global capitalism gets involved, the more entrenched these issues are going to get."
Divisions within divisions
"Rakhine, who have long resisted military encroachment on their state, now ask for their protection against what they see as an Islamic tide sweeping the state," wrote freelance journalist Francis Wade in a 2013 op-ed for Al Jazeera. He cited more instances in Burma in which people suspected the government sought to "inflame ethnic tensions in order to split what could have otherwise been a cohesive anti-regime front."
One of Burma's most prominent pro-democracy activists, Ko Ko Gyi, has apparently taken the military's side against the Rohingya people. In July 2012, he referred to the Rohingya as "foreign invaders," according to The Irrawaddy, a news website founded by Burmese refugees in Thailand. Other commenters in the region have pointed out that stance, as well as the fact that pro-democracy and even pro-Muslim activists shy away from using the term "genocide."
Even Aung San Suu Kyi — a Nobel Peace Prize winner — has faced criticism for not speaking out about the plight of the Rohingya.
In Wisconsin: Lower visibility, uncertain future
Mayhoua Moua, executive director of Southeast Asian Educational Development, Inc. and the Milwaukee Consortium for Hmong Health, came to Wisconsin in the 1970s as a child refugee from Laos. She believes her family and other Hmong refugees who followed them to Wisconsin had it a bit easier than the Burmese refugees in the state do now. In fact, she was surprised to begin noticing Burmese people in her Midtown Milwaukee neighborhood a few years ago.
"We started seeing a new group of Asians, but we had no clue about who they are or where they come from," Moua said.
Moua and fellow parishioners at St. Michael's Catholic Church launched an effort to provide housing assistance to the new arrivals, along with helping them get basic furniture and household appliances. Moua and her husband ran an after-school tutoring program, and discovered great need.
"We had a houseful of children — over 60 children on our second night," she said.
Refugees entering the U.S. have had access to services, publicly and privately funded, and federal refugee resettlement funding increased over the past decade However, as the Washington Post noted: "Most of that money — and almost all of the increase — went to funding unaccompanied minors crossing the border from Mexico."
But Moua said that in the Hmong refugee experience, those services went further and came with a stronger community connection.
"There are not as much services to assist these newer refugees in the resettlement process," she said. "They were pretty much brought here, put into a home — and not such a good condition home, I can say — and left to fend for themselves." Moua.
Indeed, in 2011, the Milwaukee Journal Sentinel discovered that Lutheran Social Services of Wisconsin and Upper Michigan, the regional affiliate of a federally funded resettlement agency, had placed Burmese refugees in squalid and dangerous apartments.
"Whereas in my time when we came here, we were sponsored by churches and small groups, where the families were given much attention and provided good housing to start with," Moua explained. "We were able to receive government assistance until we were able to get on our feet. We were able to participate in job training programs. It really helped us, stage to stage, to get to where we are right now."
Moua points out that a lot of Burmese refugees — especially the Karen — spent far more time in refugee camps than Hmong refugees did. Tens of thousands of Karen refugees have been living in refugee camps long-term, and some of those camps have existed for more than 30 years. The camps are just across Burma's border with Thailand, where these refugees can't safely go home but also can't legally get jobs. Some Karen people were born, grew up, and started families of their own in the camps, so they have a particularly hard time starting new lives in America, because they've had so little chance to get an education, gain work experience or access proper health care.
Misunderstanding and distrust
People who work in refugee resettlement continue to struggle with gaps in public perception about refugees.
"People kind of mix this whole group together, and you have to look at, why are people coming here? They're coming here because they're fleeing a place or a group of individuals, for the most part they fear for their own well-being," said Al Durtka, president and CEO of the Milwaukee-based resettlement agency International Institute of Wisconsin.
"I think a lot more information needs to get out in terms of what refugees get through, and also in terms of what refugees here have contributed to their communities," he added.
Politicians at state and federal levels have contributed to the confusion over how the refugee resettlement process works. In fall 2015, Gov. Scott Walker said Wisconsin would refuse to accept new Syrian refugees and that state agencies would refuse to coordinate services for new Syrian refugees.
But these protestations were misleading. State governments have not had any say in where refugees are placed — the U.S. Department of State and federally funded refugee resettlement agencies have decided that, based on a variety of factors including where a refugee might have family members or a community members who share their ethnicity, culture and language, and where they might have access to jobs and other resources. States plays a role in supplying funds for the services refugees receive, but all that money has come from the federal government, and the state is simply passing it along.
Refugee resettlement in Wisconsin by city 2002 – 2016
Milwaukee 8,774

Oshkosh 800

Madison 781

Sheboygan 545

Green Bay 363

Wausau 336

Appleton 301

Waukesha 79

Wauwatosa 45

Menomonee Falls 10
Additionally, a state cannot deny public services to refugees because of their country of origin, or because of the fact that they are refugees, as Wisconsin Department of Children and Families spokesperson Joe Scialfa confirmed in an email on Dec. 29, 2016.
Once refugees are resettled in the U.S., they attain permanent legal resident status, which makes entitles them to public benefits as long as they meet the eligibility rules of a given program. (A bill introduced in Congress on Jan. 24, 2017 seeks to change the role of states in the process. It would allow governors to bar refugees and requiring federal officials to give state governments more advance notice about refugees planning to resettle in their states.)
Walker and other public officials have repeatedly said that they don't know whether refugees are properly vetted or how many are coming into a given state. But it has been simple to find information about the vetting process refugees go through before being resettled in the U.S. — one that has included multiple steps of inspection from the United Nations and several federal security agencies, with additional scrutiny for people from Syria. Whatever its flaws, the system has not been an indiscriminate sieve: only about 1 percent of the world's total refugee population even makes it past the first step, according to the U.N.
Hard work in an unpredictable climate
To help refugees get on their feet, local resettlement agencies have to accomplish a lot in a short period of time, said Mary Flynn, program supervisor at Lutheran Social Services in Milwaukee. (Full disclosure: Flynn also is a longtime Wisconsin Public Radio volunteer.) The overall goal is to help them become self-sufficient as soon as possible.
"The first couple months of my job, I thought refugee resettlement was all about peace, love and stability, and it's not," she said. "The government brings people here for that rugged American work ethic."
Flynn noted that refugees tend to become employed more quickly and hold onto their jobs longer than other workers.
When resettlement agency World Relief Fox Valley opened its doors in Appleton in in 2012, the first family it helped resettle were refugees from Burma, said office director Tami McLaughlin. The family now owns a home in the area and has steady employment. She said that people are often unaware that refugees are entering their communities, but she believes that Americans still are humanitarians deep-down.
"We do feel that Oshkosh and Appleton have been welcoming communities and supportive for the most part," said McLaughlin.
People who help resettle Burmese refugees or study their plight aren't sure what to expect going forward as Donald Trump and his nominee for Secretary of State, Rex Tillerson, take the reins on U.S. refugee policy. But they don't expect things to get any easier.
"I think there'll be more scrutiny, no question about that," Durtka said.
Trump's campaign proposals targeting Muslim immigrants and refugees, and his xenophobic statements about Islam and false claims about Sharia law in the U.S. were particularly worrisome for Rohingya people.
"They feel that it's going to be much harder for them to make a case," said Thomas MacManus, of the State Crime Initiative, of Rohingya reactions to the administration.
In Milwaukee, Moua is worried too, as she works to help Burmese refugees adapt to a new home.
"I think it's going to be a lot more struggle, especially with the new administration," she said.