Stained with blood: IOC's corruption betrays Olympic spirit with refusal to ban Russians from Paris games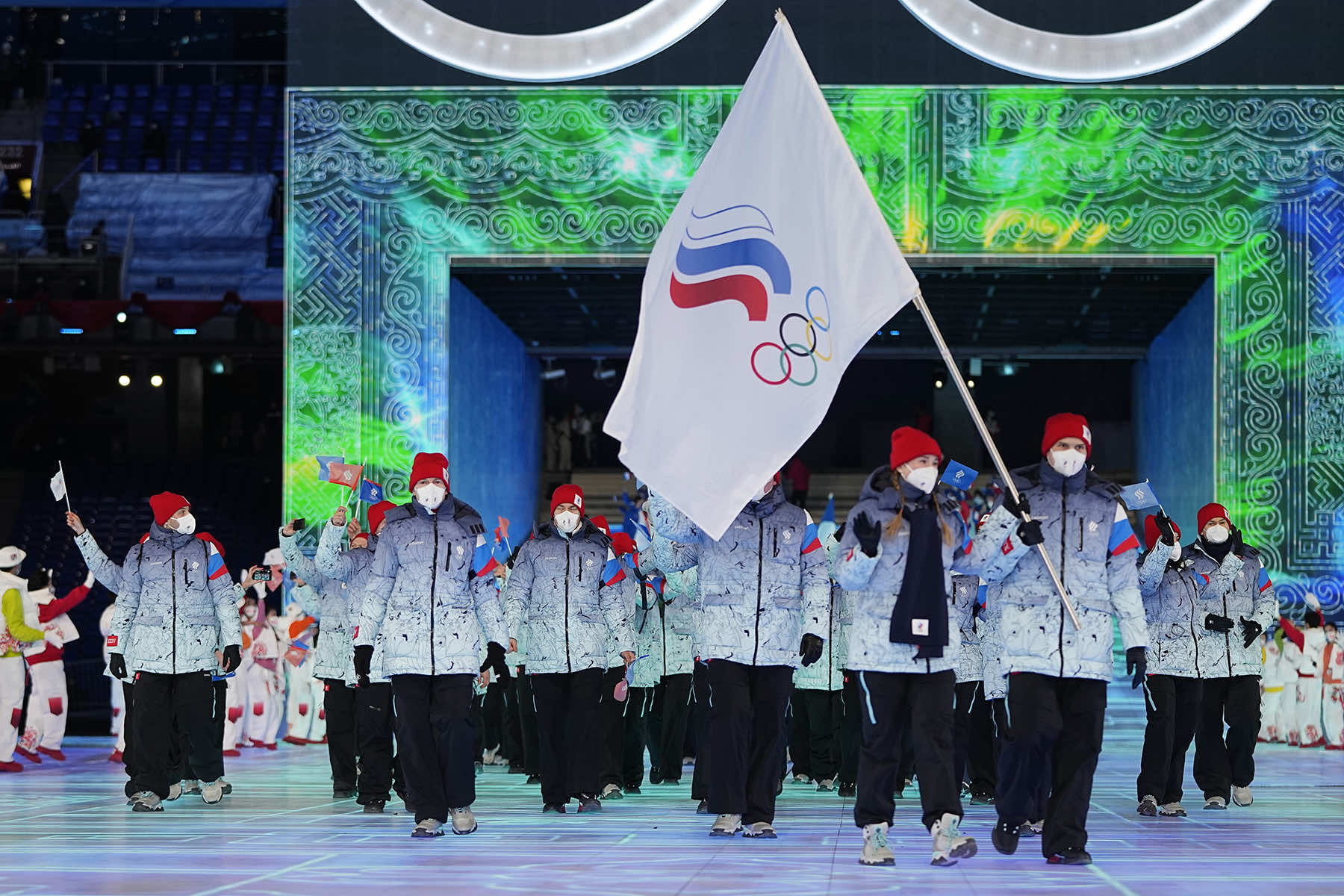 Russian athletes have "no place" at next year's 2024 Olympics while their country's invasion of Ukraine continues, Ukrainian President Volodymyr Zelenskyy told a summit of sports officials from 36 countries, saying that their potential presence in Paris was a "manifestation of violence."
Critics contend that the longstanding greed and corruption of International Olympic Committee, and its appeasement of Putin, is the basis of the organizations argument that it would be discriminatory to exclude Russia and ally Belarus from sports ahead of the 2024 Paris Games.
"While Russia kills and terrorizes, representatives of the terrorist state have no place at sports and Olympic competitions," Zelenskyy told the summit in an opening address by video link, according to a transcript issued by his office.
"And it cannot be covered up with some pretended neutrality or a white flag. Because Russia is now a country that stains everything with blood — even the white flag. It must be recognized. And this must be recognized, in particular, at the level of the International Olympic Committee," Zelenskyy said. "The International Olympic Committee needs honesty. Honesty it has unfortunately lost. Honesty that will help stop Russian terror and bring peace closer."
Kyiv, which says at least 228 Ukrainian athletes and coaches have been killed in Russia's invasion, had argued that Moscow will seek political advantage from the participation of Russian athletes and has threatened to pull out if they are allowed to take part.
"This cannot be covered up with some pretended neutrality or a white flag," President Zelenskyy told the sports ministers. "Russia is now a country that stains everything with blood, even the white flag."
Zelenskyy made surprise visits to Britain and France in early February, pushing for fighter jets to battle Russian invaders in a dramatic speech to the British Parliament. The summit meeting, which was held online and chaired by British Culture Secretary Lucy Frazer, took place on a day of intense missile and drone strikes by Russian forces against Ukraine.
"There is danger here that the world wishes to move on and back to business as usual," Frazer said. "However, the situation in Ukraine has not changed since the IOC's initial decision last February on banning Russian and Belarusian athletes from competition."
Assistant U.S. Secretary of State Lee Satterfield said at the summit that the U.S. government still supports the multinational statements it signed onto over the last year. Those have called on sports organizations that allow Russians to participate to ensure the Russians compete as neutral athletes and to ban the Russian flag.
Both statements, however, were drafted well before the IOC began pushing in January to find a pathway for some Russian athletes into the Paris Game.
Satterfield also told the summit the State Department would consult with the U.S. Olympic and Paralympic Committee on next steps and seek more clarity from the IOC about its position, according to an agency spokesperson.
In a letter sent to IOC president Thomas Bach, Ukrainian Sports Minister Vadym Guttsait said allowing Russians to compete would further traumatize athletes affected by the war.
"The participation of Russian and Belarusian athletes in international competitions will make it impossible for Ukrainian athletes to take part in them, because each of the Ukrainians suffered from Russian aggression in one way or another: They lost their relatives and friends, lost their homes, received psychological trauma, lost the opportunity to do what they love," wrote Guttsait, who also leads the Ukrainian Olympic Committee.
Ukraine has previously made public a letter from Bach to Guttsait saying that "threatening a boycott … goes against the fundamentals of the Olympic Movement and the principles we stand for."
Bach and the IOC have faced a widespread backlash from Ukraine and its allies, including comments directed at him by President Zelenskyy, since setting out a path for some athletes from Russia and Belarus to return to international competition despite the war waged by their countries.
Bach spoke with international media ahead of the men's downhill, the marquee race in a sport from which Russians and Belarusians were excluded since the war started last February. Ivan Kovbasnyuk was the only Ukrainian skier taking part.
Kovbasnyuk told earlier at the championships no Russians should be allowed at Paris, echoing comments by Ukrainian Olympic medalists including boxer Wladimir Klitschko, high jumper Yaroslava Mahuchikh and tennis player Elina Svitolina.
"Russia is killing my people. Not good situation for Olympic Committee," Kovbasnyuk said in Courchevel.
Political leaders of Ukraine's nearby allies in Poland and the Baltic states have said there could be Olympic boycotts if the IOC forges ahead with its plan. Paris Mayor Anne Hidalgo has said Russian and Belarusian athletes should be barred from the Olympics in her city if the war is still going on by then.
Hidalgo traveled to Kyiv on Thursday to meet Mayor Vitali Klitschko and said she would "do everything" to convince the IOC. Russian athletes previously competed at the Olympics without national symbols as punishment for doping cases, and using a similar approach to deal with a war is not appropriate, Hidalgo argued.
The IOC, which last year backed excluding Russians and Belarusians from sporting events on safety grounds, also faces challenges from within its own movement. It has given the federations running individual Olympic sports the final say on the details of readmitting Russian and Belarusian athletes. The sports could impose different rules and move at different speeds, or challenge the IOC's authority entirely.
Olympic qualifiers are under way in some sports and start soon in many more. That leaves federations to grapple with how to reshape a process that they thought was finalized years ago.
It could also be up to them to implement the IOC's plan to leave out Russian and Belarusian athletes deemed to be "actively supporting the war in Ukraine." The IOC has not defined what constitutes support, while Russian officials have called it discriminatory and demanded the Olympic body scrap that condition entirely.
Ukraine is particularly concerned that Russian athletes from military sports clubs or who hold military ranks could compete.
"In Russia, sport is an element of politics, powerful propaganda, in this case the promotion of war," Guttsait wrote to Bach.
Germany and Japan were not invited to the 1948 London Olympics after they were the aggressors in World War II and South Africa was excluded from 1964-88 because of its racist Apartheid laws.
On February 20, the governments of more than 30 nations released a letter calling on the IOC to clarify the definition of "neutrality."
"As long as these fundamental issues and the substantial lack of clarity and concrete detail on a workable 'neutrality' model are not addressed, we do not agree that Russian and Belarusian athletes should be allowed back into competition."
Among those signing the letter were officials from the United States, Britain, France, Canada and Germany. Those five countries brought nearly one-fifth of all athletes to the Tokyo Games in 2021. Other countries — such as Poland, Latvia, Estonia and Lithuania, which had suggested an Olympic boycott was possible if the war continues — also signed onto the letter, which did not go so far as to mention a boycott.
Assistant Secretary of State Lee Satterfield signed the letter on behalf of the United States. In a separate statement, she emphasized the need for the IOC to provide clarity on the definition of neutrality.
"The United States will continue to join a vast community of nations to hold Russia and Belarus — and the bad actors who dictate their actions — accountable for this brutal war," Satterfield said. "Russia has proven, time and again, it has no regard for and is incapable of following the rules — in international sport and in international law."