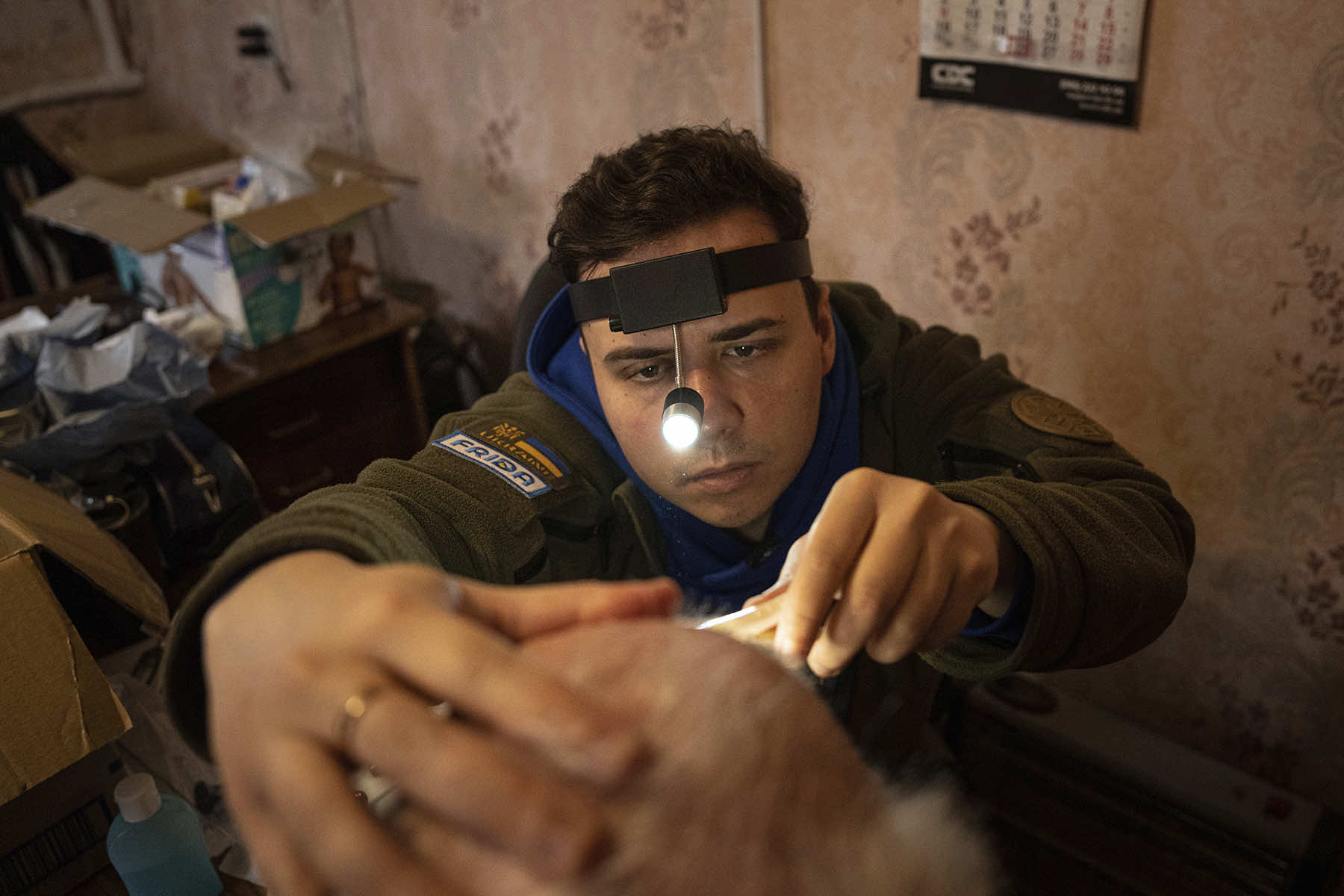 In a cramped municipal building in this former front-line village, its front window boarded up with plywood, a team of volunteer specialist doctors have set up a mobile clinic.
For the residents, it is a lifeline. Even before Russia's war, access to specialist medical help was available only to those who could get to the city, but the village near the eastern Ukrainian city of Sloviansk did have a primary care doctor.
Now, with the village health clinic damaged by the war, its residents have been left with little access to health care, and in particular to specialist care.
"There is no doctor. We are without a doctor. They left us alone," wept Mariia Hrebenko, 79, as a doctor took her blood pressure and tried to calm her, gently patting her hand. "No one is helping us."
The limited availability of health care has led to an exacerbation of existing illnesses that could be easily treated with regular medical attention, said Bohdan Avramenko, a 27-year-old cardiologist who is the medical coordinator of FRIDA Ukraine, a Ukrainian-Israeli medical aid organization.
"Right now their limited access to the medicine is causing more chronic conditions and the exacerbation of the chronic conditions, which is very bad for the patients because simple diseases like hypertension, diabetes, which can be treated with a very simple medication, to be frank, very cheap medication, they cannot get it," said Avramaneko. "So they stay with high blood pressure, with high glucose levels."
The teams have also been diagnosing what appears to be an increasing level of cancer, he said. "The limited access to the specialists, the limited access to the ultrasound, to the onco(logy) screening cause a lot, a lot, and a lot of new diagnoses of cancer."
Staffed by volunteer doctors, the group has been providing specialist doctors through mobile clinics in villages and towns near the front lines and in areas recently retaken by Ukrainian troops from Russian forces. Depending on the location, they can see anywhere between a few dozen and 250 patients a day, and they try to return to the places they have already visited once a month to provide follow-up care.
The specialists most in demand are the ophthalmologist, the endocrinologist and the cardiologist, Avramenko said, while the team also provides childhood vaccinations. The 14 doctors who were working in Khrestyshche were expecting to see about 50-60 patients a day.
The teams of volunteers run the mobile clinics in the villages mostly during the weekends as they work in public and private hospitals across Ukraine during the week.
Paramedic, nurse and former New York police officer Joseph Farkas, 61, has been with FRIDA Ukraine for about eight months, helping treat families in bomb shelters in towns pummeled by shelling and in villages that haven't seen a doctor for months.
"I wanted to help out," he said. "Obviously, what is going on here, the Russian military invading Ukraine is wrong. So I wanted to do my share in helping out the people here."
Olena Chetskaya, 38, said both a general practitioner and a pediatrician had worked in the village before the war, but now there was no one to write referrals for specialists, leaving a trip to Sloviansk as the only option.
"It's very important," she said of the volunteer clinic as she waited in line to see a doctor. "We have a lot of old people and they don't have the opportunity to leave and go to the city."
One of them was Lyubo Rimar, 74, who sat patiently waiting for the endocrinologist. She hadn't been feeling well all morning, she said, and felt a lot of pressure in her head.
"Of course this is important," she said of the volunteer group's services. "We are old, and all the illnesses come to us."