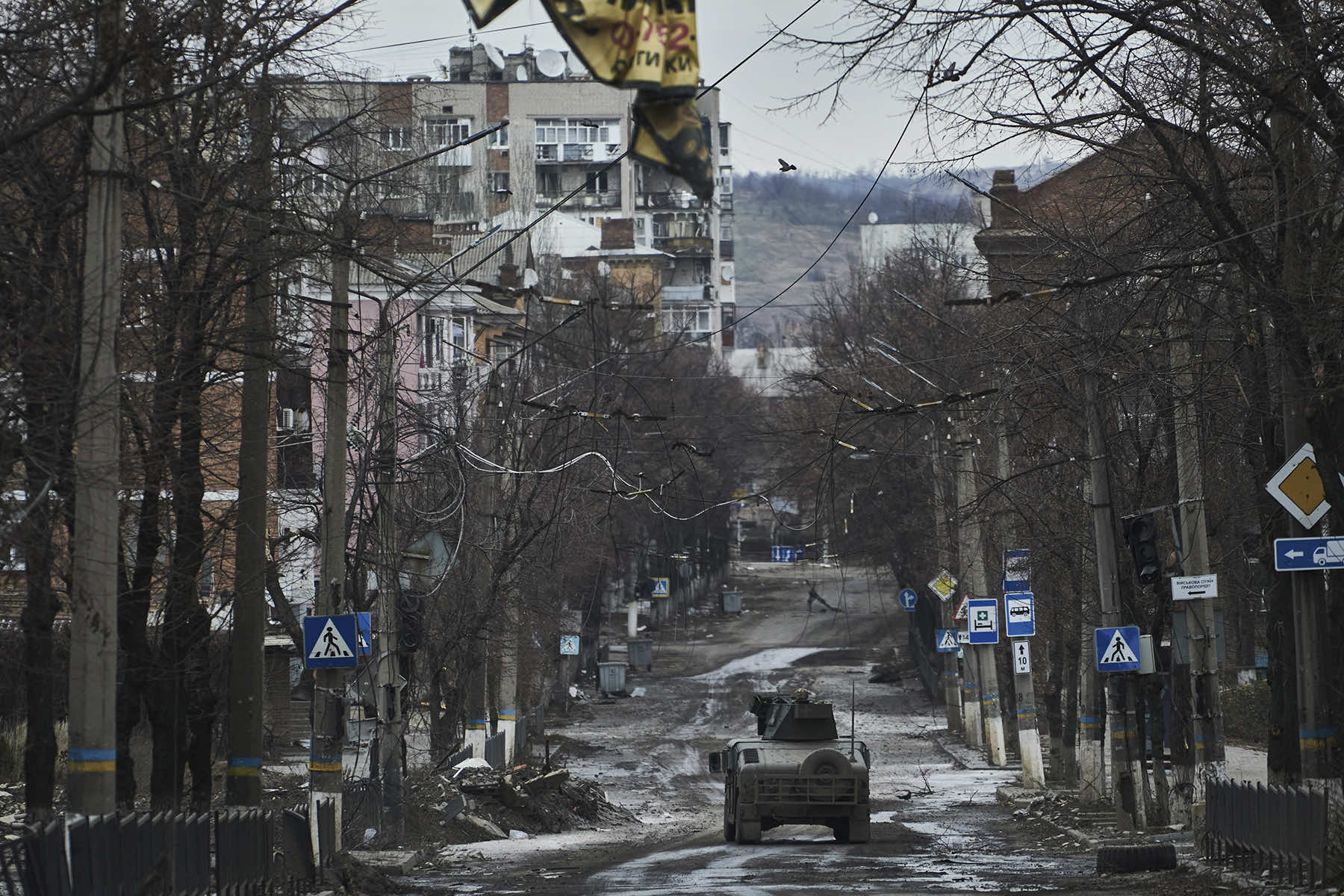 Visitors used to browse through Bakhmut's late 19th century buildings, enjoy walks in its rose-lined lakeside park and revel in the sparkling wines produced in historic underground caves. That was when the city in eastern Ukraine was a popular tourist destination.
No more. The longest battle of Russia's war has turned this city of salt and gypsum mines into a ghost town. Despite bombing, shelling and attempts to encircle Bakhmut for six months, Russia's forces have not conquered it.
But their scorched-earth tactics have made it impossible for civilians to have any semblance of a life there.
"It's hell on earth right now; I can't find enough words to describe it," said Ukrainian soldier Petro Voloschenko, who is known on the battlefield as Stone, his voice rising with emotion and resentment.
Voloschenko, who is originally from Kyiv, arrived in the area in August when the Russian assault started and has since celebrated his birthday, Christmas and New Year's there.
The 44-year-old saw the city, located around 60 miles from Russia's border, gradually turned into a wasteland of ruins. Most of the houses are crushed, without roofs, ceilings, windows or doors, making them uninhabitable, he said.
Out of a prewar population of 80,000, a few thousand residents remain. They rarely see daylight because they spend most of their time in basements sheltering from the ferocious fighting around and above them. The city constantly shudders with the muffled sound of explosions, the whizzing of mortars and a constant soundtrack of artillery. Anywhere is a potential target.
Bakhmut lies in Donetsk province, one of four that Russia illegally annexed in the fall — but Moscow only controls about half of it. To take the remaining half, Russian forces have no choice but to go through Bakhmut, which offers the only approach to bigger Ukrainian-held cities since Ukrainian troops took back Izium in Kharkiv province in September, according to Mykola Bielieskov, a research fellow at Ukraine's National Institute for Strategic Studies.
"Without seizure of these cities, the Russian army won't be able to accomplish the political task it was given," Bielieskov said.
The deterioration in Bakhmut started during the summer after Russia took the last major city in neighboring Luhansk province. It then poured troops and equipment into capturing Bakhmut, and Ukraine did the same to defend it. For Russia, the city was one stepping stone toward its goal of seizing the remaining Ukrainian-held territory in Donetsk.
From trenches outside the city, the two sides dug in for what turned into an exhausting standoff as Ukraine clawed back territory to the north and south and Russian airstrikes across the country targeted power plants and other infrastructure.
The months of battle exhausted both armies. In the fall, Russia changed tactics and sent in foot soldiers instead of probing the front line mainly with artillery, according to Voloschenko.
Bielieskov, the research fellow, said the least-trained Russians go first to force the Ukrainians to open fire and expose the strengths and weaknesses of their defense.
More trained units or mercenaries from the Wagner Group, a private Russian military company led by a rogue millionaire and known for its brutality, make up the rear guard, Bielieskov said.
Bielieskov said that Ukraine compensates for its lack of heavy equipment with people who are ready to stand to the last.
"Lightly armed, without sufficient artillery support, which they cannot always be provided, they stand and hold off attacks as long as possible," he said.
The result is that the battle is believed to have produced horrific troop losses for both Ukraine and Russia. Quite how deadly isn't known: Neither side is saying.
"Manpower is less of a Russian problem and, in some ways, more of a Ukrainian problem, not only because the casualties are painful, but they're often … Ukraine's best troops," said Lawrence Freedman, a professor emeritus of war studies at King's College London.
The Institute for the Study of War recently reported that Wagner forces have seen more than 4,100 die and 10,000 wounded, including over 1,000 killed between late November and early December near Bakhmut. The numbers are impossible to verify.
Ukrainian President Volodymyr Zelenskyy, in a recent address, described the situation in Bakhmut as "very tough."
"These are constant Russian assaults. Constant attempts to break through our defenses" he said,
Like Mariupol — the port city in the same province that Russia eventually captured after an 82-day siege that eventually came down to a mammoth steel mill where determined Ukrainian fighters held out along with civilians — Bakhmut has taken on almost mythic importance to its defenders.
"Bakhmut has already become a symbol of Ukrainian invincibility," Voloschenko said. "Bakhmut is the heart of Ukraine, and the future peace of those cities that are no longer under occupation depends on the rhythm with which it beats."
For now, Bakhmut remains completely under the control of the Ukrainian army, albeit more as a fortress than a place where people would visit, work or play. In January, the Russians seized the town of Soledar, located less than 20 kilometers (some 12 miles) away, but their advance is very slow, according to military analysts.
"These are rates of advancement that do not allow us to talk about serious offensive actions. It's a slow pushing out at a very high price," Bielieskov said.
Along the front line on the Ukrainian side, emergency medical units provide urgent care to battlefield casualties. From 50 to 170 wounded Ukrainian soldiers pass daily through just one of the several stabilization points along the Donetsk front line, according to Tetiana Ivanchenko, who has volunteered in eastern Ukraine since a Russia-backed separatist conflict started there in 2014.
After its setbacks in Kharkiv in the northeast and Kherson province in the south, the Kremlin is hungry for any success, even if it is just seizing a town or two that have been pounded into rubble. Freedman, the King's College London professor emeritus, said the loss of Bakhmut would be a blow for Ukraine and offer tactical advantages to Russian forces, but wouldn't prove decisive to the outcome of the war.
There would have been more value for Russia if it could have captured a populated and intact Bakhmut early on in the war, but now the capture would just give its forces options on how to seize more of Donetsk, said Freedman.
A 22-year-old Ukrainian soldier who is known as Desiatyi, or Tenth, joined the army on the day that Russia started the full-scale war in Ukraine. After months spent defending the Bakhmut area, losing many comrades, he said he has no regrets.
"It is not about comparing the price and losses on both sides. It's about the fact that, yes, Ukrainians are dying, but they are dying because of a specific goal," said Desiatyi, who did not give his real name for security reasons.
"Ukraine has no choice but to defend every inch of its land. The country must defend itself, especially now, so zealously, so firmly, and desperately. This is what will help us liberate our occupied territories in the future."