Reggie Jackson: Reflecting one year later on the significance of Juneteenth becoming a Federal holiday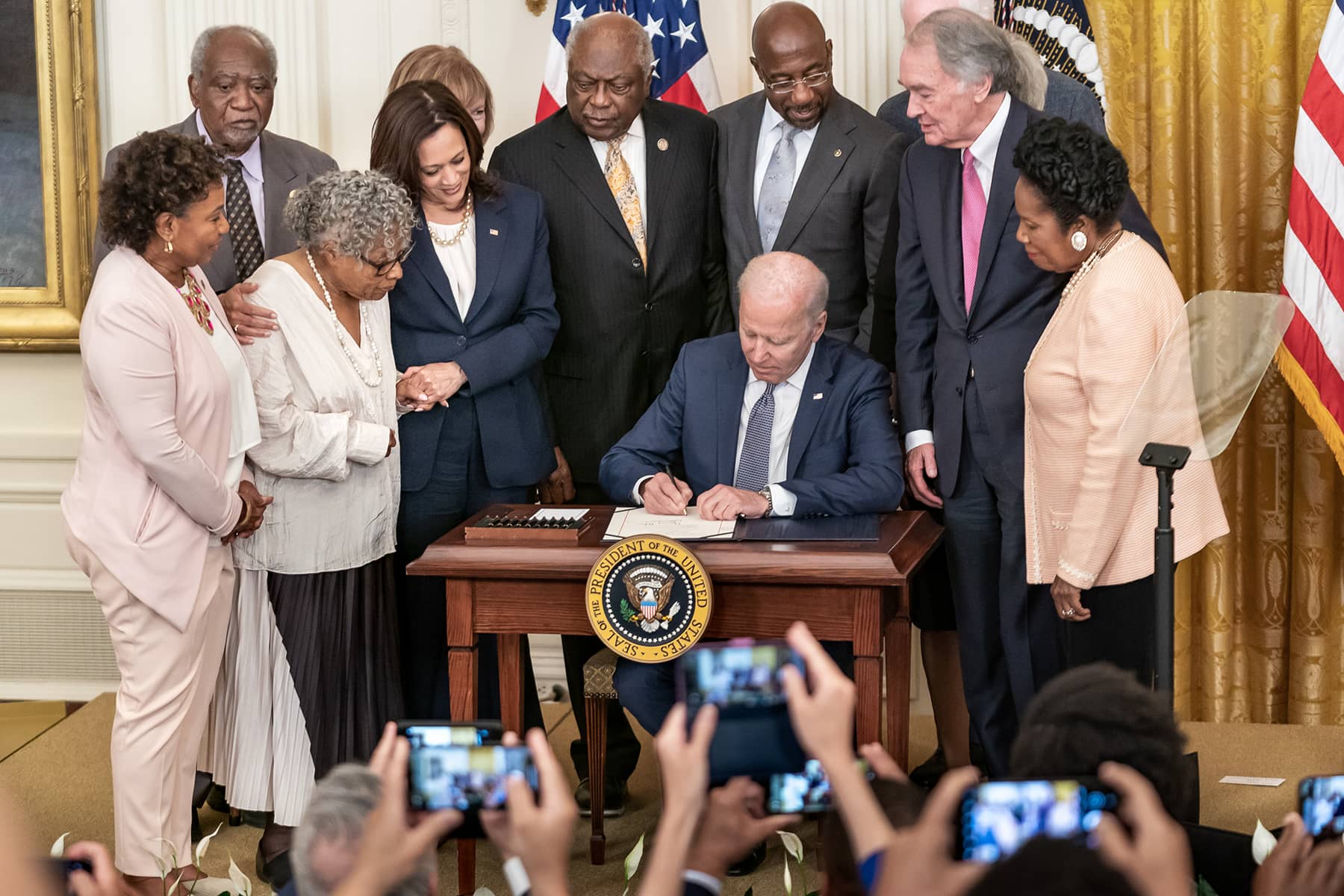 "It should be a paid holiday and not just a check-the-box holiday added to your calendar. You really have to be meaningful and authentic in order to be impactful." – Rosa Nunez, the director of diversity, equity and inclusion at the law firm Foley Hoag
"I say it with a sad sense of the disparity between us. I am not included within the pale of glorious anniversary! Your high independence only reveals the immeasurable distance between us. The blessings in which you, this day, rejoice, are not enjoyed in common." – Frederick Douglass (July 5, 1862)
On June 16, 2021, the U.S. House of Representatives voted 415 to 14 to pass the Juneteenth National Independence Day Act, making Juneteenth a national holiday. An earlier vote by the Senate passed unanimously. All 14 members of the House who voted against the bill were Republicans, including Wisconsin Representative Thomas P. Tiffany.
President Joe Biden signed the legislation into law just over a year after the murder of George Floyd by a police officer in Minneapolis. That year Juneteenth became known by a much larger number of Americans. It is seen by many as the Black Fourth of July, or as some in the community call it "our Independence Day."
The celebration in 2020 led to a groundswell of empathy from many Whites around the country who were completely unfamiliar with the celebration. Just a year later much of the positivity about Juneteenth had lost its luster. The 100th anniversary of the Tulsa Race Massacre, had awakened resentment and a pushback to making theses ugly parts of American history part of the normal discourse about race in America.
On June 19, 1865, Major General Gordon Granger read the Emancipation Proclamation to a group of Blacks still held in bondage in Galveston, Texas two and half years after President Lincoln issued it January 1, 1863. This became the day celebrated as Juneteenth.
Some have equated naming Juneteenth a national holiday as the long overdue answer to Frederick Douglass' famous What To the Slave Is Your Fourth of July? speech on July 5, 1852. In that speech the formerly enslaved, escapee, great orator, and leader Douglas, told a throng of Whites that July Fourth was their independence but not that for the millions of Blacks still in shackles.
This was not what they came to hear that day. Douglass articulated the hypocrisy of Independence Day in that powerful speech.
"This Fourth of July is yours, not mine, You may rejoice, I must mourn."
On this Juneteenth we must examine the importance of that day to the Black community as well as ask if America has lived up to the questions posed by Douglass nearly 168 years ago.
Juneteenth, much like Martin Luther King Jr. Day, is not universally celebrated as a holiday by many institutions. These two holidays are the only ones on the calendar of federal holidays which specifically celebrate accomplishments of Blacks. The fact that people try to complain that people should not take the day off from work, is in my view a slap in the face to the resiliency of Black people. We should celebrate the freedom that came because nearly 200,000 Black men joined the Union Army and Navy and turned the tied of the war, leading to a Union victory.
Unlike the Fourth of July, which celebrated a break with the English government, Juneteenth was a symbolic celebration that came 900 days late. That is 2 years, 5 months and 18 days after the Emancipation Proclamation was issued by Lincoln. Those Blacks in Galveston, Texas were kept in the dark about their freedom the whole time.
Juneteenth should have marked a day when true freedom came but legal slavery continued unabated in Delaware, Kentucky, Maryland, Missouri and Tennessee until the Thirteenth Amendment led to the end of slavery in those five states on December 6, 1985, a total of 1,070 days after the famous Emancipation Proclamation.
The Juneteenth celebration, which has grown in stature across the country, is a day to celebrate the end of slavery. We often celebrate events in America without looking at what happens in the days, weeks, months and years following that event. Juneteenth is one of those types of celebration. Things got better, but the enjoyment of the benefits of freedom promised that day are still being fought for all these years later.
It had a much more important meaning to those who had spent part of their lives held captive in a nation founded on freedom, justice and "liberty." It was a jubilee and a day of rejoicing unseen by Blacks for the entire 246 year they had been held captive in America.
This is part of what Douglass said about the way Black people saw Independence Day.
"…Fellow-citizens, pardon me, allow me to ask, why am I called upon to speak here to-day? What have I, or those I represent, to do with your national independence? Are the great principles of political freedom and of natural justice, embodied in that Declaration of Independence, extended to us? and am I, therefore, called upon to bring our humble offering to the national altar, and to confess the benefits and express devout gratitude for the blessings resulting from your independence to us?"
All these years later, we can still ask about how those principles of political freedom and natural justice apply to Blacks today. We are not far removed from the largest protests against racism and police brutality in the nation's history. The second anniversary of the murder of George Floyd quietly passed by with little fanfare. Just eleven days prior to that anniversary, 10 innocent Blacks were murdered by a white supremacist, domestic terrorist in Buffalo, NY.
In a country full of tension related to hate filled mass shootings, and unprecedented numbers of murders, fear is so thick you can cut it with a knife.
We should not let this Juneteenth go by without memorializing the lives lost to racist violence. Let's not let this day pass without asking if our ancestors fought for their freedom in the Civil War, just to see their descendants perpetrate murder against their own years later. Let us not forget the words of Douglass.
"The blessings in which you, this day, rejoice, are not enjoyed in common. The rich inheritance of justice, liberty, prosperity and independence, bequeathed by your fathers, is shared by you, not by me. The sunlight that brought light and healing to you, has brought stripes and death to me. This Fourth [of] July is yours, not mine. You may rejoice, I must mourn."