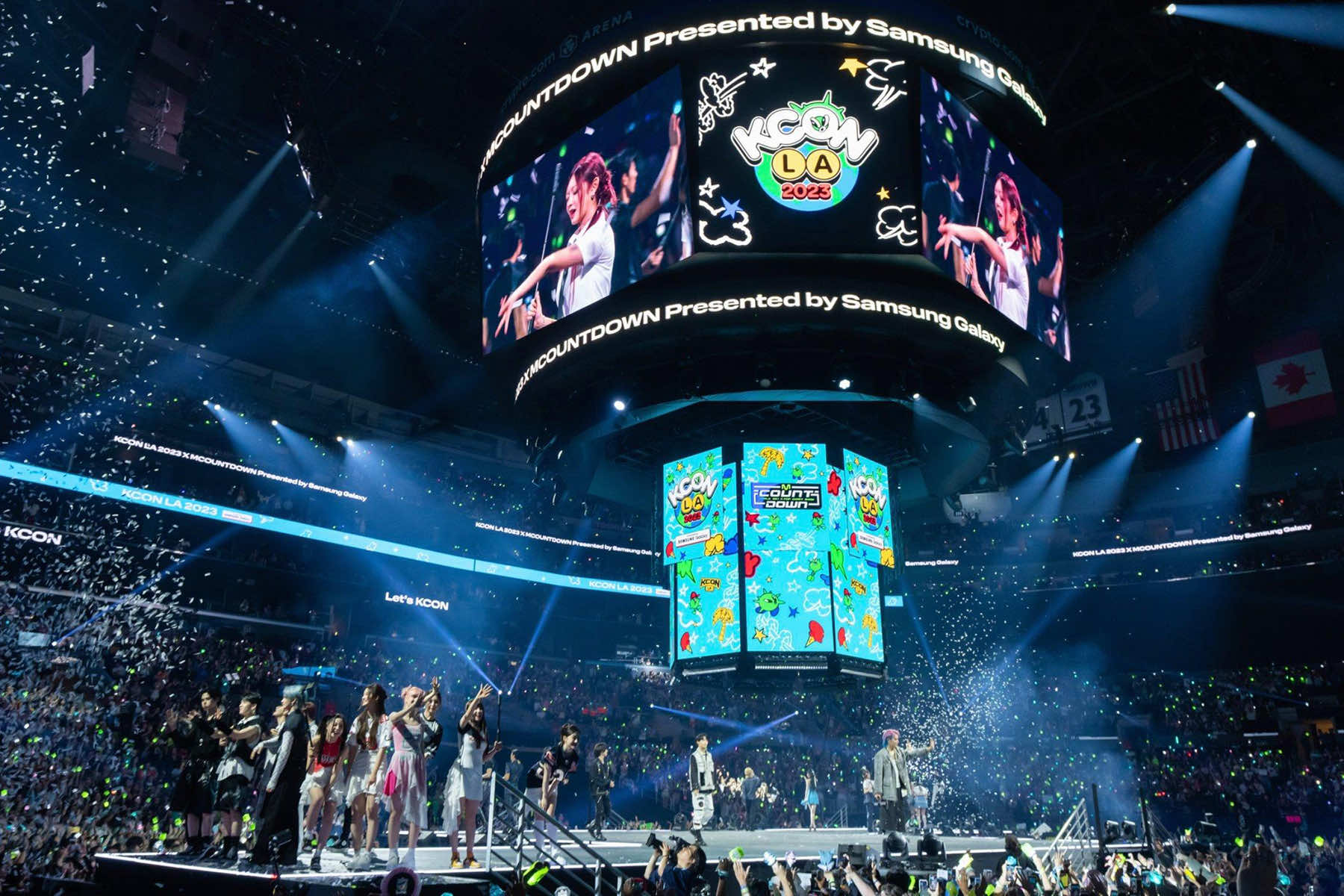 The 2023 LA KCON in late August was a microcosm of K-Pop's macro influence on the music industry as a whole.
Held over three days at the Los Angeles Convention Center and adjacent Crypto.com Arena, an estimated 140,000 fans from all over the world celebrated their favorite K-pop idols across three days of panels, premium meet-and-greets, interviews, dance breaks, and concerts.
Hours before doors opened, thousands of K-Pop fans lined up in downtown Los Angeles, stretching long city blocks in the summer heat. In pleated skirts and platform shoes, they danced and traded homemade stickers, banners, bracelets, and photocards.
Inside the convention center, fans carried lightsticks of their favorite groups, showed off DIY shirts with simple, direct slogans like "I HEART MINGI," collected sticker books and K-beauty products, and lined up for tteokbokki.
KCON started 11 years ago in Irvine, California, drawing 10,000 people to its inaugural celebration of Korean culture, said Steve Chung, chief global officer of organizers CJ ENM. Now it is a global event, taking place in multiple countries: So far in 2023, KCON has hit Thailand, Japan, and the U.S.
"We've welcomed something like half a million people in those 11 years all throughout the world," he said.
Panels were held on K-Pop songwriting, and up-and-coming groups like NMIXX led dance classes on one stage, while another stage allowed rookie groups to introduce themselves to a wider audience.
The event saw an incredible diversity of fans who, among them, drove 12 hours straight from Utah, flew in from the U.K. and South America, and represented a range of ages, genders, races, and socioeconomic backgrounds.
"The culture of inclusiveness is huge," said 40-year-old Annya Holston from Florida who got into K-Pop through her daughter. "We've made so many friends, being here."
At $500 a day, premium tickets allowed attendees to access a "Red Carpet" area, where acts posed for portraits and answered two or three questions in a 30-minute window — along with entry to the convention and concert. For an additional $100, fans could pay for "Hi-Touch," a quick meet-and-greet where fans and performers high-five, with one group of their choice.
With renewed concerns about the spread of COVID-19, "Hi-Touch" became "Hi-Wave" – exactly what it sounds like, to the chagrin of a few fans hoping for that physical connection; others were happy with the sheer proximity.
Those experiences served as a welcome reminder of a facet of the music industry that K-Pop knows remarkably well, and far better than most: fandom is this business' most lucrative and enduring resource.
As Peyton Tran, a 17-year-old L.A. native and dancer told AP at KCON, "It's just cool to see how much people can support these businesses out here."
In 2023, the music industry faces unique challenges, including what Mark Mulligan, a MIDiA Research music industry analyst, has referred to as the "fragmentation of fandom." New artists suffer a kind of competition unheard of before the streaming age, a direct effect of algorithmic listening.
Think of it this way: It is rare for a new act to reach the level of a monolithic pop star — the ranks of Taylor Swift, Beyoncé, and Harry Styles, all who started performing pre-streaming, because listenership is hyper-specific.
In K-Pop, where companies are typically fully integrated institutions, a record label and a talent agency all in one, and hyper-consumerism is welcomed, business focuses on building a community of superfans and inspiring those loyal listeners to advocate for their group, fueling a sense of participation beyond their purchasing power.
It does not hurt that K-Pop audiences have a tendency to coordinate global fan actions on their own and create rituals and events, communicating on bespoke fandom platforms like WeVerse and Vlive. Niche does not mean small, it means specialized. KCON is proof.
At the concerts, held all three nights for the first time, fans witnessed K-Pop groups and soloists from across "generations." Taemin from the second-generation boy band SHINee, Rain — the first K-Pop idol to take off internationally, and now a manager himself — fourth-generation boy bands ATEEZ and Stray Kids, and rookie groups like XG and ZEROBASEONE.
Notably, these concerts placed a lot of emphasis on K-Pop girl groups, reflecting a recent trend in listenership. Historically, boy bands were thought to be more lucrative — but girl groups like IVE, ITZY, NMIXX, Kep1er, (G)I-DLE, and EVERGLOW proved that's vintage thinking in their explosive KCON sets.
(G)I-DLE, the "queencards" of K-Pop, finished the U.S. leg of their world tour just before KCON's final night. The quintet performed with a heavy dose of energy, and their signature style of dance moves choreographed to a catchy chorus.
A particularly unique and effective moment during the concert was called the "Dream Stage," where a few dozen fans auditioned to perform a dance with a K-Pop group. iHeartRadio's KIIS-FM also set up a new, open-to-the-public "K-Pop Village," where the K-Pop-curious could experience free performances from newer acts.
"2023 is like a crossover event. The last 10 years has been about sort of serving the endemic fanbase of people who already know K-Pop and who love K-Pop," Chung said. "As evidenced by the iHeartMedia partnership, it's really like a crossover moment where K-Pop goes mainstream."