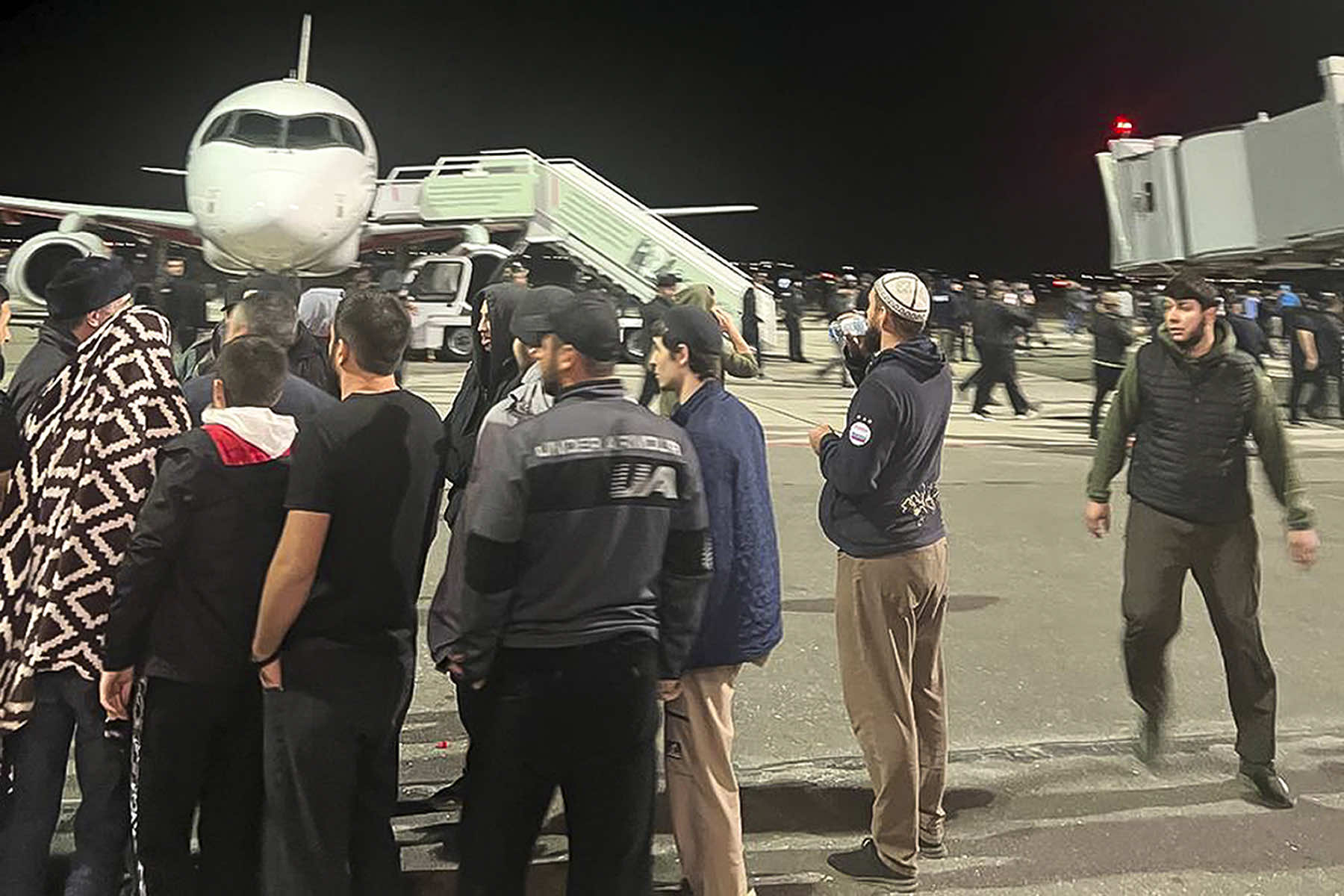 Hundreds of people stormed into the main airport in Russia's Dagestan region and onto the landing field on October 29, chanting antisemitic slogans and seeking passengers arriving on a flight from Tel Aviv, Israel, Russian news agencies and social media reported.
Russian news reports said the crowd surrounded the airliner, which belonged to Russian carrier Red Wings. Authorities closed the airport in Makhachkala and police converged on the facility. Dagestan's Ministry of Health said more than 20 people were injured, with two in critical condition. It said the injured included police officers and civilians.
Video on social media showed some in the crowd trying to overturn a police car. Antisemitic slogans can be heard being shouted, and some in the crowd examined the passports of arriving passengers, apparently in an attempt to identify those who were Israeli.
In a statement on October 29, embattle Israeli Prime Minister Benjamin Netanyahu's office said Israel "expects the Russian law enforcement authorities to protect the safety of all Israeli citizens and Jews wherever they may be and to act resolutely against the rioters and against the wild incitement directed against Jews and Israelis."
Netanyahu's office added that the Israeli ambassador to Russia was working with Russia to keep Israelis and Jews safe.
The Ministry of Internal Affairs for Russia's North Caucasian Federal District, where Dagestan is located, said that CCTV footage would be used to establish the identities of those who stormed the airport and that those involved would be brought to justice.
The regional Dagestani government appealed to citizens to remain calm and not take part in such protests.
"We urge residents of the republic to treat the current situation in the world with understanding. Federal authorities and international organizations are making every effort to bring about a ceasefire against Gaza civilians … we urge residents of the republic not to succumb to the provocations of destructive groups and not to create panic in society," the Dagestani government wrote on Telegram.
Dagestan Governor Sergei Melikov promised consequences for anyone who took part in the violence.
"The actions of those who gathered at the Makhachkala airport today are a gross violation of the law! … (W)hat happened at our airport is outrageous and should receive an appropriate assessment from law enforcement agencies! And this will definitely be done!" he wrote on Telegram.
He called the protests a "knife in the backs of those who gave their lives for the security of the Motherland."
Russia's civilian aviation agency, Rosaviatsia, later reported that the airfield had been cleared, but that the airport would remain closed to incoming aircraft until November 6.