Republican Party in disarray for second day as radical wing rejects McCarthy as House Speaker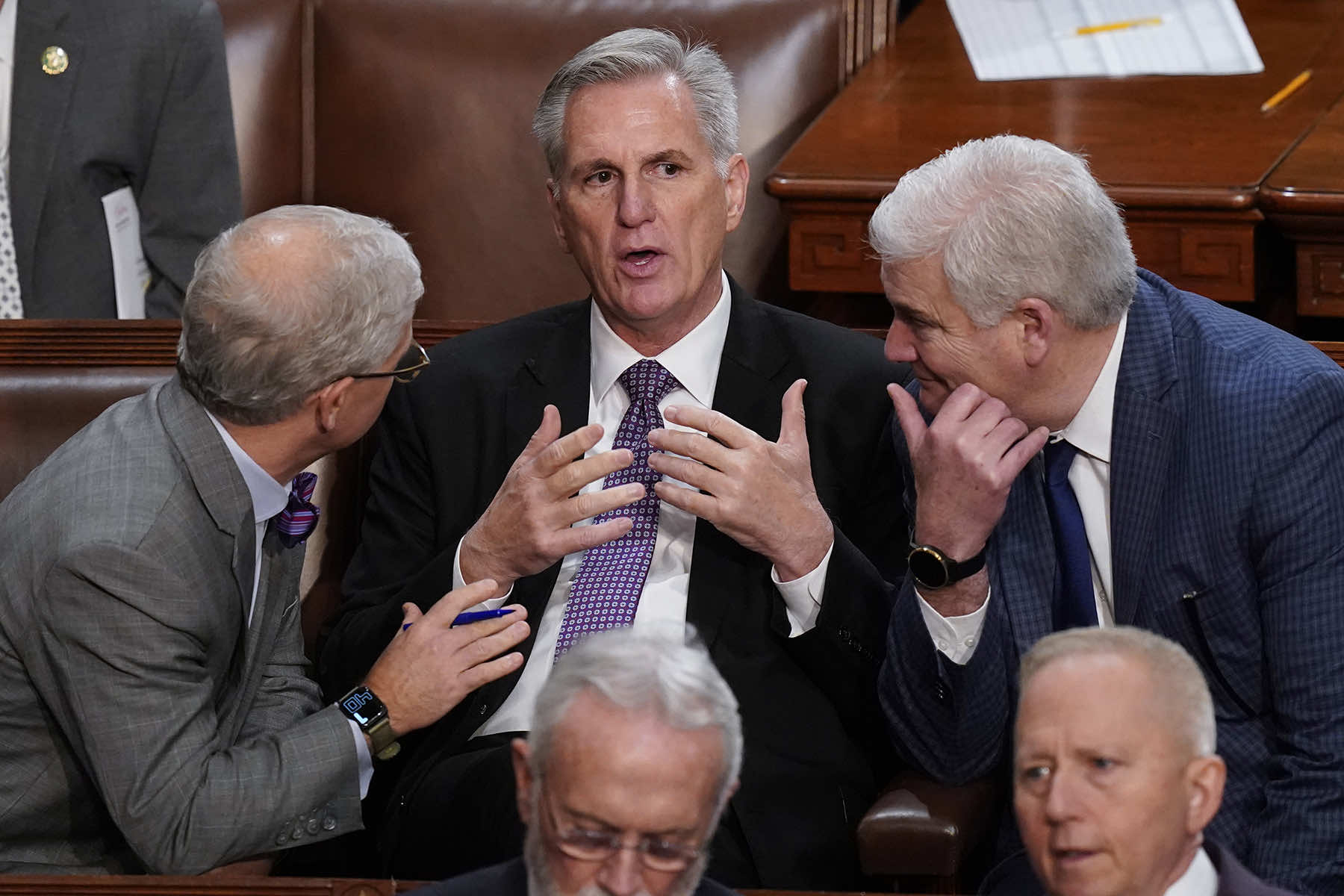 House Republicans flailed through a second day of multiple balloting on January 4, unable to elect their leader Kevin McCarthy as House speaker or come up with a new strategy to end the political chaos that has tarnished the start of their new majority.
For a fourth, fifth and sixth time, Republicans tried to vote McCarthy into the top job as the House plunged deeper into disarray. But the votes were producing almost the same outcome, 20 conservative holdouts still refusing to support him, and leaving him far short of the 218 typically needed to win the gavel.
In fact, McCarthy saw his tally slip to 201, as one fellow Republican switched to vote simply present. Seeing no quick way out of the political standoff, Republicans voted abruptly late Wednesday to adjourn as they desperately searched for an endgame to the chaos of their own making.
As Rep. Mike Gallagher (R-WI) took the House floor to make the nomination for speaker, he acknowledged that the process of finding a new majority leader has not exactly gone off without a hitch.
"Sure, it looks messy, but democracy is messy. Democracy is messy by design. By design! And that's a feature, not a bug of our system," said Gallagher. "We air it all out in the open for the American people to see because … the American people are in charge."
But the right-flank conservatives, led by the Freedom Caucus and aligned with Donald Trump, appeared emboldened by the standoff — though Trump publicly backed McCarthy,
"This is actually an invigorating day for America," said Rep. Byron Donalds, R-FL, who was nominated three times by his conservative colleagues as an alternative. "There's a lot of members in the chamber who want to have serious conversations about how we can bring this all to a close and elect a speaker."
McCarthy, the California Republican, vowed to keep fighting despite the grueling spectacle, unlike any in modern times, that threw the new majority into tumult a day earlier. Animated private discussions broke out on the chamber floor between McCarthy supporters and detractors searching for an endgame.
The House gaveled in at noon, but no other work could be done — swearing in new members, forming committees, tackling legislation, investigating the Biden administration — until the speaker was elected.
"I still have the most votes," McCarthy said at the start of the session. "At the end of the day, we'll be able to get there."
But the dynamic proved no different from Day One, as Democrats re-upped their leader, Rep. Hakeem Jeffries, for speaker, and Donalds offered his challenge to McCarthy in another history making moment. Both Jeffries and Donalds are Black.
"This country needs leadership," said Rep. Chip Roy, the Texas Republican noting the first time in history two Black Americans were nominated for the high office, and lawmakers from both parties rose to applaud.
It was the first time in 100 years that a nominee for House speaker could not take the gavel on the first vote, but McCarthy appeared undeterred. Instead, he vowed to fight to the finish.
The disorganized start to the new Congress pointed to difficulties ahead with Republicans now in control of the House.
President Joe Biden, departing the White House for a bipartisan event in Kentucky with Senate GOP leader Mitch McConnell, said "the rest of the world is looking" at the scene on the House floor.
"I just think it's really embarrassing it's taking so long," Biden said. "I have no idea" who will prevail.
Tensions flared among the new House majority as their campaign promises stalled out. Not since 1923 has a speaker's election gone to multiple ballots, and the longest and most grueling fight for the gavel started in late 1855 and dragged out for two months, with 133 ballots, during debates over slavery in the run-up to the Civil War.
A new generation of conservative Republicans, many aligned with Trump's Make America Great Again agenda, want to upend business as usual in Washington, and were committed to stopping McCarthy's rise without concessions to their priorities.
But even Trump's strongest supporters disagreed on this issue. Rep. Lauren Boebert, a firm Colorado conservative who nominated Donalds the second time, called on the former president to tell McCarthy, "Sir, you do not have the votes and it's time to withdraw."
Earlier on January 4, Trump had done the opposite, urging Republicans to vote for McCarthy. "Close the deal, take the victory," he wrote on his social media site, using all capital letters. "Do not turn a great triumph into a giant and embarrassing defeat."
As the spectacle of voting dragged on, McCarthy's backers implored the holdouts to fall in line for the California Republican.
"I do think members on both sides of this are getting a lot of pressure now," said Rep. Tom Cole, R-OK. "So I think the message from home is, 'Hey, sort this stuff out, we don't have time for the small stuff and the egos.'"
The standoff over McCarthy has been building since Republicans won the House majority in the midterm elections. While the Senate remains in Democratic hands, barely, House Republicans are eager to confront Biden after two years of the Democrats controlling both houses of Congress. The conservative Freedom Caucus led the opposition to McCarthy, believing he's neither conservative enough nor tough enough to battle Democrats.
To win support, McCarthy has already agreed to many of the demands of the Freedom Caucus, who have been agitating for rules changes and other concessions that give rank-and-file members more influence in the legislative process. He has been here before, having bowed out of the speakers race in 2015 when he failed to win over conservatives.
"Everything's on the table," said ally Rep. Patrick McHenry, R-NC, except having McCarthy step aside. "Not at all. That is not on the table."
Democrats enthusiastically nominated Jeffries, who is taking over as party leader, as their choice for speaker. He won the most votes overall, 212.
If McCarthy could win 213 votes, and then persuade the remaining naysayers to simply vote present, he would be able to lower the threshold required under the rules to have the majority.
It is a strategy former House speakers, including outgoing Democratic Speaker Nancy Pelosi and Republican Speaker John Boehner had used when they confronted opposition, winning the gavel with fewer than 218 votes.
One Republican, Rep. Victoria Spartz of Indiana, voted present on multiple rounds, but it made no difference in the immediate outcome.
THE HARD-RIGHT MEMBERS STAGING GOP REBELLION
The Republicans opposing Rep. Kevin McCarthy's bid to become the next House speaker generally have made their mark as part of the GOP's ultra-conservative wing, eager to pick a fight with leaders from both parties and rarely finding major bipartisan bills to be a good thing.
Most are members of the House Freedom Caucus, a hard-right group that also had strained relationships with former House speakers John Boehner and Paul Ryan.
"They can't tell you what they're for. They can tell you everything they're against. They're anarchists. They want total chaos. Tear it all down and start over. That's where their mindset is," Boehner once told Vanity Fair.
Still, most members of the Freedom Caucus do support McCarthy's bid. Those who do not say they are fighting for their constituents and aiming to change a legislative process that gives most members of Congress no meaningful role beyond voting yes or no on a final product.
The McCarthy holdouts say they want more opportunities to amend bills and have extended debate, and they want to restore the ability of any lawmaker to force a vote on whether to remove the future speaker, which they argue creates accountability.
A look at some of those leading the fight against McCarthy's ascension to the speakership:
THE EARLY RINGLEADERS
• Bob Good of Virginia won office in 2020 after GOP voters ousted the Republican incumbent, Denver Riggleman, who had angered social conservatives by officiating a gay marriage. Riggleman subsequently went to work as a senior staff member on the House committee investigating the January 6 insurrection at the Capitol and wrote a book about it. Good, a former athletics official at evangelical Liberty University, was one of the first to say he would be opposing McCarthy.
"Everyone supporting Kevin McCarthy, or at least voicing their support for Kevin McCarthy is doing so in their own selfish political interests," Good said after the raucous, closed-door GOP conference meeting on January 3. "Everyone who is opposing Kevin McCarthy is doing so in conflict with their own selfish political interest. And they are doing so because they believe it's right and they believe it's important for the country."
• Matt Rosendale of Montana is entering his second term in the House and says his constituents are lobbying him to change the leadership in Congress. He has backed former President Donald Trump's false statements about fraud in the 2020 election and recently voted against U.S. support for Ukraine in its war against Russia, citing what he said are more pressing security needs along the southern border.
"I've said all along I'm not going to be supporting anyone for speaker that has played a part in the leadership team that has managed the demise of our country over the last 10 years," Rosendale said.
• Andy Biggs of Arizona not only challenged McCarthy in an initial, internal GOP vote for House speaker, but he was also a nominee himself in the first round of voting January 3. He gained only 10 votes. A former chairman of the House Freedom Caucus, Biggs filed articles of impeachment in the last Congress against Homeland Security Secretary Alejandro Mayorkas. McCarthy took up the cause in his push to become House speaker, saying that if Mayorkas did not resign, GOP-led investigations could lead to impeachment proceedings. Biggs was also one of four lawmakers referred to the House Ethics Committee after they defied subpoenas from the House panel that investigated the January 6, 2021, insurrection.
TRUMP ALLIES
• Scott Perry of Pennsylvania was one of the other Republicans who got a subpoena from the January 6 investigative panel and was referred to the Ethics Committee when he declined to answer the committee's questions. The panel was investigating meetings some lawmakers, including Perry, had with the White House as Trump and his aides conspired over how to overturn his defeat. Perry was cited more than 50 times in a Senate Judiciary Committee report outlining how Trump's effort to overturn his election defeat to Joe Biden brought the Justice Department to the brink of chaos and prompted top officials there and at the White House to threaten to resign. The report said Perry contacted a department official to say officials weren't doing their job with respect to elections. Perry is the current chairman of the House Freedom Caucus.
• Lauren Boebert of Colorado is a conservative firebrand whose combative style has helped define the new right. The one-time owner of a gun-themed restaurant relishes fights on social media. She noted that "her favorite president," a reference to Trump, has called on the anti-McCarthy holdouts to "knock this off," but suggested an alternative.
"I think it actually needs to be reversed. The president needs to tell Kevin McCarthy, 'Sir, you do not have the votes and it's time to withdraw,'" she said on the House floor, prompting loud "oooh" from many colleagues.
• Matt Gaetz of Florida is a close ally of Trump who broke with him early when it comes to McCarthy. The House Ethics Committee announced an investigation into Gaetz in April as federal prosecutors probed sex trafficking allegations against him. Gaetz has vehemently denied any wrongdoing.
"If you want to drain the swamp, you cannot put the biggest alligator in charge of the exercise," Gaetz said of McCarthy.
'THIS IS NOT PERSONAL'
• Chip Roy of Texas once served as Sen. Ted Cruz's chief of staff before winning election to the House. He has been nominating alternative candidates for speaker such as Jim Jordan of Ohio and Byron Donalds of Florida.
Most of Roy's concerns are about the legislative process, noting that the House floor is nearly empty for most debates and members haven't been able to offer amendments there for years. While Roy said progress had been made with McCarthy in negotiations over House rules, "we do not have the tools or leadership yet to stop the swamp from rolling over the American people."