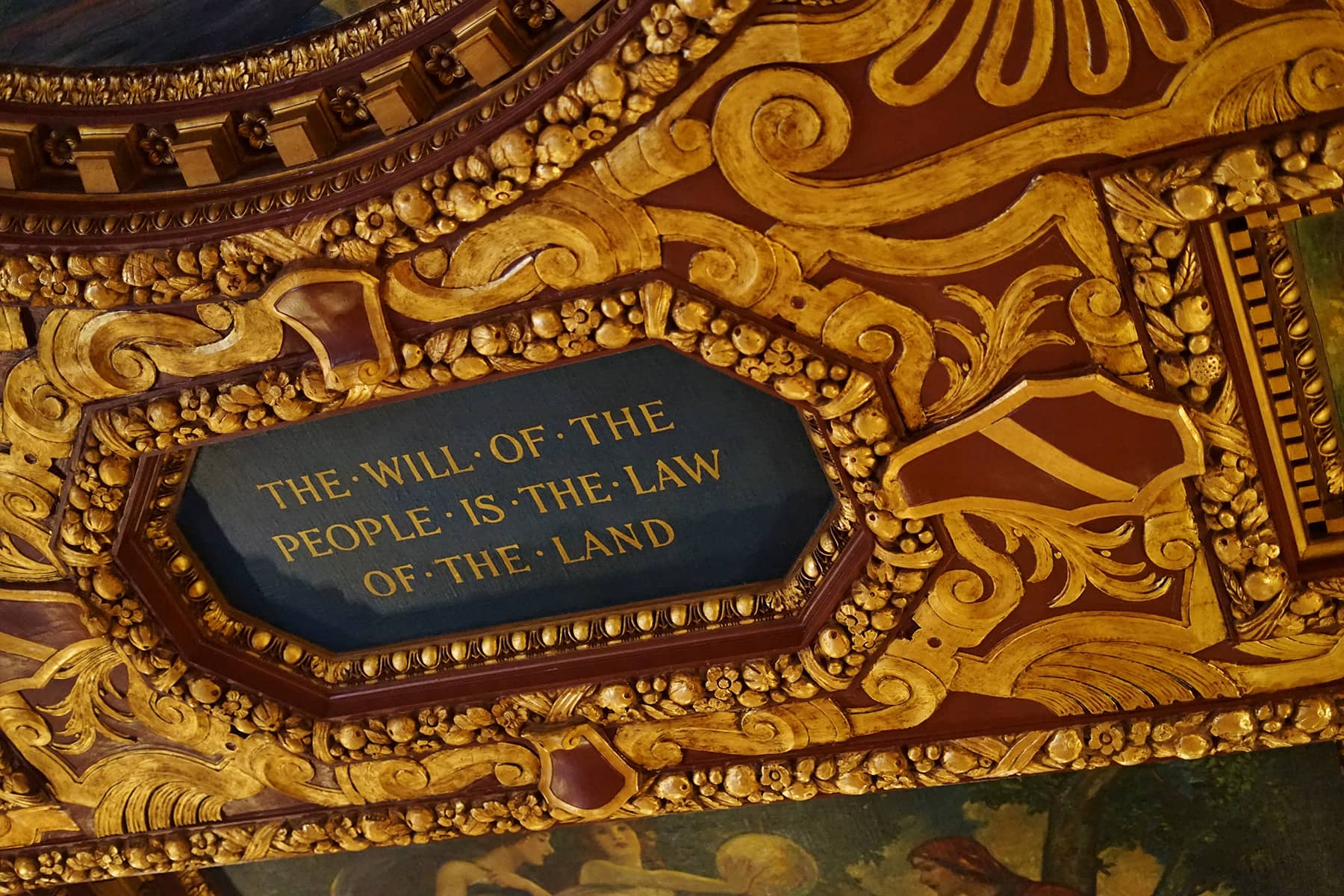 A special election to fill an open Wisconsin Senate seat will determine whether Republicans gain a supermajority that would allow them to impeach Democratic Governor Tony Evers and other office holders as well as move the GOP a step closer to overriding gubernatorial vetoes.
Voters on April 4 will pick Democrat Jodi Habush Sinykin or Republican state Rep. Dan Knodl to represent Milwaukee's northern suburbs. The seat has been under Republican control for decades but came open in November after longtime incumbent Alberta Darling chose to retire after 30 years in the Senate. Evers scheduled a special election to fill the position to coincide with the state's spring Supreme Court election.
The stakes are huge. A Knodl win would give Republicans 22 votes in the chamber, enough to override gubernatorial vetoes if the state Assembly also votes to do so and enough to convict civil officers in impeachment trials.
Knodl denied accusations from Habush Sinykin that he would vote to impeach Evers if elected. He said in an email to The Associated Press that he has had success working with the governor.
Habush Sinykin said it's "essential" for Democrats to win the seat, saying impeachment isn't "just hypothetical."
"It's going to happen," she said. The election is "high stakes in every way for democracy, for the balance of power, to protect the governor's veto, to protect against these nonsense impeachment threats. Will this be a government where we don't have any checks or balances on the Legislature?"
Veto overrides, at least in the near future, appear unlikely. A successful override requires a two-thirds vote in both the Senate and Assembly and Republicans are two seats shy of the 66 they would need in the Assembly. But Democrats fear that if Senate Republicans achieve a two-thirds majority their counterparts could launch a stealth override attempt during a floor session where two Democrats are absent.
Impeachment trials, though, could become a GOP tactic if Knodl wins.
Under state law, the Assembly can trigger a trial in the Senate with 50 votes. Conviction requires a two-thirds Senate vote. It's not clear who could be impeached, though. According to an analysis from the Legislative Reference Bureau, the state constitution says the Legislature can impeach "civil officers" but doesn't define that term.
The state Supreme Court has ruled that the constitution makes specific mention of the governor, lieutenant governor and judges as impeachable officers. The reference bureau analysis concludes that other constitutional officers such as the attorney general could be impeached as well. The Assembly has impeached someone only once, Judge Levi Hubbell in 1853, but the Senate ultimately acquitted him, according to the analysis.
Knodl has served in the Assembly for 15 years. He was one of 15 Wisconsin Republicans who sent a letter to then-Vice President Mike Pence in January 2022 asking him to delay certifying presidential results that showed Joe Biden defeated Donald Trump.
While Evers apparently isn't in his impeachment sights, Knodl said on WISN-TV's "UpFront" earlier this month that he would consider impeaching Milwaukee County judges for being weak on crime. Asked whether that includes liberal Supreme Court candidate Janet Protasiewicz, should she remain a Milwaukee County judge, Knodl responded: "I certainly would consider it."
Protasiewicz faces conservative Dan Kelly in the April 4 election, and a Protasiewicz win would give liberal justices a 4-3 majority on the court. State law doesn't specifically say that sitting justices can be impeached, but Wisconsin laws are based on federal law that opens up justices to impeachment and could be interpreted as permitting them to be impeached.
Republicans also could attempt to impeach her before she's sworn in as a justice. The question then would be whether releasing criminals on bail or handing out lenient sentences rises to the level of corruption.
Knodl also has said he would consider impeaching Milwaukee County District Attorney John Chisholm. Republicans have long criticized the Democratic prosecutor as being soft on crime.
Habush Sinykin holds a law degree from Harvard and has worked as an attorney for Midwest Environmental Advocates. She was a key litigator in MEA's lawsuit to block Wisconsin wolf hunters from using dogs. A state appeals court ultimately rejected the group's arguments in 2014.
Habush Sinykin held a massive financial advantage over Knodl as Election Day approached.
According to the latest campaign finance reports, she raised nearly $1.1 million between Jan. 1 and March 20. A huge chunk of that money — $453,550 — came from the State Senate Democratic Committee. She received another $25,000 from the state Democratic Party.
Knodl raised $324,200 between Jan. 1 and March 20. The largest contribution he received was $2,000 from a political action committee that represents the interests of health insurers.