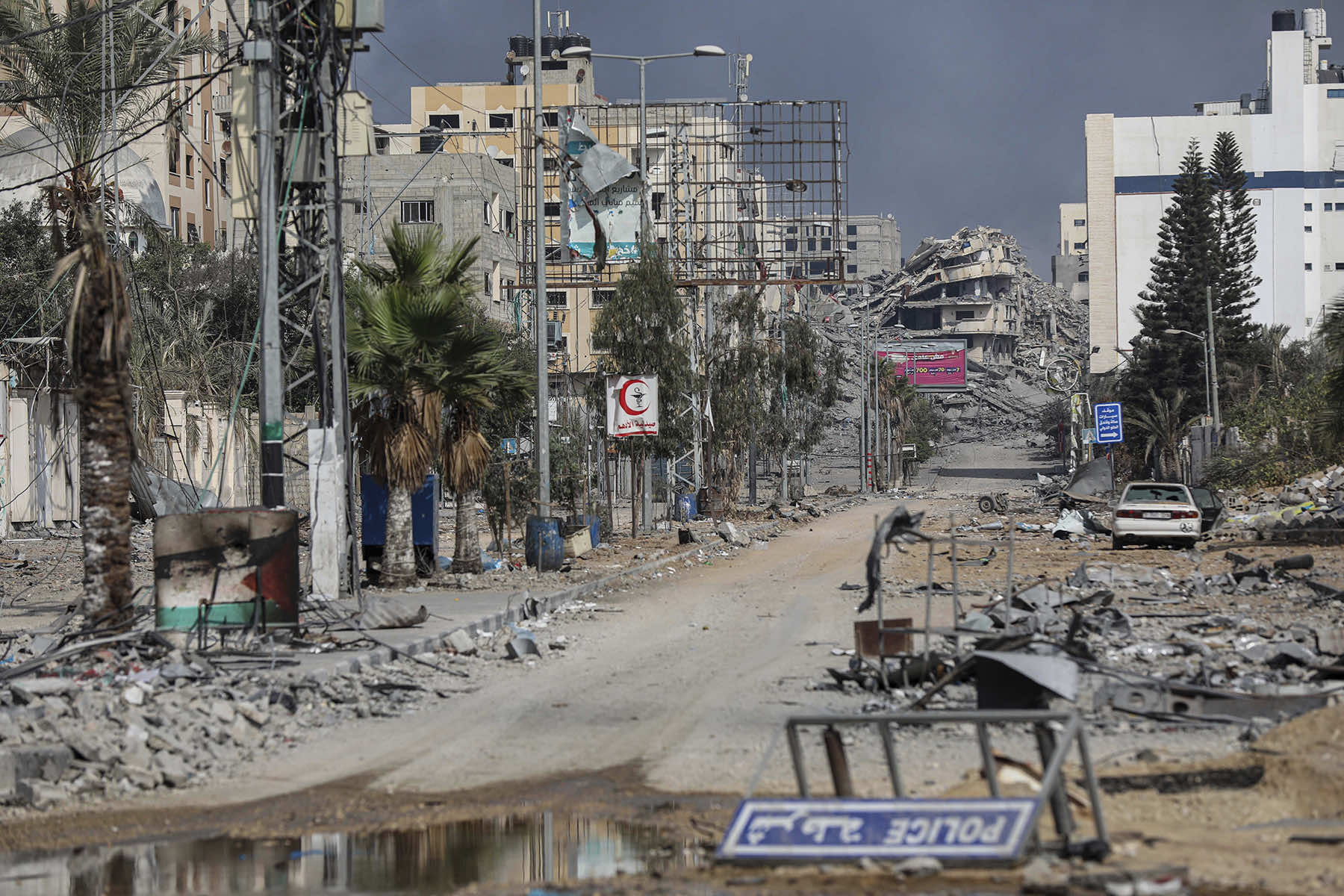 Thousands of people broke into aid warehouses in Gaza to take food and "basic survival items," a U.N. agency said on October 29, in a mark of growing desperation and the breakdown of public order three weeks into the war between Israel and Gaza's militant Hamas rulers.
Tanks and infantry pushed into Gaza on October 28 as Israeli Prime Minister Benjamin Netanyahu announced a "second stage" in the war. The widening ground offensive came as Israel pounded the territory from air, land, and sea.
The bombardment — described by Gaza residents as the most intense of the war — knocked out most communications in the territory late October 27, largely cutting off the besieged enclave's 2.3 million people from the world. Communications were restored to many people in Gaza on October 29, according to local telecoms companies, Internet-access advocacy group NetBlocks.org and confirmation on the ground.
The U.N. agency for Palestinian refugees, known as UNRWA, provides basic services to hundreds of thousands of people in Gaza. Its schools across the territory have been transformed into packed shelters housing Palestinians displaced by the conflict. Israel has allowed only a small trickle of aid to enter from Egypt, some of which was stored in one of the warehouses that was broken into, UNRWA said.
Thomas White, the agency's Gaza director, said the break-ins were "a worrying sign that civil order is starting to break down after three weeks of war and a tight siege on Gaza. People are scared, frustrated, and desperate."
Residents living near Shifa Hospital, Gaza's largest, said Israeli airstrikes overnight hit near the hospital complex and blocked many roads leading to it. Israel accuses Hamas of having a secret command post beneath the hospital, without providing much evidence.
Tens of thousands of civilians are sheltering in Shifa, which is also packed with patients wounded in the strikes.
"Reaching the hospital has become increasingly difficult," Mahmoud al-Sawah, who is sheltering in the hospital, said over the phone. "It seems they want to cut off the area."
Another Gaza City resident, Abdallah Sayed, said the Israeli bombing over the past two days was "the most violent and intense" since the war started.
Shifa in Gaza City, in the northern part of the besieged territory. Israel says most residents have heeded its orders to flee to the south, but hundreds of thousands remain in the north, in part because Israel has also bombarded targets in so-called safe zones.
An Israeli airstrike hit a two-story house in the southern city of Khan Younis on October 29, killing at least 13 people, including 10 from one family. The bodies were brought to the nearby Nasser Hospital, according to an Associated Press journalist at the scene.
The Israeli military had no immediate comment when asked about reports of strikes near Shifa. The army said it had struck over 450 militant targets over the last 24 hours, including Hamas command centers, observation posts, and anti-tank missile launching positions.
The military also said more forces were sent into Gaza overnight.
The army recently released computer-generated images showing what it said were Hamas installations in and around Shifa Hospital, as well as interrogations of captured Hamas fighters who might have been speaking under duress. Israel has made similar claims before, but has not substantiated them.
Little is known about Hamas' tunnels and other infrastructure, and the claims could not be independently verified. Hamas' government dismissed the allegations as "lies" and said they were "a precursor for striking this facility."
The escalation ratcheted up domestic pressure on Israel's government to secure the release of some 230 hostages seized in the October 7 surprise attack.
Desperate family members met with Netanyahu on October 28 and expressed support for an exchange for Palestinian prisoners held in Israel.
Hamas' top leader in Gaza, Yehia Sinwar, said Palestinian militants "are ready immediately" to release all hostages if Israel releases all of the thousands of Palestinians held in its prisons.
Netanyahu told the nationally televised news conference that Israel is determined to bring back all the hostages, and maintained that the expanding ground operation "will help us in this mission." He said he couldn't reveal everything that is being done due to the sensitivity and secrecy of the efforts.
"This is the second stage of the war, whose objectives are clear: to destroy the military and governmental capabilities of Hamas and bring the hostages home," he said in his first time taking questions from journalists since the war began.
Under pressure to tell the truth, Netanyahu belatedly acknowledged his responsibility for allowing the October 7 "debacle" to happen, in which more than 1,400 people were killed. He said the failure of his government to protect the people would need a thorough investigation, adding that "everyone will have to answer questions, including me."
The Israeli military said it was gradually expanding its ground operations inside Gaza, while stopping short of calling it an all-out invasion. Casualties on both sides are expected to rise sharply as Israeli forces and Palestinian militants battle in dense residential areas.
The Palestinian death toll in Gaza rose on October 28 to just over 7,700 people since the war began, with 377 deaths reported since October 27, according to the Gaza Health Ministry. Most of those killed have been women and minors, the ministry said.
An estimated 1,700 people remain trapped beneath the rubble, according to the Health Ministry, which has said it bases its estimates on distress calls it received.
More than 1.4 million people across Gaza have fled their homes, nearly half crowding into U.N. schools and shelters, following warnings by the Israeli military that they would be in danger if they remained in northern Gaza.
Gaza's sole power plant shut down shortly after the start of the war, and Israel has allowed no fuel to enter.
Hospitals are struggling to keep emergency generators running to operate incubators and other life-saving equipment, and the U.N. agency for Palestinian refugees is also trying to keep water pumps and bakeries running to meet essential needs.