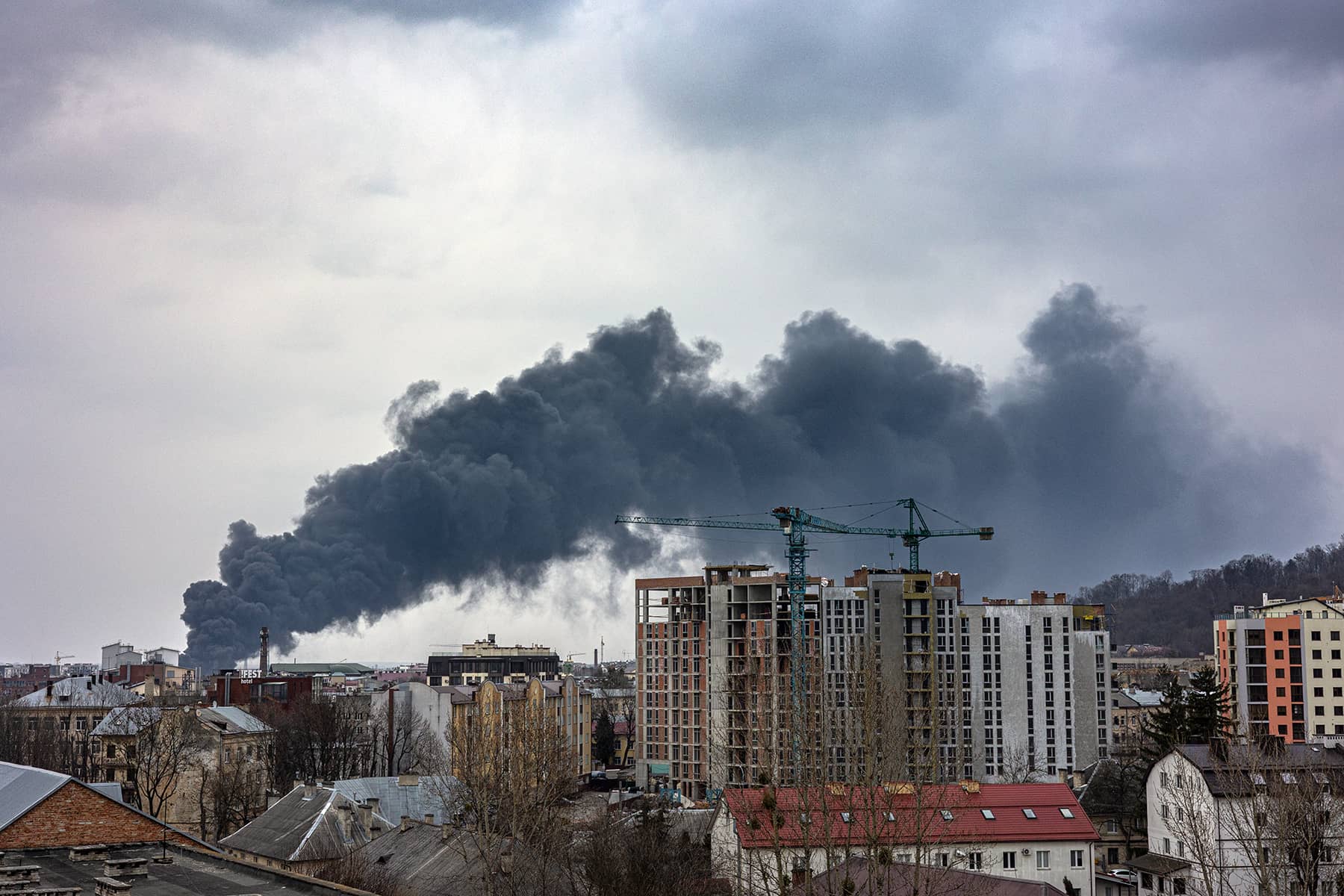 The day after Russian president Vladimir Putin's birthday on October 7, a large explosion badly damaged the Kerch Strait Bridge linking Russia to Crimea. Completed in 2018, the Kerch Bridge is a symbol of Putin's attempt to restore imperial Russia by attaching Ukraine to Russia after the 2014 invasion.
The bridge is also a symbol of his corrupt regime, as Putin handed the contract for it to his close associate Arkady Romanovich Rotenberg, who completed it at a cost of close to $4 billion. Although Ukraine has not claimed responsibility, and although the bridge is a clear military target, Putin promptly called the explosions a "terrorist attack aimed at destroying critical Russian civilian infrastructure."
Russia launched 84 cruise missiles at Ukraine on October 10, hitting civilian and critical infrastructure sites in at least four regions. Missiles hit the center of the Ukrainian capital, Kyiv, during rush hour, inflicting maximum damage on civilian targets, and several regions are now without power. Putin claimed the attacks were retaliation for the attack on the Kerch Bridge, but Ukrainian military intelligence said in a statement that Russia had planned massive strikes on civilian infrastructure by early last week.
Russian cyberattack also hit websites for U.S. airports: not the airline or safety operations, just the websites. Those included, among others, New York's La Guardia, Hartsfield-Jackson in Atlanta, Chicago's O'Hare, Los Angeles International Airport, Des Moines International Airport, and St. Louis Lambert International Airport.
Russian president Vladimir Putin has been suggesting he would use nuclear weapons, but observers point out that while such threats must always be taken seriously, Putin is likely making such threats because he is losing his war in Ukraine, and losing it quite badly.
According to Deborah Haynes, a security and defense editor at Sky News in the United Kingdom, Sir Jeremy Fleming, who is the director of the U.K.'s intelligence and security agency, will say in a speech tomorrow that the Ukrainian forces are "turning the tide" against Russia. "The costs to Russia…in people and equipment are staggering. We know — and Russian commanders on the ground know — that their supplies and munitions are running out … Russia's forces are exhausted. The use of prisoners to reinforce, and now the mobilization of tens of thousands of inexperienced conscripts, speaks of a desperate situation."
Forbes estimated that the missiles used in the one day strikes cost between $400 and $700 million, and it is highly unlikely Putin can replace them.
As if to illustrate Russia's weakness, its influence in Central Asia and the Caucasus region has failed, destabilizing countries formerly under its sway. This opens the way for other influences there: earlier this week, Armenian prime minister Nikol Pashinyan and Azerbaijani president Ilham Aliyev, whose countries have been engaged in a deadly border dispute since Russia got involved in Ukraine and could no longer protect Armenia, held peace talks with French president Emmanuel Macron and European Council president Charles Michel without Russian representatives present.
Political scientist and former counselor in the U.S. State Department Eliot A. Cohen pointed out that as a former KGB agent, Putin always uses mind games, and suggests he is making nuclear threats to get allies to push Ukraine to negotiate. Trump has offered to lead negotiations, and just last week, the Conservative Political Action Conference tweeted against further aid to Ukraine.
Cohen added that using nuclear weapons was not just about Ukraine and support for that country. China and India have no interest in seeing nuclear weapons normalized, and for Putin "to use nuclear weapons, many others — hundreds, if not more — have to go along," Cohen noted. "The United States and other countries probably have the means to communicate to each and every one of them that they will personally pay a price if they do so, if not at the hands of Ukraine's friends, then under a successor regime in Russia that will have to hold them accountable in order to be readmitted to the economy of the developed world."
If Putin is trying to push Ukraine to the negotiating table, he is apparently throwing everything he can at the war without — so far — using nuclear weapons. On October 8, after a series of talks with Belarus president Aleksandr Lukashenko, in which Putin urged him to join the war, Belarus officially accused Ukraine of preparing an attack against it. The threat seemed designed to force Ukraine to pull troops from its advance against the Russian forces in Ukraine to face soldiers from Belarus.
Russian money props up Belarus, and today, Lukashenko announced troop deployments with Russia, prompting Belarus opposition leader Sviatlana Tsikhanouskaya to warn members of the Belarusian military: "Don't follow criminal orders, refuse to participate in Putin's war against our neighbors." The European Union immediately warned Belarus that Lukashenko's accusations were "totally unfounded, ridiculous," and "utterly unacceptable." Peter Stano, E.U. foreign affairs spokesperson, told reporters: "[A]ll these steps, especially by the Belarusian regime, are against the will of the majority of the population and will be met with new and stronger restrictive measures from the side of the European Union."
Indeed, the deadly attacks on civilians appear to have hardened the resolve of Ukraine's allies. German defense minister Christine Lambrecht said that Germany will speed up its delivery to Ukraine of air defense systems that can protect entire cities. Originally promised by the end of the year, the systems now should be delivered "in the coming days," Lambrecht said, since "[t]he renewed missile fire on Kyiv and the many other cities show how important it is to supply Ukraine with air defense systems quickly."
The high representative of the E.U. for Foreign Affairs and Security Policy, Josep Borrell Fontelles, tweeted that he was "deeply shocked" by today's attacks. "We stand with Ukraine," he wrote, and added that "[a]dditional military support from the E.U. is on its way."
In the U.S., Senator Bob Menendez (D-NJ), chair of the Senate Foreign Relations Committee, issued a statement saying, "I am horrified by Russia's depraved and desperate escalation against civilian infrastructure across Ukraine—including in Kyiv. I pledge to use all means at my disposal to accelerate support for the people of Ukraine and to starve Russia's war machine."
Menendez went on to condemn "the government of Saudi Arabia's recent decision to help underwrite Putin's war through the OPEC+ cartel. There simply is no room to play both sides of this conflict—either you support the rest of the free world in trying to stop a war criminal from violently wiping…an entire country off of the map, or you support him. The Kingdom of Saudi Arabia chose the latter in a terrible decision driven by economic self-interest."
Menendez called for a freeze on all aspects of U.S. cooperation with Saudi Arabia, "including any arms sales and security cooperation beyond what is absolutely necessary to defend U.S. personnel and interests … until the Kingdom reassesses its position with respect to the war in Ukraine." This is a big shift in U.S. policy: the Senate Foreign Relations Committee can veto arms sales.
President Joe Biden spoke with Ukraine's president, Volodymyr Zelensky, on October 10 and pledged "to continue providing Ukraine with the support needed to defend itself, including advanced air defense systems. He also underscored his ongoing engagement with allies and partners to continue imposing costs on Russia, holding Russia accountable for its war crimes and atrocities, and providing Ukraine with security, economic, and humanitarian assistance."
Letters from an Аmerican is a daily email newsletter written by Heather Cox Richardson, about the history behind today's politics