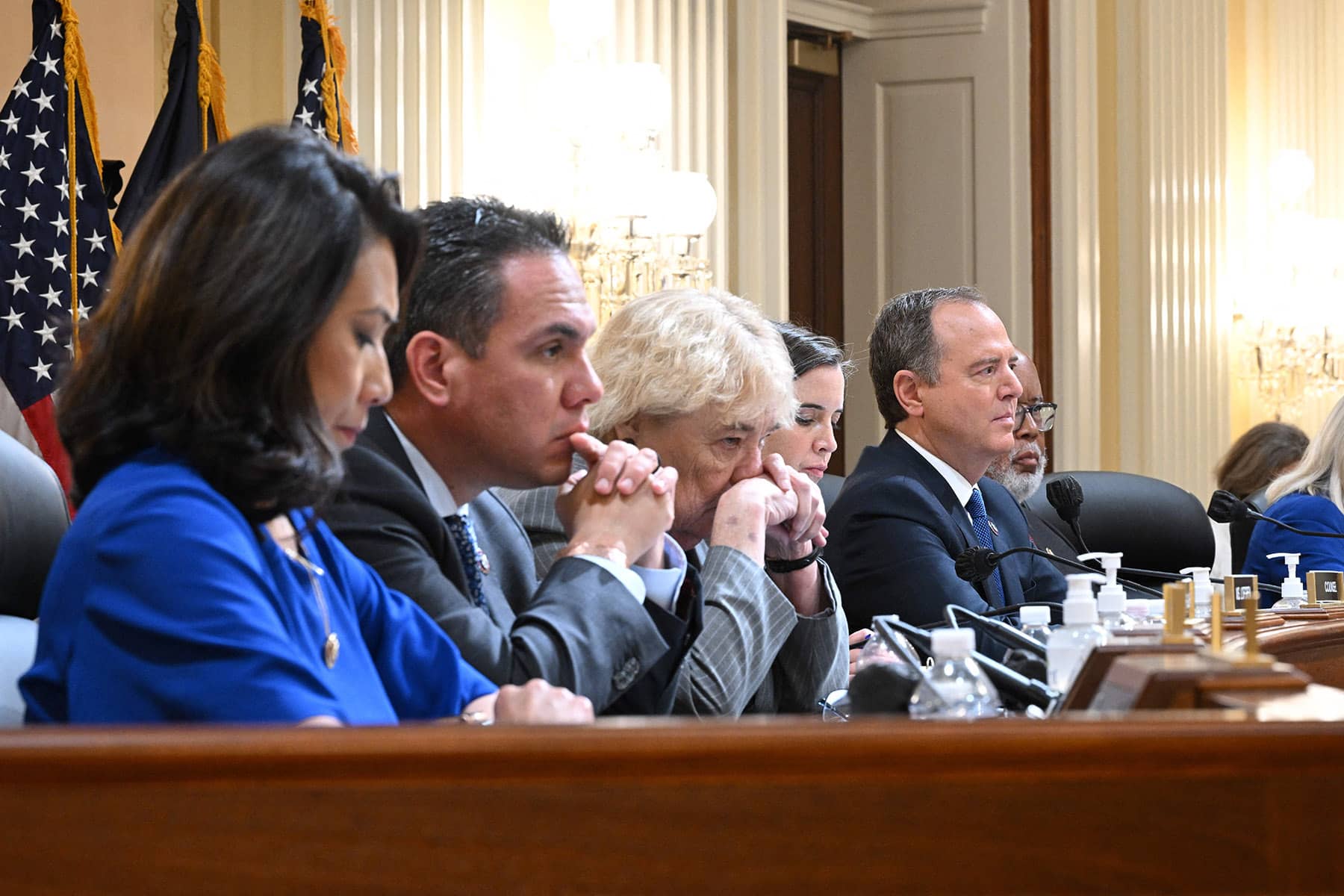 The June 28 testimony before the House Select Committee to Investigate the January 6th Attack on the U.S. Capitol was explosive. It tied former president Donald Trump and his chief of staff Mark Meadows directly to a plot to overturn the U.S. government.
The witness was Cassidy Hutchinson, a 25-year-old aide to Meadows and congressional liaison who was well known on Capitol Hill. She was a staunch Republican who had worked for Representative Steve Scalise (R-LA), the second highest Republican in the House, and Senator Ted Cruz (R-TX). An aide to former House speaker Paul Ryan (R-WI), Brendan Buck, tweeted that "when Meadows was on the Hill he always insisted that she be in *every* meeting he had, no matter how small. It was odd then, and doesn't seem to be working out for him now."
Hutchinson testified that leaders in the Trump White House planned the attack on the Capitol. On January 2, 2021, Trump lawyer Rudy Giuliani met with Meadows and others in the White House, and as Hutchinson walked him to his vehicle, Giuliani asked her if she was excited about the sixth, saying, "We're going to the Capitol! It's going to be great!" When she asked Meadows what Giuliani meant, Meadows told her, "There's a lot going on…things might get real, real bad on January 6."
On January 4, National Security Advisor Robert O'Brien called Meadows to warn of violence on January 6. The Secret Service and White House Deputy Chief of Staff Anthony Ornato, who was in charge of security protocol to protect anyone covered by presidential protection, also warned of coming violence.
Hutchinson connected Trump to the insurrection attempt when she noted that on January 5, Trump told Meadows to contact Trump confidants Roger Stone and Michael Flynn, both of whom Trump had recently pardoned after they had been convicted of crimes, to talk about the next day. Hutchinson says Meadows did that. At the time, Stone was in Washington DC where he was repeatedly photographed with members of the Oath Keepers who were acting as his bodyguards. A number of Oath Keepers have been charged with seditious conspiracy; at least two have pleaded guilty.
That night, Meadows wanted to go to the "War Room" that Giuliani, Trump lawyer John Eastman, and others had set up at the Willard Hotel, but he ultimately decided to call in rather than to go in person.
According to Hutchinson, by about 8:00 on the morning of January 6, intelligence reports were already coming in that some of the people near the Ellipse, where Trump was to speak, were dressed in body armor and armed with Glock-style pistols, shotguns, and AR-15s, along with other weapons. At 10:00, Hutchinson, Ornato, and Meadows talked of the weapons, but Meadows brushed it off, asking only if they had told Trump, which they had.
That made Hutchinson's next revelation seismic. Text messages between Hutchinson and Ornato show that Trump was "furious" before the Ellipse rally because he wanted photos to show the space full of people and it was not full because law enforcement was screening people for weapons before they could go in. Trump wanted the screening machines, called magnetometers, to be taken down. Hutchinson testified that Trump yelled, "They're not here to hurt me. Take the F'ing mags away. Let my people in. They can march to the Capitol from here."
Then, knowing that some of the people in the crowd were armed, Trump repeatedly urged them to "fight," using language his lawyers had warned against.
Hutchinson testified that Trump was determined to go to the Capitol with the crowd despite the desperate efforts of White House Counsel Pat Cipollone to make sure it did not happen. Cipollone told Hutchinson that Trump's appearance there would open the White House up to being charged with "every crime imaginable" because it would look like Trump was inciting a riot. Nonetheless, Trump was furious that Meadows had not been able to persuade the Secret Service to make it happen, so furious that Cassidy heard from others that when he found that the SUV in which he was riding would not take him to the Capitol, Trump had lunged at the agent refusing to take him there.
Hutchinson did not know what the plan was for Trump's trip to the Capitol, but there was talk of an additional speech there, "before he went in. I know that there was a conversation about him going into the House chamber at one point," she said. The president is only supposed to go into the House chamber when specifically invited, so perhaps he expected to be invited in, or perhaps he was going in without an invitation, or perhaps those talking about it were just tossing out unworkable ideas.
Back at the White House, as the rioters breached the Capitol, Hutchinson went into Meadows's office between 2:00 and 2:05 to ask if he was watching the scene unfold on his television. Scrolling through his phone, he answered that he was. She asked if he had talked to Trump. He said, "Yeah. He wants to be alone right now." Cipollone burst into the office and said to go get the president. Meadows repeated that Trump didn't want to do anything. Cipollone "very clearly said this to Mark—something to the effect of, 'Mark, something needs to be done or people are going to die and the blood's going to be on your f-ing hands. This is getting out of control.'"
When the rioters began to chant, "Hang Mike Pence," Cipollone tried again to get Trump to stop the rioters, and Meadows again said, "You heard it, Pat. He thinks Pence deserves it. He doesn't think they're doing anything wrong." Then, rather than calming the crowd as it threatened the vice president, at 2:24, Trump put out the tweet further blaming Pence for letting him down.
By 3:00, White House personnel, Ivanka Trump, and various members of Congress were begging Trump to release a statement telling the rioters to go home, making it clear they all knew he could make the violence stop if only he wanted to. But he did not want to. Not until 4:17, after Biden had already made a statement, did he speak up. Trump told the rioters to go home and that "we love you."
The next day, as Cabinet officers talked of invoking the 25th Amendment to the Constitution and removing Trump from office, advisors convinced Trump to make a video. Even then, he refused to say that the rioters should be prosecuted — instead, he wanted to talk of pardoning them — and refused to say that the election was over.
In the aftermath of the election, both Meadows and Giuliani asked for a presidential pardon.
What emerged from the explosive hearing on June 28 was the story of a president and his close advisors who planned a coup, sent an armed mob to the Capitol, approved of calls to murder the vice president, and had to be forced to call the mob off. Two of the president's closest advisors then asked for a presidential pardon. While they did not get those pardons, Trump's PAC later gave $1 million to Meadows's Conservative Partnership Institute.
That, right there, is enough to make the hearing stunning. But there was more.
Hutchinson described an angry and violent man who threw plates at the walls when he was frustrated.
The committee revealed that when it interviewed Michael Flynn, he took the Fifth on whether violence on January 6th was justified either legally or morally. He also took the Fifth on whether he believed in the peaceful transition of power in the U.S.
Vice-chair Liz Cheney (R-WY) revealed at the end of the hearing that witnesses said they had been pressured by Trump's people to remain "loyal" when testifying, and having just tipped their hand about just how much information the committee has, Thompson urged those witnesses to come back and revise their testimony. He urged others to come forward as well — perhaps a nudge to Cipollone.
CNN journalist Jake Tapper concluded: "It was devastating testimony, a portrait of a president who was completely and utterly out of control and, without question, knew of the danger of his supporters that were going to the mall … This was obscene."
It was. And yet no one in the White House either spoke up to warn us before January 6 or testified at Trump's second impeachment trial, where he was charged with incitement of insurrection and, thanks to Republican senators, acquitted.
On July 12 the House Select Committee to Investigate the January 6th Attack on the U.S. Capitol held its seventh public hearing. It focused on how former president Trump summoned right-wing extremists to Washington DC, on January 6, 2021, in a last ditch effort to overturn the 2020 election.
Committee members reiterated that Trump's advisors had told him repeatedly that there was no evidence for his claims that the election had been corrupt. Again and again, White House officials demanded of Trump's allies that they produce evidence of their accusations of fraud, and they never produced anything, choosing instead to attack those demanding evidence as disloyal to Trump. There is no doubt that Trump knew quite well there had been no fraud that would have changed the outcome of the election, and that he was lying when he continued to insist the election had been stolen.
Representative Liz Cheney (R-WY), the committee's co-chair, began the hearing by noting that there had been a change recently in those defending Trump's actions as it has been established that Trump's advisors had made it clear to him the election was not stolen. From arguing that he didn't know the election was fair, they have switched to suggesting that he was misled by bad actors like John Eastman, who articulated the plan to have Vice President Mike Pence refuse to count certain of Biden's electors, or Trump lawyer Sidney Powell.
But, Cheney said in words carefully calculated to infuriate the former president: "This is nonsense. Trump is a 76-year-old man. He is not an impressionable child. Just like everyone else in this country, he is responsible for his own actions…. [He] [c]annot escape responsibility by being willfully blind."
The focus in the July 12 hearing was on Trump's actions between December 14, when the Electoral College met in all 50 states and in the District of Columbia to certify the ballots that elected Democrat Joe Biden, and the morning of January 6, when Trump pointed the rally-goers at the Ellipse toward the U.S. Capitol.
With the electoral votes certified for Biden on December 14, even then–Senate majority leader Mitch McConnell congratulated Biden publicly on his election, and numerous White House officials, including White House counsel Pat Cipollone, Attorney General Bill Barr, White House chief of staff Mark Meadows, and White House press secretary Kayleigh McEnany, either urged Trump to concede or began looking for new jobs on the assumption the White House would change hands on January 20.
But Trump and his allies looked to January 6, when those electoral votes would be counted, as the last inflection point at which they might be able to overturn the election.
On December 18, 2020, four days after the electors met, Trump's outside advisors, including lawyers Rudy Giuliani and Sidney Powell, former national security advisor Michael Flynn, and Patrick Byrne, former chief executive officer of Overstock, got access to the White House through a junior staffer and met with Trump. They brought an executive order that had been drafted on December 15, the day after the electors had certified the votes for Biden. It called for Trump to order the Defense Department to seize state voting machines, and it appointed Powell as special counsel to investigate voter fraud, giving her broad powers. They wanted Trump to implement it.
Cipollone got wind of the meeting and crashed it about 15 minutes in. Over the next six hours, White House officials and the Trump team members who insisted the election was stolen faced off, exchanging personal insults, accusations of disloyalty to the president, even challenges to fight physically. Cipollone, White House lawyer Eric Herschmann, and their team demanded evidence to support the theories Trump's outside team insisted were true. In turn, the outside team repeated conspiracy theories and accused the others of being wimps: Powell told the committee the White House team all should have been fired, and Giuliani told the committee he told them all they were "a bunch of p*ssies."
In the end, Trump was convinced not to follow the direction of the outside advisors. But he didn't take the advice of those officials telling him to concede, either. Instead, shortly after the meeting broke up, Meadows walked Giuliani out of the White House to make sure he didn't sneak back into Trump's company. Then, at 1:42 on the morning of December 19, Trump reiterated to followers that the election had been stolen and that there was no statistical way that he could have lost.
Then he typed the words: "Big protest in D.C. on January 6. Be there, will be wild!"
Immediately, his most loyal supporters recognized this tweet as a call for armed resistance. "Trump just told us all to come armed," one tweeted. "F*cking A, this is happening."
Far-right media, including Alex Jones of InfoWars, amplified Trump's tweet with calls to violence. The committee introduced testimony from a former Twitter moderator who said: "We had not seen that sort of direct communication before" in which Trump was speaking directly to supporters and inciting them to fight. After the December 19 tweet, it was clear, the person said, "not only were these individuals ready and willing, but the leader of their cause was asking them to join him in this cause and in fighting for this cause in DC on January 6 as well."
Supporters wrote comments like: "Why don't we just kill them? Every last democrat, down to the last man, woman, and child?" and, making the link between Trump's determination to stay in office and white supremacy: "It's time for the DAY OF THE ROPE! WHITE REVOLUTION IS THE ONLY SOLUTION!"
As Trump continued to post about January 6 on Twitter and continued to insist he had won the election, militias, white supremacists, and conspiracy theorists began to work together to coordinate an attack on the Capitol. The Proud Boys and the Oath Keepers, along with other extremists groups, worked with Trump allies to plan the attack. Those allies included Michael Flynn and Patrick Byrne.
Another ally was Trump confidant Roger Stone, who talked both to the Proud Boys and the Oath Keepers "regularly." The committee got access to an encrypted chat of the "Friends of Stone," or "FOS," including Stone, Oath Keepers leader Stewart Rhodes, Proud Boys leader Enrique Tarrio and agitator Ali Alexander. Kelly Meggs, the leader of the Florida Oath Keepers, spoke directly with Stone about security on January 5 and 6. Stone was guarded on January 6 by two Oath Keepers who have been indicted for seditious conspiracy.
Stone was also close enough to the Proud Boys to have "taken their so-called fraternity creed required for the first level of initiation to the group." The clip of that oath shows him saying: "Hi, I'm Roger Stone. I'm a Western chauvinist, and I refuse to apologize for creating the modern world."
The committee made it clear that Trump deliberately created the crisis on January 6. Katrina Pierson, organizer of the Ellipse rally, was so worried about Stone, Jones, and Alexander as speakers at the rally, that she talked to Meadows on January 2 about them, warning a fellow organizer that Trump "likes the crazies." On that same day, Meadows warned his assistant Cassidy Hutchinson that things could get "real, real bad" on January 6.
The committee produced evidence from a number of emails and tweets from Trump and other organizers saying that after the rally, Trump would urge attendees to march to the Capitol, undercutting the argument that the move was spontaneous. In fact, it was long planned.
The committee also introduced evidence that the White House coordinated with members of Congress to encourage the Big Lie and to fight the election results. Representative Mo Brooks (R-AL) set up a meeting between members of Congress (and one member-elect) on December 21, with the subject line: "White House meeting December 21 regarding January 6." That meeting included Trump, Pence, Meadows, Giuliani, and ten representatives: Brian Babin (R-TX), Andy Biggs (R-AZ), Matt Gaetz (R-FL), Louie Gohmert (R-TX), Paul Gosar (R-AZ), Andy Harris (R-MD), Jody Hice (R-GA), Jim Jordan (R-OH), Scott Perry (R-PA), and recently elected Marjorie Taylor Greene (R-GA).
This sheds light on Trump's comment to officials from the Department of Justice in which he asked them just to say the election was corrupt and leave the rest up to him and the Republican congress members. A number of those involved in the meeting later asked for presidential pardons.
Some in Trump's inner circle were excited about what was to come. Phone logs show Trump spoke to confidant Steve Bannon at least twice on January 5. After the first call, Bannon said on his podcast that "all hell is going to break loose tomorrow." "It's all converging and now we're on…the point of attack." "I'll tell you this: it's not going to happen like you think it's going to happen…. It's going to be quite extraordinarily different and all I can say is strap in."
That night, as supporters gathered at Freedom Plaza to hear the extremist speakers who had been excluded from the event of January 6, including Roger Stone, Michael Flynn, Alex Jones, and Ali Alexander, Trump was in a notably good mood for the first time in weeks. Stone told the crowd it was in an "epic struggle for the future of this country between dark and light, between the godly and the godless, between good and evil. And we will win this fight or America will step off into a thousand years of darkness."
In his speech the next day at the Ellipse, Trump insisted on inserting attacks on Pence and urging his supporters to "fight like hell [or] you're not going to have a country anymore." That rhetoric, former Trump campaign manager Brad Parscale told Pierson, had caused people to die.
The July 12 hearing ended with the testimony of former Oath Keepers social media manager Jason Van Tatenhove, who warned that the Oath Keepers are a danger to the country, and a Trump supporter, Stephen Ayers, who was not affiliated with any right-wing groups but who stormed the Capitol after Trump told him to. Both of them blamed themselves for being misled by Trump and extremism. Van Tatenhove warned that the danger is ongoing.
As if on cue, Cheney dropped the information that since the last hearing, Trump has tried to reach a witness with a personal phone call. The witness avoided the call and contacted a lawyer instead. This attempt smacks of desperation on Trump's part, as well of isolation: no one would do the dirty job of intimidating a witness for him. The committee sent the information about this attempt, which involves someone the public has not yet seen testify, to the Department of Justice.
More and more, witnesses seem to be siding with transparency and the committee rather than with Trump. Dan Friedman of Mother Jones published a tape of Bannon on October 31, 2020, laughing as he explains to a private audience that Trump will "win" in 2020 simply by declaring he won, even if he didn't.
Trump knew that Democratic mail in ballots would show up in the vote totals later than Republican votes cast on election day, "[a]nd Trump's going to take advantage of it," Bannon said. "That's our strategy. He's gonna declare himself a winner … So when you wake up Wednesday morning, it's going to be a firestorm," he said. "You're going to have antifa, crazy. The media, crazy. The courts are crazy. And Trump's gonna be sitting there mocking, tweeting sh*t out: 'You lose. I'm the winner. I'm the king.'"
And, Bannon continued: "Here's the thing. After then, Trump never has to go to a voter again … He's gonna say 'F*ck you. How about that?' Because … he's done his last election. Oh, he's going to be off the chain — he's gonna be crazy."
Letters from an Аmerican is a daily email newsletter written by Heather Cox Richardson, about the history behind today's politics