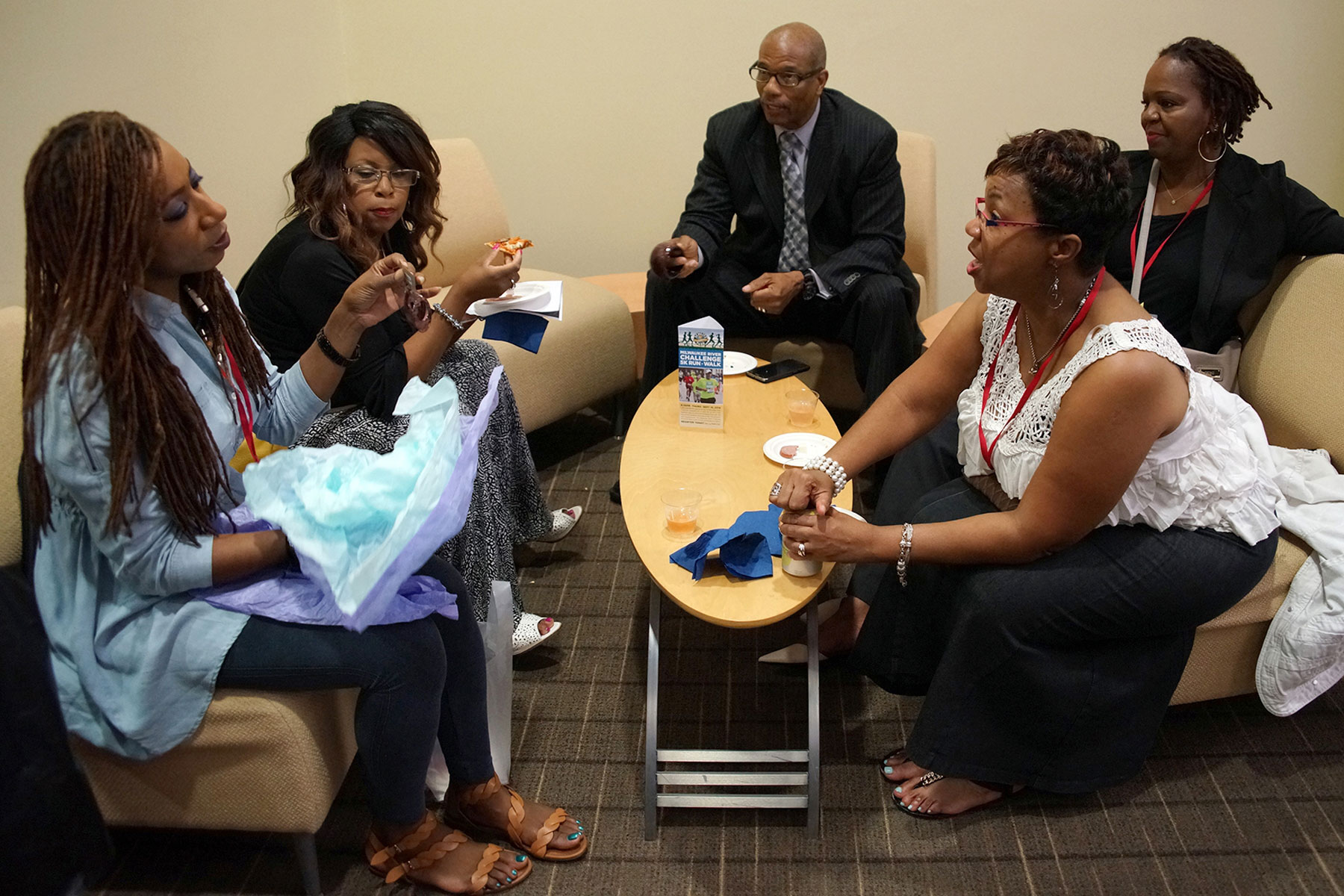 WWBIC showcased their mission of providing business education and loans to minimize inequity in the Milwaukee community during an Open House at their state headquarters.
The Wisconsin Women's Business Initiative Corporation (WWBIC) hosted the national Association of Women's Business Centers (AWBC) Conference during the week of September 12. The conference attracted over 300 leaders of Women's Business Centers from all around the United States, as well as representatives from Canada and Mexico.
WWBIC is a non-profit organization that has provided business education, access to fair capital, and financial counseling to those who could not afford such services or are otherwise ineligible for traditional banking loans. Women, individuals with low income, and people of color are therefore the main focus of WWBIC's support. "Putting dreams to work," has been their motto for nearly 30 years.
For the AWBC conference on September 13, WWBIC hosted a kickoff event at their downtown Milwaukee office. The event showcased the organization's mission, and provided presentations and tours that demonstrated to attending business leaders how they had become successful investing in the community. A vendor fair was also held in the office atrium that featured a few of WWBIC's current and former clients.
One such client was Karen Tardrew, who started her business Grasshopper Goods earlier this year with the help of WWBIC. Grasshopper Goods is Wisconsin's first boutique-on-wheels and will begin traveling across the streets of Wisconsin early next year. Other clients represented at the fair included Johanna's Cakes and Desserts, Ruckus and Glee and 5 Lilies.
With three other offices located in Madison, Racine, and Waukesha, and three remote workers in rural Wisconsin, women business leaders were offered examples of the impact WWBIC has made on Milwaukee businesses. Over the years, the organization has stayed true to its mission, to go where there is inequity in the community and try to change it through business education and loans.
"We provide hope and opportunity to individuals that otherwise really might not have that," said Wendy Baumann, WWBIC's President. "It's so rewarding working with these beautiful entrepreneurs and business owners in helping them form their dream, via a business planning class or via education. We then provide capital because most of the individuals that come through this door cannot get bank financing."
WWBIC shared many success stories in the Milwaukee community, from Miss Cupcake Bakery, to the Milwaukee Kayak Company, to the many people they helped own their first home. They have also supported Purple Door Ice Cream, who was present at the kick-off event.
The founders of Purple Door Ice Cream, Lauren and Steve Schultz, had the idea for their now incredibly popular ice cream shop, but did not have the business education and financial support to start. The Schultzes went to WWBIC for business training and financial services in 2011 and, with their help, launched the now successful ice cream parlour that features their own hand-made ice cream and creative flavors.
WWBIC began helping entrepreneurs and businesses from 1987, when its founders encountered the organization Women Venture in Minneapolis, which provided small business loans to women wishing to start their own enterprise. They brought that idea back to Milwaukee, WWBIC provides business education, in addition to access for fair and responsible capital to women, minority individuals, people of low income, veterans and, most recently, people who have been formerly incarcerated.
Renee Lindner, who works with WWBIC in Community Outreach, helps people in Milwaukee's north side realize the extent of the resources available to help them.
"My job is mostly to let folks know that there are resources out there they can trust," said Lindner. "It's a lot of breaking down the walls of folks who have not been able to trust for a lot of good reasons."
WWBC and the various Women's Business Centers present at the AWBC conference provide invaluable services to businesses, entrepreneurs, and future homeowners, which are the lifeblood of the American economy.
"The force of women entrepreneurs is a very positive force in Milwaukee, in Wisconsin and in our nation," said Baumann. "We need to support that force. They're starting businesses, they're creating jobs, and they're growing businesses. It's a good horse to bet on in the race."