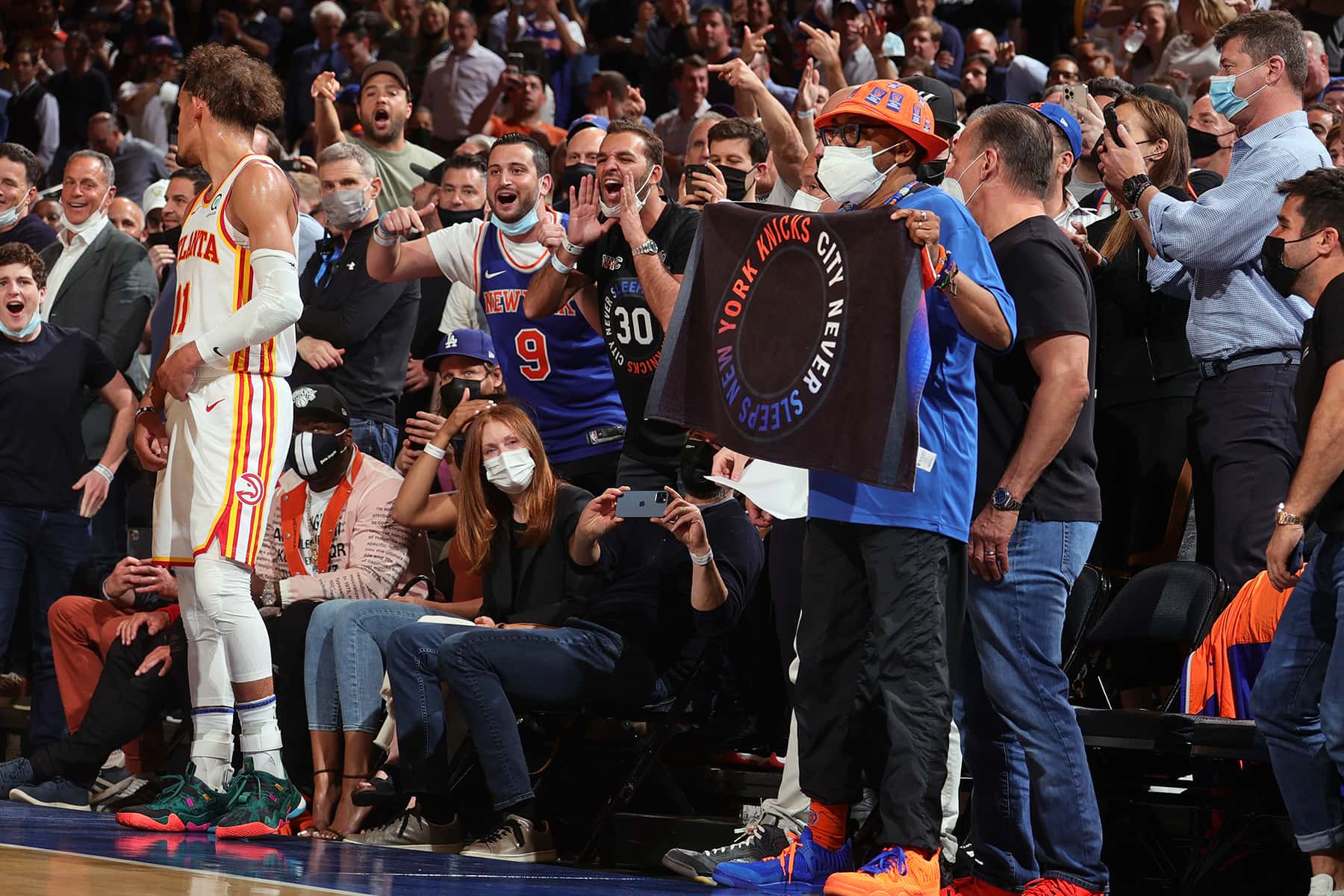 "You can see that people just feel very entitled out here. They paid for their tickets – great, I'm grateful that they're coming in to watch a great performance. But we're not at the theater. We're not throwing tomatoes and other random stuff at the people that are performing… You're seeing a lot of old ways come up. It has been that way in history in terms of entertainment, performers and sports for a long period of time and just underlying racism and just treating people like they're in a human zoo. Throwing stuff at people, saying things. There is a certain point where it gets to be too much." – Kyrie Irving, of the Brooklyn Nets
"We are not animals; we are not in the circus. You coming to the game is not all about you as a fan. So, have some respect for the game. Have some respect for the human beings, and have some respect for yourself. Your mother wouldn't be proud of you throwing water bottles at basketball players or spitting on players or tossing popcorn. So, grow the f— up, and enjoy the game. It's bigger than you." – Kevin Durant of the Brooklyn Nets
In a league that is supposedly so woke, the NBA and NBA Players Union refuse to speak the truth about the racist nature of fan behavior. The League, and the media that covers it, are both going out of their way to refuse to share the pictures of the unruly fans because they know they are most likely White fans being disrespectful to Black players.
The latest incident occurred at the end of the game where former Boston Celtic Kyrie Irving returned to Boston as a member of the Brooklyn Nets. A White fan threw a water bottle at the head of Irving who had said before his return that the fans would not show their "subtle racism." I don't think throwing a water bottle is very subtle. The fan was pointed out and arrested.
Prior to the game former player and now president of basketball operations Danny Ainge responded when Irving brought up the possibility of a racist reaction by saying "I never heard any of that, from any player that I've ever played with in my 26 years in Boston. I never heard that before from Kyrie, and I talked to him quite a bit. So, I don't know. As far as I'm concerned, it doesn't matter. We're just playing basketball. Players can say what they want." Are you kidding? Boston has a long tradition of racism in sports and you try to play the "I never heard any of that" argument. You should be ashamed of yourself.
The first week back with nearly full stadiums has shown that the rampant racism we have seen over the past five years was pent up during the pandemic and is now manifesting itself in this way. We can see who does it from the videos and images taken of the racist fans.
In one image, taken by Nathaniel S. Butler, the fans behind Hawks star Trae Young during the spitting incident at the Atlanta Hawks/New York Knicks game, it is clear that all of the fans behind him in the space where the spit came from are White. It is pretty clear from the video of the incident that the spitter is wearing a t-shirt with the number 30 inside of a circle celebrating the New York Knicks.
The response by the Knicks of banning the fan and Trae Young refusing to press charges against him exacerbate the volatile relationship between a league with mostly Black players and arenas filled with mostly White fans.
"We investigated the matter and determined that this patron, who is not a season ticket holder, did indeed spit on Trae Young, and for that reason, he is now banned from The Garden indefinitely. We apologize to Trae and the entire Atlanta Hawks organization for this fan's behavior. This was completely unacceptable and will not be tolerated in our venue. We have turned the information over to the appropriate authorities."
That same night a fan in Philadelphia dumped popcorn on the head of Washington Wizards guard Russell Westbrook as he was leaving the court after injuring his ankle. Once again the fan is not identified by name by the team or media and we simply get a statement similar to the one issued by the Knicks.
"We apologize to Russell Westbrook and the Washington Wizards for being subjected to this type of unacceptable and disrespectful behavior. There is no place for it in our sport or arena."
The NBA similarly issued a statement using the same type of language.
"The return of more NBA fans to our arenas has brought great excitement and energy to the start of the playoffs, but it is critical that we all show respect for players, officials and our fellow fans. An enhanced fan code of conduct will be vigorously enforced in order to ensure a safe and respectful environment for all involved."
The NBA Players Association also issued a weak statement.
"True fans of this game honor and respect the dignity of our players. No true fan would seek to harm them or violate their personal space. Those who do have no place in our arenas. And their conduct is appropriately evaluated by law enforcement just as if it occurred on a public street."
Russell Westbrook made the strongest statement about the fan behavior.
"To be completely honest, this s— is getting out of hand, especially for me. The amount of disrespect, the amount of fans just doing whatever the f— they want to do — it's just out of pocket. There are certain things that cross the line. Any other setting … a guy were to come up on the street and pour popcorn on my head, you know what happens."
The league's biggest star, Lebron James, tweeted about the incidents.
"By the way WE AS THE PLAYERS wanna see who threw that popcorn on Russ while he was leaving the game tonight with a injury!! There's cameras all over arenas so there's no excuse! Cause if the [shoe] was on the other [foot]."
He came the closest to saying what the players really feel. They want to see the pictures of these fans so that people know how racists these people are. It's not just the usual back and forth heckling that is bothering the players.
In a playoff game between the Memphis Grizzlies and Utah Jazz, three fans were kicked out of the arena and banned from the arena after incidents with the family of a Grizzlies player. Grizzlies star, Ja Morant's family was at the game cheering him on and were the recipients of vulgar and racist remarks according to his father Tee Morant.
"I know heckling. We were doing that the whole game. But that's different than heckling. That's straight up disrespectful. That was too far out of line. You don't say nothing like that heckling. That's beyond heckling." – Tee Morant, phone interview with ESPN
One fan made a sexually explicit remark to Tee Morant's wife Jamie. Another fan said to Tee Morant "I'll put a nickel in your back and watch you dance, boy." The third fan who was ejected yelled at Jamie Morant, "Shut the f— up, b—-."
The Jazz issued a statement.
"The Utah Jazz have zero tolerance for offensive or disruptive behavior. An incident occurred last night involving a verbal altercation during Game 2. Arena security staff intervened, and the investigation resulted in the removal and banning of three Jazz fans indefinitely. We apologize to all who were impacted by this unfortunate incident and condemn unacceptable fan behavior."
All of these incidents and statements go out of their way to claim they care about the players and abhor this "unacceptable fan behavior" but stop short of calling it what it is, racist.
In a league where players like Lebron James played the, "we are using our 'platform' to fight for social justice" card, none are willing to call the fans racist. The talking heads at ESPN, and in multiple other media outlets, likewise refuse to talk about the elephant in the room.
We've heard a lot of media members talk about the type of racism Hank Aaron and Jackie Robinson faced years ago. These same people are now afraid to say the same behavior is still occurring in professional sports, including Major League Baseball and the NBA as well as pro soccer leagues in Europe.
I say call it what it is. I say plaster the images of these fans all over the internet, just as you do the images of Russell Westbrook who had to be restrained when going after the fan. It's not enough to issue some sorry excuse of a statement claiming banning the fans is enough. These incidents have been happening for years and eventually will lead to another ugly fight like what happened when Indianapolis Pacers forward Ron Artest went into the stands after a fan dumped a drink on him in 2004, an incident known by many as the Malice at the Palace.
Artest who goes by the name Metta Sandiford-Artest now, said the popcorn throwing incident involving Westbrook brought back some bad memories for him. "I felt like I was going to run into the stands. It shook me up a little bit." He also tweeted, "That's B.S!!!! This doesn't sit well. What in the world is that fan doing throwing stuff. This is unacceptable. Wt … !"
Westbrook has been here before. Four years ago a fan was kicked out of a game in Philadelphia for flipping off Westbrook.
Likewise, a fan in Utah two years ago was given a lifetime ban after a verbal spat with Westbrook. In that incident, the fan says, "Here we go, boy," to which Westbrook responds, "Don't call me boy." Eventually security removed the fan and he was banned by the team. Once again, a racist remark by a White fan but no one wants to call it what it is.
Two years ago, another White person, Golden State Warriors minority owner Mark Stevens, shoved a Black player, Kyle Lowry of the Toronto Raptors, during a NBA Finals game. He was fined $500,000 and banned from games for a just a year.
The team and league issued a joint statement.
"Investor Mark Stevens has been banned from attending NBA games and Warriors team activities for one year and has been fined $500,000 for pushing and directing obscene language toward the Toronto Raptors' Kyle Lowry."
In that case a White man put hands on a Black player and received a paltry one year ban. Ron Artest served an 86-game suspension in what marked the longest non-drug related suspension in NBA history and lost over $6 million in salary as well as many endorsement contracts.
That is not to say the behaviors were equivalent. However, it crossed the line and should have received a much more forceful punishment to deter this type of fan behavior. Stevens should have received a lifetime ban and been charged with assault for putting his hands on Lowry.
These weakly worded statements and bans do next to nothing to end this type of behavior because in most cases the culprits are never identified publicly. Until the league and sports media does that, and players are willing to call this behavior racist, it will not go away. Until the league, its players, the players union as well as the highly paid media talking heads speak truth about the racist nature of these incidents, nothing will change.