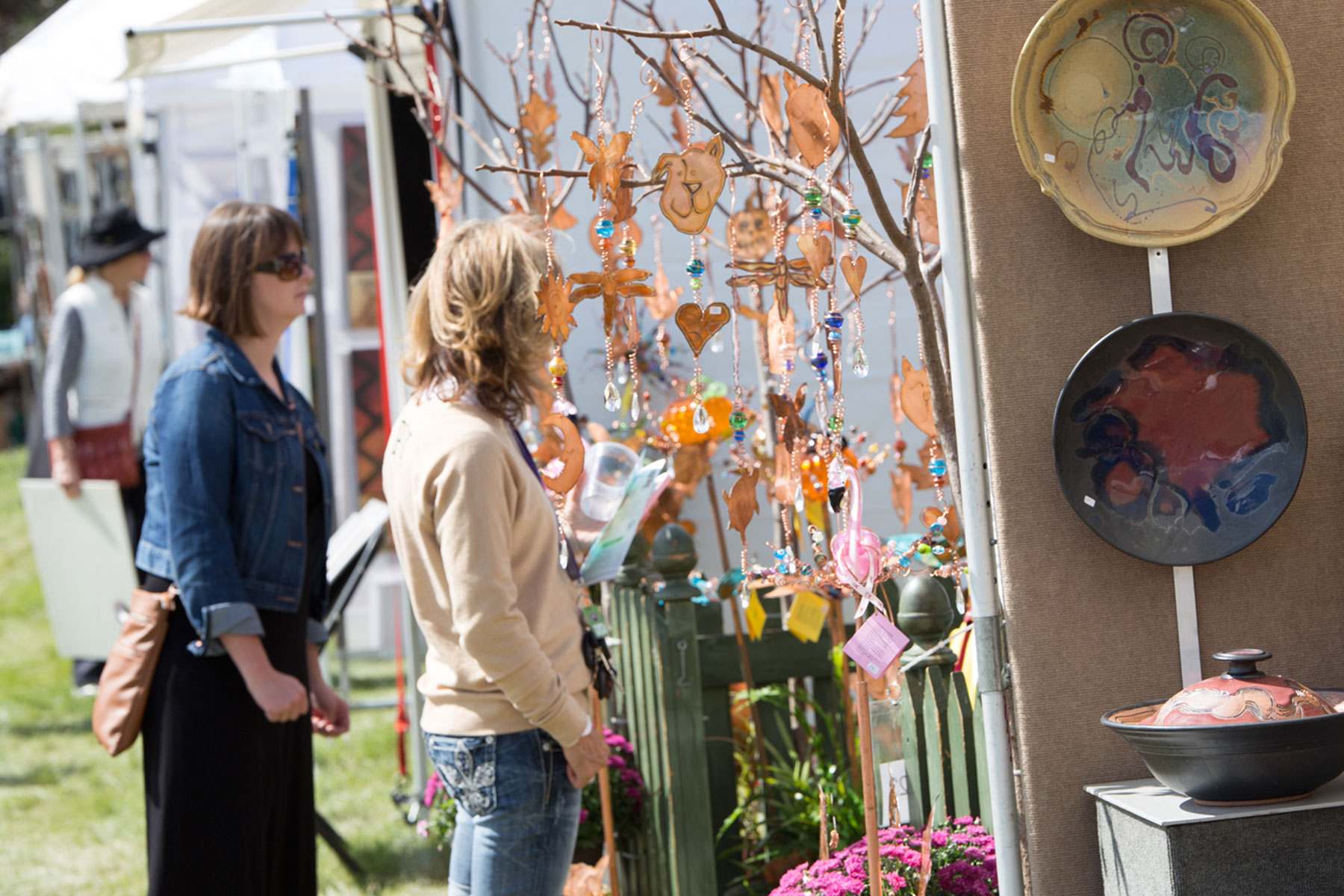 All artwork to be sold for less than $100 at Starving Artists' Show on September 11.
Since 1968, Mount Mary University's Starving Artists' Show has been offering professional artwork at an affordable price. This year's show, with all artwork priced at $100 or less, will take place from 10 a.m. to 5 p.m. Sunday, Sept. 11, on Mount Mary's front lawn.
Over 200 local and national artists will be participating in the show, which is a yearly favorite among art lovers. Fiber art, pottery, photography, drawings, glass art, jewelry, metal art, wood art and more will be for sale.
Some featured artists to look forward to this year include:
Planting brightness in winter – Nancy Kippel is a painter and paints in acrylic on windows. She loves bright colors, and her inspiration comes from the perennial flowers in her garden. Her window paintings are original and can be hung inside or outside.
Emphasizing natural beauty – Annelies Gebert is a gourd artist. To design a gourd, she will either apply gourd dyes or inks as a stain or etch the surface using pyrography, a technique in which designs are burned into an object.
Passing the passion on – Charlotte Fung Miller is a watercolor painter. She uses the traditional style of Chinese brush paintings to paint nature scenes in the Midwest. Her son Matt Miller, who will also exhibiting at the show, is an oil painter of Wisconsin countrysides.
Finding beauty and usefulness – Estelle Serena weaves rugs that feature beautiful transitions of colors. Over the past 30 years, she has woven thousands of rugs in a variety of different sizes. All rugs are made to withstand washing and years of use.
"We attract hundreds of artists from throughout the nation who are willing to sell their quality artwork at $100 or less at our incredibly beautiful MMU grounds," said Debbi Mamon, Starving Artists' Show general chair. "The nationwide pull of artists also means we have some of the most unique, quality artwork that is sold in our area at an affordable price for all. It is truly an event where you are able to buy artwork, not just look."
Admission to the Starving Artists' Show is $10, children 12 and under are free. The show is sponsored by Mount Mary's Alumnae Association. A portion of the proceeds funds the Alumnae Endowed Scholarship for Mount Mary students.
Mount Mary University is an urban Catholic university committed to social justice and the development of the whole person. Founded in 1913 by the School Sisters of Notre Dame, we were the first four-year, degree-granting Catholic institution for women in Wisconsin. Today we serve a minority-majority population and offer more than 30 undergraduate majors for women and nine graduate programs for women and men in four schools: Arts & Design, Humanities, Social Sciences & Education, Natural & Health Sciences and Business. Mount Mary creates bold women who transform the world.