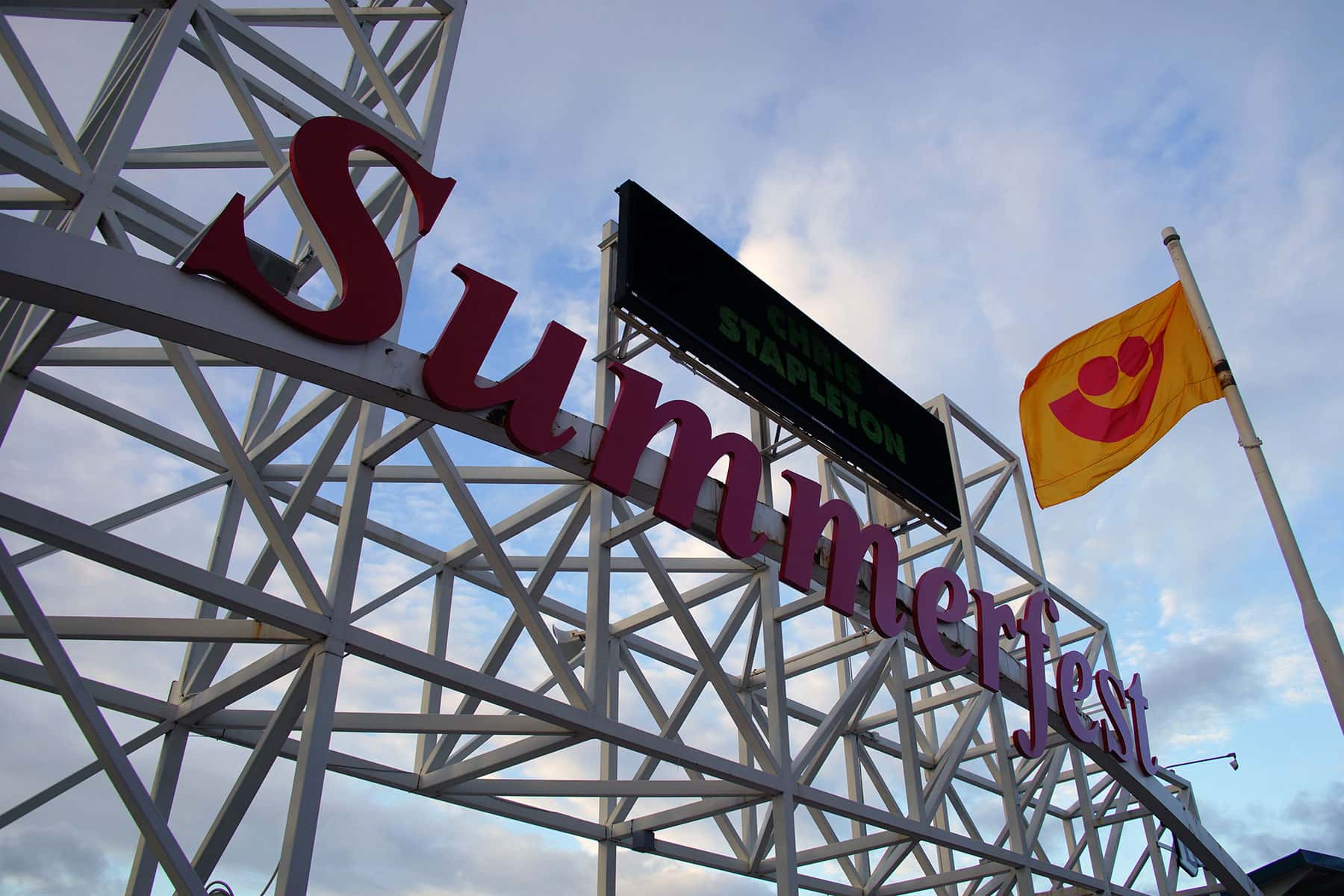 Summerfest officials announce a variety of ways to access Summerfest as well as tips to prepare for an excellent festival experience.
Transportation Options
Downtown Milwaukee is a growing destination for summer entertainment, Summerfest first among festivals. Getting to Summerfest is easy if patrons plan ahead and use the variety of transportation options available. Exit the freeway system on the outskirts of downtown for the most trouble free driving routes and use online resources like ParkMilwaukee.com or Spot Hero to find convenient parking options. Park at a downtown lot and take the Milwaukee County Transit System (MCTS) downtown shuttle or walk to the fest. Or, purchase your MCTS ticket ahead of time with Pre>Fare and conveniently hop on a bus. Finally, grab a cab, call Uber or rent a Bublr Bike for efficient alternatives to driving. Whatever your preferred method, getting to Summerfest is easy when you plan ahead.
Traffic Patterns
Patrons are encouraged to exit freeway systems prior to reaching the heart of downtown. Alternate routes coming from North, South, and West are available on Summerfest.com with detailed maps (summerfest.com/getting-here). Maps are also available on the Summerfest App.
Alternative Transportation
Milwaukee County Transit System Freeway Flyers

Pre>Fare (ridemcts.com/prefare)

Purchase a freeway flyer ticket in advance and receive a FREE Summerfest weekday admission ticket. Both of your tickets will be emailed to you and can be conveniently printed or scanned from your phone screen. Offer ends June 24, 2016.
Participating Park-Ride lots:

College Avenue
Ryan Road
Whitnall/Hales Corners
State Fair Park ($4 parking fee)
Watertown Plank Road
Holt Avenue
Loomis
Brown Deer East

For more information, please visit: ridemcts.com/Routes-Schedules/Event-Seasonal-Services/Summerfest

Milwaukee County Transit System Downtown Shuttle

Shuttle service along Wisconsin Avenue is available for $3 per ride and offers convenient access to many downtown parking lots.
The Shuttle services several stops from 10th and Wisconsin Avenue to the festival park.

Bus and Shuttle Service

Wisconsin Coach Lines/Coach USA Milwaukee (Waukesha and Racine/Kenosha)
Ozaukee County Express
GO Riteway (Washington County)
Badger Bus (Madison)

Bublr Bikes

The City of Milwaukee's bike share system with over 30 stations, allowing the user to check the bike out of one station and back into a different one.
Nearest station to Summerfest is the Discovery World station, close to the North Gate.
For more information, please visit: bublrbikes.com

Park Milwaukee

Parkmilwaukee.com provides a comprehensive list of parking lots available near the Wisconsin Avenue shuttle or around the Summerfest grounds.

SpotHero

An App to help find and reserve parking in lots around the Summerfest grounds.
Available for Android and iOS users.
For more information, please visit: spothero.com

Uber

Free ride (up to $20 off) to Summerfest for first time users.
Code for offer: SF2016
Offer ends July 10, 2016.
Summerfest Parking Lots
Harley-Davidson Motorcycle Lot – free parking for motorcycles
Preferred Parking – $20
Exclusive Parking – $35
Accessible parking is available.
Pre-paid parking is available online, at the Summerfest Box Office, or via phone. (store.summerfest.com)
It is important to note that the City of Milwaukee recently approved a name change to the street leading to Summerfest's administrative offices. East Polk Street is now East Summerfest Place. Some maps or parking information may reflect the previous street name.
Preparing for Your Visit
Planning ahead may help patrons get to the festival with ease, but it also enhances the Summerfest experience. Download the 2016 Summerfest App and build a personalized schedule so you're sure to see all your favorite bands. Or, pick up a Summerfest Preliminary Schedule at local establishments or visit Summerfest.com to access all the information you need on admission promotions, special events, food and beverage vendors and family activities. And, make sure to keep the following security policies in mind as you plan your visit to Summerfest:
In line with all other major venues and stadiums, like Miller Park, the BMO Harris Bradley Center and Lambeau Field, Summerfest has made enhancements to the metal detection system at all Summerfest gates. All visitors and employees will enter the festival through metal detection and should be prepared to comply with other security screening requirements.
Summerfest encourages patrons to leave their bags at home to cut down on waiting at the gate. For timelier access, designated screening lanes will be reserved for patrons without bags.
If patrons bring bags, they will be searched upon entering. No backpacks or bags larger than 9x10x12 will be allowed on the grounds.
Summerfest 2016 will take place June 29 – July 3 and July 5 – July 10 from noon until midnight and will be closed Monday, July 4. Following its 1968 debut, Summerfest has evolved into what is now recognized as "The World's Largest Music Festival" and Milwaukee's cornerstone summer celebration, bringing the music industry's hottest stars, emerging talent and local favorites along with approximately 850,000 people from Milwaukee and around the world together each year for an unforgettable live music experience. During the festival, the spotlight shines on over 800 acts, over 1,000 performances, 11 stages, delectable food and beverages and interactive activities, all in a world-class festival setting. Patrons can also enjoy Miller Lite, the Official Beer of Summerfest. For more details, visit Summerfest.com, Facebook.com/summerfest or Twitter: @Summerfest or download the 2016 Summerfest App.