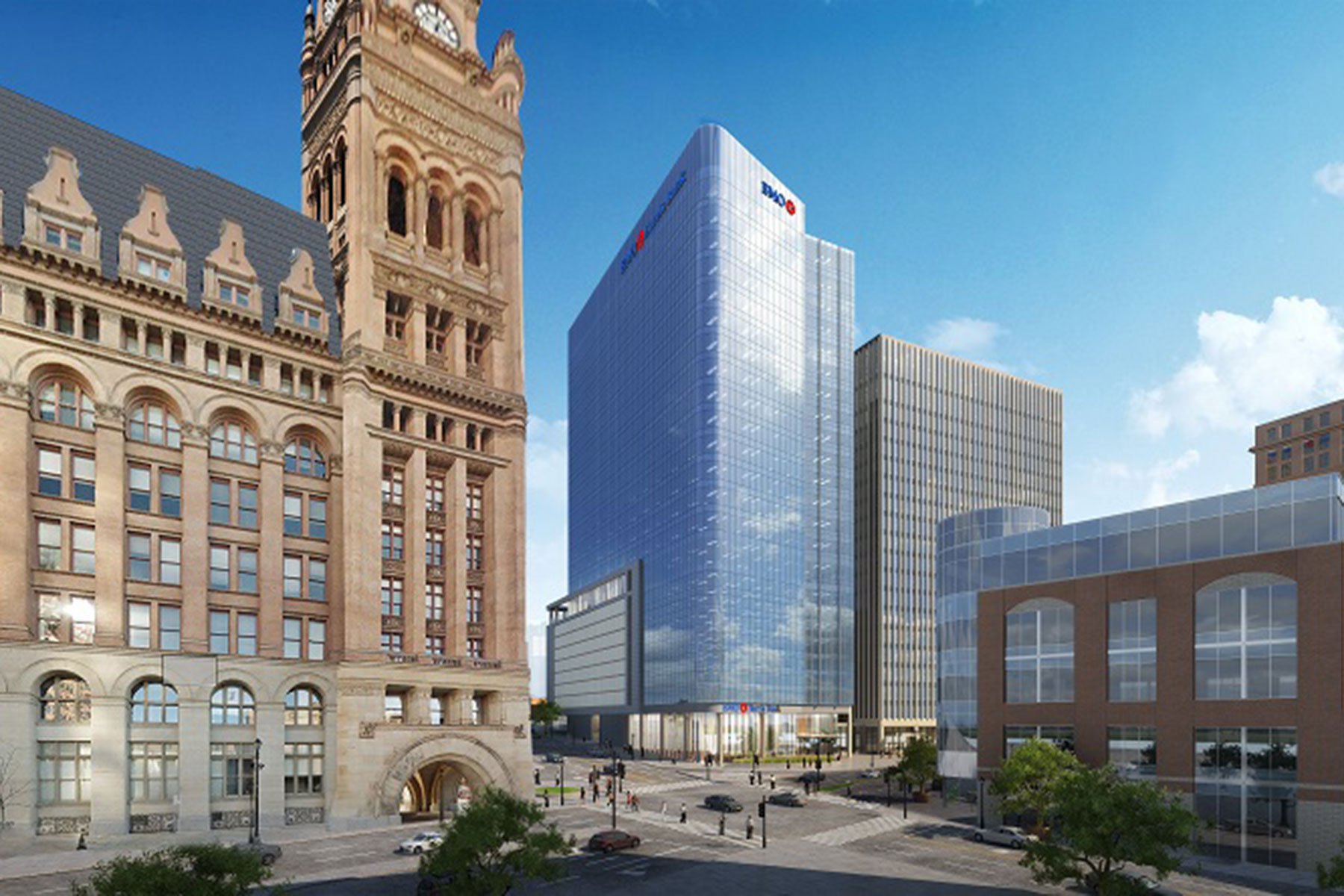 BMO Harris Bank announced plans for a 360,000-square-foot new office tower in downtown Milwaukee, to be called the BMO Harris Financial Center.
The new 25-story building, targeted for completion in late 2019, will be constructed next to BMO Harris Bank's present location at 770 N. Water Street.
"Milwaukee represents a critically important market for us. This new tower, which will add to the beauty of Milwaukee's skyline, exemplifies our commitment to the city, and to the state of Wisconsin," said David Casper, President and CEO, BMO Harris Bank. "2017 marks BMO's bicentennial – two centuries serving the needs of our customers and helping businesses grow – and we're thrilled to mark this significant milestone in our own history with a major investment in the economic development of Milwaukee."
"This announcement is an affirmation of downtown Milwaukee's place at the center of the region's economy. The BMO Harris Financial Center at Market Square is a great addition to the City," Milwaukee Mayor Tom Barrett said. "This new investment by BMO Harris will add vitality and activity, and reflects its commitment to Milwaukee. It also continues the remarkable growth downtown Milwaukee has experienced in recent years."
"As a major local employer, with approximately 3,000 employees in the Milwaukee area, having a modern, spacious office tower was a big priority for us," said Jud Snyder, President, BMO Harris Equipment Finance Company. "Many of BMO's major businesses are based in Milwaukee, including our U.S. Global Asset Management group and our Equipment Finance business."
The transformational new office space is being designed to reflect the future of BMO Harris Bank, one that provides an exciting, vibrant environment for our customers to conduct their banking and for our employees to work. The property will be built by property developer Irgens, the law firm Michael Best & Friedrich LLP will occupy three floors in the building.
The construction will take place in phases. In the summer of 2017, the existing parking lot situated immediately north of 770 N. Water Street will be demolished, the new tower will be constructed on that site.
Plans call for the 20-story, 300,00-square-foot building at 770 N. Water Street to be redeveloped into a Class A multi-use building, beginning in 2020.
"The Irgens team has been working with BMO Harris, Michael Best, Colliers International and JLL to advance this project to where we are today. The new BMO Harris Financial Center at Market Square will be a significant new anchor to the central business district in downtown Milwaukee," said Mark Irgens, CEO of Irgens Partners, LLC. "It's a perfect location to conduct commerce and provides building occupants an enriching environment for team member recruitment and retention."
BMO has had its Milwaukee headquarters presence on Water Street for over a century, beginning in 1913 when the location was 721 N. Water Street. From 1968 to the present day, the headquarters has been at 770 N. Water Street.
"Our plans for a new office tower are a reflection of our positive outlook for the future of the area," added Casper. "We see Milwaukee, and indeed the state of Wisconsin, as well positioned for future growth, brimming with energy, innovation and an entrepreneurial spirit that will carry it confidently into the future. We look forward to being a big part of that future."
At 335 feet, the BMO Harris Financial Center will be one of the tallest office towers in Milwaukee.
BMO Harris Bank provides a broad range of personal banking products and solutions through nearly 600 branches and approximately 1,300 ATMs in Illinois, Wisconsin, Indiana, Kansas, Missouri, Minnesota, Arizona and Florida. BMO Harris Bank's commercial banking team provides a combination of sector expertise, local knowledge and mid-market focus throughout the U.S. For more information about BMO Harris Bank, go to the company fact sheet. Banking products and services are provided by BMO Harris Bank N.A. and are subject to bank and credit approval.
As an owner-operator since 1983, Irgens has been an innovator in achieving customer, investor, employee and community goals by creatively providing professional, results-oriented real estate solutions. This commitment has led to hundreds of successful healthcare and commercial real estate development projects. Irgens has offices in Milwaukee, Chicago and Phoenix. Irgens leadership and staff perform as a seamless team that delivers industry expertise and insight, single-source accountability on projects and value-added services to clients in the commercial and healthcare market sectors across the nation.