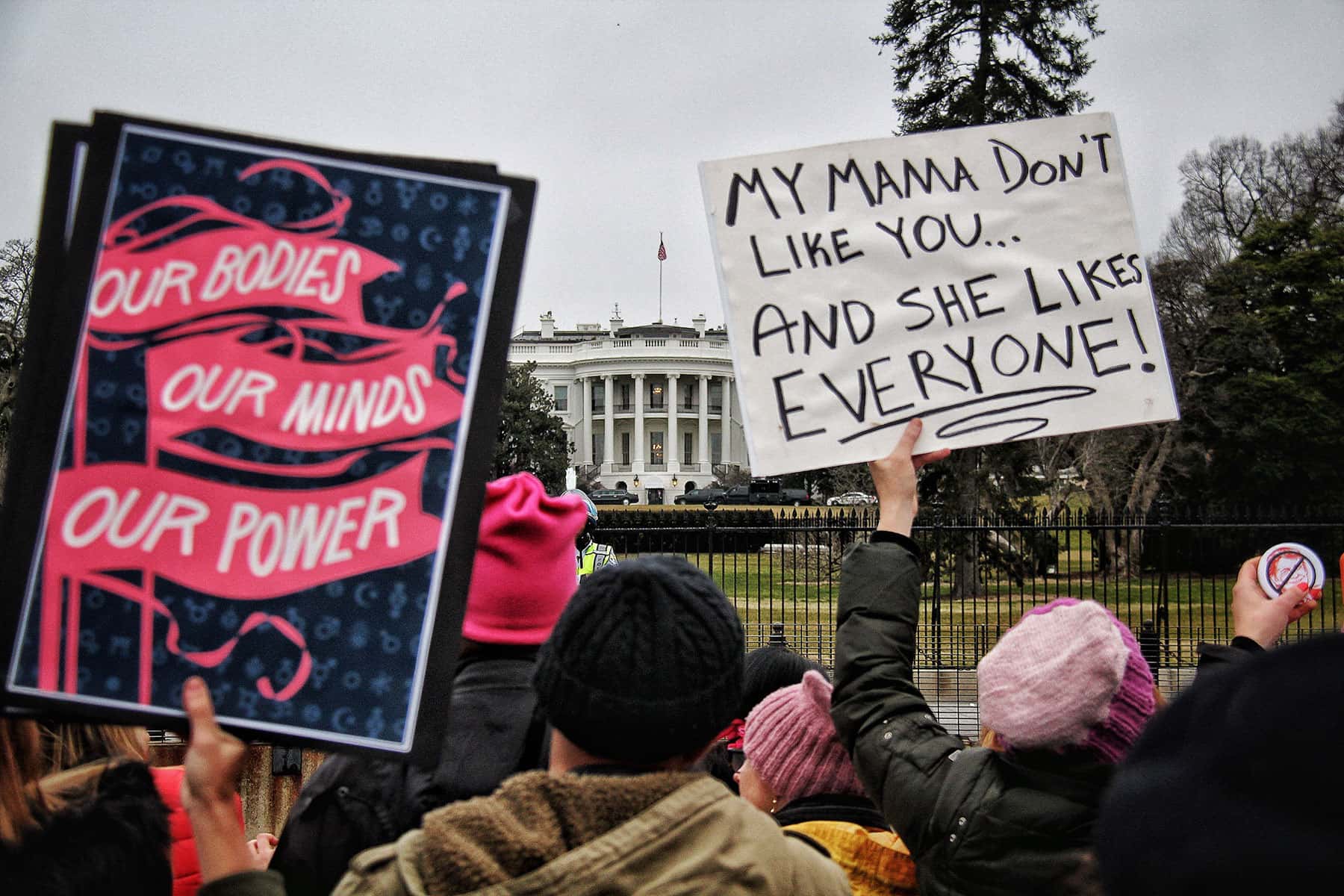 As a Milwaukee native and photojournalist for the Milwaukee Independent, Karl Herschede attended the Women's March on Washington that took place on January 21, a day after the inauguration of the 45th President of the United States.
The Women's March on Washington DC was scheduled to start at 10:00 a.m. on a stage located near the intersection of 3rd & Independence Avenue. Not wanting to be late or stuck in a crowd, I made my way through the Capitol Mall area at 7:00 a.m. thinking I'd be plenty early. Early? Yes. Plenty early? Not by a long shot. The point of the March was to assembly a huge crowd, so in hindsight I was going to be stuck in a mass of people for the duration.
The stage was setup in a smaller plaza, and the closest I could reach was about fifty yards away. From that vantage point it looked as if the stage was floating on a sea of pink pussyhats.
Right now is a good time to get used to seeing a variety of words used for the female anatomy. Vagina, swear words, and other strong sentiments. All of it was a little shocking for me, as a guy from Milwaukee. But those of us in the crowd at our nation's capital were all shocked by the events that led to this march. And the fact that such words had been used by our new President of the United States.
People continued to gather in steady streams and by 10:00 a.m., when the onstage event started, there was no way to see the edge of the crowd because it stretched so far. Large viewing screens were setup so people could try to watch the event from a distance, with large sets of loudspeakers spaced throughout the area to carry the audio.
We all got very cozy with each other. There was no moving and no personal space. I have attended a lot of sporting events and music concerts, but there was never anything as jammed packed as this. Nothing in my experience even comes close.
The stage event was supposed to end at 1:15 p.m. with a march down Independence Avenue, ending up outside the White House at an area known as The Ellipse. By 2:00 p.m. there were still guest speakers on stage and the crowd was getting impatient to start marching. But there was nowhere to go.
What we did not know at the time was that the crowd covered the entire parade route. It took a while for that news to circulate. Going into the event I had heard predictions of around 200,000 people were expected. When I spoke with a police officer, who was a veteran of such DC events, he told me that at least 650,000 people had showed up. Some reports predicted that more than one million had gathered.
As one person described the march along the planned route, it only involved everyone turning around. We faced the stage at 3rd & Independence, turned around 180° to face the opposite direction, and then we were there.
Getting out of the Capitol Mall took a while but it was happened very orderly. There was never any pushing or shoving, no yelling, or screaming. People flooded the smaller side streets, back alleys, causeways between buildings, strips of parkway, basically anywhere there was more than one square foot of space was considered a lot more roomy and free.
From 3rd & Independence, I made my way over to Constitution Avenue and then up to 9th Street. As geographical reference, Constitution Avenue and Independence Avenue are the major streets that run parallel with the Capitol Mall.
From 9th Street I could see a march forming on Pennsylvania Avenue that was presumably flowing towards the White House and The Ellipse Area. The march was a little off track, but organically figured itself out.
Pennsylvania Avenue was the route for the Inaugural Parade. I had also been standing there 24 hours prior, and that attendance was dwarfed by this turnout.
Marchers passed the J. Edgar Hoover FBI Building and then the Trump International Hotel, among other prominent landmarks. As expected, many marchers stopped in front of the hotel for photos, selfies, and more chanting. All day long there were chants, some more profane than others, but all poignant.
The march went through Pershing Park where somebody gave the stature of a General John Pershing a pussyhat and sash. From there it was a few more steps to get as close to the White House as physically possible, before we pushed on north of The Ellipse grounds.
Seemingly endless barricades, fences, and gates, along with security and law enforcement personnel prevented further marching. All of the police I encountered were very calm and collected throughout the entire weekend. I also made sure to thank them for that condition at every opportunity. They were charged with a very difficult situation to manage and did a professional job, from what I personally observed.
At the fence closest to the White House was a mounted patrol with two horses. The officer was very personable, the horse was very relaxed, and he allowed people to take selfies with the horse. Even I got in on the action. This helped to lightened the mood a bit, while others flipped off the White House.
As people were heading away from the White House they left their signs along the outer fence of the security barrier. More selfies were taken as a permanent reminder of what each participant had accomplished. The subway Metro stations were also a point of departure for people and their signs, along with more selfies.
I noticed very young girl walking about the scattered collection of signs. She held an opened umbrella and had a look of utter amazement. Perhaps she understood a bit about purpose of the day and, in time as she got older, would have more perspective to completely comprehend it.
I am nearly forty years old and I am unable to fully appreciate the events of the day. Said plainly, I am a white guy who grew up in the suburbs, and I do not know if I have ever experienced any of what brought these million or so people together. I have experienced a lot personally, but nothing having to do with social injustices.
As the day came to an end, my takeaway from everything I witnessed was not easily put into words. That was why I took photographs. Something I will continue to ponder, for a while to come, was the determination of so many people I had met during the march. Their struggles were not limited to the past election year, but were intergenerational. Like many others, I ask myself as an individual and for our nation, where do we go from here?
My images captured the moment in history, as an enduring record to share with my Milwaukee community. Those pictures are featured in the companion photo essay.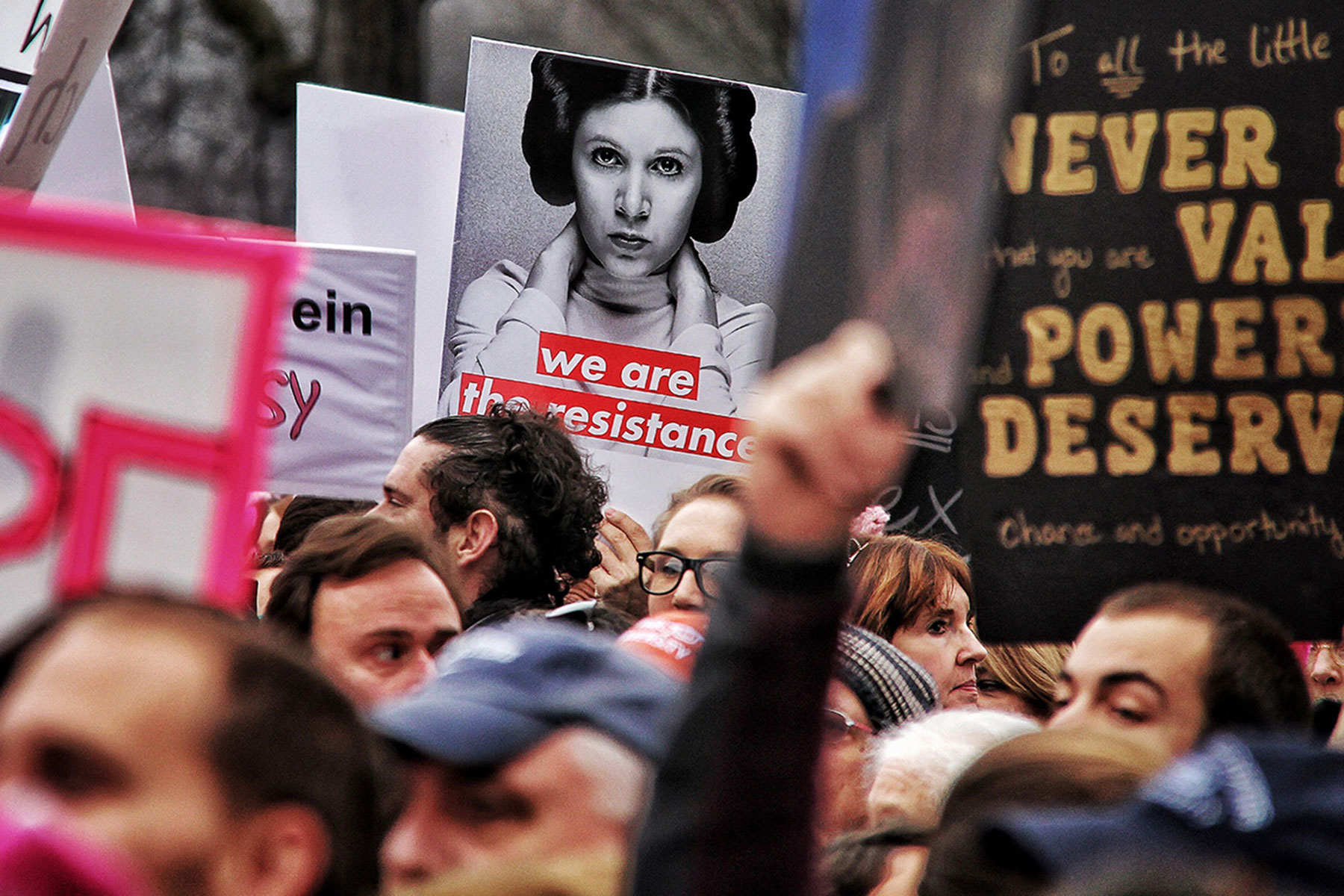 Read the article and view the photo essay that were produced as companion features for this news report.