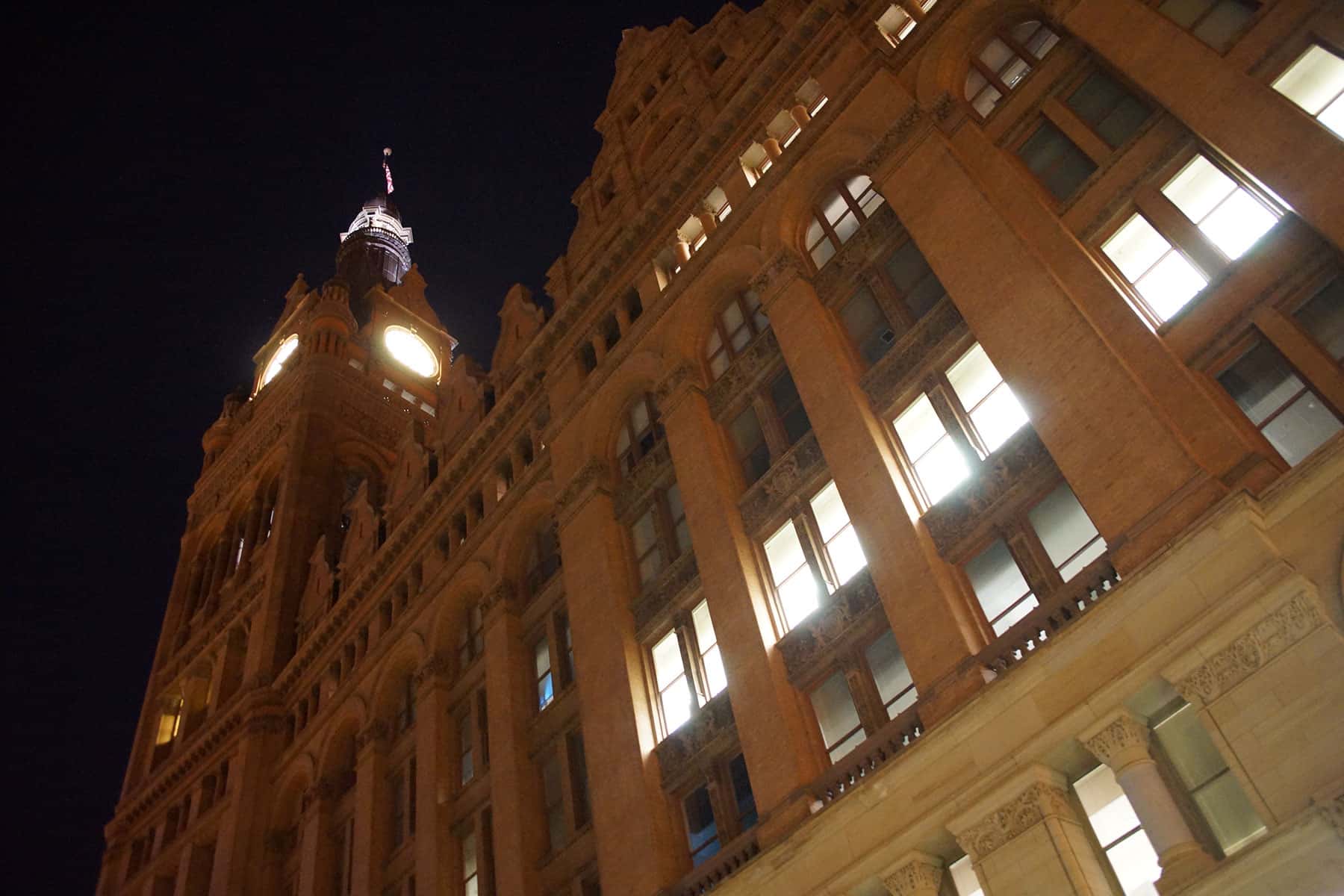 Former teacher Anna Lardinois leads ghost tours in order to introduce tourists and locals to the Milwaukee's haunted and eventful past.
On the first truly cold night of October, Anna Lardinois stood in Cathedral Square on the corner of Wells and Jackson, welcoming locals and tourists alike for her Gothic Milwaukee Walking Ghost Tour. Dressed in 1800s garb and modern cotton mittens to protect against the chill, Lardinois began the mile and half ghost tour that weaves through busy Milwaukee streets.
The tours stop by well-known Milwaukee haunts like the Pfister Hotel. A local legend holds that the hotel's late owner Guido Pfister can be spotted around the hotel with his pet dog. The tour also stops by City Hall which is said to be haunted by Byron Kilbourn, one of Milwaukee's founders, and other nearby locations relating to lesser known historical events.
One such stop is the block of Mason Street between Water Street and Broadway Avenue. According to Lardinois, this block housed a majority of the city's media outlets in the 1800s, including the still-running Milwaukee Journal Sentinel. In the 1800s, it was truly the place to be, surrounded by pubs and brothels. Telling these sort of stories is what makes the tours worthwhile to Lardinois.
"I absolutely love getting to show people around Milwaukee," said Lardinois. "There's so much neat stuff about it and getting to have locals appreciate their city in a different way is truly thrilling. Almost every single night someone who lives in the city will say, 'I didn't know that. I've never seen that before.'"
Lardinois began the tours five years ago, inspired by years of spring break experiences as a teacher when she traveled to various cities around the country. She would attend a ghost tour in every place she visited and always thought they were an excellent way to explore a city, whether it was familiar or not.
"They are a great opportunity to slow down and push pause on regular life," said Lardinois. "You can walk and admire things about cities that you would not normally see or hear."
Like any metropolitan city, Milwaukee has a scandalous history of crime and maritime disasters. Before Lardinois began hostin Gothic Milwaukee tours, there was not an established ghost tour downtown. As a result, Lardinois sold more than 800 tickets in her first week. She has since expanded her tourism services to include another ghost tour, a Christmas tour, and two recently published self-guided walking tours, one of Wauwatosa and one of downtown Milwaukee.
Due to the increased popularity of her business, Lardinois was able to quit her high school English teaching job last year and become a full time tour operator. Since her business is a one-woman show, Lardinois both writes and researches the tours. Exploring history is her favorite part of the work.
"A really neat thing about the 1800s is that they covered things like ghosts in the newspaper, which is obviously useful for me," said Lardinois. "One of my favorite places to research is the Milwaukee County Historical Society because not only is it incredibly beautiful, but it's like a historical treasure hunt."
With the approach of halloween season, Lardinois recruits her former co-workers to help her lead tours. Her ghost tours last around 90-minutes.