Podcast: Voices In Union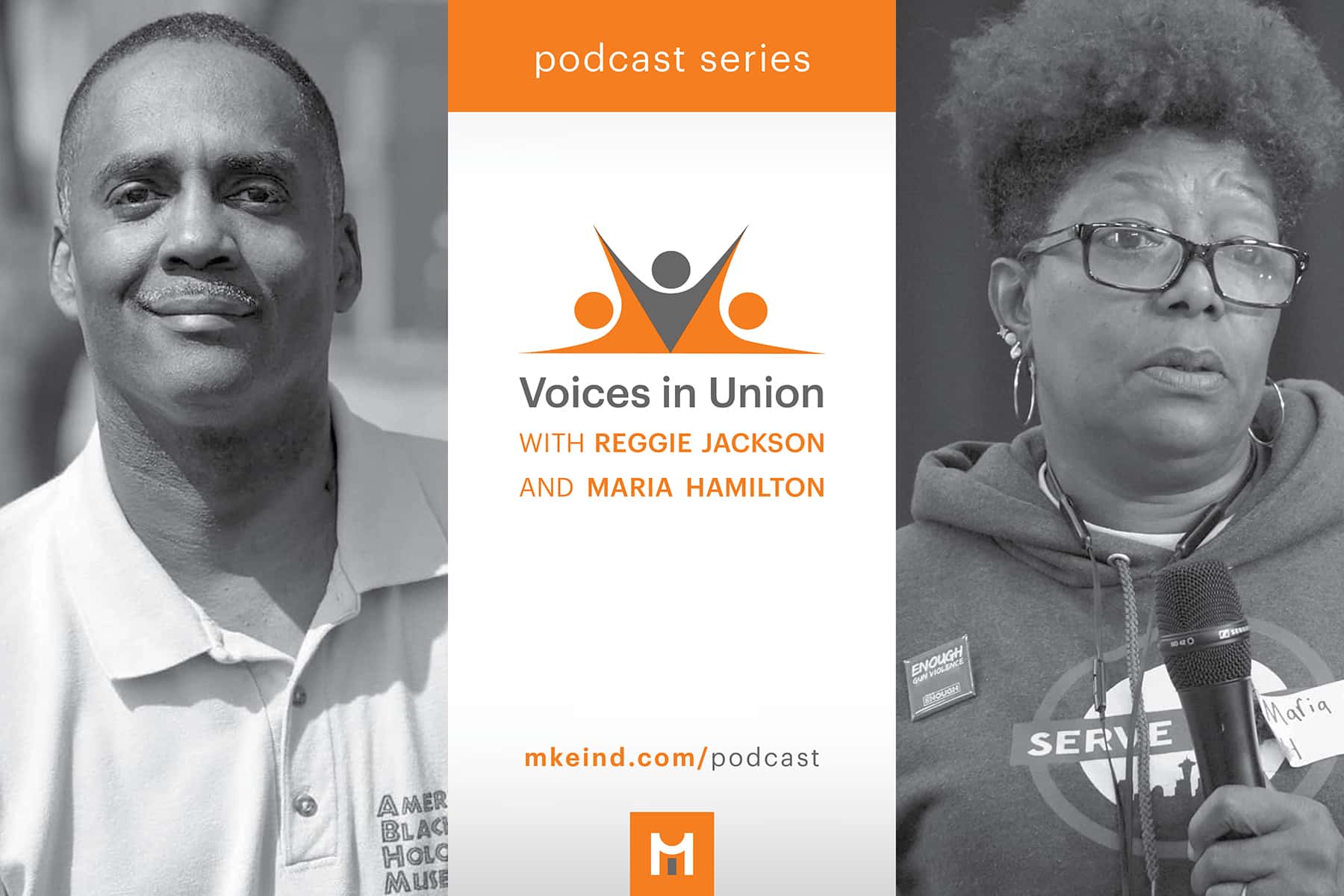 Voices in Union: with Reggie Jackson and Maria Hamilton – is a weekly podcast that focuses on the African American Diaspora in Milwaukee, Wisconsin.
It connects local concerns to national trends on social justice, and educates the general population on the historical context of those issues. The program's purpose is to build understanding, with a message of hope and reconciliation, and to offer underrepresented voices a platform to be heard.
This episode includes reactions to the presidential election, and how national leaders and Wisconsin Republicans have stayed quiet and done nothing while people die, especially as the state continues to experience a raging wildfire of COVID-19 outbreaks.
This episode includes a discussion about the developments around Alvin Cole's case, the abuse of his mother by Wauwatosa police officers and their brutality against peaceful protesters, and the lack of an authority that can provide relief for people seeking justice.
This episode includes a discussion about the embarrassing behavior of Donald Trump at the first debate with Joe Biden, and the bombshell revelation just hours before the podcast that the president had tested positive for COVID-19.
This episode includes a discussion about keeping optimistic about the lack of social justice in the wake of Breonna Taylor's grand jury result that did not produce an inditement over her death, processing feelings around ongoing injustice issues, and how Black votes are important even though politicians continue to ignore Black voters.
This episode includes a discussion about Maria's recent trip to Washington DC to take part in the "Get Your Knee Off Our Necks" March, where she joined a nationwide gathering of mothers who lost children due to police brutality, and Reggie's insight on the aftermath of the visit by Trump to Kenosha.
This episode was recorded just after Maria arrived in Washington DC to join the Milwaukee group led by Fran Nitty, which includes a wide ranging discussion about events there and the racial unrest in Kenosha that highlights the dilemma of Blacks loving a country that refuses to love them back.
This episode includes a discussion about bad Milwaukee drivers who think speed limits are optional, and how voter suppression and disenfranchisement of people of color is covered by accusing Blacks of a lack participation.
This episode includes a discussion about the Black Lives Matter march from Milwaukee to Washington DC, and its realtime spotlight of police harassment and brutal public racism along the journey, with personal stories about experiencing abuse and the climate of fear in Indiana where the marchers were most recently targeted by a campaign of terror.
This episode includes a discussion about election conditions in Wisconsin as a battleground state that could decide the next president, from utilizing COVID-19 for suppressing votes to the manipulation of Kanye West to divert votes.
This episode talks about how Milwaukee's police union has too much power without any accountability, and the failed efforts of local law enforcement to reform even after years of federal mandates to do so.
This episode talks about how COVID-19 is still affecting the Black population even though many act like the pandemic does not exist, the unsafe plan to re-open schools that puts children and families at risk, and the value of Black lives as essential workers.
This episode talks about Black identity – what it means to be an African-American in a White American culture, and whether the push for social changes will be sustainable or just symbolic.
This episode talks about the Juneteenth 2020 experience in Milwaukee amid the COVID-19 pandemic and daily Black Lives Matter demonstrations.
This episode explores some of the social traumas affecting Milwaukee as equal justice demonstrations continue to bring attention to the Black Lives Matter movement.
This episode explores the use of police brutality directed at people of color in reaction to the George Floyd protests.
This episode explores the traumatic conditions faced by local youth and how adults can help advocate for them.
Reggie Jackson is an award-winning Senior Columnist for the Milwaukee Independent, writing about a range of African American issues. He is also co-founder Nurturing Diversity Partners, and volunteers as Head Griot for America's Black Holocaust Museum (ABHM) in Bronzeville.
Maria Hamilton is the founder of Mothers For Justice United, co-organizer of the Million Moms March that took place in Washington DC, and justice advocate for putting an end to race-based policies of police and vigilante violence that harm communities of color.
Reggie Jackson and Maria Hamilton
"Jazz Mango" by Joey Pecoraro