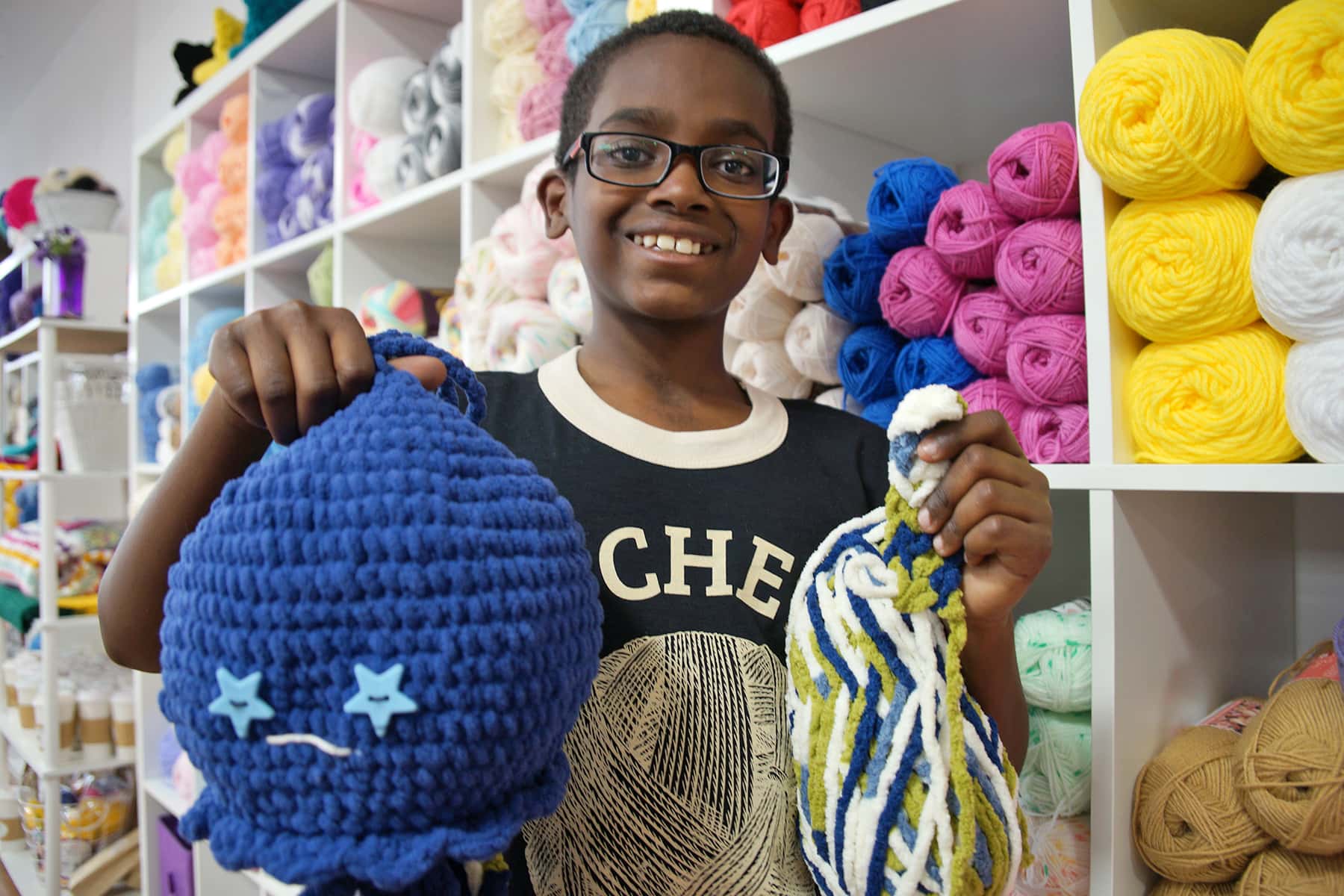 This special 360° video was recorded during Jonah Larson's visit to Yarn Junkie and Gifts on April 6, while he gave a crocheting demonstration. The segment offers an intimate perspective of Jonah and his work in a never before seen view of the process.
No special technology is required to watch the VR footage, which can be navigated either by mouse or arrow clicks.
Because of the intense media coverage, Jonah Larson has become a household name in the crochet community and a young rising star outside of it. He has crocheted with celebrities and even Wisconsin elected officials like Senator Tammy Baldwin and Lt. Governor Mandala Barnes.
"You may think that all the daily media attention would cause some disruption for him, but it doesn't," said Jennifer Larson, Jonah's mother. "He talks to the media, he does his interviews, and then he just goes back on the couch and crochets like normal, like it hasn't even happened.
Jonah has used the power of fiber art to tap into the international, multigenerational, and extremely diverse crochet community. Crocheting has also played a therapeutic role in his life.
"What I love most about crocheting is how relaxing it is. It's also a way to bring the world together positively, because everybody comes together over one thing as a way to just communicate. To me, crocheting is a form of art that is very useful," said Jonah. "It is incredible to meet so many amazing people from around the world, and having the opportunity to travel. So the experience is really amazing, and being able to do something positive to help benefit somebody else is rewarding."
Jonah became "hooked" on crocheting at the age of 5, after discovering a crochet needle in a bag of old craft items. He is now considered a prodigy. Jonah won 4 ribbons at a fair competition when he was 6 years old, and the judges thought that his mother was doing the crocheting for him. So, he had to prove to them that it was not Jennifer's work, and he did a demonstration. That was how people started to notice him and realize that there was a little boy of color who crochets. He has won close to 70 ribbons so far.
But it is Jonah's philanthropy that continues to earn national recognition, because he uses his talents to donate a portion of his goods and earnings to organizations that he holds dear. Like Middleton-based Roots Ethiopia, the non-profit organization that does charity work in the tiny village where he was born.
"I don't think he fully understands the impact he has on the world. He knows it a little bit, but not to the extent," said Jennifer.
The young fiber artist also has some very fancy hooks in his collection. For example, Jonah has a sunset-colored afghan and it is his favorite afghan with oranges and yellows. Someone from England handcrafted a crochet hook out of exotic Snakewood with his name inscribed, and those colors match his afghan.
"There are just so many kind people and their generosity is unbelievable," added Jennifer. "It seems he has touched a nerve with a lot of folks around the world over something so nice as crocheting. I think people gravitate towards what he is doing because it makes everyone happy, and that's been the best part."
Kids do not usually get too excited about something like yarn. But on his YouTube channel, Jonah gets packages shipped in daily from all over, so he unboxes them and describes the yarn, how it feels, he talks about the textures, and he makes up special names for all the colors.
His upcoming book, Hello, Crochet Friends! Making Art, Being Mindful, Giving Back: Do What Makes You Happy, is scheduled to be published in July. It will be part picture book, part autobiography, and part celebration of crochet.