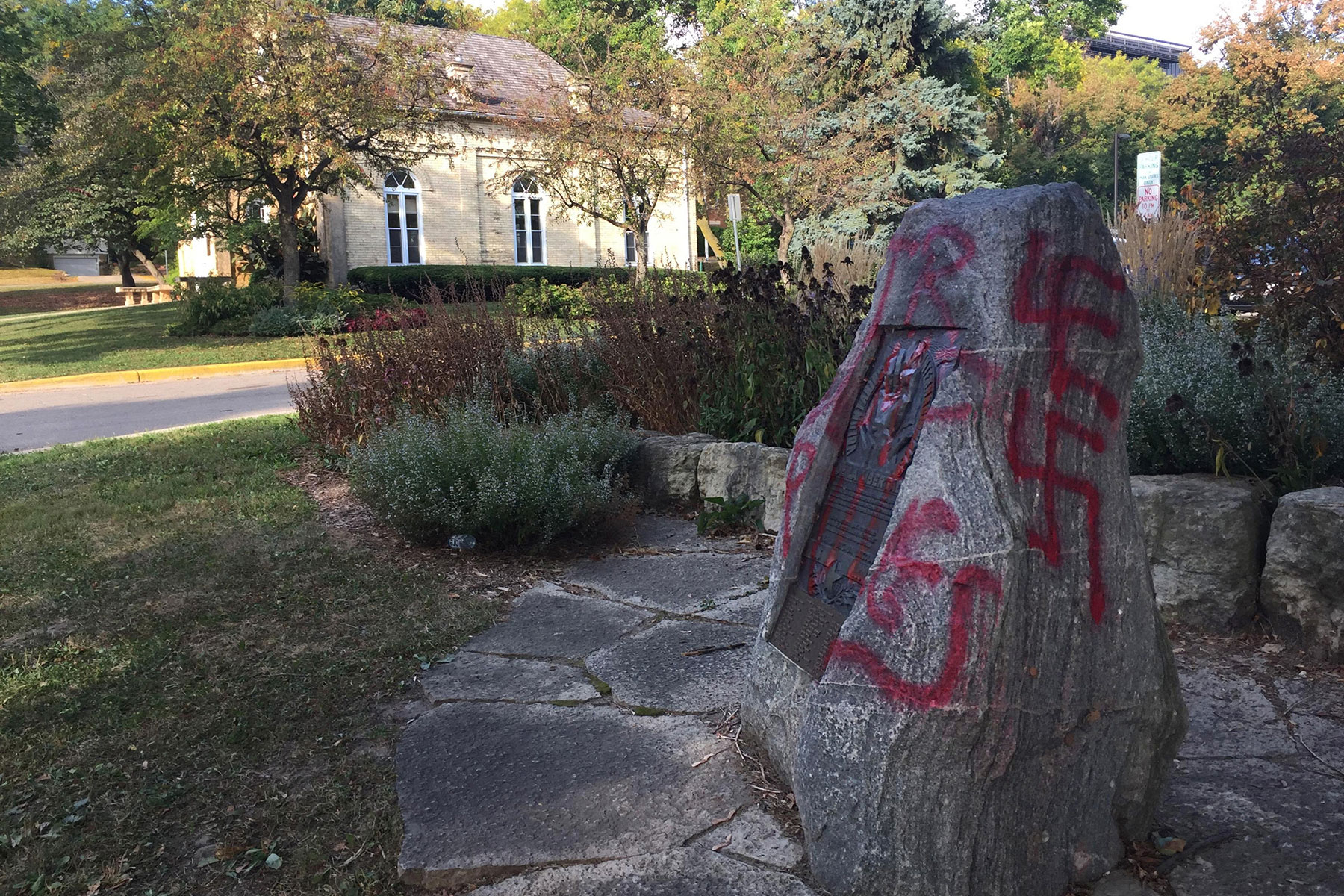 A memorial near the Gates of Heaven synagogue in Madison's James Madison Park was spray-painted with swastikas and a pro-President Donald Trump message in large red letters on September 20, hours before the Jewish New Year of Rosh Hashanah.
A memorial near the Gates of Heaven synagogue in Madison's James Madison Park was spray-painted with swastikas and a pro-President Donald Trump message in large red letters hours before Rosh Hashanah, the Jewish New Year.
It is the latest in what a top Wisconsin Jewish leader says is an increase in anti-Semitic incidents over the past few years.
Madison Police said they are investigating the incident, which was reported early Wednesday morning by a passerby who noticed the memorial had been defaced with "TRUMP RULES," "ANTIFA SUCKS" and Nazi symbols. Antifa refers to anti-fascist activists who have violently clashed with white supremacists and neo-Nazis in recent months, including at Charlottesville, Virginia. That march featured chants of "Jews will not replace us."
Police spokesman Joel DeSpain said the incident had "the potential to be a hate crime." To qualify, Wisconsin law requires that an individual intend to target a specific group.
"That kind of vandalism, the kind of bigotry that we're experiencing is obviously something repugnant to 99 percent of the community. And I'm just hoping that people who know the culprits would step forward," Madison Mayor Paul Soglin said.
Wisconsin Attorney General Brad Schimel called the vandalism an "appalling attack" and urged people to contact Madison Area Crime Stoppers (608-266-6014) if they have any information. Schimel offered the state Department of Justice's assistance in investigating the incident.
"The display of anti-Semitic graffiti being investigated today is outrageous," Schimel said.
He added that "all graffiti is criminal, but not all graffiti invokes this type of emotion and I am outraged to see two examples of targeted vandalism in Madison within the last week." Schimel was referring a message found spray-painted on the Wisconsin Law Enforcement Memorial at the state Capitol Saturday decrying the acquittal of a white ex-St. Louis police officer in the fatal shooting of a black man.
Madison Police Detective Tracie Jokala, who has investigated hate crimes in Wisconsin, said the Gates of Heaven incident is not surprising considering recent events in the country.
"We are in very complicated times right now," Jokala said. "And in the last few decades, the internet has become a Petri dish in which those who have the same jaded ideas can find others who think the same way, and therefore be emboldened."
There are no reliable data on the number or rate of hate crimes in the United States, according to the investigative news nonprofit ProPublica. The organization has collected several dozen reports of alleged incidents of hate and bias in Wisconsin since November when it began soliciting tips throughout the country as part of its Documenting Hate project. The Wisconsin Center for Investigative Journalism is among more than 100 news outlets and other groups participating in the project.
The memorial alongside the Gates of Heaven synagogue that was defaced is dedicated to people who fought in the Spanish Civil War in the 1930s. The synagogue is one of the oldest surviving synagogue buildings in the nation.
Gates of Heaven is a popular attraction for celebrations and a place of worship during holidays. The Jewish community rents out the synagogue from the city of Madison, which owns the building. About 200 to 300 worshipers come to the synagogue for prayer services during the Jewish New Year, said Hannah Rosenthal, president the Milwaukee Jewish Federation who has been leading services at the Gates of Heaven for 34 years.
Jewish leaders in Wisconsin condemned the graffiti, which came hours before the community was set to begin celebrations for the High Holidays on Wednesday evening.
"There has been so much hate unleashed in the last few years," said Rosenthal, who will lead the prayer services at the synagogue. "The danger of this incident in Madison is the people will think it's normal. There has to be constant outrage when there's expression of hate."
Rosenthal, who served as the special envoy to monitor and combat anti-Semitism under the administration of President Barack Obama, said the Jewish community has seen an uptick in such incidents across the state in recent years.
In April 2016, vandals spray-painted swastikas and other anti-Semitic graffiti in several locations on and near the University of Wisconsin-Madison campus, including the Jewish Experience of Madison and the Kappa Alpha Theta sorority. Three men were arrested. The purported ringleader, Timothy A. Arnold, then 21, was charged with a misdemeanor and sentenced to up to 18 months of probation.
Responding to the graffiti at the Gates of Heaven, Heidi Beirich, director of the Intelligence Project at Southern Poverty Law Center who tracks hate crimes and hate groups, blamed the tone set by the president.
"It shows once again how Trump has inspired hate crimes in the United States," she said. "And no population has been spared."
Rabbi Paula Jayne Winnig, executive director of Jewish Federation of Madison, said in a statement, "It is especially sad for us in the Jewish community to deal with this incident as we look forward to welcoming our New Year, 5778, this evening."
Elsa Coetano heard about the incident and stopped by Wednesday morning after the graffiti had already been washed off by the Madison Parks Department.
Coetano came to the United States 17 years ago from Mozambique and is now a U.S. citizen. She said although she had previously felt welcome in Madison, she has become fearful since the election. Coetano reported seeing a pickup truck the day before sporting a decal with the words: "F**K OFF. WE ARE FULL" in the shape of a map of the United States. Coetano said she had seen what appeared to be a big gun through the truck's windshield.
"It's scary, especially for a person of color, when you see that symbol that says f**k off we're full," she said. "It's directed at immigrants."
She added, "When I see these things happening, on top of many other things that are happening around the country with black people and Latino people, it's painful. I'm getting more scared of being here."
Coetano said she hopes people begin to "mobilize and start talking about this more seriously, not to wait until something bad happens — like until someone gets shot."
DeSpain, the Madison Police spokesman, said he is not sure whether the latest incident is part of a trend.
"Trends start somewhere," he said. "And certainly if we see something more, we have a trend. At this point … I'm not aware of anything recently that would indicate that we're in some sort of pattern right now. But again, the fact that this is being assigned to a detective, that we're handling it the way we are, we're taking it very seriously."
Mukhtar Ibrahim and Alexandra Hall
The nonprofit Wisconsin Center for Investigative Journalism collaborates with Wisconsin Public Radio, Wisconsin Public Television, other news media and the UW-Madison School of Journalism and Mass Communication. All works created, published, posted or disseminated by the Center do not necessarily reflect the views or opinions of UW-Madison or any of its affiliates.