Della Wells challenges local leaders to invest in artists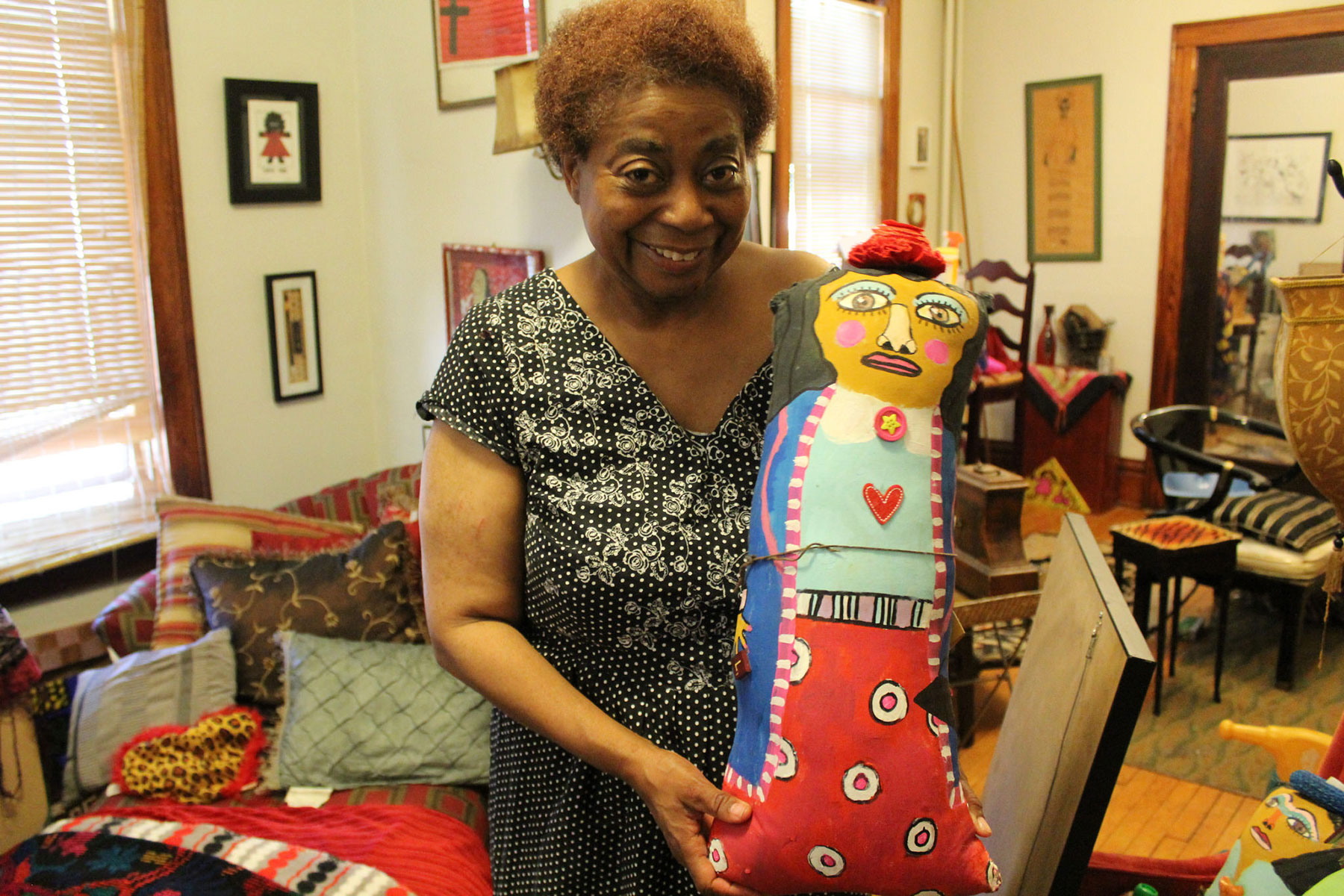 Della Wells can't recall her earliest experience doing art.
"I really can't remember when I started making art. I think that means I've always just done it," Wells said as she sat under a shade tree in the yard of her Riverwest apartment.
Born and raised in Milwaukee, Wells is an artist who gravitates towards several different media, including painting, collages, pastels, quilting, doll making, drawing and playwriting. She is currently contributing to a documentary that focuses on African-Americans in the Milwaukee arts scene from 1967 to 1979.
Wells was recently named one of two 2016 Artists of the Year by the City of Milwaukee Arts Board. Poet and activist Dasha Kelly also received the award. While Wells considers it an honor to be recognized by the city, she isn't letting it get to her head, or define her as an artist.
"You can get as many awards as you like, but it's the work of the artist that ultimately matters," she said.
Cozy in a lawn chair and wearing a simple floral gown, Wells is modest when discussing her artistic accomplishments. Though she sold her first piece of art at the age of 13, Wells didn't consider herself an artist until age 42.
"I consider myself an artist now because I do the work," Wells emphasized.
Wells' art is exhibited in more than 100 private and public collections. Her collages will be sold at the Smithsonian Institution National Museum of African American History and Culture, expected to open on Sept. 24 in Washington, D.C.
When asked whether Milwaukee is a city that nurtures artists, Wells said there's much more that could be done.
"Okay, I'm going to say this," Wells said with a chuckle as she scooted forward on her chair. "I think Milwaukee and Wisconsin have a lot of great artists but I think the state and city need to do more for art here."
Wells believes the city needs to invest in artists. Rather than merely talking about the importance of art, the city would employ artists as collaborators and not just "creative consultants." She envisions local artists being involved in planning buildings and parks in the city.
"If I were queen, I'd start promoting what's in our own backyard. Start thinking of artists as collaborators and not an afterthought," Wells said. "If I were rebuilding this city, I'd put up public art; I'd encourage developers to incorporate art into the designs of the buildings."
Though Wells said youth art programs are available in the city, she believes that artists of all ages need more encouragement. Since Wells didn't become a serious artist until her 40s, she empathizes with artists who weren't given the chance to find their voice.
"The city needs to give more opportunities for artists to be discovered," Wells said. "We need to ask ourselves what kind of future we are providing for artists in this city."